When Tomorrow's World talked about robots way back when, we're sure they expected far more than a robot vacuum cleaner.
However, while we wait for a robot that can do everything, a robot vacuum cleaner will have to do.
Robot vacuum cleaners can be excellent for loads of people, not just people who love the latest tech.
They can be used by elderly and disabled people who struggle to clean their homes. This alone can make them invaluable in many households up and down the country.
Of course, they can also be used by people who hate hoovering, a never-ending task in most family homes!
So whether you need a little bit of help around the home because it isn't as easy for you to hoover as it once was, or you hate the idea of a vacuum cleaner following you around your home constantly, there is a robot vacuum cleaner for you below.
We have taken a look at all the robot vacuum cleaners available in the UK and picked out 5 of the best.
We hope you find this list of robot vacuum cleaners helpful on your quest for a clean home.
Best Robot Vacuum Cleaners in the UK
1. Eufy Robot Vacuum RoboVac 11
The Eufy RoboVac 11 does everything you need it to do. It has incredible suction making it perfect for hard flooring and carpets.
It is also self-docking and self-charging, so you don't even have to plug it in!
You can leave this vacuum cleaner to clean, and when it's tired, it will take itself off for a nap!
Plus, it has all the sensors you need it to have, so it won't hit the coffee table or the walls. So, even if you live in a rented flat or take pride in your home, you can run this all day without fear of it damaging anything.
Whether you want a robot vacuum cleaner because you struggle to hoover or because you don't have time, the Eufy RoboVac 11 can provide 1 and half hours of powerful cleaning and then put itself on charge and get ready to go again.
See on Amazon
2. iRobot Roomba 605
The Roomba 605 can clean your floor at the touch of a button, making it nice and simple for those of us without a degree in technology. It is also nice and compact meaning that it can fit under just about anything.
Plus, it has a three-stage cleaning system which automatically changes depending on which type of flooring it is on, guarantying a dust and dirt-free home.
Roomba's spinning brush technology also means that this robot vacuum cleaner can reach into any tight corner it comes across. And you can create virtual walls in your home, if you only want it to clean certain spaces.
This is a fantastic addition to any home. It is exceedingly easy to use and perfect for homes with pets.
See on Amazon
3. iRobot Roomba 980
The Roomba 980 is basically the 605's big brother. It does everything that the Roomba 605 does, but with a little more vigour.
The 980 offers two hours of uninterrupted cleaning power as it keeps track of its location and charges when needed.
The iRobot app also allows you to control the 980 from anywhere. So, whether you're sitting on the sofa and decide you want it to skip the living room so you can watch a film, or if you're at work and want it to start cleaning, you can do it at the touch of a button.
The 980 offers loads more features than this, and we urge you to check it out if you're looking for the latest in robot vacuum cleaner technology.
However, just because this robot vacuum cleaner offers loads of tech, it doesn't mean it is difficult to use. Just like with the 605, a touch of a button will get it cleaning for you.
It is one of the best robotic vacuum cleaners on the market and definitely worth checking out.
See on JohnLewis.com
4. Housmile Robotic Vacuum Cleaner
With an hour and a half of fade-free battery life, it's easy to use room selection features and versatile cleaning modes, this Housmile vacuum cleaner is certainly one of the best on the market.
It has two modes of cleaning, small room (30 minutes) or large room (60 minutes).
Just press the button once or twice depending on which mode you like, and it will take off cleaning up everything in its path.
It also has two side brushes ensuring that it will reach into every nook and cranny and grab any dirt or dust that it comes across.
Although this does have fantastic suction, cleaning power and technology for cleaning hard floors and carpets, this robot vacuum cleaner doesn't have automatic recharge which does let it down a bit compared to the others on this list.
However, if that feature doesn't bother you, for the price, this robotic vacuum cleaner does a superb job.
See on Amazon
5. Dyson Robot 360eye
Of course Dyson was going to appear on this list, it is a list about vacuum cleaners! Their robot vacuum cleaner has some technology that we're sure NASA was using a few years ago.
It has 360-degree vision, so it never misses a bit of dirt, a full-width brush to really make sure it doesn't miss any dirt and the powerful suction all Dyson's have to further ensure it never misses any dirt!
The Dyson app helps you control your new robot vacuum cleaner and we have to say it is the most impressive app of this kind.
You can schedule cleaning times on the app, get updates to do more with your vacuum and the app also maps where the vacuum has been in your home.
This is a Dyson, so you know it's going to be great. The suction power of this robot vacuum is best in class and the app is too.
If you're looking for the latest vacuum technology, this is the perfect robotic vacuum cleaner to go for!
Best Robot Vacuum Cleaners Under £100
At the time of writing, the cheapest robotic vacuum cleaners in the UK cost around £15, with the most expensive costing over £1000. Let's see what you can get for less than £100.
1. Vileda Cleaning Robotic Vacuum Cleaner
Weight: 3 kg
Dimensions: 40 x 39 x 13.8 cm
Noise: 70 DB
The Vileda Cleaning Robot is probably the best robot vacuum cleaner for less than £100. It can be used on short pile carpets and hard floors.
The Vileda has a smart navigation system for finding its way around the room until it has cleaned everywhere. It has a stair sensor to prevent it from falling down the stairs.
This robot vacuum cleaner has three room size settings for small, medium and large rooms, which correspond to 5, 30 and 60 minutes of cleaning respectively. It has a rechargeable battery and also comes with a maintenance brush and spare side and filter brushes.
The Vileda is quite loud, so you can't really relax while it's on. It's quieter than a vacuum cleaner, but still fairly noisy. The robot is bagless, so you don't need to worry about buying bags for it.
The level of suction doesn't compare to that of a good regular vacuum cleaner, and the robot often leaves obvious bits of fluff or seems to clean the same part of the room again and again while neglecting other parts.
You also have to move large furniture including tables and chairs to give it space to work, so it won't necessarily save you much time.
Nevertheless, this is as good a robot vacuum cleaner as you will be able to find for under £100.
See price on Amazon
2. Vileda Relax
Weight: 39.5 x 38.5 x 13.7 cm
Dimensions: 3.7 Kg
The Vileda Relax is very similar to the Vileda Cleaning Robot reviewed above. The main differences are that the Relax is slightly quieter (making it a bit easier to relax while it's on) and it features a soft bumper to protect it if it hits some furniture.
Like with the Vileda Cleaning Robot, it can't deal with furniture in the middle of the room and it also frequently misses bits. It comes with a similar price tag to the Cleaning Robot, so the main reason to choose the Relax is that it somewhat quieter.
See price on Amazon
3. Vileda ViRobi Slim 149932
Weight: 821 g
Dimensions: 29 x 29 x 4.5 cm
The Vileda ViRobi Slim is a budget-priced robotic vacuum cleaner. It's good for hard floors and can even deal with pet hairs, but it's useless on carpets. Like the other robot vacuum cleaners reviewed above, the ViRobi Slim is quite noisy.
On the positive side, the ViRobi Slim looks very smart and is a fun gadget to own. It's also one of the cheapest robot vacuum cleaners available.
See price on Amazon
4. Vinteky Household Intelligent Sweeper Robot
Dimensions: 28.6 x 28.6 x 6.5 cm
The Vinteky Household Intelligent Sweeper is designed to be used on all kinds of floor surfaces including hard wood floors, rugs and carpets.
After charging it for three hours it will run for up to ninety minutes. The vacuum cleaner robot is bagless with a capacity of 0.3 litres.
The Vinteky is surprisingly good at picking up cat hairs, but is quite noisy. It can't fully replace a regular vacuum cleaner, but it does a good job for the price.
See price on Amazon
Are Robot Vacuum Cleaners Worth It?
Robot vacuum cleaners are getting more and more popular thanks to their ability to clean large spaces in a somewhat autonomous manner.
But are these futuristic cleaners all they are cracked up to be or are they another gimmick that will one day be replaced by something much better?
Sold for as little as £12, and as much as £1,700 robot vacuums come in all shapes and sizes and proclaim that they are the ideal tool to help sweep up pet hair, dust, crumbs, and anything else that we may drop on the floor from time to time.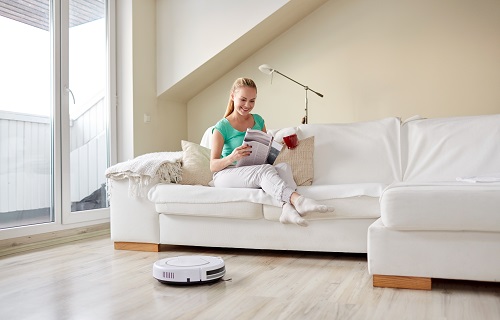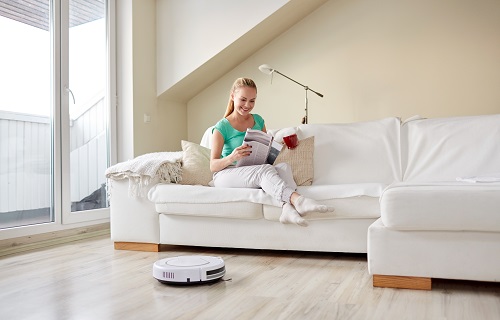 A few issues with robot vacuum cleaners
The idea is that these mini robots travel slowly around your home making it cleaner than ever before, without the owner needing to lift a finger, but there is one major problem with these cleaners: They don't like stairs.
1. The stair issue
After approximately 15 years on the market, no-one has yet developed a cleaner that can travel down a flight of stairs. This means that if you don't live in a flat or a bungalow, your new but expensive cleaner will only ever clean one area of your home.
2. You still need to vacuum
Another issue that almost defeats the purpose of buying a robot vacuum cleaner in the first place is that you still need to vacuum. Robot vacuum cleaners won't always be nearby to clean up that pile of crumbs you recently dropped.
If you have visitors about to pop by, you'll have to get your regular vacuum cleaner out and clean the crumbs up before your guests set foot through your door. This does make your shiny new robot cleaner a little surplus to requirements
3. They don't like thick carpets
Robot vacuums are not ideal if you have thick carpets, many models will refuse to clean any surface that is more than an inch thick as the wheels find these surfaces too hard to travel on. You'll also find that if your robot vacuum cleaner gets stranded behind a thick bit of carpet it will need to be reset every single time.
What they are good for
1. Keeping your floors clean
If you want to come home to clean carpets or wooden floors after a long day at work these mini robots are absolutely ideal.
They will need to have enough battery power to travel around your home while you're out all day every day, but with enough power, it means that you'll have less housework to do after a busy day at the office.
2. Gadget lovers
If you love gadgets and anything remotely futuristic then one of these fancy-looking cleaners may be exactly what you need.
Some of them do have a space-age look about them and can be quite pleasing to anyone who loves the latest gadgets, plus they can make your home a little cleaner, and that's always a good thing.
3. Pet owners
If you have pets you'll know how hard it can be to stay on top of those pesky cat or dog hairs. This is where one of these little vacuum cleaners can come in very handy.
Your new robot can make its way around your home sweeping up those hairs with relative ease.
Please bear in mind that if you have a lot of hairy pets or they tend to malt a lot you will need to empty your robot cleaner quite frequently.
So… Are Robot Vacuum Cleaners Worth it?
The answer to this question is: "It depends". If you live in a flat or a bungalow that is completely void of stairs and thick carpets then they are worth it.
You could have your home cleaned all day every day, resting in the knowledge that you have one less job to do around the home.
If you live in a home that has a flight of stairs you may need to buy two robot vacuum cleaners: One for upstairs and the other for downstairs.
A robot vacuum cleaner may be worth it if you're prepared to charge it frequently, and the idea of someone or something else keeping your floors clean makes you smile.
At the end of the day, if you think the advantages of having a robot vacuum cleaner outweighs the disadvantages, you may want to invest in these futuristic machines.
However, if you are unsure as to whether they are worth the money you may want to consider sticking with your current vacuum cleaner for the time being.
Conclusion
We hope this list of robot vacuum cleaners has been helpful. To find out more about other household products that can help you turn your house into a home, please explore our website further.
We have loads of articles on here about the best cleaning products in the UK that can help make cleaning your home enjoyable and, more importantly, fast!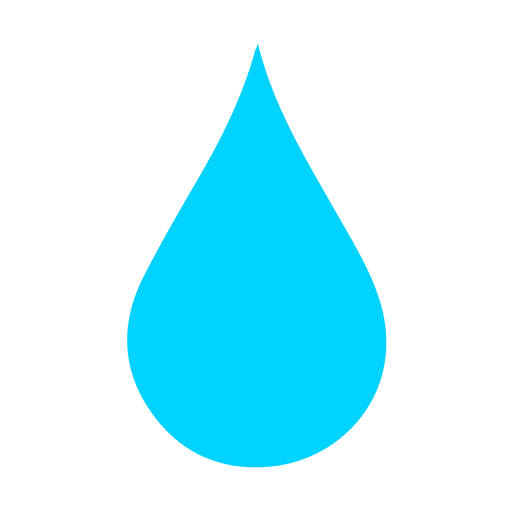 In The Wash is your guide to the best laundry and cleaning products, tips and tricks. Our mission is to solve the UK's cleaning and laundry dilemmas!