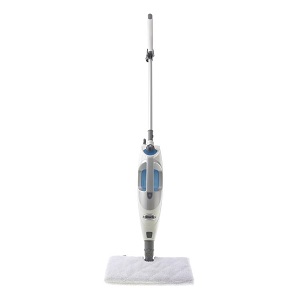 Summary:
A great steam cleaner with superb build quality. Sturdy and powerful, it's definitely worth checking out.

Buy it online:
See on Currys.co.uk
Finding a powerful and versatile steam mop can be challenging. However, Shark may have managed to build the steam mop with the right balance between versatility and raw steam cleaning power. The Shark Multifunction Lite Steam Pocket Mop S2901UK is a very powerful and impressively versatile cleaning tool at a very reasonable price point.
Shark have created a very strong product, but is it right for you? Let's find out…
Features
Swivel steering
Removable hand-held steam cleaner
Glass and hard surface attachment
Carpet attachment
Ergonomic design
Dimensions: 128 x 31 x 14 cm
Weight: 2.5 Kg
Power: 1350 watts
Performance and use
When it comes to raw steam cleaning power, the Shark Multifunction Lite isn't messing around. Whilst it isn't as powerful as many higher-end steam mops, it's certainly powerful enough to cut through grease and grime on your hard floors. The drying time after mopping isn't too bad either. Shark have done a good job getting the right balance between raw steaming power, and drying time.
The design of this mop is elegantly simple to use. Even assembling it for the first time is designed to be relatively intuitive. You should have no trouble figuring out how to use this steam mop. Speaking of the design, the whole thing is very sturdy and no component of it feels cheaply made. For such a reasonable price, the build quality is very impressive.
This steam mop is very versatile. It'll cut through grease and grime on your floor as all upright steam mops should, but it also features a handheld configuration alongside a number of attachments. For instance, you can use this steam mop to clean your windows or freshen your old carpets.
However, this steam mop lacks a built-in detergent tank, which makes it comparatively worse at cleaning floors to models with a detergent tank. That's not to suggest that this steam mop is bad, however. It's certainly powerful enough to handle anything you throw at it.
If you've got plenty of hard flooring, then a steam mop is a must. If you desire a little versatility from your cleaning products, then a 2-in-1 design such as this steam mop is extremely tempting. Steam is a naturally versatile cleaning agent. It can be used to deodorise carpets, cut through grime, disinfect surfaces, or even clean windows.
Thanks to the included attachments, this steam mop makes full use of the potential of steam. Unfortunately, the handheld attachments are on a flexible hose. Whilst this is great for getting into hard-to-reach areas, it means that the handheld requires two hands to operate.
Pros
2-in-1 design
Assorted attachments
Strong build quality
Cons
Handheld attachments are a little difficult to use
Concentrator nozzle pressure is a bit lacking
Verdict
So, what's the overall verdict? Well, this steam cleaner is perfect if you're after a bit of versatility from your steam mop. It works beautifully for cleaning hard flooring, and does a great job on carpets as well. The only real issue with it is the flexible hose in the handheld configuration, as it means the handheld requires two hands to operate.
In short, the Shark Multifunction Lite
is a great steam cleaner with superb build quality. Sturdy and powerful, definitely a product worth checking out.
Similar products
If the low price is what attracted you to the Shark steam cleaner, then the Vileda Steam Mop
is an excellent choice. It lacks the versatility and build quality of the Shark, but it's at a lower price point. The performance is still excellent, and if you don't need a top-of-the-line steam cleaner, it will serve you well.
If versatility is what you're after, then you can't go wrong with the Vax S7 Total Home Master. It has more attachments than the Shark, and doesn't suffer from the flexible hose attachments. It is, however, a little heavier and goes through water a bit faster.
Products from Amazon.co.uk
‹
›