Finding the right dishwasher is not always that easy, simply because there are so many different models on the market. Here is where we can help. We've taken a good look at 5 of what we think are the best freestanding dishwashers currently available in the UK to help you find the right model for your home. Read on for reviews of these 5 dishwashers.
1. Indesit Eco Time DFG15B1 Standard Dishwasher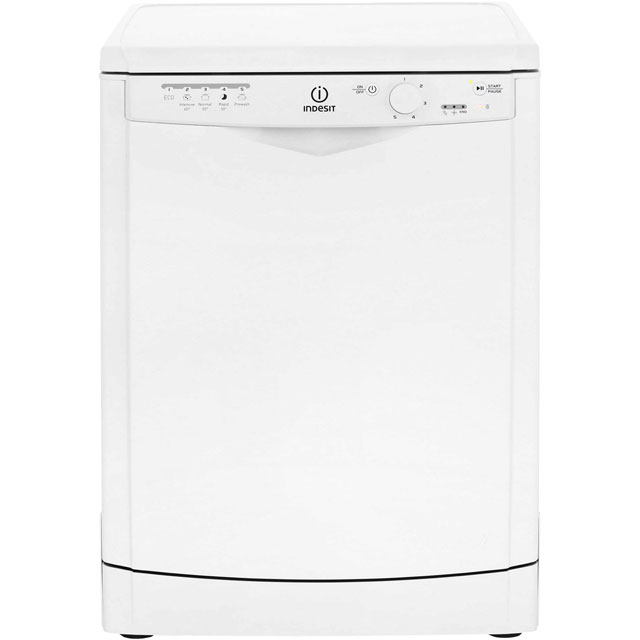 Energy rating: A+
Place settings: 13
The Indesit Eco Time DFG15B1 is a modern-looking freestanding dishwasher that comes with an LED display, an A-rated drying performance, and is suitable for 13 place settings. The Indesit is a very quiet model that may make you wonder if it's working, but you can rest assured that it is.
Measuring H85 x W60 x D60 (Cm) and available in either white or black, the Indesit will fit nicely into most kitchens. Weighing 47 kg, and with a simple design, this is quite a nice dishwasher with some good features.
Pros:
30-minute quick-wash option
5 wash programmes
Cons:
Not suitable for large dinner plates
No child lock.
The Indesit Eco Time DFG15B1 is a good all-round dishwasher that is ideal for medium-size homes. With an acceptable energy rating, it shouldn't cost you the earth to run, and the pleasant finish makes this product look a little more expensive than it actually is.
If you have little ones at home you may want to re-think purchasing this model as there is no child lock, but if you like your dishes to come out clean and dry, the DFG15B1 could be what you're looking for.
Buy on AO.com
2. Grundig GNF41822X Full-size Dishwasher
Energy rating: A++
Place settings: 13
The Grundig GNF41822X Dishwasher is a very futuristic-looking model, with an impressive LED display, and a nice smooth finish. Complete with a time-delay feature and all-in-wash programmes, the Grundig is very quiet, which could be ideal if you don't want to disturb your family while they sleep (see the quietest dishwashers in the UK here).
Pros:
Handy internal light
Very quiet
Cons:
Controls are hard to use at first
Measuring H85 x W59.8 x D60 cm, and weighing 48 kg, the GNF41822X is available in stainless steel, giving it a nice clean finish.
Some customers have had a few issues with the top drawer in that it hasn't always been easy to pull out, but overall the Grundig does seem to be an ideal dishwasher if you want something reliable, quiet, and looking a little futuristic. That being said, the controls can be hard to master at first, but with a bit of practice, this dishwasher could be the quiet but reliable model you need in your home.
Buy on Currys.co.uk
3. Bosch SMS40T32GB Full-size Dishwasher
Energy rating: A+
Place settings: 12
The Bosch SMS40T32GB dishwasher comes with a very clean white finish and a reputation for being good at making those dirty dishes nice and clean. Complete with 4 wash programmes and 3 wash temperatures, the Bosch doesn't seem to have as many options as other dishwashers, but that makes it ideal for those who don't need them.
Pros:
Quick wash and pre-wash options
Cons:
No LED display
Just 12 place settings
Weighing 43.65 kg, and measuring H84.5 x W60 x D60 (Cm) the SMS40T32GB has a pleasant white finish, and easy to use programme options. Although the Bosch only has 12 place settings, it makes it ideal for small to medium-sized homes that don't have a lot of dirty dishes at the end of the day.
This dishwasher is louder than the other models at 50 dB, but if you don't need it to be very quiet, the extra few decibels may not matter.  The rinse aid and salt aid indicators are perfect if you want to keep your dishes clean and sparkling at all times, and the nice simple finish is suitable for homes where a modern-look isn't essential.
Buy on Currys.co.uk
4. Beko DFN15X10X Full-size Dishwasher
Energy rating: A+
Place settings: 13
The Beko DFN15X10X dishwasher is a very smart-looking model that comes with a nice clean LED display and 5 wash programmes. With adjustable racking and glass holder, the Beko is suitable for a wide range of dishes, although it may not fit many large dishes in very easily.
Pros:
Adjustable water softener
Pleasant design
Cons:
Weighing 42.1 kg and measuring H85 x W59.8 x D60 cm, the DFN15X10X is ideal for spaces that are just a little snug. Available in stainless steel in addition to black and silver/grey, the overall design is a very pleasant one that will look good in most modern kitchens.
There isn't a time indicator to tell you how long is left on the wash, which isn't ideal if you're in a hurry. However, if you know the quick wash time lasts just 30 minutes, it's not too big an issue.
Buy on Currys.co.uk
5. Beko DFS05010W Freestanding Slimline Dishwasher
Energy rating: A+
Place settings: 10
The Beko DFS05010W dishwasher comes with 5 wash programmes an LED display, and a clean but modern white finish. Slimline, making it ideal for smaller homes or smaller spaces, the Beko seems to be missing a full rinse cycle, but this dishwasher is very easy to use.
Pros:
30-minute rapid wash
Half load wash programme
Cons:
Doesn't always dry very well
Weighing 39 kg this dishwasher is a lot lighter than the previous models we've seen, and measuring H85 x W45 x D60 cm, it's ideal for smaller kitchens with a lot less space for appliances. Limited to just 10 place settings, the DFS05010W is perfect for couples or single people who don't usually have a lot of dirty dishes.
This dishwasher is quite slim, and that could leave about 7.5 cm on either side if you have a space suitable for a traditional size dishwasher, but that shouldn't be much of an issue. A good all-round dishwasher with a nice finish and easy-to-use dials and buttons, the DFS05010W also comes with a 'Quick and shine' programme for when you're in a hurry.
Buy on JohnLewis.com
Related posts