Busy families need a reliable way to get their clothes clean and dry fast. It's no good having to rely on the weather, not when we live in such unpredictable conditions! During the winter months, you're very unlikely to be able to put a line of washing out and have it dried within a few hours, and even in the summer it can be touch and go!
A tumble dryer is considered a household staple, and not a luxury as it used to be back in the day. For that reason, it's important to shop around and find the best deal for you and your family. A 7 kg capacity gives you enough space to dry a larger family's clothes, without having to wait for another load to finish before adding another one!
Let's check out some of the cheapest 7 kg tumble dryers on the market.
Logik LVD7W15 Vented Tumble Dryer
You might not notice this brand name instantly. The Logik brand is owned by Currys PC World, and offers a range of affordable electrical products including tumble dryers.
This particular option has a 7 kg drying capacity and a few extras to make your drying experience more than positive. The buttons and controls are easy to use, and there is an LED screen which helps you see the status of your load.
There are four different settings on this machine, and the sensor drying function decides which setting is best for your particular load. There is also anti-crease cycle, which helps with delicates and cuts down on the amount of time you need to spend ironing after you have done your washing and drying.
Buy on Currys.co.uk
Indesit Eco Time IDV75 Vented Tumble Dryer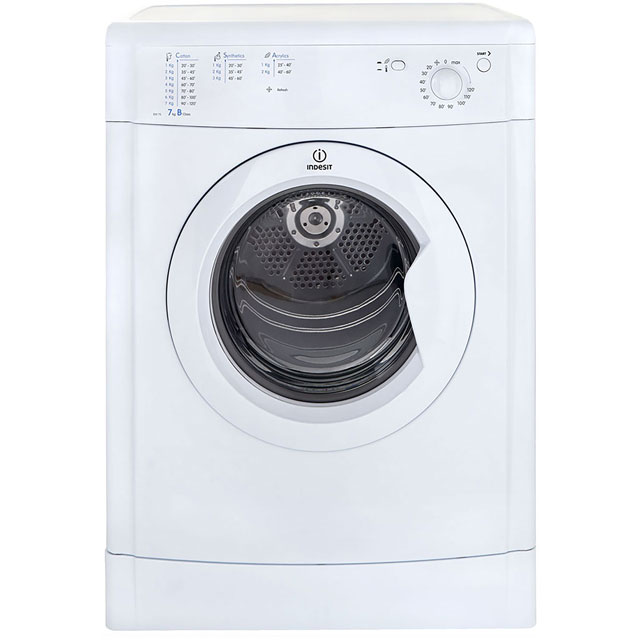 Indesit is a brand name we all recognise, and this particular budget tumble dryer is a great choice for larger and busy families. The 7 kg capacity is standard, and there is a shorter cycle which uses cooler air to dry your clothes and keep them fresh. This also cuts down on the chances of shrinkage!
The design of this dryer is very ergonomic and the doors open wide, so you can load and unload your washing with ease. You can choose from 9 different programmes, and there is also a cotton programme so you know your clothes aren't going to come out super-creased, with the need to iron constantly afterwards. There is also a timer option, so you have the final say over how long your clothes are drying for.
If you're looking for an instantly recognisable brand name and one which has a fantastic reputation, then this low-cost option is definitely one to put on your shortlist.
Buy on AO.com
Beko DRVS73W Vented Tumble Dryer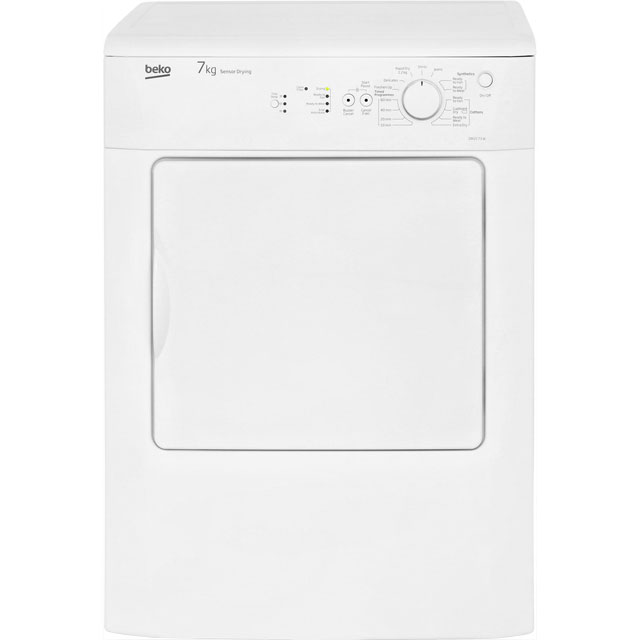 Another very popular brand name and a name you can certainly trust. Beko have some fantastic products in their range, and this particular budget 7 kg tumble dryer is one of the best. You don't have to worry about figuring out the right drying time for your load, as the sensor chooses all of that for you whilst cooling your clothes after drying so you can take your laundry out easier.
There is a quick drying setting which will dry 1 kg of clothes fast, and there is also a very handy anti-shrink programme, so you don't have to worry about creasing and ironing afterwards. Basically, this tumble dryer is a time saver and a money saver too!
Again, if brand names are important to you, this one should be on your list. Aside from that however, it is a very compact machine and one which doesn't make a lot of noise either.
Buy on AO.com
AEG T65170AV Vented Tumble Dryer
AEG isn't as instantly recognisable as Indesit or Beko, but this particular 7 kg tumble dryer is low in cost and high in quality, so it should definitely be considered on your list before deciding which to opt for.
The machine has several extras which make it stand out above the rest, including a refresh programme and a sensor which automatically chooses the drying time, saving energy. You can choose the timer and delay option, which delays by 3, 6, or 9 hours, so you can tailor your drying needs to your busy schedule. There is also a reversible door on the dryer, so it will fit into your house if you have a slightly awkward or difficult space.
If you don't place much importance on brand names then this particular budget tumble dryer is a great choice. The timer option and sensor are two of the AEG T65170AV's main selling points.
Buy on JohnLewis.com
Hotpoint Aquarius TVM570P Vented Tumble Dryer
We end our recommendations of the cheapest 7 kg tumble dryers with a top brand name, Hotpoint. This is one of the most expensive in the bracket, but it is still low cost compared to most. If brands and reputation are important to you, then this particular tumble dryer is a great choice.
The machine is very easy to install, and once in, it has a range of different programmes, including a choice of two different temperatures when you're doing your drying. There is an anti-tangling feature and a cycle which cools your clothes after they have been dried, which cuts down on the chance of creasing. If there is any creasing at all it still won't take much ironing.
This tumble dryer is ideal for those who don't have a lot of time to spend messing around installing and using their dryer. The choice of programmes isn't as large as some other choices, but there is plenty for basic needs.
Buy on Currys.co.uk
Related posts