When you're buying a washing machine, you want to know that the machine is going to last your family for years. It also has to have all of the programmes and features that make washing your clothes as easy as handing them to dry cleaners. Well, the washing machines below certainly have all of the features you could possibly want and are some of the best value in the UK right now too. Keeping reading to find out which washing machine on this list is perfect for you and your family.
1. Hotpoint WMFUG942PUK Smart Washing Machine
Features
9 kg washing capacity
A++ energy rating
30 minute quick wash time
16 washing programmes
Pros
Auto+ feature recognises the size of the load and manages water levels and drum action
Only uses the water needed to wash clothes thanks to the Performance+ feature
It's possible to halve the programme time
Very quiet
Cons
Some programmes are too long
Countdown timer can be confusing
A little bigger than other washing machines
Verdict
The pros of this Hotpoint washing machine certainly outweigh the cons. It is extremely quiet and has bagfuls of features to help keep washing simple and easy. Although some people say the washing times are quite long, there are ways to cut this time in half. Perhaps another con would be that Hotpoint doesn't make this clear in the instructions.
Overall, this is perhaps the best washing machine on this list. It does a superb job at getting clothes clean, and it has a great load capacity, so it's perfect for everyone.
Buy on Currys.co.uk
2. Zanussi ZWF01487W Freestanding Washing Machine
Features
10 kg load capacity
1400rpm spin speed
8 washing programmes
A+++ Energy Rating
Pros
10 kg load capacity offers a massive amount of room for dirty clothes
The preset 30-minute, 30-degree washing programme allows for quick start-up and go
Very quiet
Up to date styling
Cons
Instructions can be tricky to follow
A limitation on the programmes you can use together
The control panel is quite sensitive
Verdict
We were really struggling to find any cons for this washing machine. It works wonderfully on all of the programmes, and the capacity it has is perfect for couples, families, or even a horde of Vikings!
Although the control panel is a little sensitive, you will get used to this as you use it. Plus you'll love all of the other features it has including the Finish At function which stops the machine at a preset time. This is like the delay function on most machines, but it stops the machine at whatever time you set so it is far easier to master.
Buy on JohnLewis.com
3. Beko WMI71641 Integrated 7Kg Washing Machine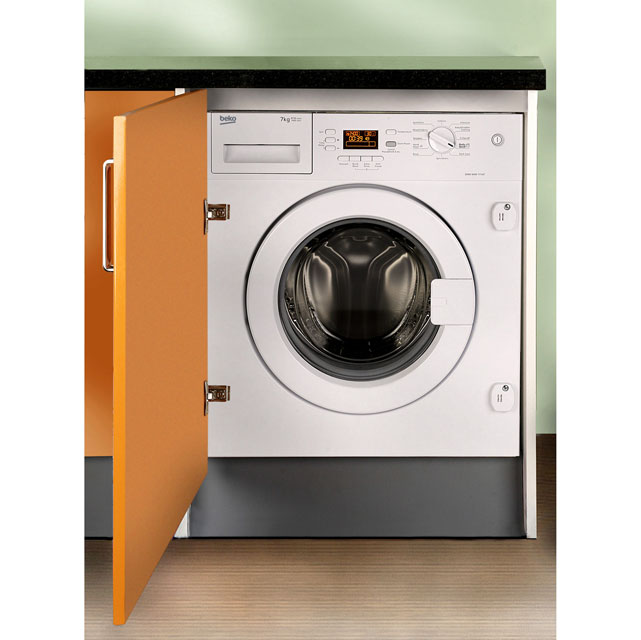 Features
7kg drum capacity, perfect for couples or small families
Automatically adjusts settings for quick use
Washes smaller loads in 14 minutes
Pros
Very economical
Quick cycles
16 washing programmes
Cons
Some find it loud
The drum capacity is a bit small
Verdict
Even though some find the drum capacity of this washing machine too small, it has never been advertised to big families. It is perfect for couples and small family's and has a load of features that make washing clothes really simple.
Although some people find this machine loud, a 72d B spin cycle is certainly not the loudest on the market. In fact, with a 72 dB spin and 51 dB wash, it is actually one of the quieter machines on this list. See the quietest washing machines here if you're worried it might be a bit loud.
Overall, this is a great machine for couples and small family's that is quick and easy to use.
Buy on AO.com
4. LOGIK L612WM16 Washing Machine
Features
6 kg washing capacity
1200rpm spin speed
15 minute quick wash time
Digital display
Pros
16 washing programmes, including baby care and eco
24-hour delay timer
Spin cycle dries clothes almost completely
Cons
Cotton cycle can take up to 209 minutes
Small capacity
Verdict
Although the cotton cycle on this machine does take some time, this washing machine is a great bit of kit. The capacity is small, but that is clearly stated before purchase so we don't feel that this should mark the machine down too much. It is still big enough to cope with a couple's weekly washing and even a small family's.
The spin cycle does an excellent job at getting clothes dry, and it really doesn't produce too much noise during the drying cycle either. Overall, this is a great washing machine, even if it does take some time to wash cotton clothes.
Buy on Currys.co.uk
5. Kenwood K714WM16 Washing Machine
Features
7 kg load capacity
1400rpm spin speed
A+++ energy rating
15 minute quick wash time
Pros
Very quiet
Great wash times
Add items during wash cycle
Very easy to use
Cons
Spin cycle doesn't leave clothes as dry as some other machines
Washing cycles are quite long
Verdict
Although the spin cycle can leave clothes still feeling quite wet, if you have a tumble dryer, this isn't the end of the world, and in most other respects this is a brilliant machine. It's quiet, simple to use and stylish. You can even add clothes into the machine during the washing cycle. You can also change the spin speed and temperate on most of the programmes to suit you.
Overall, this washing machine has the best of both worlds, it's really easy to use or you can take some time and set it up exactly how you want to use it. Whichever way you decide to use it, you'll get on great with this Kenwood washing machine.
Buy on Currys.co.uk
Conclusion
We hope you've found the perfect washing machine for you and your family on this list. If we had to pick one to recommend it would be the Hotpoint WMFUG942PUK Smart Washing Machine as its generous 9 kg capacity and overall performance make it great value for money.
Related posts