What's the best dish drainer and cutlery drainer in the UK? Read on for our reviews of the best products on the market.
Best Dish Racks in the UK
A good dish drainer will not only make your kitchen countertop more organised, it will also help improve kitchen hygiene and allow your dishes to dry quickly.
There's a huge choice of dish drainers available in the UK, ranging in price from under £5 to over £50.
Some are designed for small kitchens, and only have space for a few dishes, while others are much larger and can store a lot of washing up.
Some dish drainers are only designed for plates and bowls, while other can also be used for pots, pans and cutlery.
When choosing a dish drainer, you also need to think about the material it's made from. Metal dish drainers can rust and will also accumulate stains if you live in a hard water area. Plastic dish drainers can be a better option, or you could choose a stainless steel dish drainer which won't rust so easily.
We've researched the market and selected some of the best dish drainers for different purposes. We hope this helps you find the perfect dish drainer!
1. Delfinware Large Drainer
Dimensions: 48.5 x 37.6 x 13 cm
The Delfinware Large Drainer is a good dish drainer for families, as it should offer enough space for drying dishes after a meal for 4 people or so.
It's a straightforward dish rack that doesn't look very exciting but gets the job done. It's nice and heavy at 1.4 kg, so it won't tip over if you place a heavy plate at one end.
This drainer feels well made and sturdy, and while it's not the cheapest drainer out there it offers good value for money and should last you years of use. It's also easy to clean just by wiping it with a cloth.
The gap between the rungs is about 2.5 cm, which is relatively wide, so it's not a good choice if your plates are very thin. This drainer features a cutlery holder with three compartments which you can use to sort knives, forks and spoons.
See on Amazon
2. Wilko Collapsible Drainer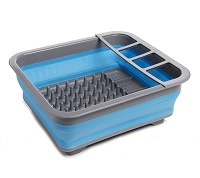 Dimensions: 36.5 x 31 x 12cm (extended)
As you'd expect from a Wilko product, this dish drainer offers very good value for money. It has space for drying several plates and bowls and also features a cutlery holder.
This dish drainer can be folded up to a height of just 5 cm, making it easy to store. This makes it a good choice for small kitchens with limited space. It's lightweight so it's good for taking on camping or caravanning trips.
One downside to this drainer is that it doesn't have a drip tray, but you could fix this by finding a separate tray to fit it. This drainer is cheap, easy to clean and compact, making it a great buy if you need something for a small space.
See on Wilko.com
3. Addis 2-Tier Drainer Dish Draining Rack
Dimensions: 42.5 x 33 x 26.5 cm
This two-tier dish drainer is made from stainless steel, which looks fantastic and shouldn't rust, at least not for a long time. As it has two tiers, so you can dry more dishes than you would with a regular dish drainer. It's also very sturdy so there's little danger of it toppling over.
This drainer should offer enough space to dry your pots and pans as well as your dishes. A cutlery drainer isn't included by default, but you could buy one separately.
This drainer's feet are made from plastic to prevent the drainer from scratching your kitchen countertop. The drainer doesn't store water underneath, so it's best for metal surfaces that will drain water into the sink themselves.
See on Amazon
4. Joseph Joseph Extend Expandable Dish Rack
Dimensions: 53 x 36.5 x 16 cm
Like most Joseph Joseph products, this dish rack is designed in a very smart way. It has a sliding design that lets you expand it to store more items if you need to, or condense it to save space. It's designed to drain water back into the sink using a draining spout, and the base has raised ribs to stop water getting trapped under plates and bowls. This makes it more hygienic than many other draining racks that don't actually drain the water away effectively.
This drainer is made of plastic so it won't rust. The design looks modern and stylish, and the plastic used is tough and high quality.
The ability to expand and then close up the drainer is great if you have a small kitchen and need to be able to save space when you're not using the drainer.
While we're big fans of this drainer, it does have some flaws. The plug doesn't always work perfectly, so it can leak onto your countertop. It's also quite expensive, as you pay a premium for the Joseph Joseph brand.
See on Amazon
5. simplehuman Plastic Compact Dishrack

Dimensions: 36.3 x 37.1 x 16.8 cm
This dish rack from simplehuman has a smart design with all the essential features you could want from a dish drainer. It has a steel wire rack for plates, a removable cutlery drainer and a 360° pivoting drainage spout. The drainage spout helps stop water from accumulating on the bottom of the drainer, preventing it from getting grimy. However, one common issue with this dish rack is that the attachment for the water spout is quite flimsy so it can fall off.
This dish drainer looks stylish and is available in a choice of three colours: white, grey and black. It has carrying handles which make it easy to move around. The gaps for plates are about an inch wide, so it can fit deep plates.
This dish drainer is relatively expensive, but it's a well made product that should last a few years before you need to replace it.
See on Amazon
Best Cutlery Drainers in the UK
Most of the dish drainers reviewed above feature a cutlery drainer, but sometimes you need a separate cutlery drainer. Here are 2 of the best you can buy in the UK.
1. Joseph Joseph Dock Cutlery Drainer
This elegantly designed cutlery drainer has three compartments for different-sized cutlery plus a slot for knives to prevent accidents from happening. The Joseph Joseph Dock Cutlery Drainer collects water in the base which can be easily poured into the sink through the spout.
One of the best things about this product is that it can be washed in the dishwasher. You can also take it apart, making it easier to clean.
This product is expensive for a cutlery drainer, but it has a smart design and looks classy. The slot for sharp knives means you don't need to worry about accidentally cutting yourself. The built-in tray and spout are also great as they will protect your work surface.
See on Amazon
2. IKEA Cutlery Stand
This simple metal cutlery drainer looks very professional and would look great next to a stainless steel sink. It has a straightforward design with just one large compartment which has holes on the bottom to let water escape.
Since it's made from metal this cutlery drainer is tough and should last a long time. It's also stable and unlikely to fall over. It needs regular cleaning, but this is quick and easy thanks to the drainer's uncomplicated design.
See on Amazon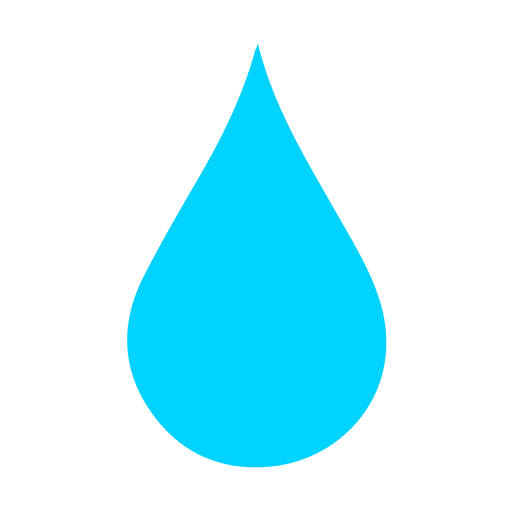 In The Wash is your guide to the best laundry and cleaning products, tips and tricks. Our mission is to solve the UK's cleaning and laundry dilemmas!