A broom is a staple part of most homes. It's used to clean up chunks of dirt off the floor, to sweep up bits of food from surfaces, and to gather the fur of your loyal companion that's been lost to the ground.
But which broom is the best? Keep on reading to find out!
The Best Indoor Brooms in the UK
1. Vileda 157590 DuActiva Anti Dust Broom

Material: Plastic handle with foam dust barrier
Size: Broom handle extends to 134 cm; dustpan handle is 80 cm long
Vileda's DuActiva Anti Dust Broom is one of the most expensive entries on this list, but the quality craftsmanship of this broom outweighs that of its cheaper competitors.
The broom comes as part of a lightweight set, so you get a telescopic broom that comes with a retractable handle and a wide edged dustpan.
The handle on the broom can be extended to a maximum of 134 cm, while the dustpan's handle is 80 cm long.
When placed together, you get a seamless cleaning experience because you don't have to crouch down to pick up the dirt from the ground, you can simply sweep debris into the pan.
Further to this, Vileda's broom also comes with a handy foam strip fitted to one side of the broom's head. So, not only can you clean up grime, but the foam plate helps to keep the muck in place as you continue to brush around.
This provides you with an overall better clean, and it stops you from having to retrace your steps and re-cleaning spots.
Plus, the foam can be removed and cleaned separately, so you don't have to worry about it being dirty if you accidentally drag it through some liquid!
The head of the broom is made of soft bristles which make it ideal for use across different kinds of flooring, including hardwood, as well as multi-levelled flooring.
The bristles are also angled, so you can clean dusty corners out with ease. There'll be no need to twist yourself into funny shapes to clean the soot away anymore.
In addition to this, the handle on the broom can also be lowered. You can pack the broom and dustpan neatly away in a cupboard, and they won't take up too much space. So, it's ideal if you're short on storage space!
The only minor issues are that the brush cannot stand up by itself, but this isn't a huge problem because you could lean it against something.
Another issue is that sometimes the telescopic handle has trouble staying in place, but you just need to make sure you screw the handle in tight.
2. OXO Good Grips Upright Sweep Set

Material: Aluminium handle
Size: Handles are approximately 100 cm
If you're after a broom that has a smooth, comfy grip and can be stored away with ease, look no further than OXO Good Grips Upright Sweep Set.
With this set you get a broom with a wide-brush head that has feather-soft bristles, so it's ideal for cleaning all types of flooring. You also get a cleverly designed dustpan that acts as a cover for the broom when it is in storage.
The large head helps you gather up more dirt in one sweep, which can effectively save you time as you clean.
On the topic of dustpans, unlike some other dustpans on this list, the OXO dustpan has bristles attached to it, so when you brush the debris into the pan, you can drag the head of the broom through the pan's bristles to dislodge any dirt.
This handy little addition makes sure that all the dirt is removed from the broom before you start cleaning a new patch of floor. Such a simple design feature, but an extremely helpful one!
The sleek aluminium design on the handles ensures that the broom and dustpan are sturdy in build quality, and shouldn't suffer too much damage if dropped.
The two parts can also be locked together when they're not in use via the hook on the dustpan's handle.
Plus, the pan actually tilts upwards when it's not being used, so it makes itself even smaller and easier to pop in the cupboard.
The only major downside to this broom set is that you've got to slot the broom into the pan correctly when storing it. Otherwise, the bristles on the brush head can bend out of shape.
It would be a shame if the bristles didn't work as they should because this is a relatively expensive broom, and you'd expect it to stick around for a long time.
3. Spontex Catch & Clean Broom & Dustpan

Material: Rubber
Size: Handle is approx. 97.5 cm
If a dustpan on a handle doesn't tickle your fancy, why not try a broom that comes with a 'step on dustpan'?
Spontex Catch & Clean Broom & Dustpan is what you're after if you'd rather keep your dustpan on the floor, and move it around as and when you need to with your foot to collect debris.
And this isn't the only interesting feature of the Spontex broom. It also comes with a unique brush head.
The brush head in question doesn't come with traditional soft bristles as you'd expect, the head is actually made out of rubber.
Small 'v' and 'blade' shaped rubber bristles are actually placed along the head, and are used to dislodge and gather up the grime.
And while this might seem odd, the rubber bristles are actually great at picking up all manner of dirt, from crumbs, to liquids like egg, from various different floors too, including but not limited to wood, carpet, tile, and laminate.
They're exceptionally great at picking up pet hair, which normal brooms don't always do so well.
Believe it or not this special broom doesn't stop there. It also comes with a pivoting head that can be changed to four different angles, 0° to 90°, so you can reach under various pieces of furniture with ease, and it can be completely dismantled if you need to pack it away entirely.
The brush head can also be washed under a tap, so you can maintain it regularly and with ease.
There are a few small issues with this product that you need to keep in mind, the dustpan doesn't always sit flush on the floor, so you might have to swivel it about a bit when gathering up dirt.
You also need to have a gap that's at least 10 cm wide, when you're trying to clean under a piece of furniture with the broom head fixed at a 90° angle.
Plus, the broom doesn't always reach up and into tough corners very well.
4. Amazon Basics Angled Push Broom

Material: Plastic handle
Size: 155 cm handle
If you're after a multipurpose broom that can be used as an outdoor and an indoor brush, is lightweight (800 g) and won't cost you a fortune, the Amazon Basics Angled Push Broom is what you're after.
Unlike other brooms on this list, this broom has harder-wearing bristles, so it's ideal if you need to brush up tough outdoor dirt or grotty carpets.
This broom can tackle sweeping up leaves, grass and mud with ease, and it can penetrate the fibres of carpets with little effort to clear out debris. It also comes with a slightly angled head, so you can reach tougher spots.
That being said, the brush comes with a wide head, so you can clean a bigger area at once. However, the large head may be a bit of a problem when it comes to cleaning dirt out of narrow gaps.
The broom also comes in three pieces that just snap together, so it's the perfect design to have in a broom, if you need to pack it away neatly into a small area.
However, the fact that the Basic Broom's bristles are so tough, makes it particularly unsuitable for hardwood flooring in a home. If you were to use such a brush to sweep the floors, you'd run the risk of scratching the surface.
You'd also need to be careful when you use this brush on other flooring, like fine carpet and tile too. The bristles could damage a delicate carpet's fibres and could also scratch a floor made from tiles.
In addition to the above, this broom doesn't always deal well with hair. So, if you've got several pets or you've got family members with long hair, you should prepare yourself for a de-tangling session with this brush. Also, the bristles on the brush sometimes fall out.
5. TDBS Multi-Purpose Rubber Broom

Material: Stainless steel handle and rubber head
Size: 120 cm handle
TDBS Multi-Purpose Rubber Broom isn't your average broom. In fact, it's more than just a broom because it can also be used to remove water from windows.
The broom, made from five separate pieces (including a rubber brush head and four steel pieces that form a handle) slots together to create one 120 cm tall broom.
The broom not only cleans dust and general grime from floors, but is also very good at removing pet hair from carpets and moisture from windows.
A clever mix of high-quality rubber bristles, alongside a built-in squeegee allow this interesting broom to turn into a window cleaning device with ease. You simply turn the broom so the squeegee faces the windows and use it like an average sized squeegee.
The fact that the handle is so long actually makes it easier for you to reach up to high windows.
But the squeegee tool isn't there just to clean windows, it serves a bigger purpose. Its main purpose is to gather up liquid spills, like squash, on floors and to keep dirt and dust under control as the brush moves around gathering dirt.
Interestingly, as the head is made from rubber it can be maintained very quickly. So, if you did mop up a squidgy mess, and some muck got trapped in the bristles, you could unhook the head and wash it under the hot water tap.
One feature you need to watch with the handle of this broom is, if you continue to adjust the handle, sometimes the parts get a little loose. In turn, the parts might not sit together exactly as they should.
6. TreeLen Long Handled Broom and Dustpan Set

Material: Aluminium, plastic, polyethylene terephthalate and rubber
Size: 103 cm handle /137 cm handle (if you use the extension)
If you're after a cheaper, but similar design to the OXO Good Grips Upright Sweep Set mentioned above, you're in luck. The TreeLen Long Handled Broom and Dustpan Set has many of the same features but is slightly cheaper.
This particular broom and dustpan set is made from sturdy aluminium and has been coated to protect it from rusting. Its main feature is its 16.5 cm wide brush head that is made from recycled polyethylene terephthalate bottles.
The bristles are ever so slightly ridged too, and this helps the broom to gather up dirt that's a tad more embedded into a surface.
You get a great sweeping motion with this broom and it works exceptionally well on hard flooring, like tiles and laminate.
The broom is 103 cm in height but it can be extended to 137 cm if you clip the extension piece on. However, the dustpan stays at 96 cm. Nonetheless, this should be ample height for you to brush around the home, without having to bend down to clean up the debris.
Talking about dustpans, this item comes with a 29 cm wide dustpan that can stand up by itself, so there's plenty of room for the brush head to push the dirt inside.
Plus, the pan also comes with bristles on it, so you can clean the brush head before you start using it again. This is particularly useful if you're cleaning grime off the floor that's likely to get caught up in the bristles.
When it's time to pop the tools away, you simply snap the two handles together, make sure the broom is resting comfortably in the pan, and pop it to one side. The broom and dustpan will only be 15 cm wide in this state, so they won't take up much room in your house.
Like the OXO set, you have to be careful when snapping the broom and dustpan together because if you catch the bristles and don't notice, they may bend out of shape.
7. Kleeneze KL062437EU Soft Bristle Sweeping Brush

Material: Stainless steel handle
Size: 120 cm handle
The Kleeneze Soft Bristle Sweeping Brush is a moderately priced, lightweight, attractive looking broom that can be bought alongside other Kleeneze items to maintain your home. The pink and grey brush is quite a striking item and will definitely stand out in your house.
The soft bristled brush can be used to clean a variety of surfaces in a home, from hardwood floors to carpeted areas. And it's pretty good at gathering up general household dirt, like crumbs, mud and hair. Its extra soft bristles also don't cause harm to tougher surfaces, unlike other brooms on this list.
It comes with a generously sized brush head, 26 cm, so you'll be able to clean both big and small areas with ease. And because of its size and softer bristles, it'll also be useful when it comes to clean in and around corners!
The main drawback is that hair can sometimes get stuck in the bristles, so you have to pull them out to ensure your brush continues to clean your floors effectively. And also, there's no dustpan to pop the waste into when you're done.
That being said, you can buy several other Kleeneze products online, so you can get some other colourful tools to match this brush if you like, for example a dustpan!
What's the Difference Between an Indoor and Outdoor Broom?
Outdoor broom
Generally, an outdoor broom has stronger, thicker bristles on its brush head. This type of head is ideal for outdoor use because it can be used to sweep and brush up clumpier chunks of dirt, like mud and grass cuttings.
In addition to this, outdoor brooms can be slightly heavier and their handles can be a little thicker. This design is to ensure that the brooms are more hard-wearing, can endure difficult sweeping tasks, and can withstand the general outdoors and its elements.
Indoor broom
On the other hand, an indoors broom usually has much softer bristles that are designed not to cause too much damage to floors in a house.
The bristles on the head are usually significantly slimmer because they're not being used in a 'heavy duty' sort of manner. In the house you'll typically be sweeping up bits of food, dust and hair.
Further to this, brooms that are used indoors aren't usually as heavy as outdoor brooms because they don't need to be.
In fact, being light is a big selling point of indoor brushes. Nobody wants to go lugging a heavy broom around as they clean the house.
So, in terms of practicality, the less weight the indoor broom has, the better it is.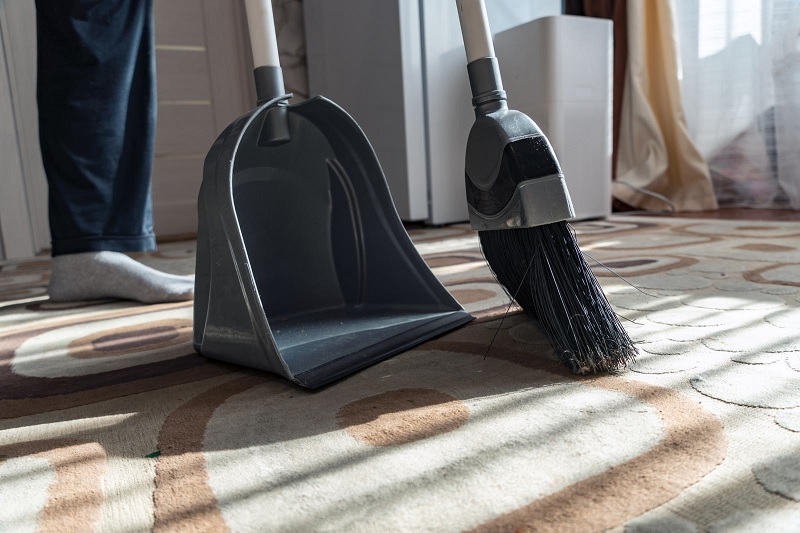 Can You Use a Broom on Hardwood Floors?
Yes, you can use a broom to brush up dirt from hardwood floors. Although, you should pick a soft bristled broom as this type of head will cause the least amount of damage to your solid floor. Hard bristled brooms will scratch and damage hardwood flooring.
Conclusion
If we had to recommend one product to you it would be the Vileda 157590 DuActiva Anti Dust Broom. It's not badly priced and has some useful features such as a helpful foam strip for keeping dirt in place, and a handle that you can adjust to suit your height.
That being said, the TreeLen Long Handled Broom and Dustpan Set is a great alternative because it folds up neatly, the dustpan can stand on its own, and it's a cheaper alternative to the OXO Good Grips Upright Sweep Set.

Bethan has a passion for exploring, reading, cooking and gardening! When she's not creating culinary delights for her family, she's concocting potions to keep her house clean!