Convenience and efficiency are paramount when it comes to carrying out household chores, and doing the dishes is no exception, which is why many of us turn to dishwashers for help!
Dishwashers are a major time-saving solution, come with a range of features, and are easy to use.
However, even though dishwashers come with a wealth of benefits, there is one minor issue with them. That is, where do you put them?
With limited space in a lot of kitchens today, you've got to don your creative hat and consider where you could house a dishwasher.
One area that's often considered is under the sink. But can you install a dishwasher under a sink?
In some cases, a compact dishwasher can be installed under a sink, but a regular dishwasher will usually be too big.
In the UK, dishwashers are usually placed under the sink's draining board next to the sink rather than under the sink itself, or in a cupboard under the countertop that's either left or right of the sink.
Sinks in the UK tend to come with a bowl (where you wash dishes) and a reversible draining board (where you put the wet dishes to dry).
So, if you view the sink's bowl and draining board as a whole unit that makes up 'a sink', from this point of view, you could install a dishwasher under it. But again, the dishwasher would typically be placed under the draining board side because there's ample clearance in this area.
When storing a dishwasher directly under a sink bowl, there's a lot of planning involved, and it's often easier if you just use a different space or an alternative type of dishwasher (more on this later).
Let's look into storing a dishwasher under a sink in more detail.
Can You Install a Dishwasher Under a Sink?
There are a number of points (you could also call them concerns) that need to be considered before you install a dishwasher under a sink. Find out more about them below.
Space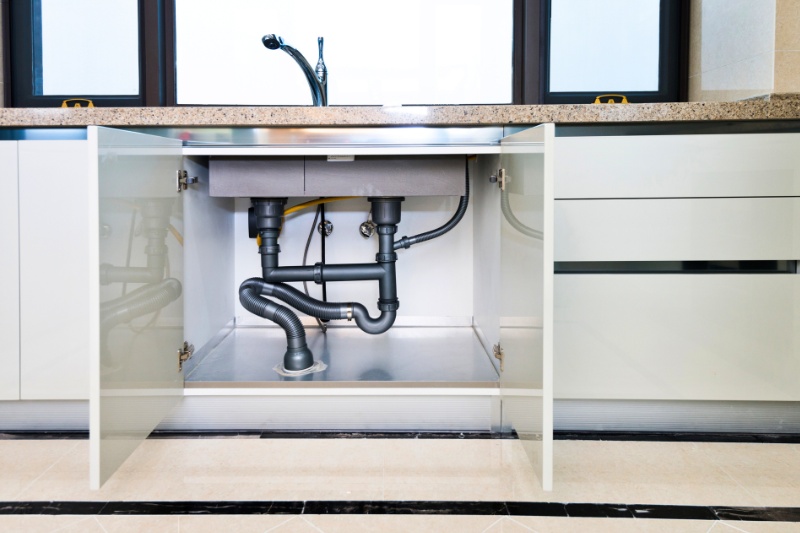 Space and clearance are two of the main issues with putting a dishwasher under a sink. Since dishwashers need ample height and width, you'd have to ensure that you could accommodate both before installing said appliance under a sink.
A standard dishwasher measures 80-85 cm high, 55 cm deep and 60 cm wide.
Unfortunately, a sink's bowl is usually deep, so in many cases, you wouldn't have enough height clearance under the sink to install a dishwasher. You could buy a smaller bowl, but you're still not guaranteed ample clearance.
Plus, the pipework and traps associated with your sink would also be in the way. It would be silly to squeeze a dishwasher into the tight space because you'd damage the pipes coming off your sink. You could end up with a nasty leak if you forced a dishwasher into the gap.
This is why dishwashers are placed under the draining board section of a sink – there's usually no pipework and obstructions to deal with. It's usually a wide, open space that's ideal for a dishwasher.
Compact dishwashers can be much smaller, at around 45 cm high, so they will often fit under a sink. However, they are designed to be placed on the countertop, so installing one under a sink might require some extra fittings.
Plumbing and electricity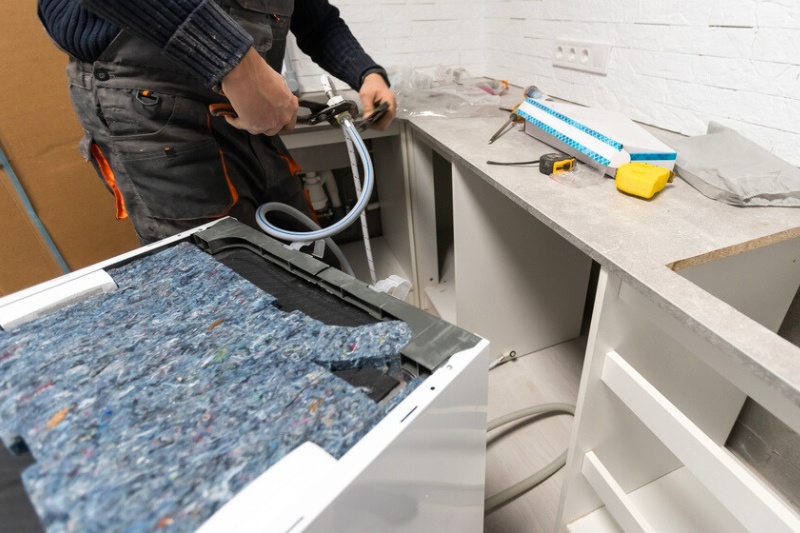 You need water, electricity, and a drainage point to work a dishwasher. By placing a dishwasher under a sink, you may have easy access to most of these points, which is a bonus.
However, given the lack of space you may have and the addition of new plumbing parts, you might end up with a web of pipework that doesn't look aesthetically pleasing, is very complicated to manage, and makes the space under the sink even smaller. This isn't exactly practical!
In some situations, you may also have to reroute the pipes so that they fit into the space under the sink. And fix new electricity sockets, so you have power to work the dishwasher.
In both of these examples, you'd require a qualified professional's help to install the correct parts. This, in turn, could work out costly.
It is, however, an essential step to take because you need to make sure that the outlets/inlets and dishwasher are fitted correctly and that all supply ports are in line with rules and regulations.
Design of cabinets and adjustments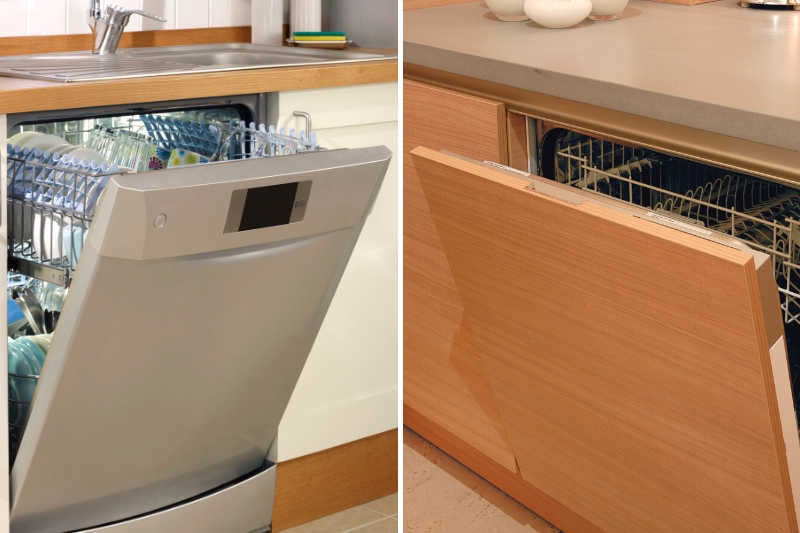 As mentioned above, you'll have to make some modifications to the space under your sink before you install a dishwasher. Another adjustment that you'll have to consider is remodelling the cabinet space.
For example, you'll have to make changes so that the dishwasher fits in the cabinet effectively and that the door is removed/re-purposed and suits the new layout of the kitchen.
This type of work tends to be skilled. So, the job may need to be carried out by a qualified professional, like a carpenter, which could be costly.
The new adjustment(s) must also be safe and cannot be a hazard! You cannot leave a dishwasher sticking out, for example. It should really be flush with the other cabinets.
In addition, you'll also have to consider ventilation and vibrations when adjusting the cabinet. For example, you may have to add some soundproofing, reinforcements, or better installation to the cabinet to protect it from wear and tear-related issues and steam-related problems.
You don't want steam to get trapped in the cupboard and cause mould or damp-related issues!
Cost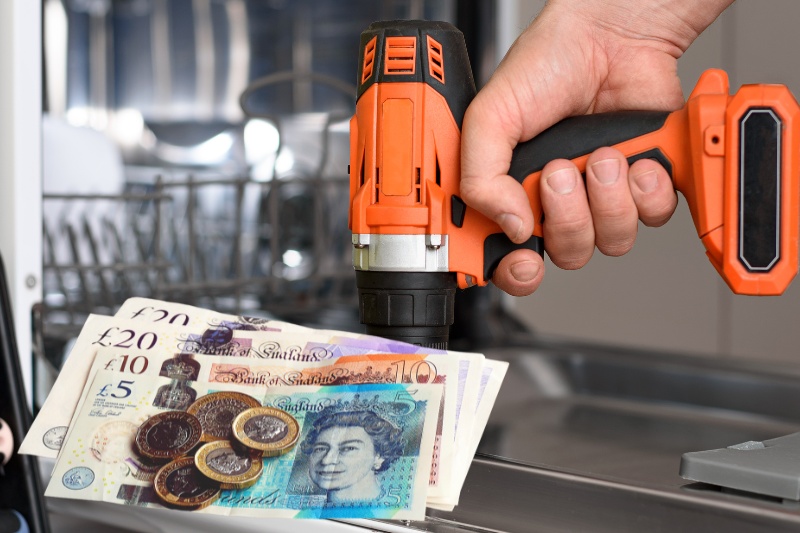 As you might've guessed already, there are several hidden costs involved with putting a dishwasher directly beneath a sink. These costs include getting a professional plumber, electrician, and carpenter to fit the appliance and outlets correctly.
In addition to these costs, you'll have to buy a suitable machine, which is likely to be costly because you'll need to purchase a particular dishwasher to slot into the area under the sink.
As a guide, a 'bog standard' or traditional dishwasher won't fit under a sink because it'll be too big and will knock against existing pipework. So, you'll have to purchase something unique that fits snuggly under the sink, like an 'under the sink' model.
Appliances that aren't considered 'run-of-the-mill' usually have more significant price tags. So, factor this in.
Manufacturers and warranties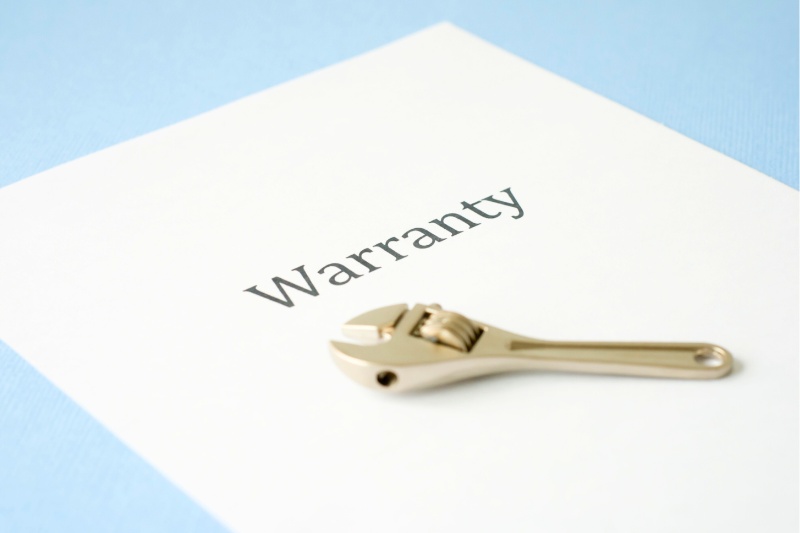 Before you go ahead and buy the parts listed above and carry out the work mentioned, it would be worth asking the manufacturer of your intended dishwasher if you can store the appliance under a sink.
You may find that the manufacturer advises you against doing this, and they may tell you where best to house their machine.
Plus, they may inform you that sticking your dishwasher under the sink will void any warranties you're entitled to. So, don't be too hasty. Do your homework first!
The future
Consider the future before you commit to putting a dishwasher under a sink.
While it may be a good idea to put the dishwasher under the sink when all works well, it is likely to be a different story when the machine starts to break down.
Trying to maintain an appliance that's housed in an unsuitable environment brings about challenges. For example, it could be hard work to move the machine out to check the pipework or for an engineer to do a routine check. So, is this hassle something you're prepared for?
It would also be very easy for you to break something when you move the dishwasher around. You could easily catch a piece of plumbing and rip it off. Are you prepared to take the risk and pay for any repair work?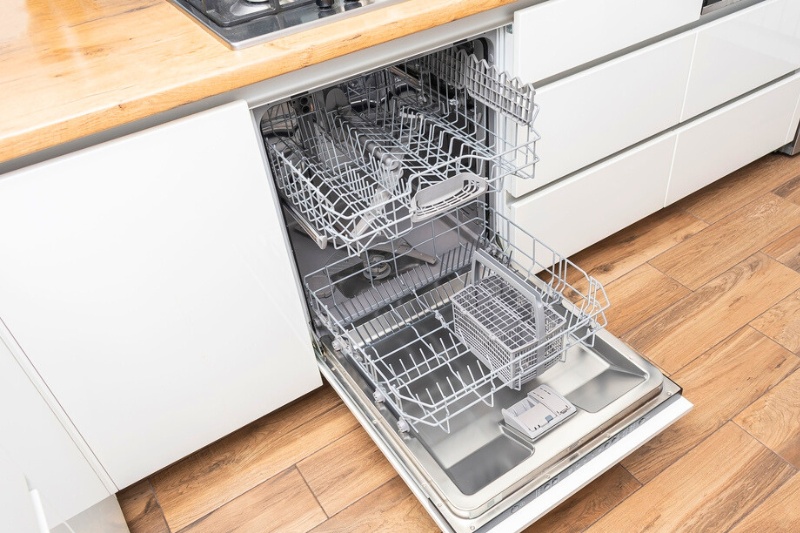 A quick recap of the main benefits and drawbacks
Pros:
You're able to integrate the appliance into the kitchen.
You'll be utilising a readily available space.
It's a space-saving option.
This is a good backup option if you don't have room to put the dishwasher anywhere else.
Cons:
You must get the correct type of appliance, which can be costly.
You need sufficient room and clearance for the dishwasher.
Putting a dishwasher directly beneath a sink could impact pre-existing plumbing.
Maintenance may be troubling.
You'll lose under-the-sink storage. Under the sink is a handy place to keep cleaning products and bins.
You won't be able to have a deep sink if you want to put a dishwasher under it. Although, this may not be a big problem if you get a dishwasher to clean your crockery.
There are lots of installation costs involved.
You may notice that the top rack in your dishwasher dips down in the back to accommodate the small gap under the sink. You may lose some washing space in the appliance.
Which Dishwashers Can You Put Under a Sink?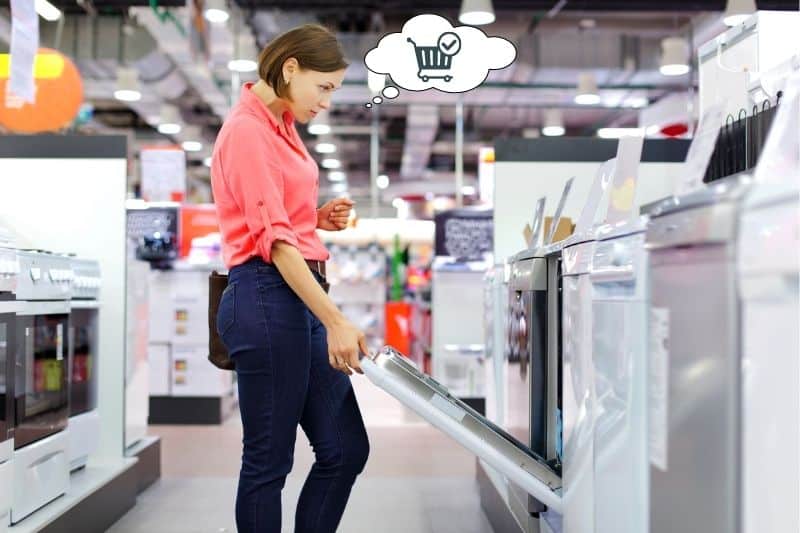 If you want to put a dishwasher under a standard sink, you will need to but a mini or countertop dishwasher rather than a standard model.
Most of these dishwashers are designed to be connected to the kitchen tap with an adapter.
If you are placing the dishwasher under the sink, this could be fiddly, as the hose will have to go from the tap to the cupboard under the sink somehow.
These dishwashers can also be plumbed in permanently, but this is more complicated.
Here are some dishwashers that are small enough to fit under a sink. Make sure you double-check the measurements of both the dishwasher and the space under your sink before buying one, as they won't fit underneath every sink.
1. Cookology CTTD8 Compact Dishwasher
Dimensions: 59 cm high x 55 cm wide x 50 cm deep
This compact dishwasher has eight place settings, which means it has quite a lot of space for a compact dishwasher.
It should easily be big enough for a single person or a couple. It's big enough for plates and pots.
Since it's fairly big for a compact dishwasher, it won't fit in the space under all sinks.
It can either be connected to your tap or plumbed in like a regular dishwasher.
2. COMFEE' KWH-TD602E-W Freestanding Compact Dishwasher
Dimensions: 43.8 cm high x 55 cm wide x 50 cm deep
This compact dishwasher is a bit smaller than the one above. However, it still won't fit under every sink.
It has six place settings and six cleaning programmes including a 30-minute quick cycle.
It's designed to be placed on the countertop rather than under the sink, so if you want to fit it under your sink you might need to buy some extra fittings in order to install it there.
3. Russell Hobbs RHTTDW6B Freestanding Compact Dishwasher
Dimensions: 44 cm high x 55 cm wide x 50 cm deep
This dishwasher is roughly the same size as the one above. It's more expensive, but it's made by a better-known brand.
Like the COMFEE' model above, this Russell Hobbs dishwasher also has six place settings and offers six cleaning programmes. The programmes include an ECO cycle and a Rapid 30' cycle.
Installing it under the sink is possible (provided the space is big enough), but it can be fiddly.
Alternatives to Putting a Dishwasher Under the Sink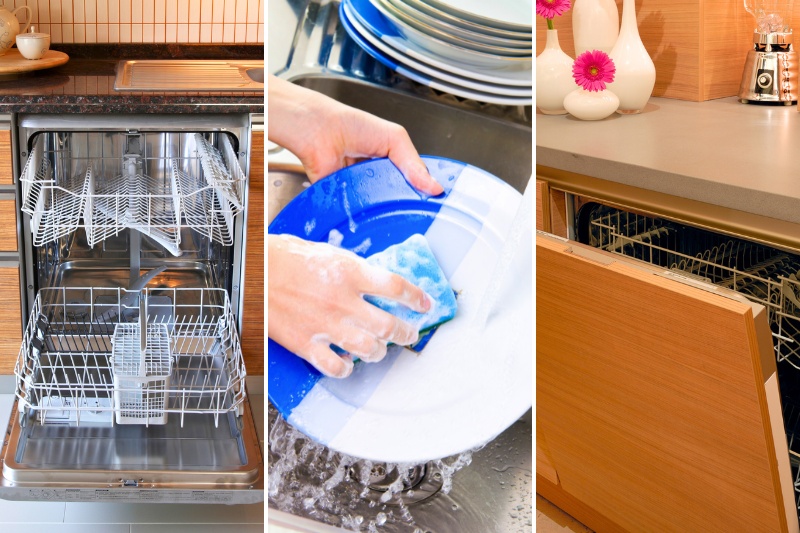 As mentioned above, you don't have to put a dishwasher directly beneath a sink. And to some extent, it would be easier if you didn't!
Here are some alternative solutions you could look into:
Use another cupboard – You could use a cupboard that's on either side of the sink, where there's ample room and no chance of you damaging other plumbing points. Just make sure that you have all the necessary water-related and electricity points in place (you may need to call a qualified professional to fit these points for you).
Stick the dishwasher under the sink's draining board – There's likely to be lots of room under the draining board that's perfect for housing a dishwasher.
A countertop dishwasher is also a good option if you're incredibly short on space.
Portable dishwashers are also handy to have around and can also be moved around if need be.
And you can always do the dishes the old-fashioned way. Wash your dishes by hand and make the experience as seamless and 'fun' as possible.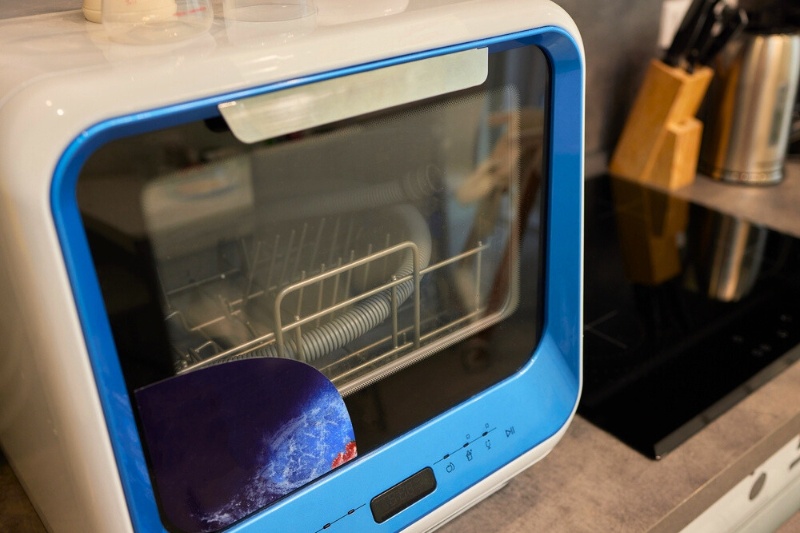 This may not be the quickest option on the list, but there are ways you can speed the task up and make it more exciting. You can start by getting the right cleaning tools and sticking some music on in the background to keep you motivated.
Can You Put a Dishwasher Under a Draining Board?
Yes, you can put a dishwasher under a draining board. This is arguably the better option, and it's one of the most popular locations to house a dishwasher in the UK.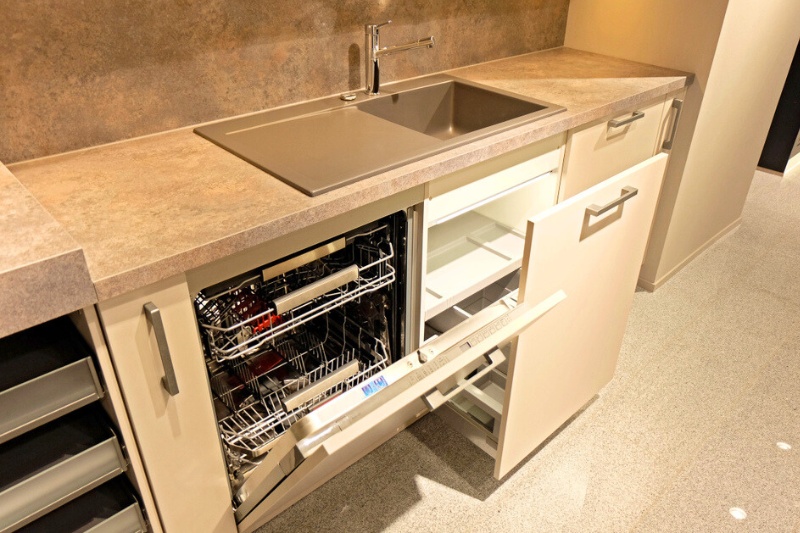 Under the draining board is a good location to put a dishwasher because:
It's close to the sink but isn't going to impact the sink's plumbing (traps/drainage pipes).
The space under the draining board is usually cupboard-sized, so there will be ample height, depth, and width (plenty of clearance). So, it makes sense to put the dishwasher here.
It's conveniently near the sink, so you can rinse dishes quickly before putting them in the dishwasher.
As noted, because the space will be cupboard-sized, there'll be more room, so you can choose from a wider range of dishwashers to slot into the cabinet. This can help to reduce the cost for you.
Less adjustment work is involved, so you should save some money.

Bethan has a passion for exploring, reading, cooking and gardening! When she's not creating culinary delights for her family, she's concocting potions to keep her house clean!