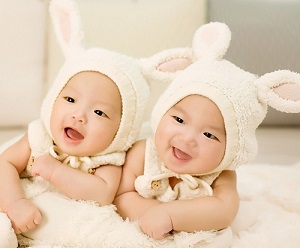 Choosing a laundry detergent for your baby can feel overwhelming. As if looking after a child wasn't already stressful, you have to consider using a different detergent for their clothes as well!
However, it is important to carefully consider your detergent as it is easy to forget just how sensitive a baby's skin can be.
If your baby is unfortunate enough to suffer from unusually sensitive skin, it can feel as though there is nothing you can do to alleviate the irritation. But fear not! On this page we'll share some tips for choosing a laundry detergent and give you our top 5 recommendations.
How to Choose a Laundry Detergent for Your Baby
Here are a few general tips to consider when choosing a laundry detergent that's suitable for your baby's sensitive skin.
Don't rush! Though it might not seem like it will need that much thought, it's important not to rush into buying a detergent that is overly priced whilst claiming to cure all your baby's skin issues. It's important to consider all your options and compare prices so you make sure you choose the right detergent for your child's skin.
Talk to other mothers. Overly sensitive skin is not unique and many mothers deal with it. The best thing to do when looking for a baby-friendly laundry detergent is to ask a number of other mothers and see what they use or have used in the past.
Test the sensitive detergent on yourself. This is a really useful thing to do as if you have problems with the detergent you can be sure that your baby with sensitive skin will too. It's worth testing the detergent since there are a number of detergents that claim to be safe for both for adults and newborns with sensitive skin, but don't necessarily work in practice.
Here are 5 of the best baby-friendly laundry detergents available in the UK in 2018.
1. Earth Friendly Products Ecos Lavender Laundry Detergent
Ecos Lavender Laundry Detergent is made with renewable plant extracts rather than any petrochemicals or ammonia. The bottle itself is made from biodegradable and recycling packaging making it environmentally friendly.
You only need a small amount of this detergent to sufficiently clean a load of washing. Furthermore, the pleasant and not too strong lavender scent means that it leaves both your clothing and the washing machine drum smelling fresh.
Buy on Amazon
2. Ecover Zero Laundry Liquid
Ecover Zero Laundry Liquid is a gentle, plant-based detergent that has been dermatologically tested. This product has been approved by Allergy UK and has not been tested on animals.
This product is scent free, and is safe for babies with sensitive skin. It's also a good choice if you have a child who suffers from eczema.
Buy on Amazon
3. Fysio Natural Washing Powder
Fysio Natural Washing Powder is made from extra virgin olive oil, chlorophyll, herbal extracts and essential oils, which are combined to make a soft detergent ideal for the delicate skin of a newborn. It helps give baby garments a feeling of freshness and naturalness and will not damage the skin or contribute to dermatological conditions.
Though it's slightly more expensive than regular washing powder, this product from Fysio is a softer alternative, and it's unlikely to irritate the skin.
Buy on Amazon
4. Fairy Non-Bio Washing Powder
At the time of writing, Fairy Non-Bio Washing Powder is the only washing powder listed as an approved product by the Skin Health Alliance. This means it has been independently tested to verify that it's safe for sensitive skin.
This product offers great value for money, and a 2.6kg box can wash up to 60 loads before it runs out. Comprised of natural ingredients, Fairy Non-Bio leaves clothes clean and soft, and is one of the softest combinations out there for baby's skin.
Buy on Amazon
5. Simply Pure Allergen and Fragrance Free Non-Bio Soluble Powder Soft-Tabs
This laundry detergent from Simply is completely free from allergens and fragrances and designed to thoroughly wash a load, making it free from any leftover bacteria. Made in the United Kingdom, this product has been designed with eczema sufferers and newborns in mind. You can use it for both adult and baby clothes, so it saves you having to buy different types of washing powder.
While this product is soft enough for the delicate skin of a baby, it doesn't always remove smells very effectively.
Buy on Amazon
How to Do Laundry if Your Baby Has Sensitive Skin
If your baby has sensitive skin it's likely that you'll be concerned about using laundry detergents that could potentially make your little one's skin slightly worse. There are many different brands of laundry detergent out there, and fabric conditioner too. So how do you do your laundry if your baby has sensitive skin, and how can you stay away from those detergents that could irritate skin that is prone to eczema? We're going to take a look at this now.
How your baby's skin reacts to laundry detergents
Your baby's skin may be sensitive or even be prone to eczema because of the laundry detergent residue that is present in the garments. In fact, if the clothes come out of your washing machine a little stiff it could be due to the build-up of detergents in the fabric. 2% of the weight of the garment could be made up of the detergent you use, which is a significant amount.
There is another reason why your little one reacts to laundry detergents. Even some of the most sensitive detergents out there contain chemicals and other additives that could be quite irritating towards your baby's skin. These additives include:
Diethyl phthalate
Dibutyl phthalate
Dimethylphthalate
These additives are often used in laundry detergents to help them smell nice, and although most of us like the smell of the detergent we use, the phthalates could be damaging your baby's skin.
But phthalates are not the only things you should consider staying away from; you may also want to reduce your use of stain removers as they tend to be highly concentrated and can simply be a stronger version of your laundry detergent.
Again, stain removers can build up in your baby's clothing, so you may want to refrain from using them as much as you can. If you do need to use a stain remover, we recommend that you soak the clothing in bicarbonate of soda and water, and place them straight into the wash.
You may also want to think about using laundry detergents and stain removers that are allergy-friendly as they can help to reduce outbreaks of eczema.
Tips for Minimising Skin Irritation
The good news is there's a real solution to your baby's sensitive skin issue, and it's one that you and your whole family can work around relatively easily. Here are just a few suggestions that could make a huge difference:
Reduce the build-up of detergents by rinsing the clothes again, once the original wash cycle has finished. Once the additional rinse cycle has been completed, use a spin cycle to wash out the hidden detergent.
Limit your use of laundry detergent. You don't always need to use as much detergent as the manufacturer tells you, and in most cases, you can probably use half the amount. If your clothes are very dirty you may want to think about adding some bicarbonate of soda to the load. 1 or 2 tablespoons of bicarb will usually do the trick.
You may want to consider purchasing eczema-friendly laundry liquid. Products such as these can usually be found online or in some health food stores, but they can be a little expensive.
Avoid using laundry detergents and fabric conditioners that are heavily scented as the phthalates that are found in the scents can cause irritation.
Consider using soap flakes instead of detergent. Soap flakes tend to be a lot less irritable to the skin, but your little one's clothes will need an extra rinse and spin cycle as there will be some leftover residue at the end of the cycle.
While every baby reacts differently to laundry detergent, there are some steps you can take to minimise skin irritation. If you are concerned about your little one's skin, please speak to your doctor as they may have some useful advice. With a little bit of effort and with a small change to your laundry habits you too could find that your baby's sensitive skin is no longer an issue.
Related posts