When it comes to household cleanliness, there are countless things to bear in mind. Do you have pets? Do you have children? Does anyone in your house have an allergy? These are all questions you need to ask yourself. On top of this, how much time do you have to regularly clean your house?
We live such busy lives that it's important to cut corners wherever possible, without cutting down on the quality and thoroughness of the clean. You could go for the old mop and bucket route, but this takes time, means you need to use cleaning chemical products and you also need to scrub, which nobody loves to do. This is where the steam mop comes in!
A steam mop is a fantastic invention, and an affordable one too. There are countless products out there which won't break the bank.
If you're wondering what this wonder-invention is, basically, it's a mop which creates steam to clean your household surfaces, which means you don't need to use chemical cleaning products, because the heat of the steam kills all bacteria you need it to.
Steam mops are usually mounted to a pole so you literally run the cleaner over the surface you're cleaning, but several have a handheld design so you can clean your worktops and stovetops.
Of course, since there are several products on the market to choose from, you need to know which the best are. Luckily for you, we've reviewed five of the best budget steam mops on the market in the UK in 2017.
1. Vileda Steam Mop, UK Version
Everyone knows the name 'Vileda', which gives you peace of mind from the get-go. This particular product comes from that well known brand and is widely available. Once you have purchase the mop, you can buy the refills cheaply, so it is a durable and long-lasting product to opt for.
The Vileda steam mop kills 99.9% of household germs, without having to resort to bleach or other nasty chemicals. This is ideal if you have children or pets or are concerned about the environment.
The product also comes with a carpet glider, so you can run it over your carpets and make sure they are ultra-clean too, without wetting them through. This steam cleaner is also suitable for all hard floors, such as vinyl, laminate etc.
Basically, you just fill it up, turn it on, wait 15 seconds for it to heat up, adjust your steam, and away you go! It's that easy. The mop is also lightweight at 2.5kg, so isn't bulky to move around.
The only real downside with this product is that some users have stated that it doesn't produce as much steam as some other mops, but this could be down to personal preference.
>>> Read reviews and see price on Amazon.co.uk <<<
2. Vax S85-CM Steam Clean Multi Steam Mop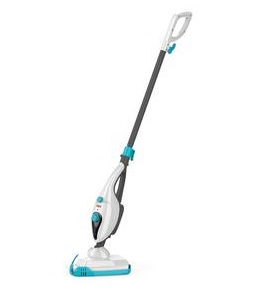 Here we have another big-named brand. Vax is synonymous with vacuum cleaners and other cleaning machines found in the household. Again, you're getting peace of mind here, but the price of the product is also much lower than you might think too, especially for such a well known brand name.
Again, this cleaner is 2.5 kg in weight, so it's very easy to move around without straining yourself, and it easily turns into a handheld cleaner with just one click of a button. This means you can not only clean your hard floors, but you can also glide it over your hob, oven, and kitchen surfaces, to get rid of any hidden nasties that may be lurking, without the need to resort to the bleach again!
Some users have stated that the bulk of the weight is in the handheld section of the product, but you only have to use it for a short time, so it won't weigh you down too much when you're cleaning your kitchen surfaces in this way.
The product doesn't come with a carpet cleaner attachment, but you can purchase an additional accessory at an extra cost if this is something you want to do in the future.
>>> Read reviews and see price on Very.co.uk <<<
3. Vax S84-P1-B Switch Steam Cleaner
This is another Vax product, so yet again you have that peace of mind from the get-go. This is a relatively low cost product, but not the cheapest one reviewed here. In terms of quality however, you are getting a high standard, so this is something you need to weigh up.
Many of the budget steam mops reviewed here are similar in weight, and this is another 2.5 kg product, so it is sturdy enough to use easily but not so heavy that it is going to cause you strain or difficulty.
The handle cleaner is quickly turned into a handheld cleaner with just one button, and there is also a 360 degree swivel which locks into place so you can get into the smaller corners of your home with ease.
The cleaner heats up in just 15 seconds and the steam will be delivered at optimum temperature for around 15 minutes, which is a little longer than some similar products of this quality. The product also comes with an included accessory pack and a storage bag, which will come in very handy when you're not using it.
>>> Read reviews and see price on JohnLewis.com <<<
4. Easy Steam Upright Handheld Steam Cleaner Mop
This particular option is the cheapest on in terms of price on our list (at the time of writing), and it has some very impressive features that you might not expect from such an inexpensive product. It doesn't have that big brand name peace of mind, but the reviews speak for themselves and the price is a plus point.
This cleaner is powerful and very versatile. It doesn't turn into a handheld cleaner, but the mop itself is only 1.8 kg, so it's very easy to use and lift if you need to. It is also suitable for all hard surfaces, and the pointed, triangular head makes it easy to get into small nooks and crannies when doing you cleaning around the house.
Another function of this particular product is that it has an on-demand steam delivery system, meaning that when you don't need to waste steam when you're not using it at that point in your cleaning. This is all controlled with the push of a button, and has fast delivery. This saves energy, time, and is a useful added function.
The fact that you don't recognise the brand name of this product should not put you off.
>>> Read reviews and see price on Amazon.co.uk <<<
5. Vax S7 Steam Mop
Finally, we have another Vax product, with a 2-year guarantee on offer if anything happens to go wrong with your product. More peace of mind!
The only downside with this particular mop is that it is marginally heavier than the other products we have reviewed, at 2.7 kg. This is a very small extra amount, but it could make the difference if you have a bad back or need to clean quickly.
The angular design of the head means you can get into those tight corners which need to be cleaned, and the steam will run for up to 12 minutes without interruption, with a fast heat-up time of just 15 seconds overall.
The product comes with a 16-piece accessory set included in the price, with additional fittings, mop cleaning accessories and a storage bag.
Compared to the other Vax steam mops we have reviewed, this one isn't such an all-singing, all-dancing product, but it's still very powerful and won't break the bank!
>>> Read reviews and see price on Amazon.co.uk <<<
Related posts