If you're looking for a new floor mop and bucket set to mop tiles or a wooden floor, you've come to the right place.
There are lots of mop and bucket sets available on the market and it can be hard to know which is the best.
We've picked out seven of the top-performing mop and bucket sets available in the UK.
Of course, there's no such thing as a single best mop and bucket set; the best set will depend on your requirements.
One mop might be great for mopping a small kitchen with a tiled floor, but not suitable for mopping a large hardwood floor.
Therefore, you should bear in mind that while the mop and bucket sets selected here are all quite versatile, some are better for certain purposes than others.
Best Mop and Bucket Sets in the UK
1. Leifheit Clean Twist Disc Mop & Bucket Set
Handle length: Adjustable up to 130 cm
Bucket capacity: 6 litres
While this mop and bucket set may look a bit basic, it actually has a very practical and clever design that makes mopping really easy.
To start with, the mop head is 33 cm wide and has tightly twisted microfibre strands that pick up a huge amount of dirt and water.
So, for cleaning up spills and grime, this mop head is awesome. And you can easily detach the mop head, and machine wash it.
Where the mop head attaches to the adjustable handle (which goes up to 130 cm), there is a 360-degree joint, so you can use the mop in any position you need to get the job done.
The specially designed bucket ensures you can wring the mop head out really as well, and there is also a cleverly designed handle that makes emptying the bucket easy.
This mop and bucket set really makes cleaning easy. The mobility of the mop is incredible, and the handle can lie completely flat for reaching under furniture.
Leifheit also makes replacement mop heads for this model, and they are responsibly priced for how amazing they work.
2. Vileda Turbo Microfibre Mop and Bucket Set

Handle length: Adjustable (55-130 cm)
Bucket capacity: 5 litres
Vileda has called this mop and bucket set the 'Turbo' for very good reason.
Sadly, there isn't a turbo motor attached to this mop as that would certainly speed up mopping, but there are some clever features to make mopping much faster! The foot pedal, for example.
The bucket has the typical wringing-out area that all mopping buckets have. However, this one has a foot pedal.
So, you can press down on the mop head and get out all of the water really quickly.
This alone speeds up mopping the floor a lot, but that isn't the only feature on this mop for speeding up cleaning.
The mop head itself also lends to speedy cleaning. Just like the mop head above, it is circular and has a wide surface area, so you can reach more of the floor in one swipe.
However, the holder for the mop head is triangular. When positioned correctly, you can easily get this mop into the corner of a room with the microfibre strands conforming to the corner.
So, you can cover the entire floor quickly, even the hard-to-reach areas.
Overall, there is loads to love about this mop and bucket, including the easy system to remove the heads and the clever clip on the bucket handle for holding the mop while you aren't using it.
If you buy this mop and bucket, you certainly won't regret it.
3. Leifheit Profi XL Mop and Bucket Set
Handle length: 135 cm
Bucket capacity: 8 litres
If you have a large amount of flooring that you need to mop, this XL mop and bucket set could be the way to go.
The mop head is 42 cm wide and is made from microfibre, so it does a great job at collecting everything on your floors.
The metal frame on the mop handle keeps the head really rigid in use, but the handle can also be angled into any position, so you can reach all areas of your flooring without much fuss.
The clever bucket system also ensures that the mop head is nice and clean after each use. Using your foot, you depress the catch on the mop head, which detaches it from the metal frame, and you can then rinse it like a normal microfibre cloth.
You can then wring it out by pressing on the foot pedal on the bucket and reattach it just as easily.
Once you get used to this system, it is so easy to keep your mop clean, and you can clean massive areas with this mop in a fraction of the time of a normal-sized mop.
4. Vileda Ultramat Turbo Flat Mop and Bucket Set
Handle length: Adjustable (55-130 cm)
Bucket capacity: 6 litres
This flat mop from Vileda has the same fantastic bucket as the above Vileda mop.
The foot pedal wringer system works brilliantly with this flat mop as well, so you can ensure all of the dirty water is gone from the mop before putting it back on your floor.
The excellent design of this mop head is where we'd like to focus. It is a flat, rectangular-shaped mop head which lends itself to mopping larger areas quickly and reaching into corners as well.
The mop head also has 'power zones'. These are areas of more rigid microfibre strands that power through dirt and grime on the floor, speeding up cleaning even more.
So, the combination of the brilliantly designed mop bucket, and the very clever mop head make this mop and bucket system really good for larger areas or homes with lots of tight corners.
Like with most Vileda mops, the mop head can be machine washed, and replacements are available.
5. EasyGleam Mop and Bucket Set
Handle length: 131 cm
Bucket capacity: 5.42 litres
What really separates this mop and bucket set from the rest is the bucket itself. It has two compartments, one where you wash the mop head and one where you dry it.
This ensures that no dirty water comes into contact with your floor after you have dried the mop.
The idea behind this mop is that thousands of microfibre strands help you pick up even the most stubborn of dirt and grime from your floor without making it soaking wet.
There is barely any drying time after you use this mop, and certainly no need to dry your floor afterwards. As a result, this mop leaves almost no watermarks at all, just a perfectly clean floor.
EasyGleam provides four microfibre heads for this mop in this kit, and all of them are machine washable too.
Plus, they have additional mop heads available for more stubborn dirt, as well as replacement standard mop heads too.
6. Vileda Spin and Clean Floor Mop and Bucket Set
Handle length: 144.78 cm
Bucket capacity: 4.2 litres
The spin and clean mop system from Vileda is quite an innovative system that keeps your mop head free from dirt and grime as you mop.
Firstly, the mop head is a nice large circular head that allows you to quickly get all of the floor clean. And to reach the corners and the edges of rooms better, the sides of the mop head are flexible (you can also use these to clean your skirting boards too).
The clever stuff doesn't stop there, though. The bucket has a roller inside. So, when you clean your mop head, you place it over the centre spike and give it a spin.
This gently forces the mop over the roller and gets rid of any dirt clinging to the microfibre strands.
The bucket is wider than a usual mop bucket as it needs to fit the entire mop head easily inside. Still, Vileda has made it shorter, so it can actually fit in the cupboard under the sink comfortably. Many people love this mopping system and simply won't use anything else now.
How to Mop a Floor
Whether it be dirt trampled in from dirty shoes or dust and crumbs that coat your floor, ensuring that it stays shiny and pristine can be difficult and how you choose to clean it can make a big difference to the end result.
Each type of floor requires different care, and you will get the best results if you mop it in the way best suited to your floor and with the best products for it too.
You will also find that different mops work better on different floor types, for example, a sponge mop works better on a smoother surface such as tiles whereas a more granular or uneven surface such as wood or stone will benefit from the traditional string mop as the threads can clean the dirt from the crevasses.
Read on to discover the best mops and products to use on your specific floor type for the shiniest floors you have ever seen.
Before you start
Before you start mopping any of the following floor types, you will first need to use a vacuum to remove any debris from the floor, otherwise you will simply end up spreading this elsewhere or be left with clumps of fluff or dust across your floor which, as you can imagine, doesn't lead to the best results.
You may also want to think about the products that you are going to use on your floor as if you have children or pets, some chemicals may be harmful to them and a more natural alternative may be preferable.
It's worth doing your research to find the best cleaners for both your floor and family.
Also consider whether a steam mop or a normal mop will do a better job; for a tile or stone floor, this is a great option as it cleans your floor and kills bacteria without the use of products, however be wary of using it on wooden floors as the heat from the steam could damage or mark the wood.
How to mop a wooden floor
When mopping a wooden floor, it is best to use a product recommended for use on wood or simply a bit of washing up liquid mixed with warm water so as not to damage the wood with harsh chemicals.
Fill your bucket with warm (not boiling hot) water and dish soap and use a string mop as suggested before to reach into all the nucks and crannies and clear away any dirt lodged in them.
Dip your mop into the soapy water and then squeeze out the excess water so as not to saturate the wood or stain it.
Next you want to mop the floor going with the grain so that any streaks that may be left aren't noticeable next to the grain of the wood.
If you wish to use a steam mop, some have a special setting for use on a wooden floor, be sure to use this function as too high a heat or too much steam blasted at the wood could damage or stain it.
If your floor still isn't sparkling, you may want to buff it with a polishing cloth or use a special wood polish after cleaning, but be sure to check that it is the right product to use.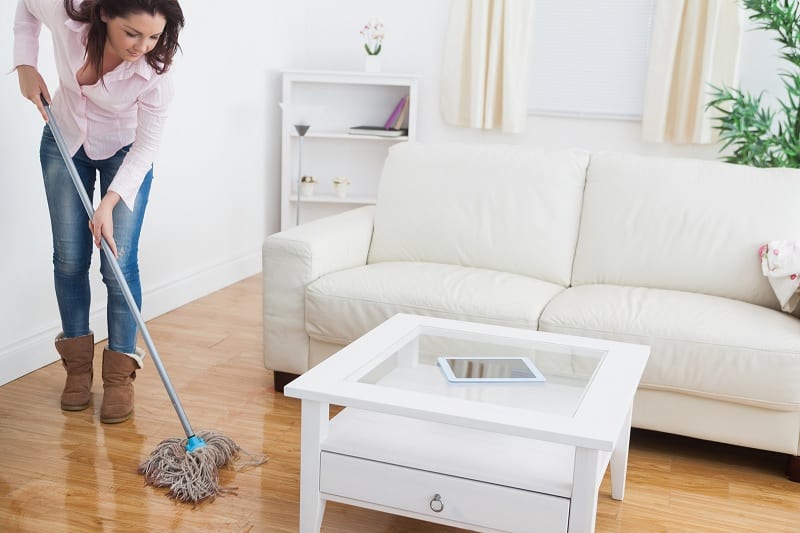 How to mop tile and stone floors
The type of mop that you decide to use on tile of stone flooring will depend on whether the tiles are smooth or have a more uneven surface. If the tiles are smooth, a sponge mop will be best for cleaning whereas, like the wooden flooring, a string mop is better to reach into all of the gaps.
When filling up your bucket or sink with water, you can afford to make it quite a bit hotter than you would for a wooden floor and you may also want to use slightly harsher chemicals, but remember to read the label to make sure that the floor won't be stained and rinse the floor with plain water after/use natural products if you have small children or pets.
You can use more water on the floor than with wood floors and simply concentrate on an area at a time, moving from one side of the room to the other while moving the mop from side to side.
Regularly rinse your mop in the water and change the water as soon as it starts to look slightly grimy, otherwise you will end up spreading dirt from one end of the room to the other.
You may decide to instead invest in a steam mop which works very well on smooth or uneven tile and stone floors as the steam cannot damage the surface and leaves the floor both shiny and hygienic and will save you time in emptying and refilling your bucket.
Just be sure to change the cloth regularly, as like with a normal mop, a dirty one will just spread the grime further.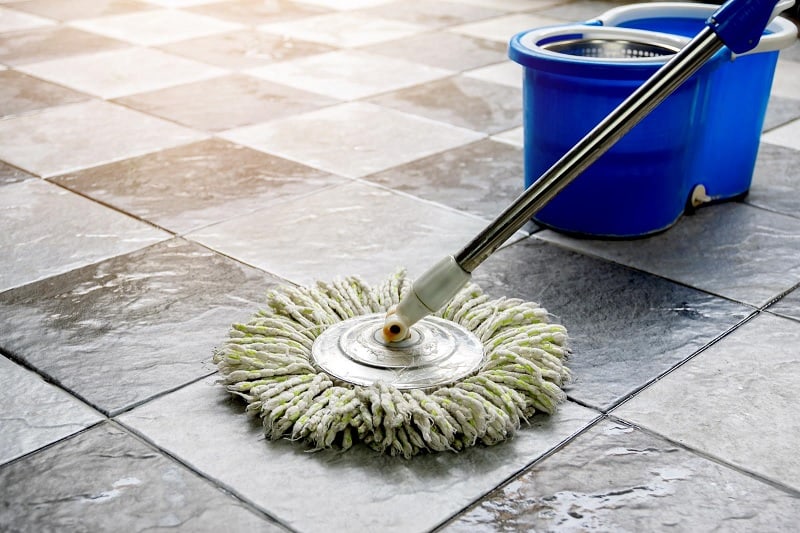 How to mop laminate floors
Laminate floors can be temperamental in the way that they stain and react to chemicals. Try and avoid harsh detergents and never use wax, oils, polishes or varnish on a laminate floor.
To mop it, use as little water as you can and warm (not hot) water with a small amount of washing up liquid in it.
This is the one type of floor to avoid using a steam mop on as the high heat can damage the laminate.
All in all, it is better to us very little on this floor unless necessary!
Mop FAQs
What sort of mop is best for laminate floors?
As laminate flooring is most often found in kitchens and bathrooms, the best mop for this flooring is microfibre. This is because everything clings to microfibre, including germs and bacteria.
So, as you mop, you'll see all the dirt be removed, but know that the microfibre is grabbing the bacteria and keeping you safe as well.
What sort of mop is best for tile floors?
A lot of people use sponge mops for tiles to get all of the stubborn dirt and grime. However, sponge mops can actually push the dirty water into the grout between the tiles, meaning you then have to use a cloth to wipe it out.
So, for tiled floors, we would recommend microfibre mops. Everything clings to microfibre, so your grout will stay looking beautiful for a lot longer without all the hard work.
What sort of mop is best for hardwood floors?
We'd recommend using a microfibre mop head on hardwood flooring. However, you should make sure that the mop and bucket system you use can drain the water from the mop really well.
Getting hardwood floors extremely wet can result in warping and damp issues over time. So, your mop should be really dry, and using a microfibre mop head ensures you can still get all of the dirt and dust off of the floor.
Should you choose a flat or round mop?
Whether you choose a flat or round mop really depends on the type of cleaning you want to do. As a result, some people actually buy both.
If you have a regular cleaning schedule (you mop your floors every week, for example), a flat mop may be the better option. They are ideal for staying on top of light dirt and grime and amazing for reaching into corners.
If, though, like many of us, your cleaning routine is less regular, a round mop may be better suited. They are much better at getting rid of tougher stains and dirt on your floor, and certain round mops (like the ones on our lists) can also reach into corners and tight areas.
Are cotton or microfibre mops better?
Microfibre mops are now regarded by most to be the best mops. This is because dirt and grime grip to the thousands of tiny strands much better, and they are highly absorbent, so they pick up a lot of the water too.
Microfibre mops speed up cleaning and drying times and are now the most readily available mops, so there are plenty of mopping options to choose from.
Conclusion
If we had to pick just one mop and bucket set to recommend for most households, it would be the Leifheit Clean Twist Disc Mop & Bucket Set. It has a very clever design that makes mopping easy, quick and effective.
The mop handle is adjustable up to 130 cm, and the bucket is designed to make wringing out the mop and emptying the water very easy.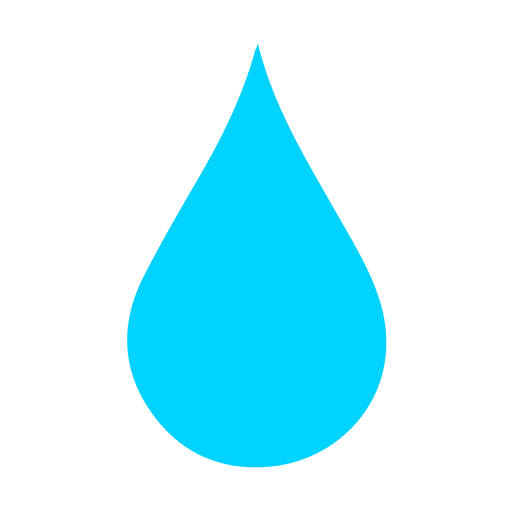 In The Wash is your guide to the best laundry and cleaning products, tips and tricks. Our mission is to solve the UK's cleaning and laundry dilemmas!