Spray mops offer an easier, more economical and more convenient way of mopping the floor than using a regular mop and bucket set.
Spray mops feature a small water tank built into the pole. This water is sprayed out onto the floor using a trigger in the handle, so you don't need to use a bucket to re-wet the mop. This saves time, as you don't need to keep wringing out the mop.
If you need to rinse the mop head, you can detach it and rinse it under the tap, which is more hygienic than rinsing it in a bucket full of dirty water.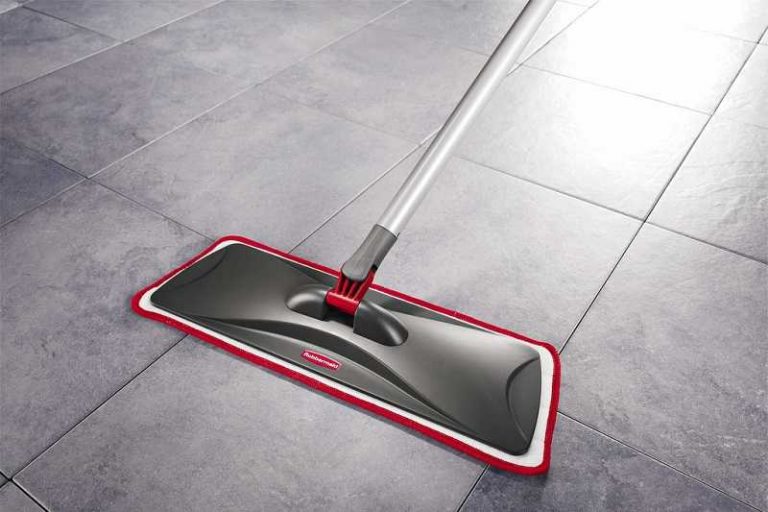 Spray mops can be used with plain water, or you can add a cleaning solution or fragrance. They can be used for all the same tasks you would use a regular mop for, including cleaning tile and wooden flooring. It's important not to confuse spray mops with steam cleaners. Steam cleaners use steam and can be used to clean carpets and upholstery, whereas spray mops use cold water and are designed for use on floors.
Here are a few benefits of using a spray mop:
You can usually clean the floor with less water than if you used a regular mop and bucket.
It's less messy than using a normal mop and bucket. You don't need to worry about splashing water or knocking the bucket over, and once you're done you can just pop the cleaning pad in the washing machine.
Spray mops are quicker as you don't need to wring them out and keep re-wetting them.
You don't need to lug a heavy bucket of water around—just fill the spray mop's small water tank and carry the mop around on its own.
You don't need to keep bending down over the mop bucket, so spray mops are good for your back.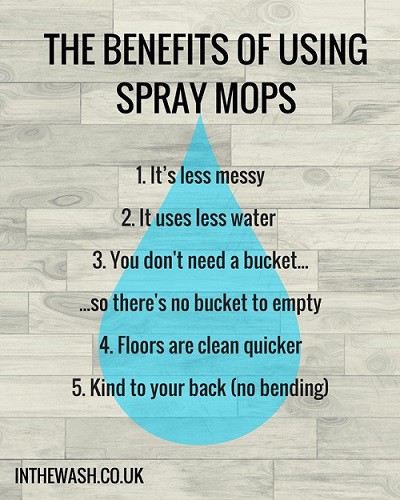 Now that you know what spray mops are, let's take a look at some of the best spray mops available in the UK.
Best Spray Mops in the UK
1. Bona Wood Floor Spray Mop Kit
The Bona Wood Floor Spray Mop is designed specifically for wood flooring, though you can also use it on other floor surfaces like stone, laminate and tiles.
You can currently buy the spray mop in a kit that comes with an 850ml Wood Floor Cleaner solution, which will offer superior results to plain water. The cleaning solution is non-streaking, pH-neutral and non-dulling, so you can rest assured it won't damage your wood flooring. The cleaning solution is great, but might make your floors feel a little slippery. If you prefer to use water you can, or you can use any other cleaning solution you choose.
The Bona Wood Floor Spray Mop uses a trigger action to release the spray, so you don't need any batteries. It's also ergonomically designed and features a 360° swivel head that is wide enough to clean large floors quickly, while being flexible enough to get into tight corners.
One of the unique things with this spray mop is that you can angle the spray to direct it where you choose. It sprays in quite a large area so you can clean the floor more quickly.
This product is made by Bona Mop, a Swedish company who have been making hardwood floor cleaning products for over 100 years. To conclude, the Bona Wood Floor Spray Mop is one of the best spray mops available.
2. Vileda 1-2 Spray Microfibre Flat Spray Mop
Vileda are a well known and respected maker of mops (see some of their mop and bucket sets here), and this spray mop lives up to their reputation. The mop head can be pivoted to reach into corners and difficult places, while it's still large enough to be able to clean a large floor quickly.
This mop is an especially good choice for hardwood and laminate flooring as it uses moisture control in its spraying mechanism. This means you won't soak the floor with too much moisture, which would be a danger when using a regular mop.
Vileda sell special floor cleaning fluid to accompany this spray mop, though you can also use it with plain water or any other floor cleaning solution. Like with all spray mops, you might have to experiment with filling it with different things to find something that gets the best results. Lukewarm water with a bit of cleaning solution will usually do better than plain cold water, though it depends on what you're cleaning and how dirty the floor is.
To conclude, the Vileda 1-2 Spray Microfibre Flat Spray Mop is easy to use, easy to store, and has a clever design that gets the job done very effectively.
3. Flash Powermop Starter Kit
This starter kit includes more than just a mop. As well as the Flash Powermop, you also get a multipurpose cleaning solution, AA batteries for powering the spray mechanism and a scrubbing strip.
This spray mop is easy to use and makes the job of cleaning the floor quicker and more enjoyable. However, it does have a few drawbacks. Firstly, the mop is only designed to take Flash's own cleaning solution, so if you want to use your own you will need to find a workaround. Secondly, the spray uses batteries, unlike other spray mops such as the Vorfreude Floor Spray Mop reviewed above which don't require batteries.
If you don't mind sticking to Flash's cleaning solution and having to replace the batteries occasionally, the Flash Powermop Starter Kit
is a great buy. It definitely makes cleaning floors easier, which is the whole point of spray mops after all.
4. Addis Metallic Spray Mop
The Addis Metallic Spray Mop has a large, machine-washable microfiber cleaning pad with a swivel head that can be easily manoeuvred into corners and hard-to-reach spots of the floor. It sprays just the right amount of water to be able to clean the floor without getting it too wet.
Despite being inexpensive, the Addis Metallic Spray Mop feels sturdy thanks to the metal handle. However, some buyers have found that the handle snapped off. This is the main reason to think twice about buying this spray mop, and it's a shame as the product is otherwise well designed.
5. PAPCLEAN Microfibre Sray Mop
Thanks to long-term research from PAPCLEAN, keeping your floors tidy has never been easier with their microfibre spray mop.
Equipped with a 410 ml water tank, it holds your favourite cleaning products for painless usage. However, the tank needs cleaning after use to maintain hygiene.
With the push of a button, you can spray your floors for effortless cleaning without any bending involved. If that wasn't enough, the extendable pole helps you to access spaces without strain.
Combined with the 360-degree rotating feature, you have complete control in the palm of your hand to reach every corner of your house.
6. Amabana Microfiber Spray Mop

The Amabana Microfiber is another innovatively developed spray mop, with a built in 300 ml bottle to guarantee straightforward cleaning.
The bottle is designed to minimise any potential leakages no matter how you use it. This includes reaching areas above head height such as bathroom tiles or kitchen walls.
With a sturdy metal frame, the mop is lightweight and yet built to last for many years of stress-free cleaning.
You have complete control over the water, to ensure that your kitchen can be cleaned and dried as quickly as possible. However, it's important to be careful when using the mop near walls, as water could spray onto the paintjob.
7. Bellababy Spray Mop

The Bellababy Spray Mop is a stylish product that is suitable for use on all types of flooring, including hardwood, laminate and ceramic.
Available with 4 reusable, microfiber mops, they can be easily machine washed for simplicity. Not only that, but it will also help you to save money and do your part to protect the environment.
Built with an ergonomic design, it helps to minimise injury such as muscle strain from use during long cleaning sessions, particularly for older users.
That being said, the design isn't as sturdy as other options, so it isn't recommended for the more rigorous cleaners out there!
8. Beldray LA032133TQ Refillable Microfibre Spray Mop
The Beldray LA032133TQ Refillable Microfibre Spray Mop is a light and easily manoeuvrable spray mop with a decently sized 119cm handle. With a 350 ml water canister you won't need to keep going to the tap so often to top up the water level, so it's a good mop for cleaning large floors quickly.
This mop uses a handheld trigger to spray water, which is more convenient and environmentally friendly than using batteries like the Flash Powermop reviewed above. Like all the spray mops reviewed here, it uses a machine-washable microfiber pad which is designed to effectively pick up dirt and remove it from the floor, rather than just push it around.
This mop is suitable for all kinds of hard floor, and can achieve good results without chemicals. It doesn't come with any cleaning solution or extra replacement pads, but you can buy these separately.
To summarise, the Beldray LA032133TQ Refillable Microfibre Spray Mop gets the job done quickly and easily, and is much more convenient than using an old-fashioned mop and bucket.
9. Rovus Spray Mop

The Rovus Spray Mop is an easy to use, lightweight mop that can even let you mop your floors with just one hand.
There is a built-in, detachable 350 ml water tank that can be filled with water or floor cleaner, so no need to carry heavy buckets around. There's also a handy spray trigger on the handle, allowing you to use just the right amount of water.
It's suitable for wet and dry cleaning, and ideal for wooden and laminate floors, as it prevents them becoming too saturated during cleaning and reduces drying times.
This mop has a 360° rotating head, which is perfect for reaching around corners and underneath furniture. The machine washable microfiber pad is great for picking up and locking in dirt, rather than smearing the dirt around the floor.
This is a sturdy, well made mop that cleans well and has excellent durability. One disadvantage is that the handle isn't adjustable for the taller person, and sometimes the mop has to be lowered closer to the floor to enable the spray to cover floor areas sufficiently.
10. Lakeland Manual Hard Floor & Tile Spray Mop Cleaner

The Lakeland Manual Hard Floor & Tile Spray Mop Cleaner uses a swivel head and easy trigger spray to make cleaning the floor quick and stress-free. This mop is 126cm (49½") tall and has a water canister that can be easily refilled.
This spray mop is suitable for all kinds of floors including laminate and wood flooring. The cleaning is attached using Velcro, which makes it very easy to remove and put in the washing machine. You can also buy a replacement pad from Lakeland should you need to.
This mop is very light and easy to manoeuvre about, so you can easily get under tables and clean hard-to-reach areas. It's a great mop to use if you have pets and want to do a quick clean every day. For best results you should quickly vacuum the floor with a good vacuum cleaner to remove any pet hairs.
This spray mop is very affordable, but unfortunately this shows in the construction. The mop feels quite plasticky and fragile, and it might not last forever. Nevertheless, the Lakeland Manual Hard Floor & Tile Spray Mop Cleaner is a great product overall, and one that makes the task of mopping the floor a bit more bearable.
About Spray Mops
Spray mops haven't been around for very long, so it's quite likely you're looking to get your first spray mop. Here is some more information about spray mops.
What kind of floors can you use spray mops on?
You should always check the instructions before using a spray mop on your floors to make sure it's recommended for your floor type. However, since spray mops are gentle and use cold water, they are generally suitable for most floor types including the following:
Tile floors
Wooden floors
Laminate floors
Stone tiles
Vinyl floors
What's the difference between spray mops and steam mops?
Steam mops such as the Vax S7 use electrical power to convert water into steam, which is used for cleaning. Spray mops, by contrast, don't require any electricity. You simply pull a trigger which releases a small amount of cold water onto the floor.
Since spray mops don't use electricity or produce steam they are safer to use, but can be less effective than steam mops. However, they're typically cheaper and simpler to use.
What should you look for in a good spray mop?
Here are a few features to look for when choosing a spray mop:
Swivel action: This will make cleaning floors easier and quicker and will help you get the mop into corners.
Washable pads: Almost all spray mops have washable microfiber pads. This is very convenient as you can just put them in the washing machine without having to clean them yourself. You should also check to see if you can buy replacement pads easily.
Tough design: One issue with spray mops is that they're typically made from plastic, so the handles can be flimsy. Look for one that won't break easily.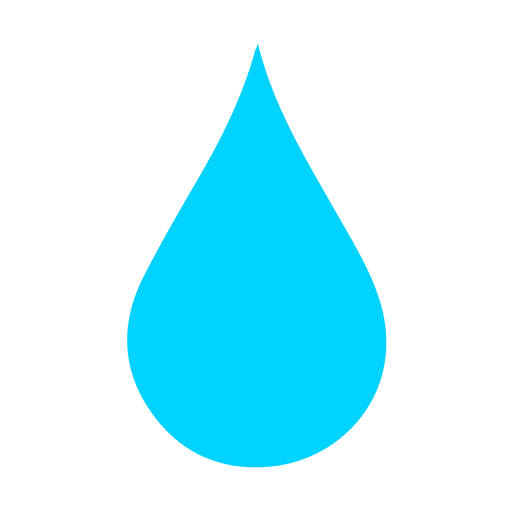 In The Wash is your guide to the best laundry and cleaning products, tips and tricks. Our mission is to solve the UK's cleaning and laundry dilemmas!