Spray mops offer an easier, more economical and more convenient way of mopping the floor than using a regular mop and bucket set.
Spray mops feature a small water tank built into the pole. This water is sprayed out onto the floor using a trigger in the handle, so you don't need to use a bucket to re-wet the mop. This saves time, as you don't need to keep wringing out the mop.
If you need to rinse the mop head, you can detach it and rinse it under the tap, which is more hygienic than rinsing it in a bucket full of dirty water.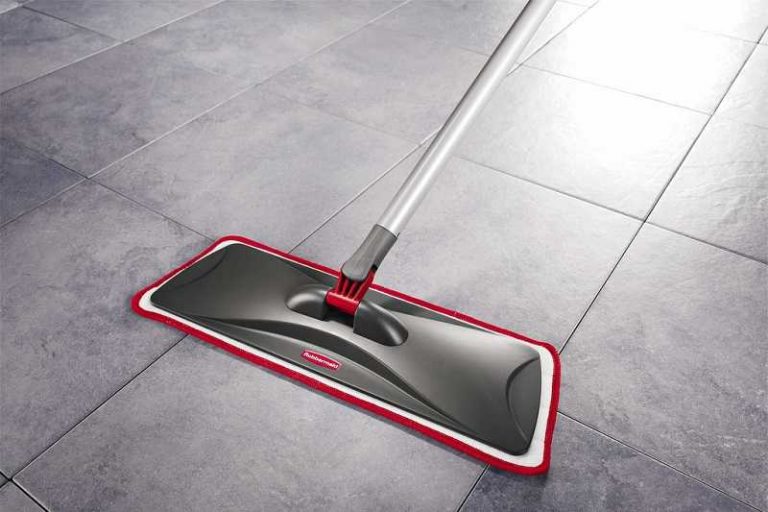 Spray mops can be used with plain water, or you can add a cleaning solution or fragrance. They can be used for all the same tasks you would use a regular mop for, including cleaning tile and wooden flooring. It's important not to confuse spray mops with steam cleaners. Steam cleaners use steam and can be used to clean carpets and upholstery, whereas spray mops use cold water and are designed for use on floors.
Here are a few benefits of using a spray mop:
You can usually clean the floor with less water than if you used a regular mop and bucket.
It's less messy than using a normal mop and bucket. You don't need to worry about splashing water or knocking the bucket over, and once you're done you can just pop the cleaning pad in the washing machine.
Spray mops are quicker as you don't need to wring them out and keep re-wetting them.
You don't need to lug a heavy bucket of water around—just fill the spray mop's small water tank and carry the mop around on its own.
You don't need to keep bending down over the mop bucket, so spray mops are good for your back.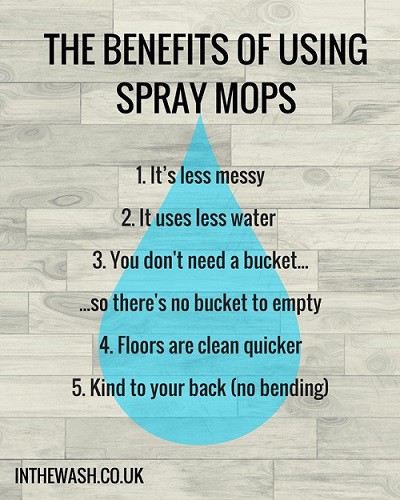 Now that you know what spray mops are, let's take a look at some of the best spray mops available in the UK.
About Spray Mops
Spray mops haven't been around for very long, so it's quite likely you're looking to get your first spray mop. Here is some more information about spray mops.
What kind of floors can you use spray mops on?
You should always check the instructions before using a spray mop on your floors to make sure it's recommended for your floor type. However, since spray mops are gentle and use cold water, they are generally suitable for most floor types including the following:
Tile floors
Wooden floors
Laminate floors
Stone tiles
Vinyl floors
What's the difference between spray mops and steam mops?
Steam mops such as the Vax S7 use electrical power to convert water into steam, which is used for cleaning. Spray mops, by contrast, don't require any electricity. You simply pull a trigger which releases a small amount of cold water onto the floor.
Since spray mops don't use electricity or produce steam they are safer to use, but can be less effective than steam mops. However, they're typically cheaper and simpler to use.
What should you look for in a good spray mop?
Here are a few features to look for when choosing a spray mop:
Swivel action: This will make cleaning floors easier and quicker and will help you get the mop into corners.
Washable pads: Almost all spray mops have washable microfiber pads. This is very convenient as you can just put them in the washing machine without having to clean them yourself. You should also check to see if you can buy replacement pads easily.
Tough design: One issue with spray mops is that they're typically made from plastic, so the handles can be flimsy. Look for one that won't break easily.