If your mattress needs a little spruce up you might be thinking about using a carpet cleaner to clean it. But should you really be doing this?
Yes, you can use a carpet cleaner on a spring mattress, but not on any other type of mattress, such as memory foam mattresses.
In addition to this, you should avoid over saturating your mattress in water as this will create an even bigger problem for you. You must also use the hand tool that comes with the cleaner to clean the mattress.
It's worth pointing out that using a carpet cleaner to clean a mattress is a time-consuming exercise, so you should start the cleaning phase as soon as you can.
So, how do you actually go about using a carpet cleaner to clean a mattress? Keep on reading to find out!
How to Clean a Mattress with a Carpet Cleaner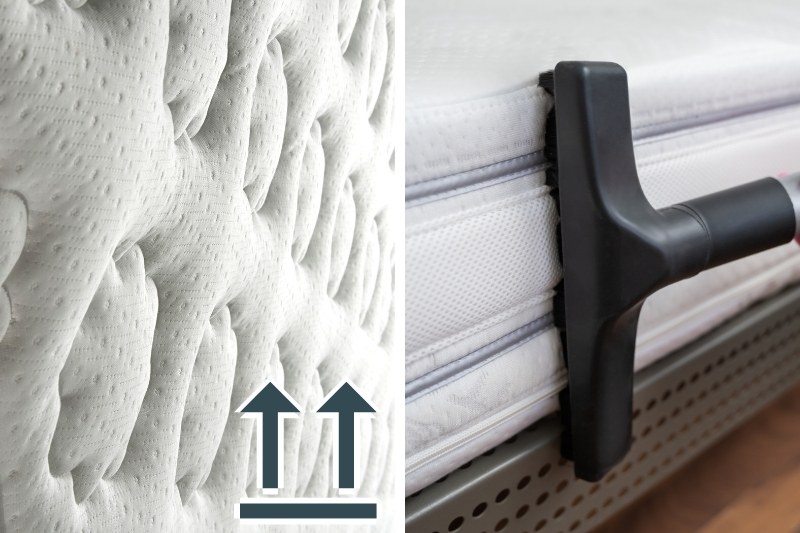 In order to clean a mattress with a carpet cleaner you will need to follow these steps:
Remove all the bedding that's on your bed. You can throw the bedding in to wash.
Tip your mattress upright – get someone to help you and lean it up against the wall.
Grab your hoover and start hoovering your mattress. This will remove any dirt that's left behind.
Be sure to try out the different tools your hoover came with so you can reach into all the tiny gaps – take your time doing this.
You'll now need to go and prepare the carpet cleaner and the solution. Make sure the cleaner is clean before you use it.
Follow the instructions that came with the machine, and don't go overboard with the cleaning fluid.
Locate the hand tool that came with the carpet cleaner and only use this tool when cleaning the mattress.
You now need to pick a side of the mattress to work from.
Activate the carpet cleaner.
Move the carpet cleaner's hand tool down the mattress in strips. This way you'll know where you've already cleaned.
Continue to do this until you've cleaned the entire mattress in this way.
Do not saturate the mattress in water. Use as little water as possible as this will limit mould and mildew growth! And the mattress will dry faster.
If possible, try and do a dry run so you can pick up more water from your mattress. Go up and down the mattress in strips like you did before.
Open all the windows in the room and let the mattress dry naturally. Try and avoid sleeping on a damp mattress!
When the mattress has dried you can flip it over to clean the opposite side, if you wish.
If you'd like to re-wash the mattress you can do so, but remember not to over saturate it.
How Do You Clean a Memory Foam Mattress?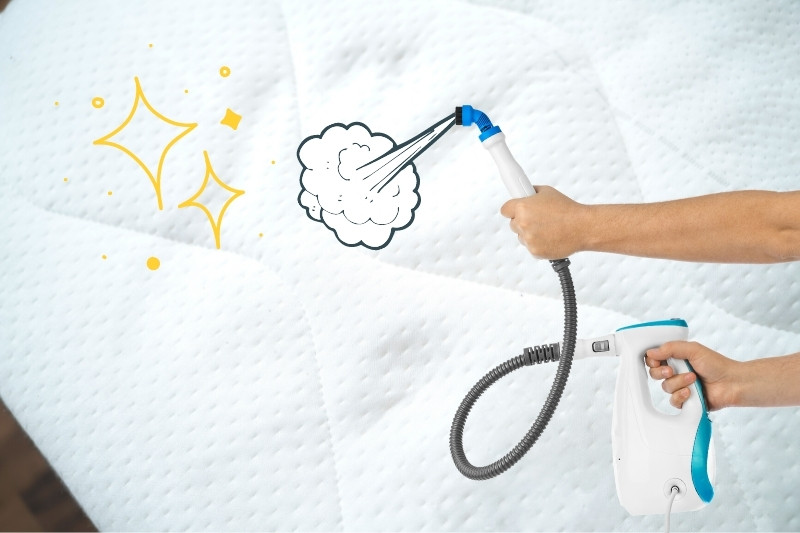 Do not use the above method to clean a memory foam mattress. If you do use the method above the mattress will absorb too much water and it will take ages to dry.
In order to clean a memory foam mattress, you should either steam clean it or ask a professional cleaner for help.
If you'd like to steam clean your mattress all you need to do is:
Set your steamer up as per the instructions.
Strip your bed of its bedding.
Start the steamer up.
Hold the nozzle away from the mattress (six to eight inches away).
Turn the nozzle in a circular motion to steam clean the mattress.
Keep moving the nozzle around so that the mattress doesn't get too wet.
Continue to steam the entire mattress.
Allow the memory foam mattress to dry naturally when you're done.
How to Clean a Mattress Without Using a Carpet Cleaner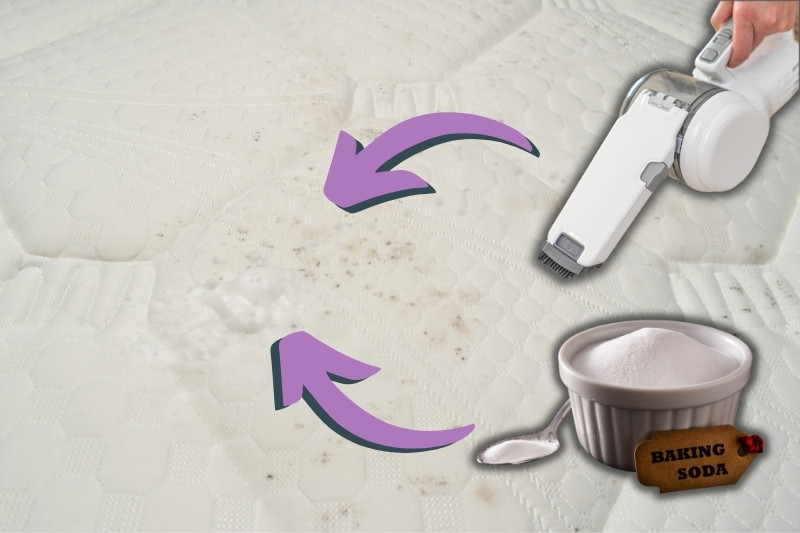 If you don't have a carpet cleaner in your home, or if you don't fancy using a carpet cleaner anyway, you'll be pleased to know that you can still clean your mattress. The method below may even be a little less time consuming and cheaper!
Here's how you clean a mattress without using a carpet cleaner:
Remove all the bedding from your mattress.
Grab your hoover and start hoovering the entire mattress.
You can use a stain remover to clear up any stains you have on your mattress – just follow the instructions on the packaging.
Spread bicarbonate of soda all over the mattress.
Allow it to rest like this for as long as possible.
If you can, open the windows in the bedroom and leave plenty of light into the room.
Hoover up the bicarbonate of soda from the mattress.
Flip and repeat the process for the other side of the mattress, if you wish.
How Do You Keep Mattresses Clean?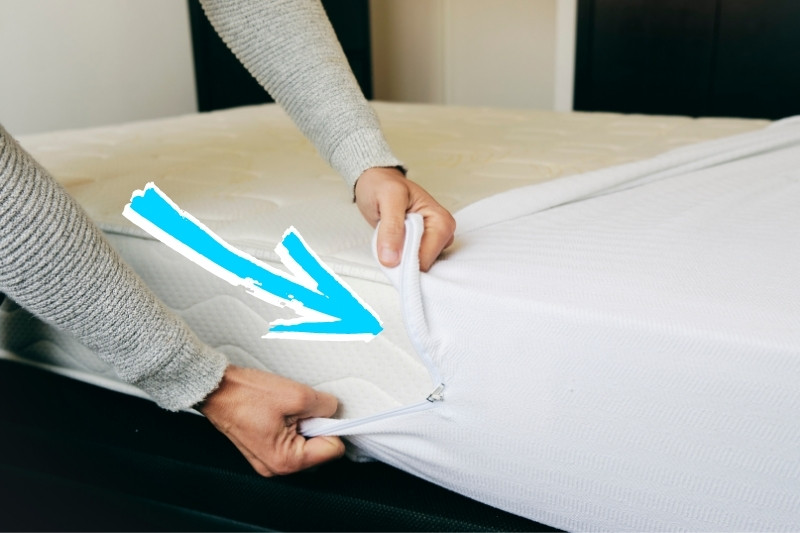 Mattresses inevitably get dirty over time and they do need to be cleaned. However, you can limit how much grime and how many stains get onto them by using something called a mattress protector.
Mattress protectors, as the name suggests, protect mattresses from dirt. It's worth investing in a good quality mattress protector, that can be washed in the washing machine, because it protects the lifespan of a mattress. And the good thing is, you can pick up mattress protectors from most shops in the UK, and they don't cost that much.
Further to this, you could also pop a fitted sheet onto your mattress. This sheet would go on top of the mattress protector, so you're getting a bonus layer of protection! It's a really snug fitting accessory to add to your bed, and you'll barely notice it there!
In addition to a mattress protector and a fitted sheet, actually cleaning the mattress, just by hovering it, on a regular basis can do it the world of good. And flipping the mattress, if it's possible, is always worth doing.
Finally, you can help keep your mattress clean by washing your bedding regularly too.

Bethan has a passion for exploring, reading, cooking and gardening! When she's not creating culinary delights for her family, she's concocting potions to keep her house clean!