Chrome taps look beautiful when they're clean and shining – not so much when they're covered in limescale and splash marks! Luckily, cleaning taps is quick and easy with the right equipment.
Wipe down chrome taps with warm water and a small amount of washing-up liquid, then buff with a dry microfibre cloth. For tough limescale, soak a cloth in lemon juice, leave over the affected area for an hour, and rinse with water and buff.
I'll now go into more detail about keeping chrome taps dirt-free, detailing various solutions. Let's tap into some knowledge.
1. Wipe Down Taps Regularly
Regularly wiping down your chrome taps will prevent a build-up of water marks, which can eventually lead to hardened limescale.
Even just periodically buffing your taps with a dry cloth will go a long way towards keeping them shiny.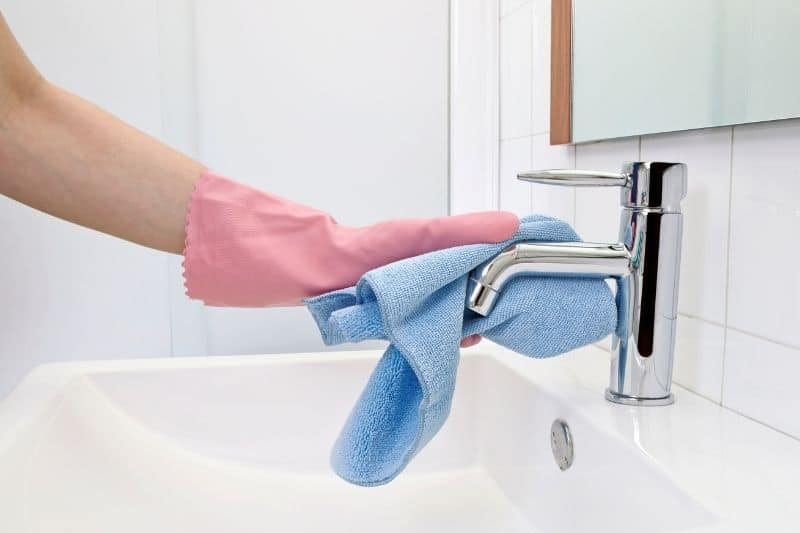 I highly recommend using a microfibre cloth to avoid scratching the chrome, which will dull your taps over time.
However, you can soak a cloth with a range of cleaning solutions to give your taps a proper wash.
After using any of these solutions, be sure to pat dry your chrome taps and then polish them with a dry microfibre cloth. I won't include that part in the instructions to avoid repeating a "microfibre cloth" mantra.
2. Clean with Warm, Soapy Water
Use a tap to fill a bowl with warm water, then add a couple of squirts of washing-up liquid. Mix the solution around and then dip in a microfibre cloth.
Wipe down all areas of your taps with the soapy cloth, letting it soak for a few minutes. Finally, rinse your taps off with plain water.
3. Wipe Taps with Baby Oil
Apply some baby oil to a damp cloth, then wipe down the tap fixture. Let it sit on the taps for several minutes before rinsing them clean. Oil provides surfaces with a shiny coating and helps prevent splash marks.
4. Wipe your Taps with Baby Wipes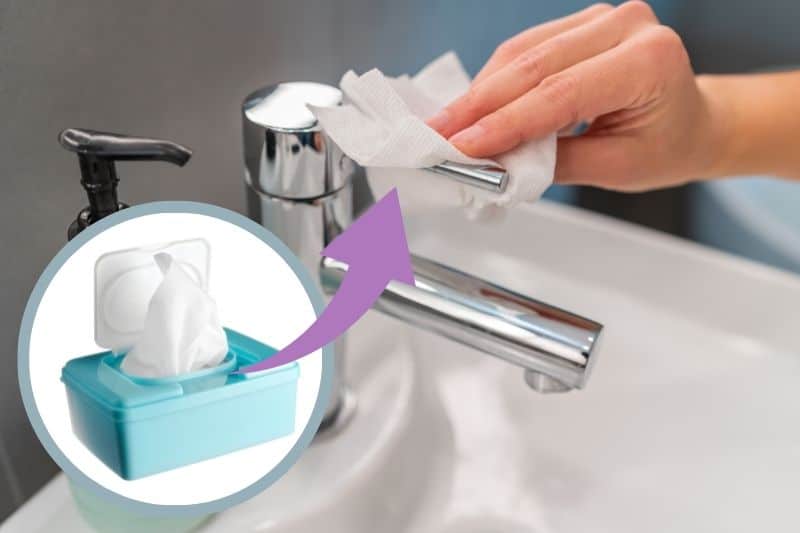 Baby wipes are hassle-free, but disposable wipes aren't environmentally friendly, so I'd recommend choosing another method if you have the time.
You could also purchase some plastic-free biodegradable baby wipes, like The Cheeky Panda biodegradable wipes, to use natural ingredients and reduce pollution.
Wipe down your taps with baby wipes, and then rinse the chrome off with water. You'll see the dirt come off on the wipes.
5. Wipe Taps with a Cleaning Product
There are endless bathroom cleaning products out there that, alongside a cloth, could be used to clean your chrome taps. Here are a few recommendations!
Viakal Limescale Remover Spray

Viakal is a popular limescale remover, renowned for its tough-acting approach to limescale. Customers mention sticking with this brand for years due to its effectiveness and pleasant smell.
If used regularly, this cleaner should stop limescale from returning to your taps and other bathroom surfaces.
Bio-D Bathroom Cleaner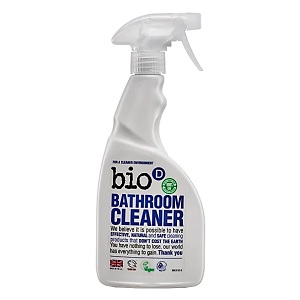 This eco-friendly bathroom cleaner is a hit with environmentally conscious customers. It's made from naturally derived and sustainable materials, and its bottle is entirely recyclable.
Customers are pleased with its performance, but some found the solution too watery. The smell might be a bit strange, too. Overall, I'd say it's worth dropping a few pounds to try this planet-preserving cleaner on your chrome taps!
Cif Professional Bathroom Cleaner 2-in-1
Used by professional cleaners, this powerful cleaner and descaler is a reliable household name. It should brush up your chrome taps nicely.
Most customers seem happy with their purchase, praising Cif's ability to cut through heavily encrusted calcium.
6. Wipe Taps with Vinegar or Lemon Juice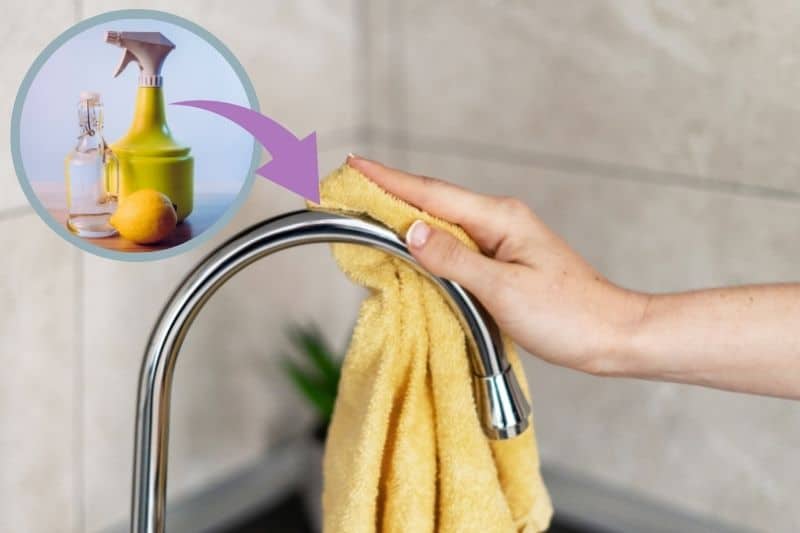 I'd only recommend using vinegar or lemon juice on very stained taps; you shouldn't regularly clean metal surfaces with acidic solutions.
White vinegar or lemon juice will strip away limescale and rust, but it'll also strip away the protective coating on your chrome if used too often. Chrome damaged by acid will lose its lustre, so be sparing with the vinegar!
Also, I'd recommend lemon juice over vinegar since vinegar will leave a pungent smell.
Dilute lemon juice or white vinegar in a bowl with warm water, then soak a microfibre cloth in the liquid. Wipe down the taps with the wet cloth, and let it work for ten minutes. Lastly, thoroughly rinse your taps with clean water.
7. Scrub Taps with a Toothbrush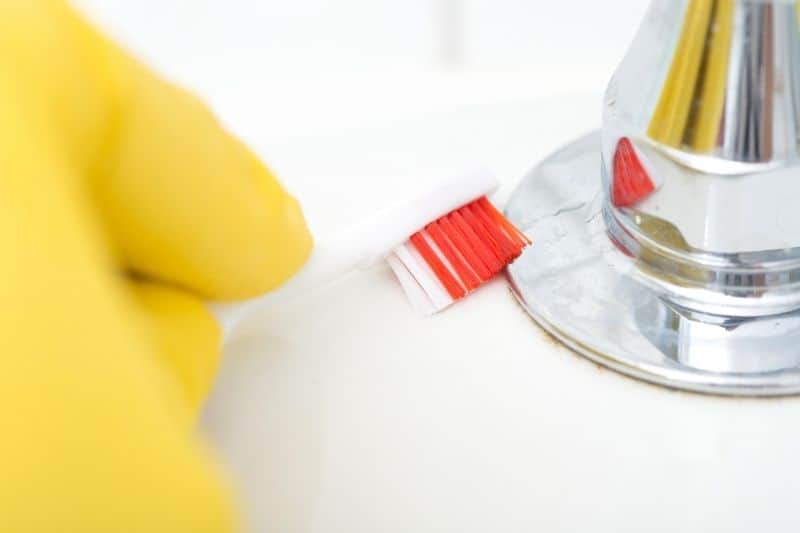 You don't want to use a rough scouring cloth with chrome taps since it'll leave tiny scratches on the metal. Sometimes a microfibre cloth just won't cut it, though.
If you need to use some elbow grease, you can dip a clean toothbrush into soapy water, vinegar, or lemon juice and gently scrub your taps.
The toothbrush is gentle enough not to scratch the surface, but it should de-scale your chrome. Rinse your taps with water after scrubbing.
8. Cover Taps with a Lemon Juice-Soaked Cloth
Remember the TV show How Clean Is Your House? This tip comes straight from Kim and Aggie.
If the spout of your tap is encrusted with limescale, soak a paper towel or cloth in lemon juice and cover the limescale.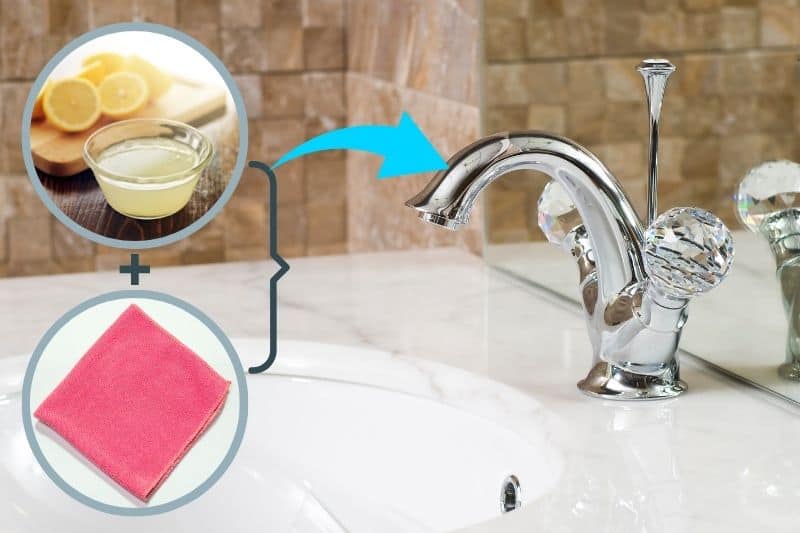 Cover the cloth with a small plastic bag and fix the bag to the spout of your tap with an elastic band. After an hour, remove the towel or cloth and wipe down the area, rinsing the lingering solution off with clean water.
Be sure to use a plastic bag, or the lemon juice will dry out before getting the chance to work on your metal.
You can use this trick for any affected area of your taps to avoid scrubbing with a toothbrush, and it can be repeated if necessary. However, lemon juice is harsh and acidic, so only use this trick for chrome taps that need some heavy-duty care.
Conclusion
Cleaning chrome taps is simple yet necessary. Just pick your favourite cleaning solution and wipe down your taps with a cloth.
You can wipe down chrome taps with soapy water, baby wipes, lemon juice, white vinegar, baby oil, or a commercial cleaning product.
Rinse off any leftover solution with clean water, pat the chrome dry, and polish with a dry microfibre cloth to keep your taps shiny and descaled.
Taps that are heavily encrusted with limescale can be gently scrubbed with a toothbrush.
Alternatively, cover the limescale with a cloth soaked in lemon juice for an hour, using a plastic bag and elastic band to secure the cloth over the spout.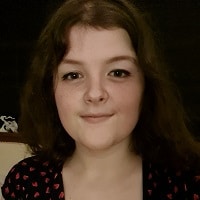 A recent uni graduate who likes writing, gaming, and drawing. I'm figuring out housekeeping tips alongside you while trying to provide eco-friendly cleaning options. Let's find out how to use a tumble dryer together!