Microfibre cloths are an incredibly useful item to have around the house for a variety of reasons.
These cloths are environmentally friendly as they eliminate the need for kitchen roll or other disposable cleaning items. Simply keep using them over again for all your household surfaces!
This handy product is generally easy to maintain and can be regularly washed to keep them fresh.
Each brand will have its own cleaning guidelines so be sure to check the instructions carefully.
Best Microfibre Cloths for Cleaning in the UK
1. E-Cloth Starter Cleaning Pack
Composition: 80% polyester, 20% polyamide
Cloth size: 32 x 32 cm
E-Cloth have created a highly useful pack of cloths that have a specific cloth dedicated to different areas of your home.
The pack contains five cloths, one for your windows, one for glass and polishing, one for the kitchen, another for the bathroom and then a final cloth to be used for general purposes.
It's recommended to run them through a cold wash before using them for the first time
The cloths are carefully designed so that they can remove dirt, spills, stains and bacteria from all surfaces in your house, and are effective when both dry and wet.
They also can be used on their own, without any cleaning products, if you prefer not to use products with harsh chemicals.
E-Cloths come with a 3-year guarantee, which should equate to around 300 washes, meaning this pack of five could help to keep your house clean for years.
Be sure to follow the guidelines and care for the clothes properly to be sure that they last the full 300 washes.
Some users did mention that the main flaw in this cloth is that the dye colours sometimes bleed when they are washed, which can be inconvenient, especially if you are washing them with other items.
2. MR.SIGA Microfibre Cleaning Cloths

Composition: 85% polyester, 15% nylon
Cloth size: 32 x 32 cm
MR.SIGA's microfibre cloths are perfect for thoroughly cleaning any delicate surfaces in your household, including windows, utensils, and even your car.
They are designed to soak up water lingering on the surfaces and to leave the area shiny and without any lint or marks left behind.
The cloths can be just as effective when used dry and are perfect for wiping down dusty countertops or tables, as well as mirrors or appliances.
In addition, if you are looking to use these cloths as more of a dish rag then you'd be in luck with the way that the cloths absorb grease and leave your pots, pans, and plates spotless.
The cloths can be washed hundreds of times and should come out clean and without any lingering smells.
These cloths should be washed by hand or on a cold wash and ideally without any chemicals like bleach or fabric conditioner.
It is also best to wash them on their own, without any other items in the machine.
The microfibre is designed to dry very quickly, even after being soaked through with water, and the soft material will ensure that your surfaces remain pristine and scratch-free.
Several users commented that the MR.SIGA cloths may be more expensive than they felt that they were worth.
It was also mentioned that the cloths could be thinner than they look in the photos and that they sometimes become threadbare unusually fast.
3. Amazon Basics Microfibre Cleaning Cloths
Composition: 90% polyester 10% polyamide
Cloth size: 30 x 41 cm
Amazon Basics microfibre cleaning cloths are created to be compact and small and to efficiently wipe down various surfaces without scratching paint or glass.
The cloths are made from 90% polyester and 10% polyamide, which makes them incredibly soft and gives them the ability to absorb up to eight times their own weight.
Like similar cloths, they can be reused hundreds of times if washed and cared for correctly.
These microfibre cloths are able to successfully clean many household surfaces without the use of any chemical cleaning products.
The recommended method for washing these cloths is to run them through a cold wash with other items of similar colours.
Various users have mentioned that they found that the yellow-coloured cloths leaked dye, even on a cold wash and that the cloths are of poorer quality when compared to other similar products. Some users also said the cloths are too small, especially for the price.
4. Sorbo Extra Large Microfibre Cleaning Cloths
Cloth size: 40 x 40 cm
Sorbo's microfibre cleaning cloths are known for being an excellent size, as well as for their easy efficiency when it comes to eradicating dust, dirt, and stains on almost any household surface.
These cloths can be used both wet and dry and are useful for many cleaning purposes, including absorbing grease or oils, as well as effectively dusting countertops, glass, and appliances.
Microfibre is designed to attract dust, which is what makes it so successful without any other cleaning products. These fibres are also excellent for cleaning without leaving streaks or marks on your surfaces.
Sorbo stands out for their particularly colourful pack of cloths, which can be useful if you like to colour-coordinate your cleaning and separate your cloths to correspond with specific areas of your house.
The best method for washing these clothes is in a warm wash of 40°C, ideally without any bleach or fabric softeners, which affect the microfibres and may make them less effective.
Some users mentioned that they found the cloths thinner than expected and that the dye can run out of them. It has also been brought up that bits of fluff or lint sometimes come off the cloths, indicating that the quality may not be as high as other microfibre cloths.
5. Brabantia 118029 Microfibre Cleaning Cloths
Composition: 85% polyester, 15% polyamide
Cloth size: 30 x 30 cm
Brabantia's microfibre cloths come in sets of two and are best suited for drying dishes, cleaning appliances, and wiping down mirrors and other glass surfaces, including windows.
These cloths can be washed in a hot cycle of up to 60°C and can be reused hundreds of times without losing their reliability.
Many users mentioned that the cloths are an attractive dark grey when first opened and used, but after a few washes the colour quickly deteriorates until the microfibre material looks more like a dirty white cloth. They also give off fluff and may be smaller than expected.
6. Spontex Mosaik Microfibre Cloths
Composition: 85% polyester, 15% polyamide
Cloth size: 40 x 30 cm
If you're looking for the perfect cloth to add to the stylish aesthetic of your kitchen, then Spontex's Mosaik microfibre cloths would be the perfect choice for you.
Their range comes with an array of fun colour and design options that can really add some life to the cleaning cupboard.
The company advertises that the cloths can be washed between 400 and 500 times, making them incredibly long-lasting and environmentally friendly.
In this case, the recommended wash temperature is 60°C, with similar colours and without harsh chemicals or fabric conditioner.
The cloths are 100% microfibre and measure 40 x 30 cm, so they will easily clean most surfaces, including larger spaces.
Most users find these cloths to be very practical and useful, though some people find them to be slightly scratchy at times.
Some also find that they are a little less absorbent than expected.
7. Gryeer Microfibre Cleaning Cloths
Composition: 80% polyester, 20% polyamide
Cloth size: 33 x 33 cm
Gryeer microfibre cleaning cloths are soft and fluffy with an excellent capacity for absorbing liquids and for removing dust, grease, and water from most surfaces, including glass, stainless steel, electrical appliances, and marble.
The cleaning cloths can be used hundreds of times and should be washed on a cold and gentle cycle.
If you're planning to tumble dry them, remember to run the lowest setting. In addition, be sure to wash the cloths before using them the first time, and never wash them with detergent.
As with most of these cloths they will dry incredibly fast and will eliminate up to 99% of the bacteria on your surfaces without the aid of any further cleaning products.
The only area where these cloths cannot be used is on hot surfaces.
Gryeer's cloths come in packs of 12 or 24 and are four different colours, making it easy to colour-coordinate your cleaning!
Most users commented that the towels are impressively absorbent and are swift to dry, but a few users did mention that the cloths were thinner than other similar products and that some fluffy bits were shedding from the cloths, as well as some of the dye bleeding out at times.
How to Choose the Best Microfibre Cloths for You
It's difficult to start narrowing down a product like this as many of the cloths will be incredibly similar to the others, since they are all made the same way.
However, there are a few ways to work out which brand may be better suited for your needs.
Are you looking for a cheaper option?
If you are looking for the most affordable option, you would be best to go with something like the Amazon Basics microfibre cleaning cloths or the Gryeer microfibre cleaning cloths as these are in bulk packs, which makes the price for each cloth cheaper than buying a smaller pack.
Do you want to colour-coordinate your cloths?
A few of the brands mentioned above have created their cloths to look aesthetically pleasing, in addition to being an excellent household cleaner.
If you want to have cloths that look lovely in your kitchen, then Spontex's Mosaik microfibre cloths may be the best option for you. Their cloths have unique patterns and designs and will look beautiful on your counters or shelves.
If you're wanting to colour-code your entire cleaning routine then you could try out Sorbo or Gryeer's microfibre cleaning cloths, both of which offer packs with multiple cloths in several colours. This will make it much easier to split your cloths and dedicate each colour to a specific room or purpose.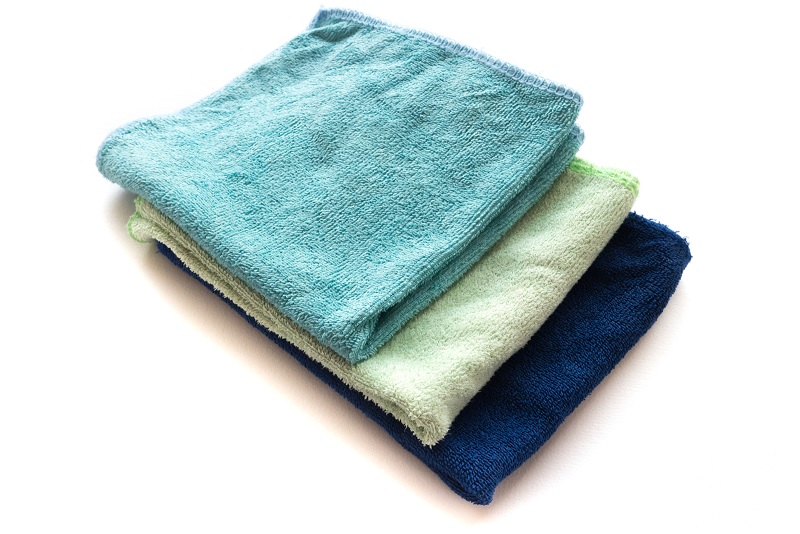 Conclusion
Microfibre cloths are generally reliable to work to a high standard and are an excellent investment as they are environmentally friendly and can be reused hundreds of times without losing their efficiency.
Most brands offer a similar product, but the options on our list have just enough variety to ensure that there's a perfect choice for every individual household.
If we had to pick just one product to recommend it would be the E-Cloth starter pack as they are highly rated, durable and come in a pack with different cloths for different purposes.

An adventurous book lover with an animal obsession and a proclivity for travel and spontaneity. Used to passionately despise cleaning but has grown to enjoy it thanks to learning all the best tricks and shortcuts to guaranteeing a stress-free routine and a spotless home.