Tumble drying is often tagged with the term 'expensive' as a result of the extra electricity costs. However, heat pump technology has come to dispel this perception by reusing the hot air within the machine to expertly evaporate moisture from clothing.
This article reviews what we consider to be the top 3 best heat pump tumble dryers on the market in the UK in 2017.
About Heat Pump Tumble Dryers
What is a heat pump tumble dryer?
A heat pump tumble dryer is a relatively new piece of technology that it is a lot cheaper and more energy efficient compared to a standard condenser dryer.
Heat pump dryers reuse the air that's already circulating in the dryer. The air passes through the drum and evaporates the moisture from your washing making sure it's thoroughly dry. As this hot air is reused within the machine this means that energy isn't wasted through the drying process.
What are the advantages of a heat pump tumble dryer?
The first advantage of choosing a heat pump tumble dryer is the energy saved. With a heat pump dryer customers can save at least half of the energy consumed by an electric dryer, which is good for the environment and also keeps your electricity bill down.
Heat pump technology also makes drying your clothes quicker, which is ideal for large households that need to dry a large load quickly. Another added bonus is that heat pump tumble dryers are usually a lot quieter than standard condenser dryers.
Are heat pump dryers worth it?
Investing in a heat pump tumble dryer is a great choice for your electricity bill, as heat pump technology means that the customer can save about half the energy cost. This innovative technology is in every way a step in the right direction for tumble dryers as it also benefits the environment as a result of the machines' system of reusing air to evaporate moisture from the load.
Bosch Serie 8 WTW87560GB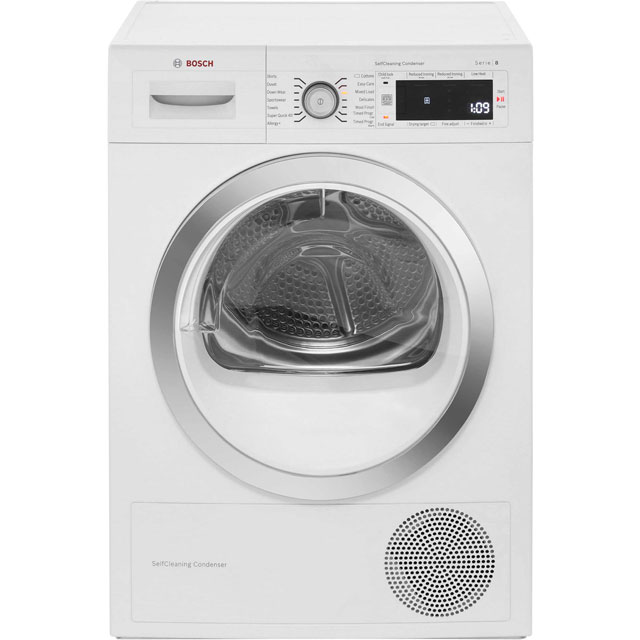 The Bosch Serie 8 is equipped with 15 different programs, with easy to clean filters that drain easily making this tumble dryer a practical machine. The large drum is designed to handle a large load, drying it thoroughly as a result of heat pump technology making it great for a large family!
Features and specifications
Capacity: 9kg
Energy Rating: A++
Annual Energy Consumption: 259 kWh
Cycle Duration: 157 minutes
Pros
9kg drum is softer on more delicate fabrics
Self-cleaning condenser
Quiet
Energy efficient (A++ rating)
2-year warranty
15 drying programmes
Cons
Expensive
When drying a large load it can take quite a while
Verdict
Though it is perhaps at the higher end of the price spectrum for an average family the 2-year warranty and high percentage of positive customer reviews highlight that it is more than worth the price in this instance.
Regarding negative customer reviews, the general sentiment is that the machine takes too long to dry the load and sometimes clothes are still damp after the cycle. Though these problems could be a result of specific circumstances it is still worth remembering when choosing a tumble dryer.
>>> Read reviews and buy on AO.com <<<
Samsung DV80H8100HW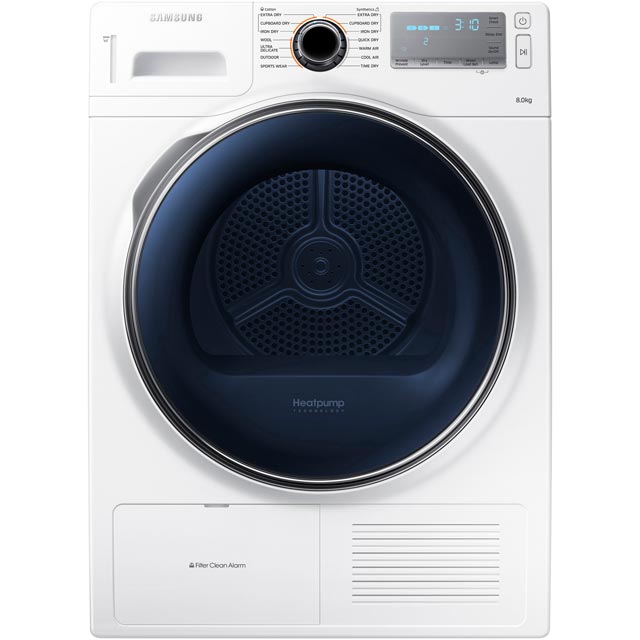 The Samsung DV80H8100HW is available in white and is equipped with a choice of 14 programmes, making it stylish and adaptable to different types of fabrics. The large drum and incorporation of heat pump technology ensures that you can dry large loads thoroughly.
Features and specifications
Capacity: 8kg
Energy Rating: A++
Annual Energy Consumption: 235 kWh
Cycle Duration: 170 minutes
Pros
2-year warranty
Drum interior light
Water tank full indicator
Samsung smart check app system that notifies your phone when there is an issue with the tumble dryer
Heat doesn't escape from the machine
Cons
8 kg drum
Expensive
Can take a while to dry the load.
Verdict
The most expensive in this list, the Samsung DV80H8100HW more than makes up for it with functions such as the water tank full indicator and the smart check app system that notifies the customer as soon as there is an issue. This means that problems can be solved before the fault escalates, saying you money in the future.
When assessing customer satisfaction, reviews are generally positive with only a few criticisms, mainly regarding the price of the machine rather than its performance.
>>> Read reviews and buy on AO.com <<<
Grundig GTN38250HGCB
With an 8 kg drum and 16 programmes you can enjoy a practical, energy-efficient and hardwearing model that can take a large drying load in one go without costing the earth!
For whatever you need a tumble dryer for, the Grundig is a more than a suitable option for any lifestyle and with a 5-year guarantee you can rest assured that support will be provided in the rare event of a malfunction.
Features and specifications
Capacity: 8 kg
Energy Rating: A++
Annual Energy Consumption: 230 kWh
Cycle Duration: 179 minutes
Pros
5-year guarantee
16 programmes
Inexpensive
Sensor drying, protecting fabrics and making sure the clothes aren't over dried
Quiet
Cons
Long cycle time
Cleaning the filter can be difficult
Buttons can take a few minutes to respond
Verdict
The Grundig GTN38250HGCB is the cheapest heat pump tumble dryer in our list and it more than provides a good, practical machine with useful features such as sensor drying, making sure the customer gets value for money on their purchase.
Customer reviews indicate that this model can take longer to dry a load, than stated, and that the clothes are not always dry enough to wear. When trying to choose the best heat pump tumble dryer this should be taken into account when deciding on a model.
>>> Read reviews and buy on Currys.co.uk <<<
Related posts