Condenser tumble dryers work by condensing warm damp air from clothes inside the drum into water, which is then deposited into a container to be emptied once drying has finished. This means they can be located almost anywhere in a house or flat, as they don't rely on connecting a hose to a vent or window.
There are many condenser tumble dryers available to buy right now, from budget buys to high-end, more expensive models that use modern technology and features. Here are some of the best condenser tumble dryers you can get in the UK in 2017.
Budget Condenser Dryers
Indesit Eco Time IDC8T3B Condenser Tumble Dryer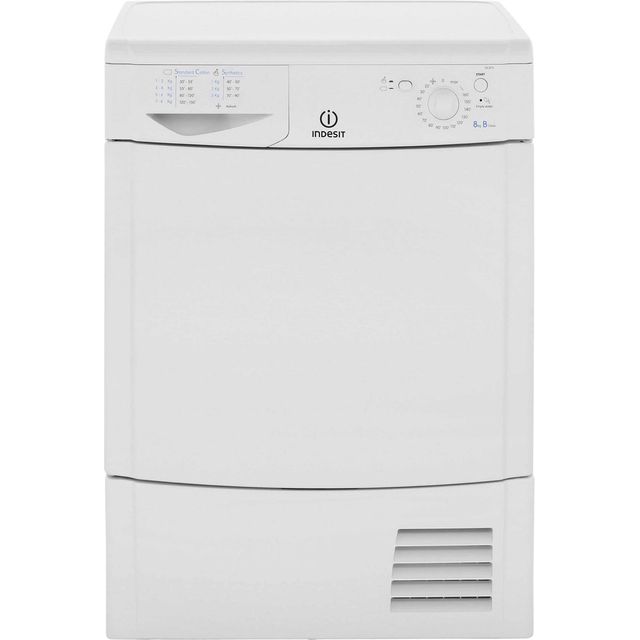 Drum capacity: 8 kg
Energy rating: B
The Indesit Eco Time IDC8T3B Condenser Tumble Dryer is a budget model aimed at medium-sized families, and has an 8 kg drum capacity. Although this machine is one of the cheaper condenser tumble driers available on the market, it still boasts 16 programmes, 2 heat settings and a 160 minute timer, so there are plenty of drying options available.
This machine has a reverse tumble action which rotates the drum in both directions, to minimise creasing and tangling and to help keep ironing to a minimum. There's also a quick freshen-up cycle suitable for refreshing your garments in a hurry.
Other features include automatic and load sensors to help dry your clothes as efficiently as possible, and a water compartment at the top of the machine rather than the bottom, which is ideal for those with back problems.
This is a fairly noisy machine, which may be an issue depending on where it will be located. However, it's very effective and reliable for the price, with a good drum capacity and energy rating.
Buy on AO.com
Mid-Range Condenser Dryers
Zanussi Lindo300 ZDC8202P Condenser Tumble Dryer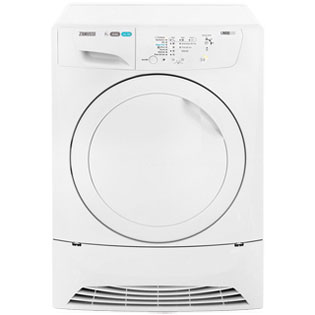 Drum capacity: 8 kg
Energy rating: B
This sleek-looking, mid-range condenser tumble dryer from well-known brand Zanussi is aimed at medium-sized households, and has a bigger range of features than some of the budget models available on the market. These features include a useful delay timer, allowing clothes to be dried at the most convenient time.
Sensor drying technology allows the perfect level of dryness to be achieved, with options such as cupboard dry or iron dry available. This prevents clothes from being exposed to excessive heat, and also saves more energy. The easy iron programme eliminates deep creases in garments reducing ironing time.
It's worth noting that the door on this machine doesn't have a window, which adds to its sleek design but might not be to everybody's taste.
Buy on AO.com
Bosch Series 4 WTE84106GB Condenser Tumble Dryer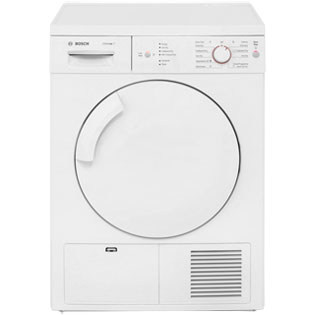 Drum capacity: 7 kg
Energy rating: B
This mid-range condenser dryer from Bosch has some excellent features that aim to protect clothes and reduce ironing piles.
There's an anti-crease cycle that stops clothes becoming tangled, so they can be simply put away or only need minimum ironing.
Moisture levels are detected in the clothes and the machine will stop automatically when the chosen level of dryness is achieved (for example iron-dry or cupboard dry).
One of the unique selling points of this dryer is that it carries the Allergy Research Foundation seal, making it a great choice for families where someone suffers from allergies.
Buy on AO.com
High-End Condenser Dryers
Bosch WTW87560GB Heat Pump Condenser Tumble Dryer
Drum capacity: 9 kg
Energy rating: A++
The Bosch WTW87560GB Heat Pump Condenser Tumble Dryer is a high-end machine, idea for larger and busier families.
The large 9kg capacity drum allows you to fit in lots more clothes, towels or bedding. There are individual care programmes available for different kinds of garments, such as woollens or sportswear.  There is an advanced sensor monitor that prevents overheating clothes, and therefore reduces potential damage.
Any excess fluff or lint is automatically flushed away, meaning no extra cleaning and that the machine runs efficiently all the time.
Although this tumble dryer is one of the more expensive models on the market, it's also one of the most energy efficient dryers you can currently buy, with an excellent energy rating of A++. The air used for drying is heated in a cost-effective way, and over time this machine may save money on energy bills, particularly in a household where clothes need to be dried frequently.
Buy on JohnLewis.com
Miele TDA150C Condenser Freestanding Tumble Dryer
Drum capacity: 7 kg
Energy rating: B
This stylish Miele condenser tumble dryer is a high-end model that features a special, sculpted surface on a honeycomb drum to gently cushion and protect laundry as it dries.
It's perfect for drying delicate fabrics such as wool, handling them with extra care to keep them feeling soft and looking great. There's an option for refreshing clothes or even soft toys without washing, using cold or warm air.
Clothes are visibly smoothed mean less ironing, and a useful display shows how long is left on the cycle.
Miele test this dryer for the equivalent of 20 years use during development, so it's a very reliable and high quality machine.
Buy on JohnLewis.com
Related posts