Many people like to use a toilet brush to get their toilet looking really clean, but there are a few factors to consider when purchasing a new toilet brush.
Some toilet brush sets certainly look more stylish than others, and some manufacturers now use advanced technology to produce more efficient and hygienic toilet brush sets.
Read the reviews below to find out the pros and cons of some of the best and most popular toilet brush sets available in the UK right now.
Best Toilet Brushes in the UK
1. MEKEET Silicone Toilet Brush and Holder

This silicone toilet brush has a lovely modern design, so it will suit most bathrooms nicely. The brush is nice and flexible to help you get to all the debris in your toilet.
The silicone brush has slightly longer bristles than a standard toilet brush, so reaching into the rim of the toilet bowl is really simple.
However, some users have found that the brush can loosen from the handle when reaching into the U-bend.
The toilet brush holder is available in a wall-mounted version and a floor version, so you can keep it off the floor if needed.
Both of the holders have an inner and outer layer that allows the water to drain away from the brush so it remains dry. And the brush holder comes apart for easy cleaning.
This is a cleverly designed toilet brush and holder. Everything about it is designed to make cleaning your loo easy and hassle-free.
The soft bristles allow you to reach into the toilet, and the gap around the rim easily. There aren't any metal parts, so it is gentle and won't damage your toilet.
One potential downside is that some users have found that the brush head can loosen from the handle in use.
2. OXO Good Grips Compact Toilet Brush
The OXO Good Grips Compact Toilet Brush and Canister has a few innovative features, including a specially designed canister which allows the toilet brush to be stored easily. The canister door also opens automatically when you lift the brush.
The brush is tapered for deep cleaning, and the handle has a comfortable ergonomic shape which makes it easy to hold.
There is a built-in drip tray which allows any excess water gathered in the bottom to evaporate easily and quickly, unlike other brushes where a puddle can form in the container.
[This product's innovative features make it an easy brush to use. In particular, the cover that opens and closes automatically is a popular feature amongst users.
The head can be replaced if it discolours or rusts, and the drip tray allows water to evaporate from the bottom of the container, so no puddles are formed.
One potential drawback to this product is that the bristles are quite stiff, making cleaning under the toilet rim a bit trickier. Another issue is that the canister falls over easily.
3. Addis Closed Toilet Brush Set

The Addis Closed Toilet Brush Set is a sleek container made of plastic with a high gloss white finish, which matches any bathroom décor and doesn't rust.
It's great for concealing the toilet brush as there's a closed lid, and cleaning fluid can be placed at the bottom of the plastic container. This makes cleaning easier and also helps to keep the brush itself cleaner too.
The Addis Closed Toilet Brush Set is inexpensive, and offers great value for money. However, it looks a bit cheap and isn't especially durable. It's not as tough as some of the other products reviewed here, and the handle can break if you're not careful.
While the plastic design might not look as nice as a metal toilet brush, it does have the advantage of meaning it doesn't rust.
4. Joseph Joseph Flex Toilet Brush
We know the D-shaped head of this toilet brush may put some people off of this toilet brush at first, but hear us out. It is actually designed with cleaning in mind and does a brilliant job.
You have two flat faces for the bulk of the cleaning, and the rounded bottom is designed to reach the U-bend and the curves of the bottom of the toilet bowl.
The straight side on the top is for the rim of the bowl. The stainless-steel handle is also curved to provide easier access for cleaning. This very clever design makes cleaning the toilet really straightforward.
So, the cleaning is very much taken care of, but the slimline holder looks excellent too. It provides a neat storage solution and a modern design element to your toilet.
Granted, a few users have found this toilet brush a bit tricky to master, but if you stick with it, you'll find that this brush offers one of the best cleans of any toilet brushes on the market.
The D-shaped head is designed to fit all areas of the toilet, and the handle is also shaped to make cleaning easy.
Some people find the brush too stiff for their liking, but overall this is a great product with a very attractive design.
5. John Lewis ANYDAY Soft Touch Toilet Brush and Holder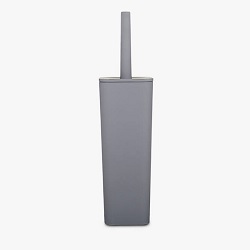 The John Lewis ANYDAY range has some really practical and nicely designed accessories for the home, and this toilet brush and holder are certainly no exception.
It has a really elegantly designed brush holder that will look great in any bathroom. Plus, it is designed so that any water is easy to remove, and the plastic holder is also easy to clean.
The toilet brush is your classic brush that we are all used to. So, it is nice and easy to use and even comes with a guard to stop toilet water from reaching your hand during use.
The soft bristle brush has a rounded square shape, meaning you can reach all areas of the toilet bowl, and it is replaceable with inexpensive brush heads from John Lewis.
It has a nice, clean-looking design that should suit a modern bathroom. However, since all the parts are made from plastic, it's not as strong as some other toilet brushes on the market.
6. Brabantia Toilet Brush and Holder
While this toilet brush holder is a lot more expensive than others on this list, many people feel the extra expense is certainly worth it.
The brush is made from plastic, so the bristles are very hard-wearing yet won't damage the toilet in use. The excellent shape also means that every area of the toilet is really easy to clean.
The lid/hand guard on this brush is also really nicely designed. It is higher up on the handle than most, so you can easily fit the toilet brush deeper into the loo for a better clean.
Plus, the toilet brush has a very comfortable handle if you do a lot of toilet cleaning.
The toilet brush is available in plenty of styles to match any bathroom, and all of them look great. We opted to show the Pure White brush holder here as it looks almost futuristic in design.
All of the holders can be mounted to the wall or simply placed on the floor ready to go.
One potential downside is that the metal versions of this product may rust over time, but this is true for any metals in the bathroom.
7. Robert Welch Burford Toilet Brush and Holder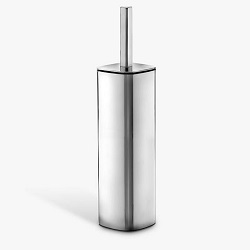 The beautiful stainless steel brush holder of this toilet brush really sets it apart from other toilet brushes. It offers a beautifully modern and elegant design that many say blends in nicely.
It certainly doesn't scream "this is the toilet brush" when placed in the bathroom. As it's made from stainless steel, the toilet brush holder is also rustproof, and a few wipes with a microfibre cloth keeps it looking fantastic for longer.
The toilet brush itself has a classic soft, square head offering plenty of surface area for easy cleaning.
The brush head is very simple to use and has hundreds of soft bristles to make cleaning quick and easy. Plus, you can buy replacement toilet brush heads too, which is excellent as this is an expensive toilet brush.
Is it worth the price? Well, most users of this toilet brush have fallen in love with it. The design and the quality are really unmatched by almost all toilet brushes on the market.
Toilet Brush FAQs
Are silicone toilet brushes more hygienic?
Silicone toilet brushes are much easier to clean than a standard toilet brush. This is because silicone is a very smooth material, so dirt and grime don't really stick to it very well.
As a result, silicone toilet brushes harbour fewer bacteria than a standard toilet brush when cleaned regularly.
How often should you buy a new toilet brush?
It is best to replace your toilet brush every six months if you use a standard toilet brush.
For silicone toilet brushes, a good clean once a month is enough to keep them going for a very long time, and you likely won't need to replace them until the bristles have worn out.
Most of the toilet brushes above have spare heads available, apart from the silicone ones.
Buying a spare head for your toilet brush works out a lot cheaper, and as long as the handle is still in good condition, it is perfectly fine to continue to use it.
Just ensure that you clean the toilet brush holder regularly to get rid of excess water and germs in there too.
What is a more hygienic alternative to a toilet brush?
The most hygienic way of cleaning a toilet is to use disinfecting spray or wipes, but please don't flush the wipes down the loo after you've finished cleaning.
If you intend to use a disinfecting spray, use a cloth or sponge with it that you have dedicated to this task, keep it in the bathroom and reserve it for this special cleaning occasion!
Have a steam cleaner? You can also use this to clean the bowl and kill all of the bacteria around the rim.
How do you keep a toilet brush clean?
You can soak the toilet brush in bleach or disinfectant spray and let it air dry before you store it away. That is the best way of keeping your toilet brush clean.
To further this, though, find a toilet brush holder that keeps the toilet brush off of the bottom of the holder. This ensures it isn't sitting in the bacteria-filled pool at the bottom of the holder.
Empty the holder regularly, and use bleach or disinfectant to clean this as well. It is still worth replacing the toilet brush or just the head every six months, though.
Conclusion
If we had to pick just one toilet brush to recommend for most households, it would be the MEKEET Silicone Toilet Brush. It's hygienic and easy to use, and the long bristles make cleaning all areas of the toilet straightforward.
We hope you found this article helpful. Once you've chosen your weapon, check out our guide on how to use a toilet brush to get the best results!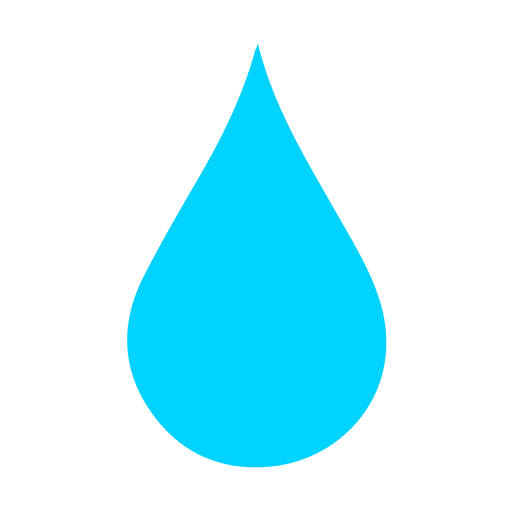 In The Wash is your guide to the best laundry and cleaning products, tips and tricks. Our mission is to solve the UK's cleaning and laundry dilemmas!