Damp forms because a space is poorly ventilated, there isn't enough air flow and there's moisture in the air.
Damp can be a challenging issue to deal with, particularly when it's near your clean clothes, but luckily there are a number of cures that you can try right now to solve the problem!
Keep on reading to find out how to cure dampness in your wardrobe.
Below you'll find a number of options that can help you deal with your damp problem. Some suggestions are very simple fixes, that won't require you to buy any additional products, but for other suggestions you may need to invest in some items.
Try and start with the free options first.
1. Check Your Bedroom for any Leaks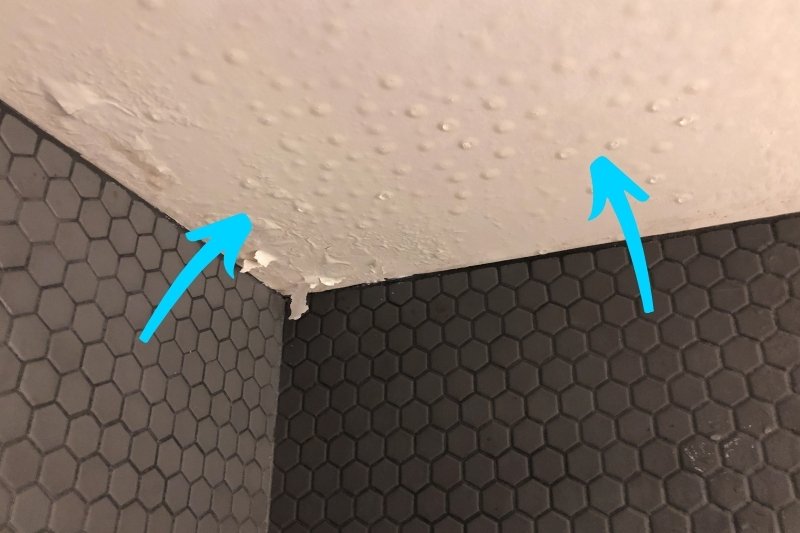 One of the first things you should look out for when you spot a patch of dampness in your wardrobe is water. This water could be caused by a leak, a crack in the wall or a burst pipe in the roof, for example.
If you see pools of water, or drips, you need to fix the source of this problem as soon as possible. Water isn't supposed to just run rampant in your home, so you need to treat the cause before it gets worse.
A small amount of dampness may be a sign that the problem has only just begun, so you may be able to eradicate the leak, a break or crack before it wreaks havoc in other areas of your home.
In the event that you do need help it may be worth calling in a professional to do the work for you, unless you're trained in the trade yourself.
2. Pop Some Paper Sheets Down to Line the Shelves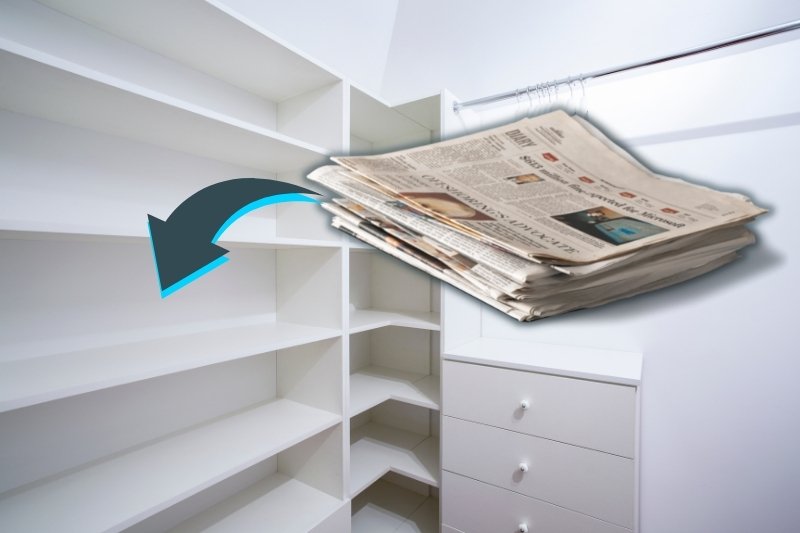 If you're experiencing dampness in your wardrobe, it may be worth lining your shelves with some newspaper. While this won't actually be visually appealing, the paper will absorb some of the moisture that's finding its way into your wardrobe.
Alternatively, you could buy some Wallrock Dampstop Thermic Roll to lay flat and stick onto the shelves instead. This is not a paper-based product, and instead it's made from durable and hard-wearing polypropylene material. It's also rot proof and can be decorated to your liking.
3. Limit the Moisture in the Room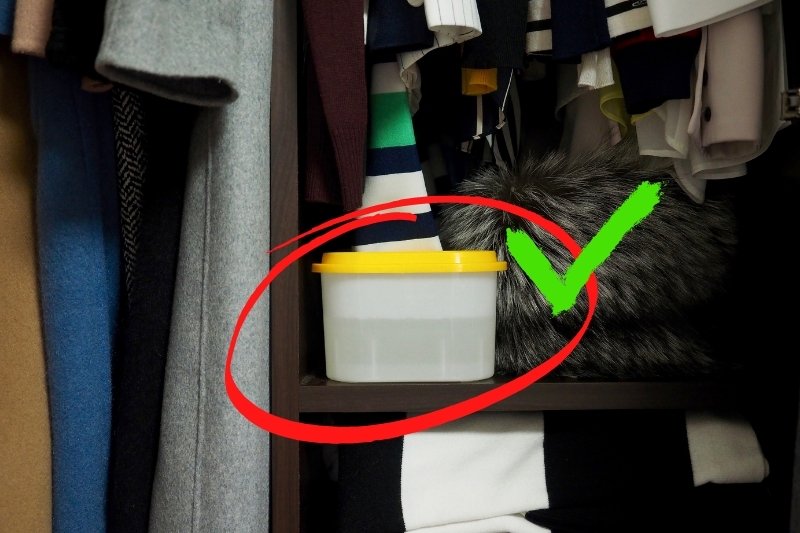 Damp is typically caused by too much moisture being in a room. So, in order to prevent the spread of the problem you need to manage the moisture levels in your wardrobe, in your bedroom and in your whole house.
One of the easiest ways to do this is to use a dehumidifier. You can buy a regular sized dehumidifier that can be placed in the bedroom to take care of the matter.
Or, because you're dealing with damp inside a wardrobe it might be better to choose a smaller dehumidifier to begin with. This way you'll be able to pop the device right at the centre of the problem.
The Pro Breeze Cordless Rechargeable Mini Dehumidifier is a little device that absorbs moisture from small spaces. It's ideal for busy homes because it's cordless, so there's no chance of tripping or ripping out a cable, and it's non-toxic.
Other ways to prevent moisture getting into your room and into your wardrobe include:
Open windows regularly.
Put lids on pots and pans as you cook.
Shut the bathroom door.
Use extractor fans.
Dry clothes outside whenever possible. Or if they're being dried on a radiator, open a window nearby.
Keep your home nice and toasty.
Wipe your windows down as this removes excess condensation.
4. Provide Good Air Flow to Your Wardrobe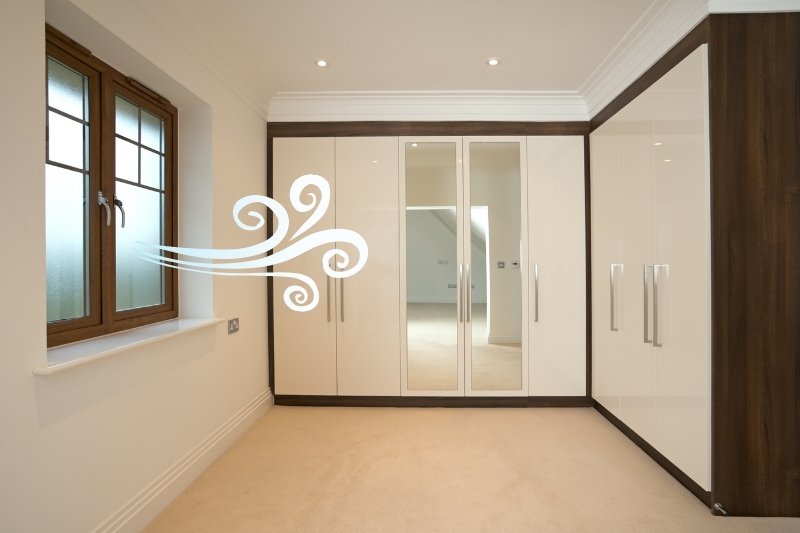 A really simple cure for dampness in your wardrobe is to ensure that the wardrobe has sufficient airflow.
If your wardrobe is tight up against a wall, is filled with tons of clothes, shoes and bedding, and it's not near a window, dampness is inevitable.
Wardrobes need space to breathe and they need to be surrounded by air. Air must also be able to travel around inside a wardrobe, so this means that clothes need to be evenly spread out across the rail, instead of being packed in tightly.
5. Always Make Sure that Items Kept in the Wardrobe Are Dry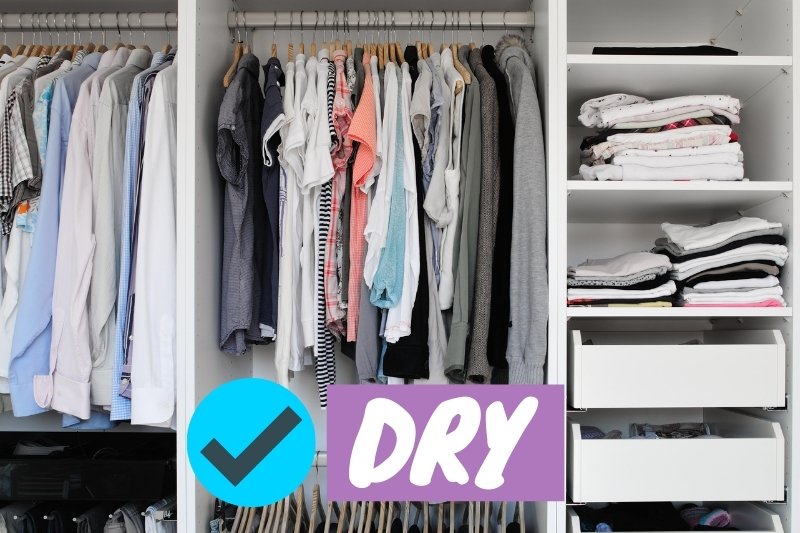 If you want to cure dampness and eradicate it from your life, you need to make sure that anything and everything you put into your wardrobe is dry.
Any drop of moisture that's left behind on a shoe, or a raincoat can impact the dampness in your wardrobe. So, always dry your items before putting them away.
6. Keep Windows and Doors Open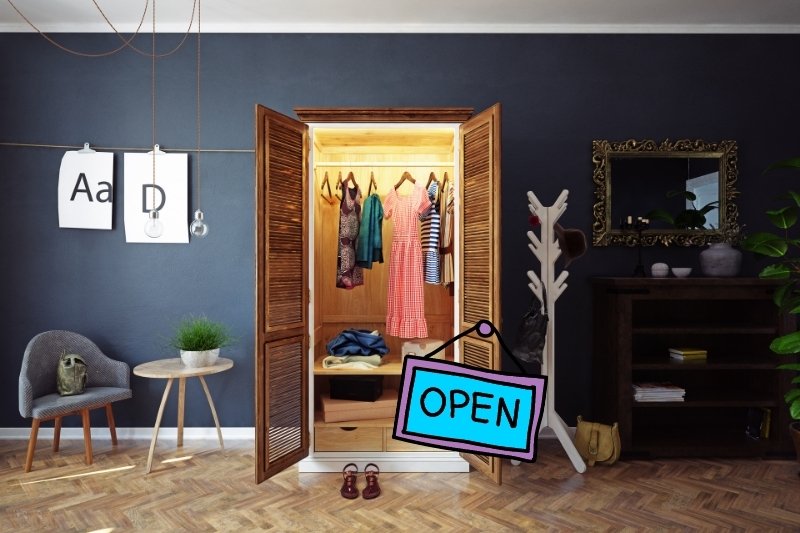 In the winter time this cure will be a little more challenging, because the idea of opening a window to leave the frost in is very unappealing. However, if you can brace the weather, you'll be able to keep your wardrobe free from damp for longer.
In the summer it's a lot easier to keep the windows open, so you're more likely to try this trick out then.
On the note of opening windows, it's also important that throughout the year, whatever the weather, that you open your wardrobe's doors and leave them open. This will allow even more air to flow in and out of the wardrobe all day long.
Obviously, this isn't ideal if the doors are in the walkway, but it will help your wardrobe out a lot.
7. Decluttering the Wardrobe Will Stop Air from Getting Trapped Inside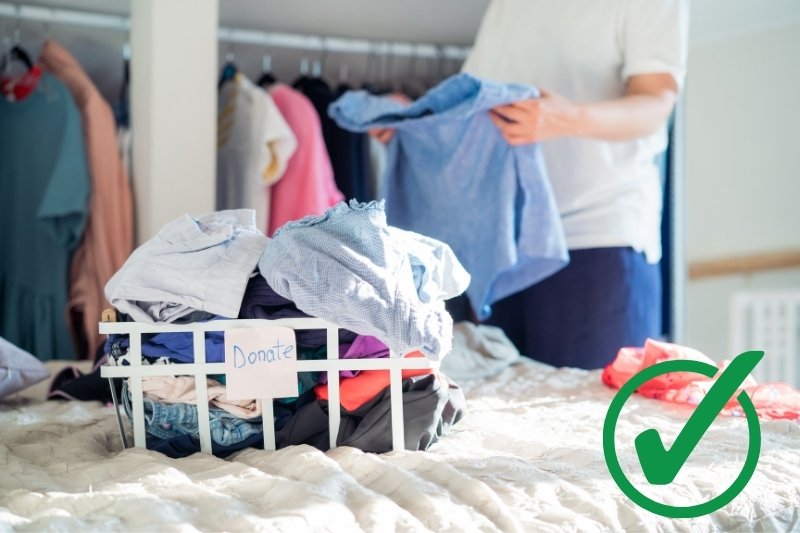 The decluttering process may seem like a daunting one at first, but usually by the end of the session you feel exhausted but sort of exhilarated too.
Decluttering a wardrobe also means that it's not overflowing with stuff that you rarely use, and it means that air can circulate around much easier. This can prevent moisture from becoming trapped inside, thus causing damp to form.
Interestingly, a wardrobe that has clothes set out tidily and is not overfilled, can help clothes to smell nicer too. Bursting full wardrobes can sometimes make clothes smell quite pongy and damp!
8. Allow Plenty of Sun to Get into the Room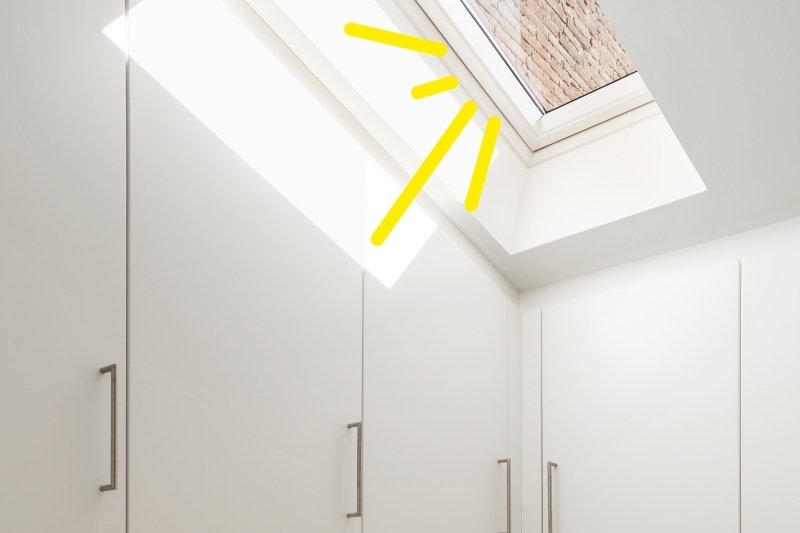 The sun is a natural dryer, so if you can, try and set your wardrobe up to face the sun. In addition to this, keeping the blinds open so the sun warms the room and the wardrobe at the same time will also help your damp problem.
If you can keep your wardrobe door open as well, this is an extra bonus!
9. Keep Free-Standing Wardrobes Away from the Wall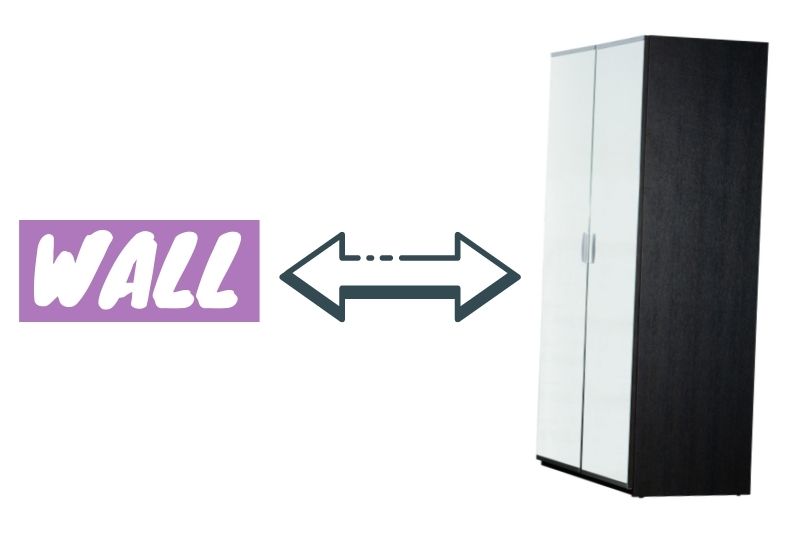 Although you might think that pressing your wardrobe right up against a wall is a good idea and it'll give you more space, you're wrong.
The problem with pushing any sort of furniture tight up to a wall is that air cannot flow around it, and this can create damp problems.
It's always worth pulling a wardrobe out just a few inches from the wall, so plenty of fresh air can circulate around it. Otherwise, you'll end up with dark damp marks on the wall – these are really unappealing!
10. Add Some Insulation Panels to the Back Wall of Fitted Wardrobes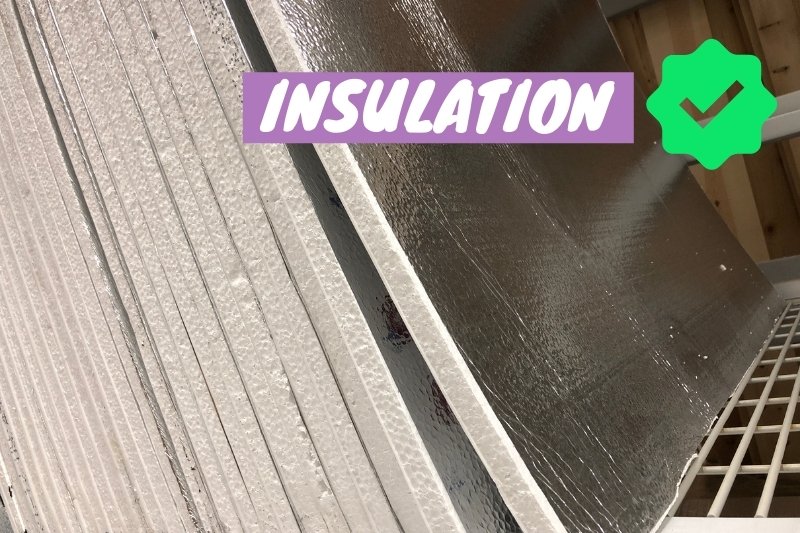 If you feel the back of your fitted wardrobe, you'll likely find that the surface feels quite cold and maybe even wet. If this is the case then you need to consider investing in some insulation panels.
You don't have to spend a fortune to insulate your wardrobe, all you need to do is get some Thermawrap and stick it onto the back surface with some adhesive. It's super easy to install this type of insulation, and it can keep your wardrobe nice and toasty in the winter and cool in the summer!
11. Add an Air Vent to the Wardrobe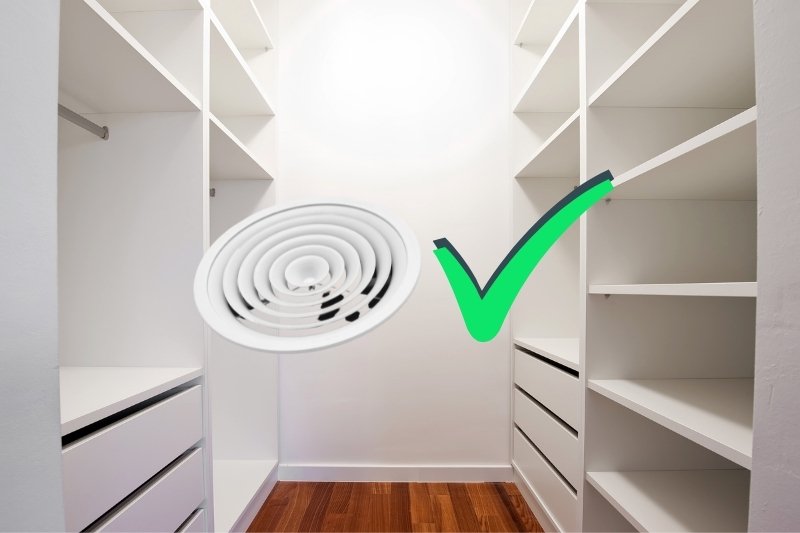 If you've tried the suggestions above, and you still have a damp problem then it may be time to think about adding an air vent to your wardrobe.
An air vent will remove unwanted air from the wardrobe. In turn, there'll be less moisture around, so the damp issue should reduce and go away completely.
If you're going to buy an air vent, remember that you don't need anything too big because it'll stick out, and you do have the option of adding multiple smaller air vents into your wardrobe.
If you're not sure which air vent to purchase consider these Luocai Round Ventilation Grilles. You get six grilles in a pack and they're very easy to install. Plus, you can add as many or as little of them as you like to your wardrobe.
12. Paint the Wardrobe in Damp-Proof paint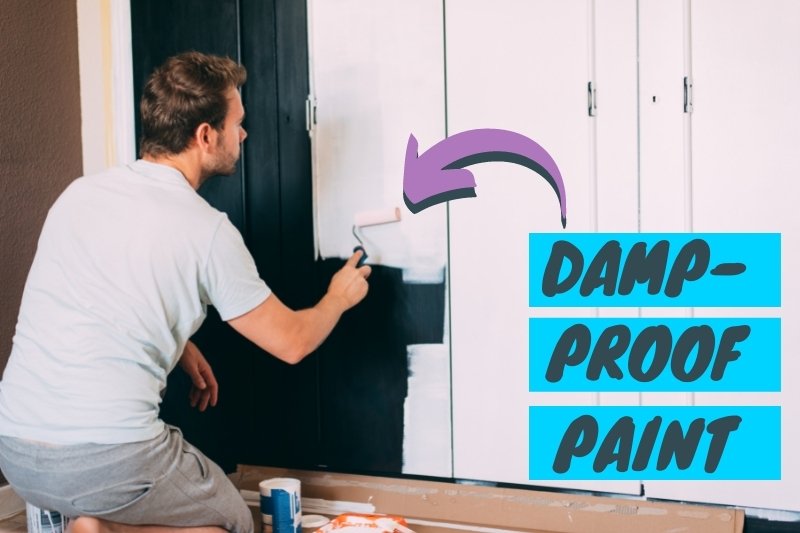 Damp-proof paint is usually used on walls in a home, rather than in a wardrobe. However, if your wardrobe is a little older and you really need to cure your damp problem, painting the inside of the wardrobe is another option you can try.
I'd advise that you test the paint out first on a discreet patch of wardrobe, just to make sure that there are no bad side effects.
Not sure what damp proof paint to get? Check out Polar Damp Seal White Anti Damp Paint. This 500 ml pot of paint is designed to keep dampness at bay after just one coat, and it dries in just ten minutes! You can also buy it in other matt colours like grey and magnolia, so you can choose a colour that won't stand out as much.
Products That Can Help Cure Damp in Your Wardrobe
Here are some additional products that you might like to consider when dealing with damp in a wardrobe:
Note: There are various versions of the products above, and these types of items can be bought in most supermarkets and hardware stores in the UK.
How Do You Stop Clothes from Smelling Damp?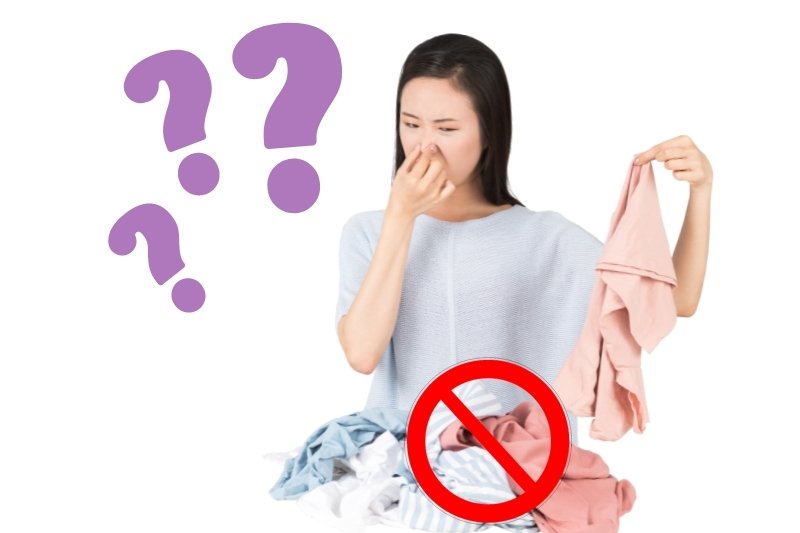 Interestingly, there are many ways you can prevent your clothes from starting to smell damp. These include:
Washing clothes in water and white vinegar.
Washing damp clothes as soon as possible.
Drying clothes on the line.
Keeping clothes well spaced out in a wardrobe, so they have plenty of air getting to them.
Finding any damp patches in your wardrobe and fixing them.

Bethan has a passion for exploring, reading, cooking and gardening! When she's not creating culinary delights for her family, she's concocting potions to keep her house clean!