If you're looking at buying a vacuum cleaner, you've probably been told by loads of different people that you need to buy a Dyson vacuum cleaner or a Henry hoover.
Everyone will no doubt have given you their opinion to hoover up, but instead of helping you, they've likely clogged your mind up with too many dusty ideas! Now you're not sure what hoover to get…
So, here's a quick, and very simple, a guide to Henry and Dyson, so you can decide for yourself which is the best for you!
Henry vs. Dyson
Both Henry and Dyson are well-known brands here in the UK, but before you rush out to buy one, or even both(!) check out some of the similarities and differences below. You might be surprised by some of the overlapping features of the vacuum cleaners…
Cost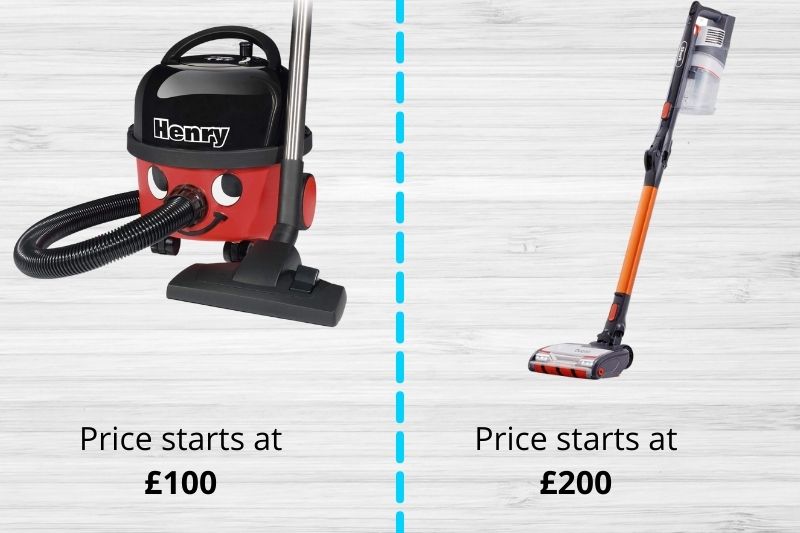 One of the major differences between Henry and Dyson is the price that these products are sold at.
Henry is the cheapest option of the two brands, with prices generally starting at around £100 for a Henry hoover. Prices do fluctuate across the various models, but generally, the price tag is a lot smaller than that of any Dyson vacuum cleaner.
Dyson, on the other hand, is quite expensive, with even the most basic of vacuum cleaners costing around £200. This amount typically increases as you move up the specification ladder and you work towards buying a newer model.
One of the latest models from Dyson is the Dyson Outsize Absolute vacuum. This cleaner has a 25% bigger head than other Dyson hoovers and can hold 150% more dirt than their regular vacuum cleaners and it can clean for up to 120 minutes. It will also cost you around £700.
Cord
One of the main selling features of Dyson is that most of its vacuum cleaners are cord-free. This typically applies to all of Dyson's products today, (unless you're still using a hoover from the early 00s!).
The ease of using a cordless vacuum cleaner appeals to a lot of people because you don't have to worry about tripping over cables, and twisting yourself into knots as you clean!
However, being cordless does mean that you don't get access to unlimited power, which can be somewhat problematic, but more on that later!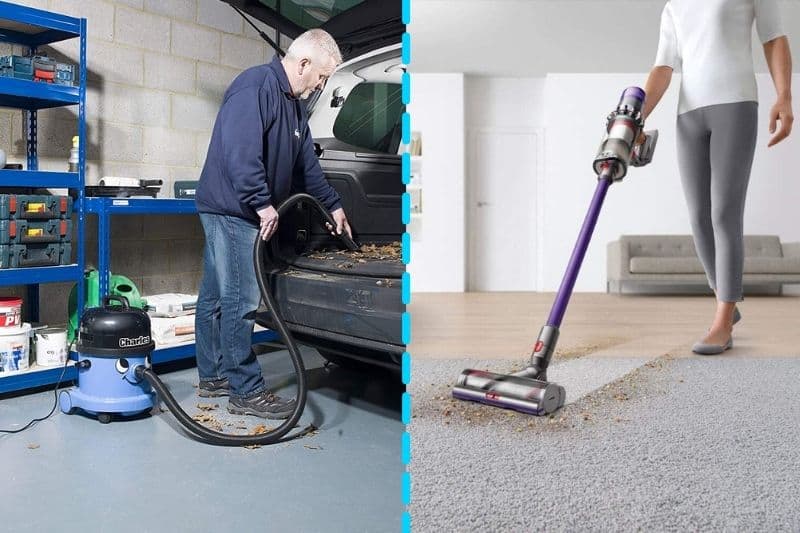 Henry, on the other hand, is generally a corded cleaner! In fact, most models come with a 10-metre-long cable that you plug into the electricity socket.
This particularly long cable means that you can go from room to room cleaning without having to disconnect and reconnect the power cable.
Dear Henry can also reel the cable in for you when you're done too, so you don't really have to worry about cables being scattered all around your home.
A cordless model of Henry has been released though, so if you love Henry but don't want cables then this is the one for you.
Dustbags
Another significant difference between Henry and Dyson is that Dyson hoovers are mostly bagless.
This is a clever idea from Dyson because it means that you don't have to waste money buying dust bags all of the time. However, you might find that you get some serious dust clouds forming when you empty the debris from your Dyson into the bin.
This sort of makes more work for you, although, this isn't necessarily a big deal if you're careful.
Henry hoovers don't have this issue generally because they come with dust bags. All you need to do is pop a dust bag into the cleaner and hoover away. When the dust bag is full you just whip it out and throw it in the bin. No dust, no extra mess, and no more cleaning!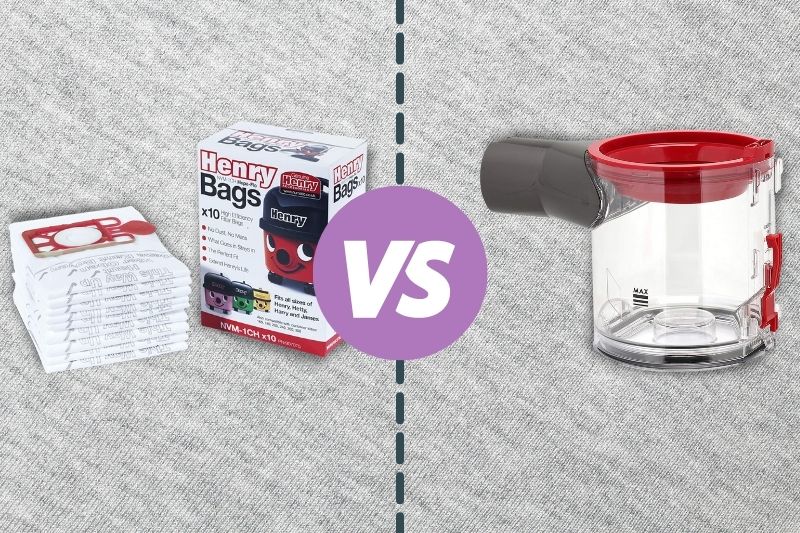 In addition to this, Henry hoovers use dust bags that are up to 5x times bigger than standard dust bags, so you can rest assured that you won't be changing the bag that often anyway!
Some users don't like using dust bags because they can be expensive but Henry has a solution to this…
If you don't like dust bags you don't actually have to put one into your Henry model, you can vacuum without one. This allows you to pick up more dirt as you clean around your home.
The only downside is that the hoover can get quite heavy when it's filled with dirt, so lifting it when it's full may be a problem.
Suction
Both Henry and Dyson have great suction and they can both remove dirt from a variety of floors with ease.
Henry's suction power can be put down to the 620W motor it has inside, and Dyson's is put down to its inbuilt cyclonic technology. The Dyson Cyclone V10 Animal Extra, for example, makes incredible use of its V10 motor and 14 cyclones.
Put them both together and you get a machine that can create a force that is able to pick up about 79,000g worth of microscopic dirt particles.
There is one tiny difference though, and that is… because Dyson's are usually cordless and they rely on a battery, sometimes users find that their battery runs down a lot quicker the faster and more violent the suction they use is.
This isn't really the case with Henry because he's typically plugged into the mains.
That being said, on more modern Dyson models they have built-in programs that monitor the amount of dust particles that are being sucked into the vacuum cleaner, and the hoover adjusts its suction to get more/less power depending on the circumstances.
Battery
As noted earlier, Dyson's are cordless creatures that can roam around our homes. The only problem with this feature is the fact that Dyson's needs to run on a battery and batteries eventually run out and need recharging.
This can be problematic if you live in a busy house that needs hoovering all of the time because you can't just keep on vacuuming until the job is done. You actually need to stop and charge the battery regularly. This makes Dyson impractical for a lot of homes.
However, if you manage your battery power well you can do a considerable amount of cleaning with a Dyson.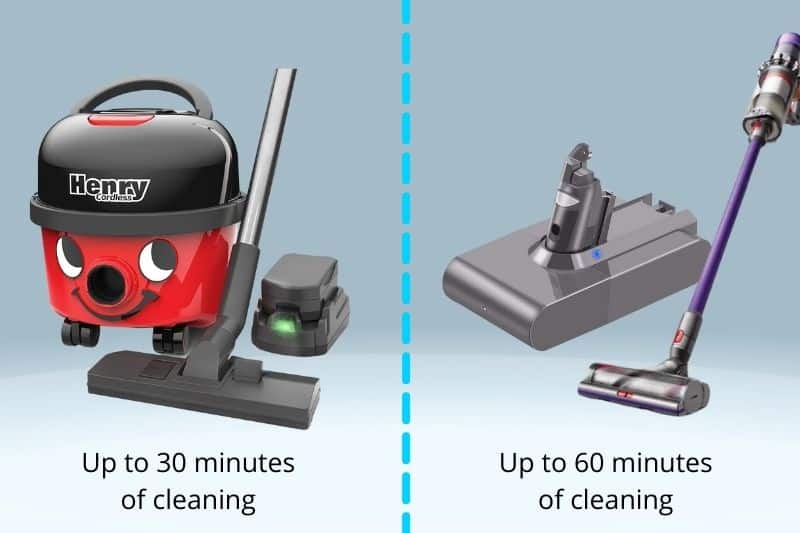 Take the Dyson V11 Absolute vacuum cleaner, for example, you can get up to 60 minutes of cleaning with this model! And you get a cool LCD screen on the hoover that updates you in real-time about your battery's health.
Plus, being battery operated means that it can be used and moved around the house in a far smoother manner, which does make up for the 'need to recharge'.
Battery drainage is usually not a problem for most Henry's though because these hoovers are typically connected to a power socket.
That being said, if you've opted for a cordless Henry, you can typically get about 30 minutes of cleaning time from the battery, which isn't a huge amount of time when you compare it to Dyson's times.
Accessories
Both Henry and Dyson's cleaners come with a plethora of tools that can be used to clean a home. These include various brush heads, crevice tools, and hard floor tools.
In addition to these tools, Henry's usually need dust bags, and they do come with a pretty durable hose that is about 2.3 meters in length. This longer hose aids with the cleaning process! It's also not too heavy either.
Dyson models usually come with a storage holder and clip, so you can pack the hoover away in a nice spot when you're done with it. (Assuming you have a cordless model).
Shapes and Sizes
The sleek and futuristic design of Dyson's products makes them stand out from the crowd! And it's these features that also make Dyson's hoovers quite lightweight, and very easy for anyone in the house to use.
Take a look at the Dyson V15 Detect Animal vacuum cleaner, for example. It only weighs 2.4 kg, it's 25 cm wide and it's just shy of being 127 cm in height!
But even at this size, it doesn't lack any features, it still comes with a microscopic dust sensor, an LCD screen, a Dyson Hyperdymium motor, and Root Cyclone technology. It's a beautiful piece of fierce engineering!
In contrast, Dyson's upright and cylinder vacuums look more traditional and they're usually a lot heavier, but they can still clean a house to a great standard.
The Dyson Ball Animal 2, for example, weighs a whopping 7.34 kg, which is very similar to the weight of a Henry Hoover.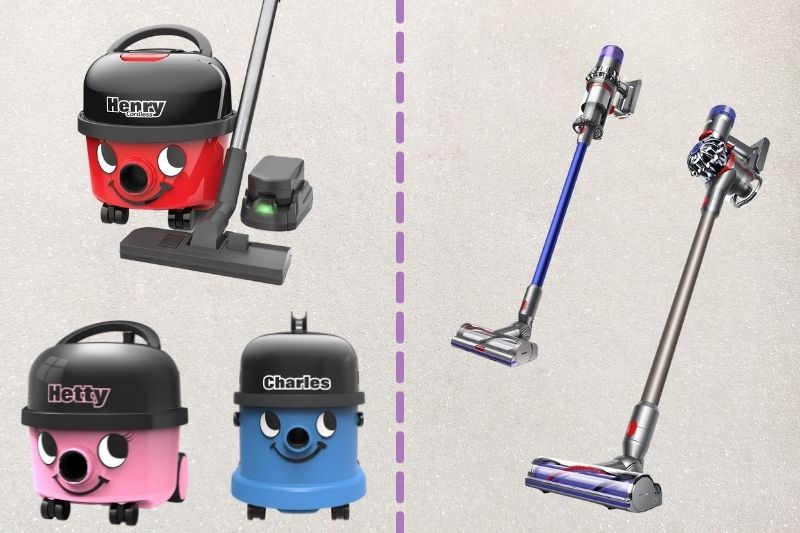 On a different note, the Vacuum Robot from Dyson only weighs 2.52 kg but it is a lot, a lot smaller than a typical hoover – it is a robot that's controlled by an app on your phone after all.
The Henry range, on the other hand, all look very similar. All models come with a smiley happy face, a lid, a hose, wheels and are usually squat and almost barrel-shaped. They're a very friendly, homely sort of vacuum cleaner, and they don't look anything like a Dyson vacuum.
Henry hoovers usually weigh around 7 kg and you can get a 6- or 9-litre capacity model.
Models
Both Henry and Dyson have a wide range of models to choose from, and every model is tailored towards a particular type of home.
For example, if you have someone with allergies living in your house, there's an anti-allergy hoover to be had, if you need to remove pet hair, there's a hoover for that, and if you need to clean cars there's a vacuum cleaner for that. (This applies to both Henry and Dyson.)
Take a look at some models below:
Henry Models:
Henry

Hetty

Henry Xtra

George

Henry Pet

Charles

Henry Micro
Dyson Models:
Cordless vacuums
Dyson V11 Absolute Gold

Dyson V11 Torque Drive

Dyson Micro 1.5kg
Upright vacuums
Dyson Small Ball Animal 2

Dyson Small Ball Allergy
Robots
There are, of course, many more models and specifications to be seen on the MyHenry and Dyson websites.
Practicality
The majority of Dyson's cordless vacuums have been designed with transportability and easy cleaning in mind. So, with that in mind, they are very practical.
Typically, Dyson's are not very heavy, they can be used for a decent amount of time and they can be stored and emptied in an easy manner too. These are very desirable qualities to have and can make the whole hoovering and cleaning process so much easier.
On the other hand, Henry is also very easy to use and to store in the house. These hoovers are not huge but they can be a little bulky at times, especially when you're moving them up and down the stairs.
But on the whole, Henry's do a really good job of cleaning various areas around the house with the tools that they come with. They're also practical!
Verdict
Both Henry and Dyson make excellent products. It's clear that each and every appliance has been carefully thought out, with usability and customer satisfaction at the forefront of the developers' minds.
Henry Hoover has been a household name in the UK since the 1980s, the fact that people are still talking and using these hoovers says it all. They're hard-wearing, are great at cleaning and they're just adorable to look at.
Yes, Henry's can be a bit cumbersome but they do the job they were created to do well, and that's all you really need from a vacuum cleaner.
On the flip side, Dyson makes beautiful and energetic goods that look as if they've come from the future!
Their products have very good cleaning abilities and Dyson seems to have made a cleaner for every circumstance—curtains, ceilings, handheld mode, and even for cars. They've even got a robot to do the hoovering for you!
However, they are expensive and this doesn't appeal to a lot of people.
Consider your budget, what you actually want from your hoover, and how you want your hoover to look before you invest in a vacuum cleaner.
If you're after a jolly-good cleaner that you know you'll be using for years to come, go for a Henry. But if an ultra-modern, sleek design with all the latest mod-cons is what you want, get a Dyson.

Bethan has a passion for exploring, reading, cooking and gardening! When she's not creating culinary delights for her family, she's concocting potions to keep her house clean!