If you've been looking into getting a cordless vacuum cleaner, you've probably stumbled across two big names – Shark and Gtech.
Both companies make exceptional goods that can clean the dirties of homes. But which cordless cleaner should you really be buying?
Keep on reading to find out who makes the best cordless vacuum cleaners – Gtech vs. Shark!
Please note, prices are accurate at the time of writing but may change in the future.
Gtech vs. Shark – Let's Compare!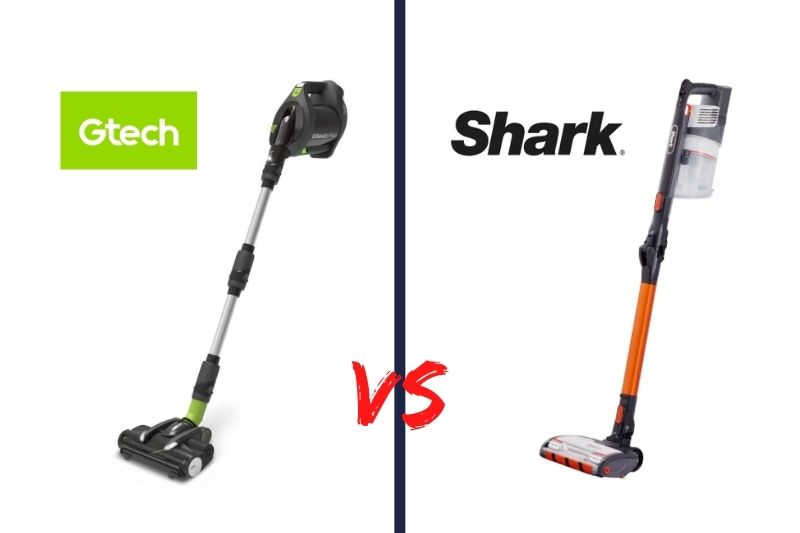 Gtech and Shark are leaders when it comes to vacuum cleaners. So much so, that it can be difficult to decide who actually makes the best products and accessories out of the two, and who makes the best cordless vacuum cleaner that you need to buy right now.
Stick with me as I help you to decide which company is the best!
Cost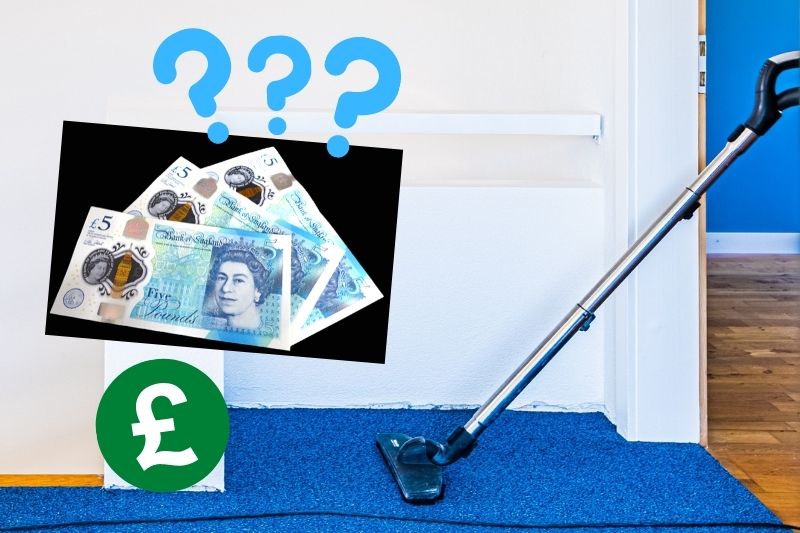 When it comes to cost there is a slight price difference between a Gtech and a Shark cordless vacuum.
A standard Gtech Pro 2, which is an upright, incredibly light and popular vacuum cleaner, will cost around £180. On the other hand, a typical Shark cordless cleaner, like a WandVac, will cost around £200. Both are great products if you want a cordless cleaner to run around your home with very little effort!
However, if you want additional specs the price goes up… for example, a Gtech System K9, which is an upright, multi-purpose vacuum cleaner that can be used on both carpet and hard flooring, is made from aluminium and has LED lights to help you clean, costs around £420.
On the flip side, Shark sells a top-of-the-range vacuum cleaner that costs £529.99. The Shark Anti Hair Wrap Cordless Stick Vacuum Cleaner With PowerFins, Flexology and True Pet, ticks all the right boxes! It has 120 minutes of run time, 50% more suction, and it can remove hair from the brush's head as it cleans its way around a home.
Dust bags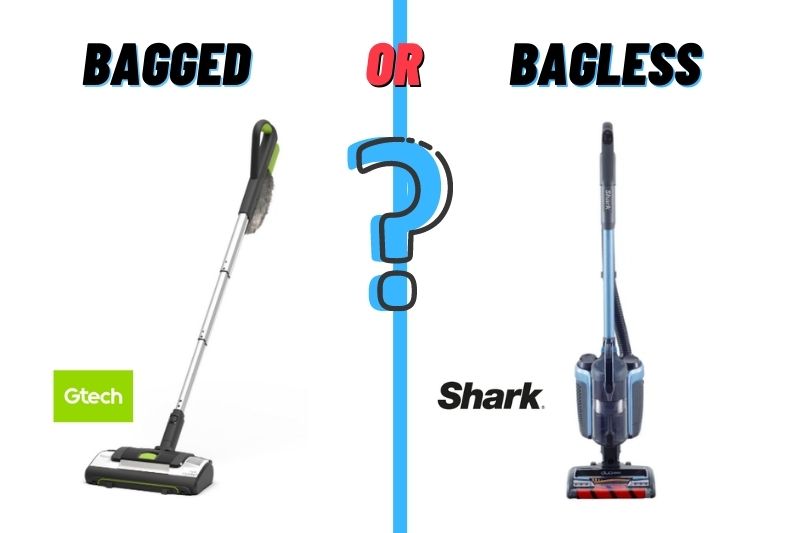 Gtech has a variety of bagless and bagged cordless vacuum cleaners. So, you can choose which option you'd prefer!
The HyLite 2, for example, is a cleaner that comes with bags and is made by Gtech. All you need to do is pop a bag into the machine, and remove it and replace it with a new dust bag when it's full. It's very simple to put a new bag in and it takes very little time to do so.
You usually get a few bags in the vacuum cleaner's box when you buy it, but if you need to purchase more dust bags you can do so online. You can buy a pack of 15 dust bags for £12.99 directly from Gtech. The bags are triple layered so you can rest assured that no dust is going to escape and dirty your home again.
When buying bags for Gtech products you should purchase bags that fit your cleaner.
Shark's products, on the other hand, don't need bags. Shark vacuum cleaners typically come with dust canisters, and all you need to do is empty the canister when it looks full.
Canisters can be bought online, if there is something wrong with the original dust canister. They usually cost around £60 and can be fitted to your model – just make sure to pick the parts that fit your machine.
Battery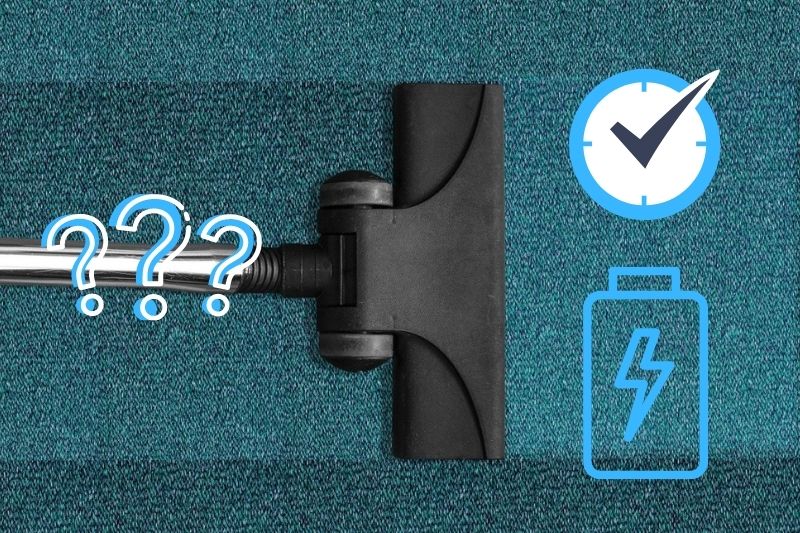 How long your battery lasts for when vacuuming your home depends on the model of hoover you've bought, and how you use your cordless cleaner around the house.
What do I mean?
Both Gtech and Shark have plenty of battery run time built into them, for example, Gtech's AirRam MK 2 has a run time of 40 minutes, which is ample time to clean a few rooms in a home. Similarly, a Shark Anti Hair Wrap Cordless Upright Vacuum Cleaner with Powered Lift-Away has around 50 minutes of run time. (Other models' run time may vary).
These times would give you plenty of time to clean around a home!
But if you have a carpet, for example, that is particularly dirty, you may need to go over it a few times, or use the suction boost feature, which will drain your battery a lot faster. This isn't ideal and your cleaning session may be a little stop-start. That being said, if you plan ahead and buy a vacuum cleaner that is suitable for your home, for example, a pet-friendly model, then you will find that you get the full run time from either model!
If you need to buy additional batteries, or replace existing ones, you can do so for both Gtech and Shark cordless cleaners. Batteries do however come at a cost.
If you need a new Shark battery for a cordless stick, for example, you won't get much change from £70 (pick a battery that's suitable for your model). Similarly, a battery for a Gtech Pro 2/K9 will cost around £73.99. (This price will vary depending on your model.)
Having extra batteries does mean that you'll get double the battery time to clean your home, which is very appealing to a lot of users. But of course, there is the added price tag to consider and it's pretty steep.
Accessories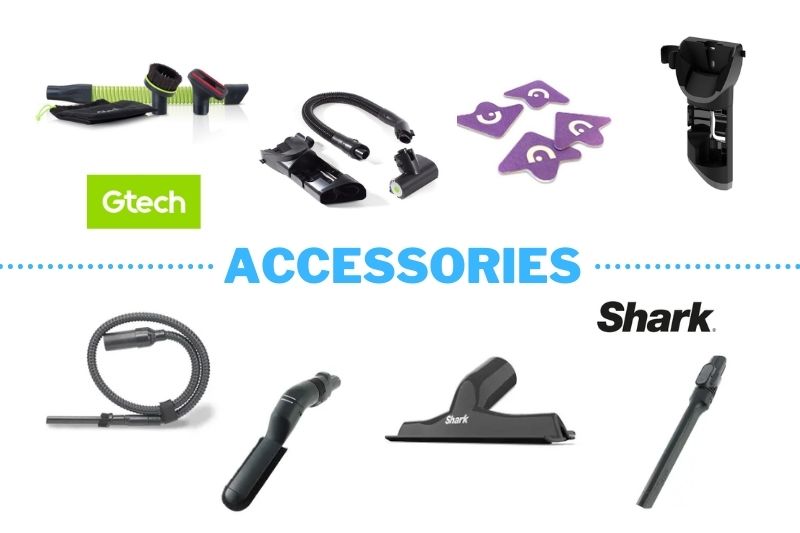 Shark's vacuum cleaners come with a plethora of accessories that you can buy to aid your cleaning sessions.
You can buy anything from additional batteries, to crevice tools, and from pet multi tools to new bodies.
It's really important that you choose the accessories that match your model of vacuum cleaner, otherwise the parts won't fit and you'll be wasting your time and money.
Accessories vary in price, depending on the model you have and what you want to buy. All can be viewed on Shark's website.
Similarly, Gtech have made several extra tools and gadgets for their cordless vacuum cleaners.
Gtech sells specific parts for their products, so only pick and buy things that actually fit your hoover. You can purchase extras like dust bags, extra-long hoses (gives you extra length when cleaning awkward gaps), brushes, wall mounts and car cleaning tools.
As with Shark's items, Gtech's accessories all vary in price and can be viewed online via their website.
It's not absolutely essential that you buy any of the accessories noted above, you can just use your cordless vacuum cleaner straight out of the box (charging will be required). The optional extras are there to make your cleaning experience easier and more enjoyable!
Sizes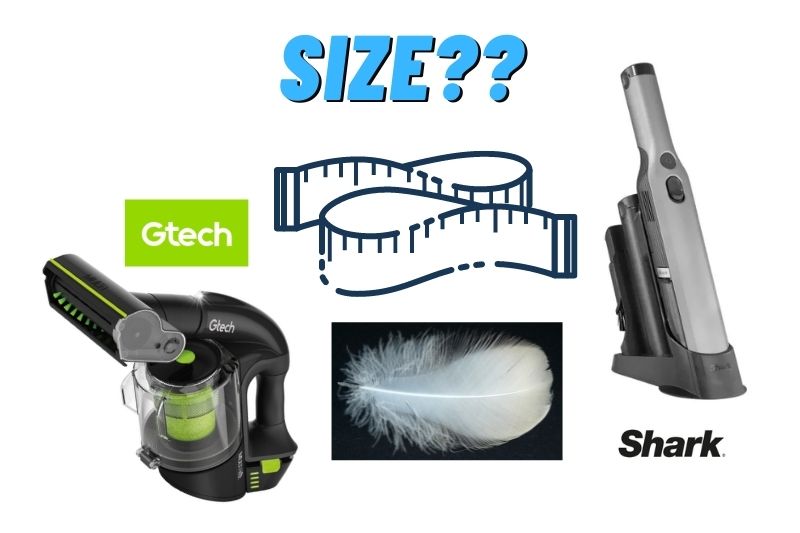 Neither Shark, nor Gtech's cordless vacuum cleaners are massive and heavy. In fact, a lot of their products are advertised as lightweight.
Both versions of the handheld vacuum cleaners are around 1.3 kg to 1.5 kg.
Shark's cordless sticks weigh around 4 kg, whereas Gtech's cordless sticks weigh about 2.8 kg, which is considerably lighter.
Gtech's upright models weigh around 3.2 kg, and Shark's upright models weigh about 5.5 kg to 6.2 kg, which is considerably heavier than Gtech's models.
There isn't much difference in the heights of the products. Both upright and stick models are similar for both companies.
You should consider what weight is most suitable for you, your home and your cleaning sessions. If something light is essential, perhaps a Gtech would be better, but if weight isn't any issue, then either Shark or Gtech would do.
Models
Both Shark and Gtech have an abundance of models that you can choose from, check out the list of models below:
Shark
1. Cordless Sticks
Cordless sticks are very slim and lightweight cleaners that can be maneuvered around with ease! They're very powerful vacuums that can sometimes be bent around objects, so you get an even better cleaning finish.
An example of a cordless stick by Shark is the Anti Hair Wrap Stick Vacuum Cleaner with Flexology (£349).
2. Cordless Upright Vacuum Cleaners
Cordless Upright Vacuum Cleaners are a little chunkier than the cordless stick models, but that doesn't mean that they lack any power.
On the contrary, upright cleaners, like the Shark Anti Hair Wrap Cordless Upright Vacuum Cleaner with PowerFins and Powered Lift-Away (£399.99) has roughly the same amount of suction as a corded cleaner, it can be used for around 60 minutes (on the normal setting), and you get a neat LED screen that notifies you about the batteries health, suction and what floor you're on.
3. Handheld Vacuum Cleaner
A lot of Shark's vacuum cleaners have the ability to change into handheld mode. All you need to do is unclip the necessary part and you're good to go in handheld mode.
However, you can also buy dedicated handheld vacuum cleaners. These cleaners are perfect for spot cleaning, upholstery cleaning and they can suck up those messy counter crumbs up in no time at all.
The Shark Cordless Handheld Vacuum Cleaner (single battery), (£129.99), for example, is perfect for sprucing up your home if you don't feel like grabbing the usual hoover from the cupboard. These handheld vacuum cleaners can be stored neatly in their charging docks and can be housed somewhere safe.
You usually get about 8 minutes of run time from this device.
Gtech
1. Cordless Vacuum Sticks
Cordless vacuum cleaners from Gtech look quite similar to those from Shark. They both look like thin sticks with suction heads at the bottom.
The biggest difference is that cordless vacuum sticks from Gtech usually come with dust bags. This makes disposing of waste a lot easier and cleaner, some would argue. You just remove the old bag and put a new bag in, there's no hassle with having to clean filters out!
An example of a cordless vacuum stick from Gtech is the Gtech Pro 2 K9 (£249.99), which is a model that would suit pet-friendly homes.
2. Cordless Upright Vacuums
The Cordless Upright Vacuum cleaner range from Gtech comes with AirLoc Technology inside them and can remove the toughest pieces of dirt. They look quite sleek and stylish and they aren't too heavy, 3.2 kg usually, which makes them very easy to move around the home and up and down the stairs.
An example of an upright cordless vacuum cleaner from Gtech is the Gtech AirRam MK2 (£199.99). You can also get a specialised pet version of this vacuum clever too, the Gtech AirRam MK2 K9 (£249.99). This version is strengthened with aluminium, and would be the perfect item to have in a pet-friendly home because it also leaves a fresh scent behind as you hoover.
3. Cordless Handheld Vacuums
The Multi MK2 (£149.99) from Gtech is the device you need, if you want epic cleaning power but a small cleaner.
In addition to this, it only weighs 1.5 kg, so it's very lightweight and your arm won't feel too tired carrying it around, it has 20 minutes of battery power, which is enough time to quickly hoover around the living room, and it's bagless so you don't have to buy dust bag replacements.
Plus, it also comes in a K9 version, which is suitable for pet-friendly homes.
Verdict
Gtech and Shark make practical goods that can be used in any size home. Items from both companies are not too heavy and are fairly manoeuvrable, so they're suitable for a lot of people.
There is a slight price difference, Gtech being slightly cheaper, but the power, usability and quality of both are very good.
If you're in the market for a cordless vacuum cleaner that is light, easy to store, and is simple to use either option would be good. The biggest question would be, 'How much do you want to spend?'.

Bethan has a passion for exploring, reading, cooking and gardening! When she's not creating culinary delights for her family, she's concocting potions to keep her house clean!