Wood is a popular choice for flooring as it gives any space a classic, elevated look. Many people choose it as it can seem simpler to clean than carpet.
Mopping up liquid spills is much easier on wood compared to having to scrub a stain remover into a carpet. But that's only part of the story; wood flooring needs to be properly maintained. It requires the correct products and techniques to keep it looking its best for as long as possible.
It's no secret that getting wood wet isn't ideal, however, you can mop your wooden floor. How you go about it will depend on the type of wood flooring you have.
In this article, we'll guide you through how to mop wood floors. With the best products and a fool-proof method, you'll learn how to keep any type of wood flooring looking as vibrant as the day you lay it.
Preparing Your Wood Flooring Before Mopping
Before you begin mopping your wood floor, you will need to follow a few steps to prepare the space. Whichever type of wood floor you have, the preparation steps are the same:
1. Do a test patch
It's important to test your chosen product on your floor before covering the whole surface.
Choose a patch in the corner of a room or underneath furniture so that any possible discolouration will be hidden. Give the product at least 24 hours to react with the wood and if nothing happens, move on to the next step.
2. Move furniture out of the room
You don't want to push all of your furniture to the corner of the room only to realise you still have to mop that corner!
If possible, move all of your furniture into another room while you mop your floor. This will prevent getting cleaning product and water onto your furniture.
3. Sweep or vacuum the space
If you begin to mop your floor without completing this step, you'll end up moving dirt and dust around. Instead, get all of the dirt, grime and dust off the floor by sweeping or vacuuming it.
Sweeping vs. Vacuuming
This comes down to which tools you have on hand and personal preference. Vacuums remove more dirt and can get into the spaces between the wood. However, be sure to check that your vacuum is compatible with wood flooring and won't scratch it.
A broom, on the other hand, has soft fibres which are unlikely to cause damage to the floor.
4. Plan your mopping route
This step may not seem that important but you don't want to mop yourself into a corner and have to wait there while the floor dries! Make sure you have a room or outdoor space where you can wait for the floor to dry. You'll want to start from the other side of the room and work your way out.
5. Understand when to mop your floor
It's best to mop your floor in warmer weather so that you can leave windows and doors open while the wood is drying.
Which Products Do You Need to Mop a Wood Floor?
The good news is, you will only need to invest in two products to mop your floor: a mop and a floor cleaner.
That said, wood floors can be delicate, so be sure to select the right equipment to keep yours in the best possible shape.
What are the different types of mops you can use?
String mop
This is the traditional choice of mop with a round head of soft fibres that hang down in a string-like way.
It comes with a bucket that allows the mop to be dipped in the cleaning solution and then wrung out to remove excess water.
Pros
These mops are an inexpensive option
They are good at removing stubborn stains
Cons
Even after wringing, they retain a lot of water which is not ideal for wood flooring
It can be inconvenient to move a full bucket of water around
Best for: a budget option if you don't have a lot to spend
Flat head, microfibre mop
Instead of a round head with hanging fibres, this type of mop has a rectangular head and a flat microfibre attachment.
Pros
This mop doesn't distribute too much excess water
The microfibre pads can usually be washed in a washing machine and used again, making it an environmentally-friendly option
Cons
Its shape can make it hard to get into awkward or small corners
It's considered to be less effective in removing tough stains
Best for: a regular spot-clean rather than a deep clean
Electric floor cleaner
There are some electric floor cleaning models which are specially designed to clean hard floors and even wood. For example, the Kärcher Hard Floor Cleaner has a rolling sponge which is efficient in removing dirt rather than moving it around. It also has two separate water tanks for clean and dirty water.
Pros
These devices are efficient in removing dirt and stains
They don't leave too much excess water on the floor
Cons
They can be an expensive option
Best for: a deep clean when you have a bit more to spend
Steam cleaner
A steam cleaner sprays steam onto the floor and usually includes a sponge to clean the floor. However, we are including this option to advise against using it on wood.
Whilst steaming a wood floor may not do any immediate damage, long-term use can cause the wood to warp and discolour. This is because a steamer propels the steam (hot water) deep into the joints.
Moisture mixed with high temperatures is a bad combination for any type of wood flooring.
Best for: other floors but not wood!
Cleaning products
Not all wood floors are created equal, and what might be good for a solid wood floor might not work on an engineered floor.
When choosing a cleaner, you may also want to consider whether it's toxic to pets or children and whether the ingredients are naturally-derived.
The first step in choosing your cleaner is knowing what type of floor you have, is it solid wood or engineered? What is the wood species: oak, mahogany, pine? How has the wood been finished: wax or varnish?
Armed with this information, you can select a cleaner that is designed for your exact needs.
Well-known brands
You can find wood floor cleaners from household name brands such as Cif, Flash and Mr. Clean. These products are a safe bet, they're tried, tested and trustworthy.
Be sure to read the back of the packaging to make sure it's recommended for your type of wood. Some generic wood floor cleaners won't work for all types of wood.
Specialist wood, or floor, cleaning brands
Brands who specialise in wood flooring, or floor cleaning products more generally, can be a great option. Flooring is their speciality so they often have different cleaning products for different types of wood. Think Bona, Woca and Murphy's.
Natural products
If you have pets or children who are likely to play on the floor, you may want to look for products with non-toxic ingredients, or products which are specially formulated for pets and children. Think Method, Bissell and Dirt Busters.
What to avoid
You should avoid DIYing your own floor cleaning products. Many sites recommend using vinegar, oil and dish soap, however, using these products incorrectly can damage the floor's finish in the long-run. It's best to leave it up to the professionals!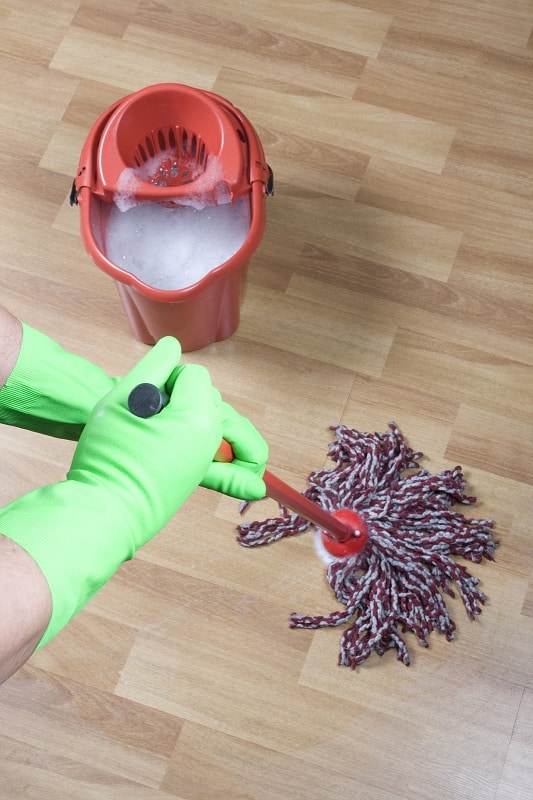 How Do You Mop a Wood Floor?
You've moved your furniture out of the room and you're armed with your mop and cleaning product, now comes the mopping. Put on your favourite playlist and get ready to work those arms!
Water's effects on wood
Water is wood's worst enemy and yet it's essential when cleaning it. The amount of water you use will depend on your cleaning product, so follow the instructions on the package when diluting it. Nevertheless, these tips apply to all wood flooring:
Change the water often, especially when it gets murky
Use cold water as hot water can damage certain finishes
Don't apply too much water
Dry up any puddles of water as you go
If it is available to you, use soft water
Go with the grain
When mopping a wooden floor, be sure to move your mop in the same direction as the wood grain. This will stop water pooling in the joints and crevices.
How to dry the floor
As mentioned, water can cause wood to warp and even rot, so the less time they spend in contact with one another, the better. To this end, you can go over the surface again with a dry mop or clean towel to soak up any excess water.
You should leave as many windows and doors open so that the water dries as quickly as possible. You can also leave a fan on to speed up the drying process.
Prevention Is Better Than Cure
Deep cleaning your floor can be a long process, especially if you have a large surface to manage. That's why it's better to keep your floor free of dirt in the first place. These tips will help you keep your surface fresh between deep cleans:
1. Keep on top of stains
As soon as you notice a stain, clean it up. Otherwise, the stain can penetrate the wood and will be harder to remove the longer it's there.
It's still important to use wood-specific products rather than a generic stain remover.
2. Clean up liquid spills immediately
As we've established, wood and liquid don't get along. That's why you should take care to dry any liquid on your wood floor right away.
3. Don't wear shoes on wood
High heels or hard-soled shoes can scratch the surface, exposing it to dirt and grime. However, even if your shoe has a rubber sole, it has been outside in contact with the dirty street. You can walk this dirt into the wood, making it hard to remove later.
4. Protect your wood from furniture
It goes without saying that you shouldn't drag your furniture along a wooden surface. But even stationary furniture should be kitted out with floor protectors.
Your sofa or tables can move when you sit on it, bump into it or move the furniture around it. This can create tiny scratches which fill with dirt and liquid, which is detrimental to the health of the wood.
In the same vein, keep your pets' nails trimmed and supervise children playing directly on a wood surface.
As long as you keep on top of your wood floor maintenance and do regular spot cleans, you shouldn't have to do a deep clean more than two or three times per year.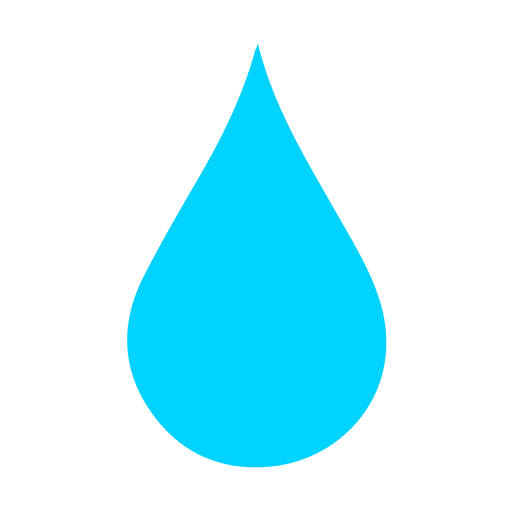 In The Wash is your guide to the best laundry and cleaning products, tips and tricks. Our mission is to solve the UK's cleaning and laundry dilemmas!