Nobody wants to see an error code coming up on their dishwasher! I mean, who wants to be stuck with dirty dishes that need to be hand-washed?!
But first things first, before you start trying to pull the dishwasher apart, you need to know what the error code means.
Dishwashers, like many appliances today, come with a lot of smart technology built into them. So, before you go poking around inside, you actually need to sit down and do your research. Only then can you go and sort the problem out.
Luckily you don't have to look far because we've got the answers for you. Let's get your dishwasher sorted out.
Things to remember…
Here are a few things to remember before you start looking into fixing a dishwasher, or any home appliance:
Always do your research.
Switch the power off before you go fiddling.
If there's water involved switch the water supply off.
Get kids and animals out of the way.
Before you move something, get help.
If you don't know what you're actually doing, leave the fixing to a pro.
If you need assistance you can check your user manual or call the manufacturer for help.
Don't go poking and prodding around inside the appliance.
Causes
For future reference, to find out what an error code on an appliance means you need to go to the manufacturer's website. In this case, it's Siemens. When you get to the error codes help page on the manufacturer's website you will generally see a list of all of the possible errors, you need to click the error that is showing up on your appliance.
According to Siemens, the 'E5' error code that appears on their dishwashers is related to faulty electronics.
This has likely been caused by one of the following:
A technical error in the system.
The programme has been interrupted mid-cycle.
To solve this issue take a look at and try our simple solutions below. However, you need to keep in mind that your machine will more than likely need to be repaired by a professional if it's showing the 'E5' error code.
Solutions
Here are some solutions you could try at home. Please be mindful of trying to 'fix' your dishwasher, if you're unsure of what to do at any point you should leave it alone.
1. Switch the power off and restart the dishwasher
To do this you need to press the on/off button on the machine.
When you have clicked the button wait a few minutes.
Restart the dishwasher using the same button.
This solution may work, and if so, the error code will disappear. If not, try the next solution.
2. Close the water tap and disconnect the dishwasher from the power supply
This may be a little more fiddly as you'll need to get to the water tap – get someone to help you out if need be.
Close off the water supply.
Shut off the power to the machine.
Restart the machine.
If this doesn't work try the solution below.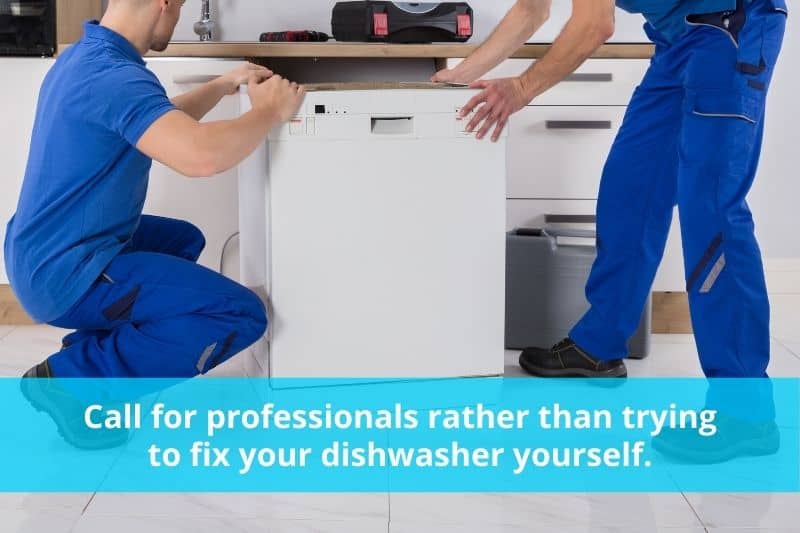 3. Call Siemens' Customer Services
If you have tried the solutions above and the error code is still showing up on the dishwasher, it's now time to call in professional help.
You can book a slot for a Siemens engineer to visit you via their website. Or, you can give the hotline a call.
The lines are open Monday – Saturday 8 am to 8 pm.
You'll need to have some details about the dishwasher with you when you book. These details include:
E-number (found on the 'rating plate')
FD number (found on the 'rating plate')
Model number (known as 'E-Nr' and found on the 'type plate')
FD data (4 digits and found on the 'type plate')
It might be worth having your dishwasher receipt at hand too, in case they need to check when you bought the appliance and whether you're covered by any manufacturers guarantees or insurance-based support.
Conclusion
You now know what's caused your 'E5' error code to pop up, and you've got a good idea about how to sort it out.
If you've experienced the same problem and you have your own solution, let us know how you managed to fix things!
FAQs
Will I have to pay to get this fixed?
You need to contact the manufacturer and discuss this with them. Payment for call-outs and small fixes may be included in your guarantee or any insurance you took out with the manufacturer at the time of purchase – check your paperwork.
How do I reset my Siemens dishwasher?
Restart your dishwasher. If this doesn't work, turn off the water supply to the dishwasher and turn off the power.
What can I clean a dishwasher with?
Here's our article on the best dishwasher cleaners out there.
What does 'half load' mean on a dishwasher?
We have an answer right here in our article for you.

Bethan has a passion for exploring, reading, cooking and gardening! When she's not creating culinary delights for her family, she's concocting potions to keep her house clean!