If you're looking to buy a tumble dryer but want to keep your electricity bills as low as possible, a heat pump dryer could be a good choice. Heat pump tumble dryers are still relatively new—heat pump technology was first used in Switzerland and Germany around 15 years ago.
Heat pump dryers remove the moisture from clothes by heating the air in the drum, and then the air is passed through an evaporator to remove the moisture. The resulting condensation is stored in a collection tank, and the warm, dry air is then reused to continue drying clothes.
Heat pump tumble dryers are much cheaper to run (around 50% cheaper than vented or condenser dryers) and are better for the environment due to using less energy, but until recently these appliances were expensive to buy.
Manufacturers are now starting to produce cheaper heat pump tumble dryers, but which are the best ones to buy based on both price and drying performance?
About Heat Pump Tumble Dryers
What is a heat pump tumble dryer?
A heat pump tumble dryer is a relatively new piece of technology that it is a lot cheaper and more energy efficient to use compared to a standard condenser dryer.
Heat pump dryers reuse the air that's already circulating in the dryer. The air passes through the drum and evaporates the moisture from your washing making sure it's thoroughly dry. As this hot air is reused within the machine this means that energy isn't wasted through the drying process.
What are the advantages of a heat pump tumble dryer?
The first advantage of choosing a heat pump tumble dryer is the energy saved. With a heat pump dryer customers can save at least half of the energy consumed by an electric dryer, which is good for the environment and also keeps your electricity bill down.
Heat pump technology also makes drying your clothes quicker, which is ideal for large households that need to dry a large load quickly. Another added bonus is that heat pump tumble dryers are usually a lot quieter than standard condenser dryers.
Investing in a heat pump tumble dryer is a great choice for your electricity bill, as heat pump technology means that the customer can save about half the energy cost.
This innovative technology is in every way a step in the right direction for tumble dryers as it also benefits the environment as a result of the machines' system of reusing air to evaporate moisture from the load. However, heat pump tumble dryers are more expensive than other dryers, so there's a bigger up-front cost.
Now that you know a bit more about heat pump dryers, let's look at some of the best models on the market in the UK right now.
Best Heat Pump Tumble Dryers in the UK
1. Bosch Serie 4 WTR85V21GB 8Kg Heat Pump Tumble Dryer
This Bosch Serie 4 tumble dryer is designed in an elegant white finish. The curved paddles allow for gentle air currents to move fabrics with care, leaving them extra soft and dry.
Features and specifications
8kg capacity
A++ rated
2 x W59.8 x D64 (cm)
Pros
Ideal for medium-sized households
Efficiency rating keeps energy costs low
Sensitive drying technology prevents clothes from being overdried
Cons
Some programs may take longer to complete, to maintain energy efficiency
Verdict
Overall, the Serie 4 offers a sturdy design with a variety of features, to ensure your clothes are dried effectively whilst maintaining quality.
2. Samsung DV90M50003X/EU 9 kg Heat Pump Tumble Dryer
The Samsung DV90M50003X/EU 9 kg Heat Pump Tumble Dryer has a stylish appearance with a modern graphite finish, and a large drum capacity of 9 kg.
Like most heat pump tumble dryers, this appliance has a great energy rating of A++, and also boasts some innovative features, but with a high price tag, is this tumble dryer a good buy?
Features and specifications
A 9 kg drum capacity, suitable for larger households.
Quick dry programme available for smaller loads, which dries 1 kg of laundry in just 35 minutes.
This machine comes with the Samsung Smart Check app, which lets you diagnose problems quickly and easily.
Automatic sensors adjust temperature and drying time, helping to lower energy consumption even further.
You can choose from 14 different programs and 3 drying temperatures.
Pros
A++ energy rated machine with lower energy costs thanks to the heat pump technology and other features such as the automatic sensors.
35-minute quick dry program is excellent if you need to dry a few items in a hurry.
Has lots of user-friendly features, such as an internal drum light, a well-designed water tank and an easy-to-clean filter.
Leaves laundry feeling soft and fluffy due it's gentle drying process.
Cons
As with many other heat pump dryers, it can take longer to dry laundry.
Some users find that a lot of the features and extra programs aren't really necessary and can be confusing.
Verdict
The Samsung DV90M50003X/EU 9 kg Heat Pump Tumble Dryer is an excellent dryer with good performance and some useful features. It also has a stylish appearance and will look good in any kitchen or laundry room.
However, it's not one of the cheapest heat pump dryers currently available, and it may not be worth the extra money if you don't think you'll use some of the advanced features.
3. Hoover Dynamic Next DXOH9A2TCE Heat Pump Tumble Dryer
Using heat pump technology, the Hoover Dynamic recycles air around the drum to provide the best value for money. With the All-in-One program, it alerts you to when remove lighter garments to allow the heavier fabrics to keep drying.
Features and specifications
9kg capacity
A++ rated
H85 x W60 x D60 (cm)
Pros
Easy to dry cotton and wool simultaneously
Anti-allergy cycle uses higher temperatures to remove allergens
Connects to Wi-Fi to check time remaining
Cons
Can be quite loud
Small learning curve to understand all of the features
Verdict
This is the ideal dryer for households that have a wide range of clothing fabrics to wash.
4. Miele TEF645 WP Heat Pump Tumble Dryer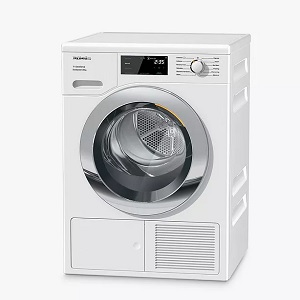 The Miele tumble dryer offers a wealth of features to make your weekly washing as painless as possible. This includes the PerfectDry setting which detects moisture levels in the drum to save both time and money.
Features and specifications
8kg capacity
A+++ rated
H85 x W59.6 x D60-63.6 (cm)
Pros
Extremely efficient to minimise energy costs wherever possible
Seven different levels of dryness available
Ideal for infrequent washing rather than multiple heavy loads
Cons
The end cycle confirmation noise is quite irritating
Verdict
In terms of efficiency, this is the perfect dryer. Although it's best to stick to using it throughout the day to avoid being awoken at the end of a cycle.
5. Grundig ExpressDry GTN38267GCW Heat Pump Tumble Dryer
The ExpressDry tumbler by Grundig is available in a smooth white and silver finish to suit a modern aesthetic. Designed with unique time-saving features, it reduces program duration for faster drying.
Features and specifications
8kg capacity
A+++ rated
H88 x W65 x D66 (cm)
Pros
Ideal for busier households with larger demands
Large water tank for longer periods of use without interruption
Anti-crease function limits the level of creasing applied to your clothing
Cons
Quite heavy so installation can be difficult for some
Verdict
The ExpressDry is the perfect choice for bigger households. Whilst it seems a bit expensive, it actually offers excellent value for money when you consider its features.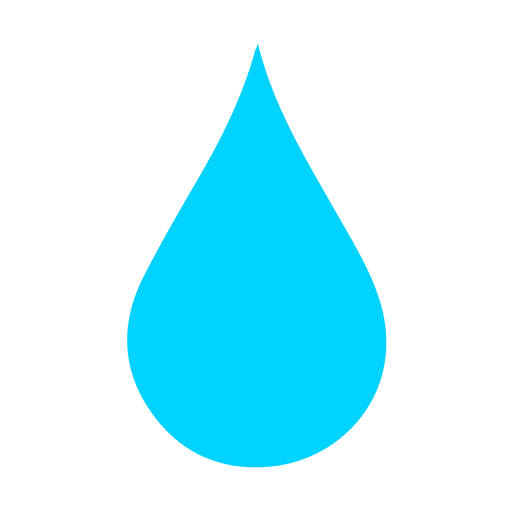 In The Wash is your guide to the best laundry and cleaning products, tips and tricks. Our mission is to solve the UK's cleaning and laundry dilemmas!