Keeping your whites white can be one of the biggest challenges when it comes to laundry. Some people even steer away from whites completely because of this fact but there are a few tips and tricks to help you maintain your whites.
1. Wash whites separately
I can't express how important this first point is. If you're in the habit of throwing all your laundry in together, it's time to get out of that head space and whiten your whites. You may have been lucky enough to get away with it to date but it's only a matter of time before your red sock becomes your pink shirt.
Even if colours aren't transferred, having different coloured items in your washing machine means that it can't work at its best and target the right places, causing white items to emerge looking grey or even yellow. It's time to separate your whites!
2. Add lemon juice to your wash cycle
Lemon juice has been proven to whiten your garments and remove stains. A lot of us don't have the time to stand around and soak our clothes in hot water and lemon, so try adding lemon juice to your wash cycles for the same results.
3. Use aspirin
That's right. I said aspirin. Who knew that an anti-inflammatory drug can help to make your white clothes white again? All you need to do is soak 5 300mg aspirin tablets (crushed) in 8 litres of hot water, soak the garment in this solution for 8+ hours, ensuring that the material is submerged the whole time.
4. Add white vinegar to your wash cycle
Vinegar is a product used a lot when it comes to laundry. It's perfect for removing stains, odours and as a laundry booster. While washing all-whites, add a cup of white vinegar while on the rinse cycle. Don't worry, your clothes aren't going to smell of vinegar but they will be returned to their original white colour.
5. Dry your clothes outside (when possible)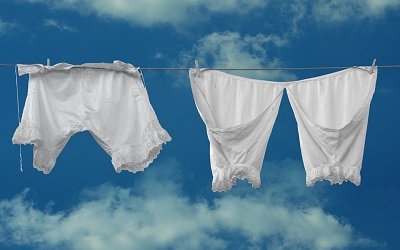 When it comes to laundry, it's always best to dry them outside but even more so when it comes to all-white clothing. Skip the dryer and go straight for the washing line in the sun. The sun will act as a natural bleaching agent. The Minky Retractable Washing Line is a good choice.
6. Put on a detergent-free load
Detergent is a staple item in everyone's home and it's important to wash your clothes with some form of detergent to get the best results but whites can become laden with detergent over time which can create that yellow tint that we all dread. Instead, send your whites through a detergent-free wash cycle and replace the detergent with a small amount of ammonia.
Although it can be incredibly frustrating to buy brand new (in some cases expensive) white clothes, just to have them soiled and looking dull a couple of weeks later, try these tips out on your next trip to the washing machine and you'll have them looking brand new again!
Related posts