Many homes up and down the country still use septic tanks, and unfortunately, there are a lot of cleaning products that can upset the balance of bacteria in the tank.
Septic tanks use bacteria to break down the waste, and strong cleaning chemicals can kill the bacteria and cause a range of nasty problems, such as clogged tanks and groundwater pollution.
As a rule, the safest chemicals are mild and free from harsh chemicals. This means that bleach should be avoided where possible.
Some detergents may be labelled as being "septic-safe", but you may need to look deeper to find out.
Laundry detergents that are suitable for use with a septic tank are environmentally friendly, biodegradable, and tend to use naturally sourced ingredients.
The following are our top picks for septic tank safe detergent.
Best Septic Tank Safe Laundry Detergents in the UK
1. Ecover Zero Non-Bio Laundry Detergent

Ecover Zero non-bio laundry detergent is skin friendly and allergy-free. The formula is made using only plant-based ingredients and supplied on 100% recycled bottles. Ecover prove that laundry detergent doesn't need to underperform just because it is safe for use with a septic tank!
In addition, the liquid is cruelty-free, and approved by the British Allergy Foundation.
Users love that the laundry detergent is gentle on skin, even on sensitive skin. Despite the gentle nature of the ingredients, this non-bio laundry detergent can tackle most stains without problem.
However, some users do report that the recycled bottles are fragile, and so they can break or split easily. Some people also find that it can struggle to tackle tough or dried stains.
2. Method Laundry Liquid – Wild Lavender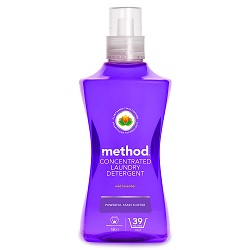 The scent of Method's lavender laundry liquid will leave clothes smelling fresh even in between washes. This laundry liquid is designed to tackle hard stains, and help keep whites whiter, all whilst being gentle on skin and suitable for septic tanks.
The concentrated formula means that you don't need as much packaging. The formula is only tested on people, not animals, and only uses plant-based and biodegradable ingredients.
The gentle nature of this liquid laundry detergent can help people who suffer with skin complaints such as eczema or dermatitis. Users report as well that they get good cleaning results, even at 30°C.
However, some users do report that the fragrance doesn't always last if it should, and the price point is higher than some alternatives.
3. Ecozone Non-Bio Laundry Capsules

The non-bio formula of Ecozone laundry pods is tough on stains such as wine, grease, and tomato, but still gentle on skin, fabrics, and septic systems. All the ingredients are plant-based and naturally sourced, and no toxic chemicals are used in the manufacturing process.
The capsules are easy to use and fuss-free. For most laundry loads, one pod will be plenty, however some more intense loads and harsh stains could require two pods for the best results. Regardless of whether you use one pod or two, these laundry capsules are one of the most expensive on this list.
Users love that these Ecozone capsules are great for sensitive skin, vegan friendly, and that on some fabrics, you can get away without using fabric softener. These laundry pods work just as well as the supermarket brands, just without the environmental impact.
4. Bio-D Laundry Liquid with Lavender

Bio-D's lavender laundry liquid is formulated with ease of use and the environment in mind. This means that this laundry detergent can be used in any washing machine and is suitable for hand-washing delicate fabrics too.
The delicate nature of the detergent means it mixes into water instantly, and so can be used in even cold water.
In addition to being safe for use with septic tanks, the detergent is recognised by Allergy UK, and makes use of recycled and recyclable packaging.
Those with sensitive skin find that the delicate scent and natural ingredients don't upset their skin, and that their clothes come out clean and soft too. The concentrated nature of the detergent and the large bottle means that you won't need to worry about buying more very often either!
Some users, however, report that this detergent can struggle to get stains out of certain clothing, and that it performs better on linens or towels.
5. Bio-D Non-Bio Concentrated Washing Powder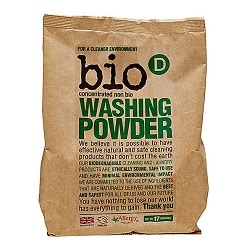 If you'd rather use a laundry powder, Bio-D non-bio powder is a great choice. The powder is biodegradable and avoids all the harsh chemicals and additives that have traditionally been added to powder detergents that made those with septic tanks swear off them in the past.
The detergent is gentle on skin and can be used for both machine and hand washing. Bio-D's washing powder is approved by both BUAV and the Vegan Society, and is made in the UK too.
Users love that the detergent is great for allergies or skin complaints, and that the packaging is eco-friendly too. The detergent has no smell and leaves behind no residue. Many people find that they can even use less than the recommended dosage and still achieve great cleaning results.
6. Sonett Laundry Liquid – Mint & Lemon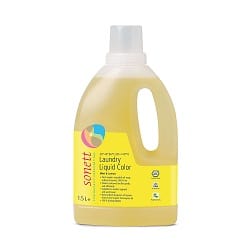 Sonett's laundry liquid in mint and lemon has a delightful, natural fragrance of mint and lemongrass.
The detergent is gentle on sensitive skin and uses an organic vegetable oil-based soap that is easily biodegradable. It can be used on all fabrics on temperatures between 30°C to 60°C, such as cotton, linens, microfibres, and fabric blends.
The laundry liquid is ideal for coloured fabrics and hybrid materials, such as outdoor clothing or sportswear.
However, when compared to some of the others on this list, this detergent does not tackle stubborn stains very well and will usually need the help of a pre-treatment or stain removal spray.
7. Eco-Max Non-Bio Fragrance-Free Laundry Liquid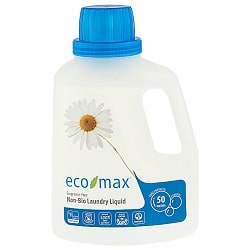 The Eco-Max liquid is incredibly gentle and fragrance-free, making it popular in countries around the world. The formula leaves behind no residue and is suitable for use in areas with hard water. It's allergen free, and approved by the Vegan Society.
Eco-Max never test their detergents on animals and avoid harsh preservatives and nasty brighteners. The small dosage (just 30ml) means that each standard size bottle covers 50 loads.
Users are reporting that this laundry detergent is ideal for both colours and whites and can tackle stubborn stains too. However, like some of the others, a pre-soak or pre-treatment might be needed to achieve best results.
Running a Washing Machine with a Septic System
Some people believe that using a washing machine when you have a septic system should be avoided, however this isn't the case. There is certainly no need to wash everything by hand!
Running a washing machine itself doesn't pose a risk to the septic tank. Instead, it is the sheer quantity of water running into the system that has the potential to cause a problem.
Instead of avoiding using a washing machine, you should try to monitor your water usage. Try to avoid running showers or baths whilst your washing machine is running and spread your laundry out over the week rather than trying to cram it all in on one day.
If you need to replace your washing machine, focus more on the amount of water that a washing machine uses rather than just how energy efficient the machine is. In the long run, this will help you to reduce the amount of water you flush into your septic tank.
By making sure you don't overload your tank and using septic safe detergents, you should have nothing to worry about!
Liquid vs. Powder Laundry Detergent for Septic Tanks
Traditionally, liquid laundry detergents have been better than powder alternatives for septic systems. This is because some powder detergents have used clay as a carrier, and this can clog up systems.
However, there are now powder laundry detergents available that are safe for use with septic systems, such as Bio-D's non-bio washing powder.
The new generation of eco-friendly washing powders are biodegradable and avoid the use of harsh chemicals, which means that they can be used in systems with either a septic tank or a cess pit without concern.
As long as a powdered detergent doesn't use harsh ingredients such as phosphates or bleach, doesn't contain any fillers such as clay, and is considered to be septic tank safe, there's no reason that you can't use a powder detergent.
Septic Tank Laundry FAQs
How do you do laundry with a septic system?
You can do laundry almost in the exact same way as you normally would if you have a septic tank. However, there are precautions that you should take to make sure that you do not harm it.
To begin with, you should make sure that you use laundry detergents that are safe for septic tanks. These tend to be eco-friendly products that do not contain harsh ingredients. You should use the minimum amount to achieve good results and limit the amount of bleach that you use.
It is also advisable to spread your laundry out, rather than doing multiple laundry loads one after the other. This will give your septic tank a chance to process the wastewater without becoming overwhelmed.
Does laundry detergent hurt septic systems?
Normal amounts of laundry detergents that do not contain harsh chemicals will not harm your system. However, using excessive amounts or lots of bleach can kill the bacteria that your tank needs to function properly.
How often should you wash clothes with a septic tank?
To reduce the chances of problems, you should avoid doing more than one or two loads of washing using a standard washing machine each day. Spread multiple loads out over several days rather than running the machine back-to-back.
Are all laundry detergents safe for septic systems?
No! Some detergents that contain bleach or have anti-bacterial properties can kill off the bacteria that the septic tank needs to function. If this happens, it could cause your tank to block up, cause damage, and a wealth of other nasty problems.
What detergents can you use with a septic tank?
The best laundry detergents that are septic tank safe tend to use natural ingredients and be eco-friendly. They avoid harsh chemicals such as bleach and should be 100% biodegradable.
Can I use powder laundry detergent with a septic tank?
There are some powder laundry detergents that are safe for use with a septic tank. When in doubt, check the packaging for a septic safe mark, or ask the manufacturer for guidance.
Can I use bleach with a septic tank?
Very small amounts of bleach are unlikely to cause a problem, however using bleach regularly or in larger amounts can kill the bacteria. When in doubt, avoid bleach in favour of more natural or gentle alternatives.
Does laundry water go to a septic tank?
This depends on your exact system. Whilst it usually goes into the septic tank, some homes might have a separate disposal system for this kind of wastewater. However, the fact that laundry wastewater does usually go into the septic tank means that you need to make sure you are using a septic safe detergent that will not upset your tank's bacteria balance.
Is washing machine lint bad for a septic tank?
Most washing machine lint cannot degrade, and this can clog up septic tanks and systems if you are not careful. To combat this, make sure that you remove things like paper and plastic from laundry before washing, and make sure that your washing machine has a suitable lint filter.
Conclusion
If we were to recommend just one product, it would be the Ecover Zero non-bio detergent. The reviews speak for themselves; users love that it is gentle on skin and achieves great cleaning results on most laundry.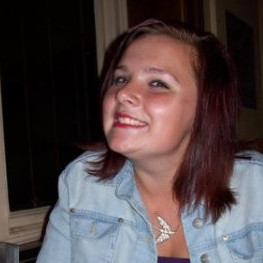 Lover of coffee, painting, and all things cute and fluffy. I'm always on the lookout for easier, more gentle ways to tackle awful household chores.