If you've got a Vax carpet cleaner, you might be thinking about trying out a different shampoo in it.
Maybe the Vax carpet shampoo didn't do a good enough job, perhaps you didn't like the smell, or maybe you just fancy a change. Whatever your reason for wanting to try an alternative carpet cleaner, one thing is for sure, you need to do your research beforehand!
Find out what alternatives there are to Vax carpet shampoo below!
Should You Be Using an Alternative to Vax Carpet Shampoo?
Before you dive right in and find out what alternative products there are, there is one big question you need to consider… Should you be using an alternative product in the first place?
If you've done some reading around on this topic, you've probably seen a lot of arguments for and against using a non-Vax product in a Vax carpet cleaner.
And while a lot of people feel comfortable using an alternative product to shampoo their carpets, it isn't always recommended. Here's why:
Your warranty or guarantee could be voided. In short, if you stick a product in your Vax carpet cleaner that you're not supposed to, the manufacturer isn't going to be pleased about it. This may result in you losing your warranty, and you not being able to get professional help further down the line should you need it.
The ingredients may not be suitable for the carpet cleaner. So, carpet shampoos are probably going to be similar to one another to some extent. After all, they're all trying to do the same thing. However, this doesn't guarantee that the makeup of an alternative product is going to be suitable for your Vax. Using a different product may result in needless damage being caused to your appliance, and this may result in additional costs.
An alternative product could create too much foam for your Vax to handle! If you use a non-Vax product you may end up with lots and lots of suds being left behind on your carpet and in the machine. This isn't supposed to happen and it can cause more damage than it's worth – to your Vax and to your carpet. Vax products, on the other hand, have been designed to stop needless foam from occurring.
Alternative carpet shampoos may not be suitable for your carpets. If you buy an off the shelf alternative, and you don't do your research, you might end up dousing your carpet in the wrong product. For example, if you have a wool carpet you can rest assured that Vax's products are 'Woolsafe', so their products can be used to clean wool carpets. Whereas other products may not stipulate what carpets they can/cannot be used on, and you could destroy your wool carpet during the cleaning process.
Of course, on the flip side of the above people think that using alternative products is cheaper, more convenient and are just as easy to use.
Although, it's important to keep in mind that some of these Vax users may be using older Vax machines that are outside of their warranty, so they might be happier to test out different products.
It is entirely up to you to decide what route to take.
What Can You Use Instead of Vax Carpet Shampoo?
Disclaimer: You use the following products at your own risk. Please note that using the products listed below may void your warranty. You should always consult your user manual before trying out alternative products in your Vax.
Further to this, if you are concerned or need more advice, contact Vax directly.
1. Dirtbusters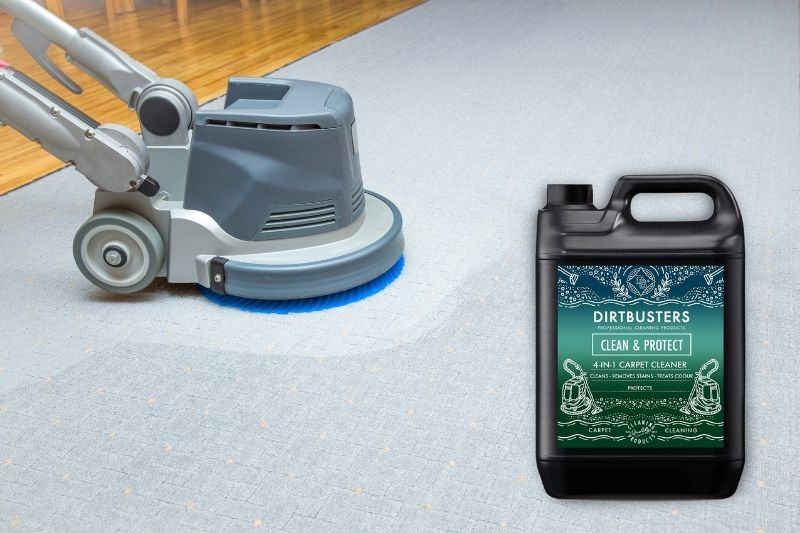 Dirtbusters offer a variety of carpet cleaning shampoos and they can be used with a Vax carpet cleaner. The key difference between Dirtbusters' carpet shampoos and Vax's carpet shampoo is that Dirtbuster's shampoos have a higher dilution rate.
In short, you don't have to use as much of the Dirtbuster's shampoo to clean a carpet.
You can buy most Dirtbuster products online, and you can buy different shampoos based on what smells you like and your needs.
For example, they have a pet carpet cleaner and a 4-in 1 Carpet Cleaner that pretty much covers you for everything (treats stains, cleans, deodorises and protects carpets).
2. Stardrops Carpet Cleaner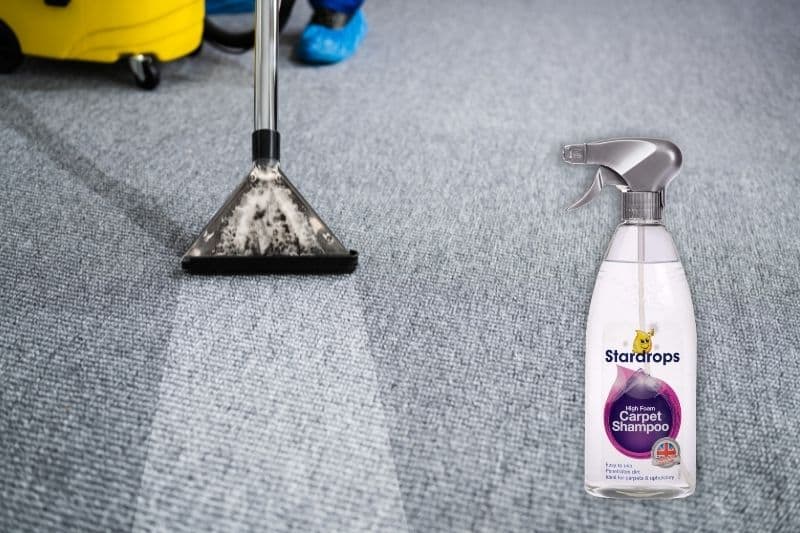 Stardrops Carpet Cleaner can be found in most supermarkets in the UK.
It's fairly simple to use this product in your Vax because you just pop a few drops of it into the machine. You must, however, add some kind of fabric softener to the Vax machine too, otherwise you'll end up with lots of soapy suds.
3. 1001 Machine 3 in 1 Carpet Cleaner Shampoo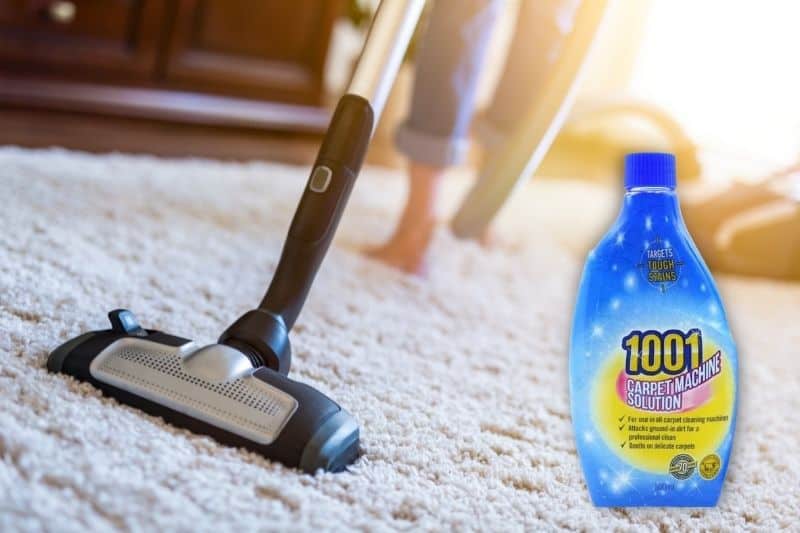 1001's 3 in 1 Carpet Shampoo is a good all-round cleaner that removes a lot of dirt from carpets. However, users have stated that if you have older, or harder to remove, stains you may need to do some pre-treatment exercises before cleaning your carpet with this product.
In addition to this, you should stick to the measurements stated on the bottle because you may end up with a foamy overload if you don't!
4. Rug Doctor Carpet Detergent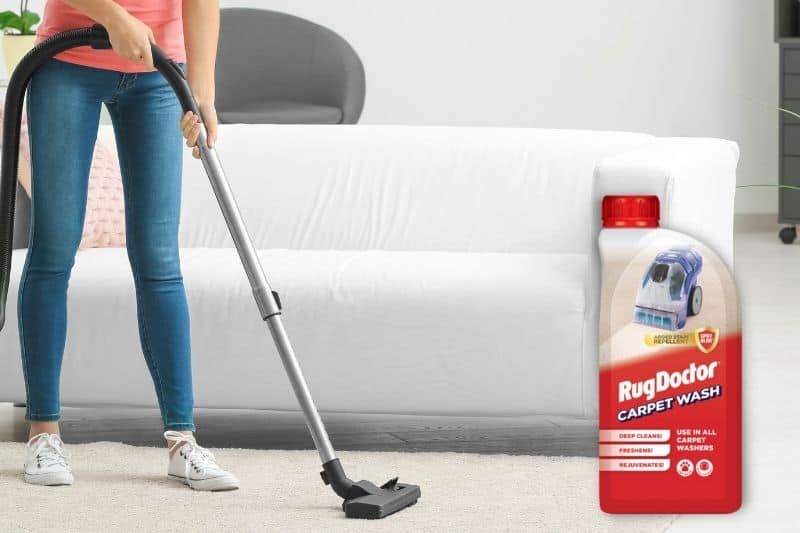 If you'd like to try another well-known carpet cleaner's products in your Vax machine you can do so. Rug Doctors products can be used in Vax machines!
Before you use any of these products though, Rug Doctor stipulates that you should read your Vax's user manual for further guidance, and you must stick to the correct measurements stated on the shampoo's bottle.
5. Crown Supplies: Professional Carpet Shampoo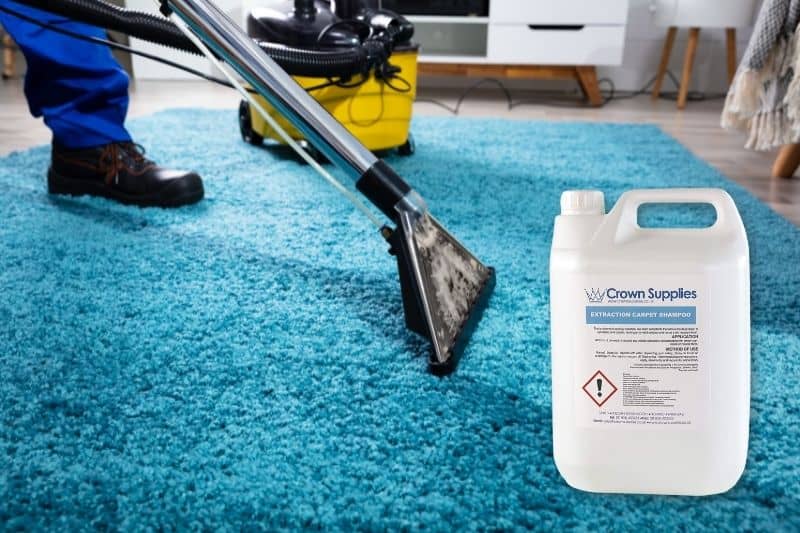 If you're looking for an alternative carpet shampoo that's used by industry specialists, then look no further than Crown Supplies' Professional Carpet Shampoo. This large 5 litre bottle will see you through plenty of carpet cleaning sessions.
In general, this shampoo doesn't have much of a smell, but that's a small price to pay considering most users note that this product cleans just as well as the Vax Carpet Shampoo.
In addition to this, a lot of pet lovers see this as a go-to alternative because it cleans up pet mess very well.
Final Thoughts
There are many alternative products you can try instead of using Vax's official carpet shampoo. However, it can sometimes be a little risky to try non-Vax products out because you're never really sure how the machine will react.
That being said, a lot of people have had great success with using non-Vax products in their Vax machines. Although, my advice would be to always check to see if the product you intend on using says it's 'suitable for Vax machines' first.
Finally, if you're not sure whether you should stick to Vax-only products, or to deviate a little, you can always keep an eye out and purchase Vax products when they're going cheaper in shops.
Of course, you're not always going to find Vax products going half price, but shops do cut their prices on such items now and again! Perhaps you could stock up on them when you see them at a lower price.

Bethan has a passion for exploring, reading, cooking and gardening! When she's not creating culinary delights for her family, she's concocting potions to keep her house clean!