Due to the fibrous nature of carpets, they have a tendency to hold odours for a long time. This can be a nightmare if you have pets. Even once you've gotten the stains out of a carpet, the odours can linger for months. Thankfully, there are a variety of products on the market that aim to neutralise odours in your carpet, either by removing them or masking them.
If you're struggling to get odours out of your carpet, you should try a carpet deodorising product before you try ripping your carpet up. To help you find a product that'll meet your needs, we've rounded up a few of the best carpet deodorisers on the market.
1001 Carpet Fresh Pet with Thai Orchid
This carpet spray from 1001 is designed specifically to tackle pet odours. 1001 is a brand owned by WD40, so their reputation is certainly good. They make a few different carpet deodorising products, but this one is specifically formulated for tackling pet odours.
It has a fresh Thai Orchid scent which does a surprisingly good job of covering up the smell of dogs. So, if you're looking for the best carpet deodoriser for dog smell, this might be a good place to look.
Dealing with pet odour is really tough, so this is one of the best options shy of having your carpet professionally cleaned if you're a pet owner.
>>> See price and reviews on Amazon.co.uk <<<
Glade Shake n' Vac Fresh Lemon Carpet Freshener
Glade are a company renowned for their scented products. This carpet deodoriser is no exception. It's available in a range of scents, though we're specifically looking at their Citrus Blossom scent.
Simply shake the carpet deodoriser powder over the carpet, leave for a few minutes, then vacuum off. Once vacuumed, it should leave your carpets cleaner and fresher than before, with a soft citrus scent.
Unlike the 1001 product above, this carpet deodoriser isn't specifically formulated for pet odour. However, the manufacturer suggests that it's good for pets, tobacco, and cooking odours. In fact, this product would likely do a very good job with most common household smells.
>>> See price and reviews on Amazon.co.uk <<<
Sta-Kill Deodoriser Concentrate
Sta-Kill Deodoriser Concentrate is a heavy-duty deodoriser designed for tackling the worst stains, such as urine. They advertise it to people who drive taxis and work in care homes. This stuff is quite powerful.
The only downside is that the product itself has a very strong smell that lingers for a few days, comparable to a hospital disinfectant. However, if you're dealing with strong unpleasant odours, it can be a preferable option.
Whilst this is probably overkill for most day-to-day household odours, it's a great last resort for tricky stains, or simply as an emergency cleaner for when the worst happens.
>>> See price and reviews on Amazon.co.uk <<<
Vanish Carpet Gold Foam
Vanish Carpet Gold Foam isn't just a deodoriser, it's also a carpet cleaner. So, if you need to refresh your carpets completely, this product from Vanish is a great way to do it. Simply spray the foam onto the carpet, brush it in, then vacuum once dry.
It's a super easy way to remove troublesome stains from the carpet, or to simply refresh an old carpet. Allegedly, this product helps to remove pet hair from carpet as well, which can be a major source of pet odour.
Whilst it's not as strong of a deodoriser as many other products, the cleaning properties certainly help make this product useful. It's best used as a first response to a stain, helping to remove the odour at the same time.
>>> See price and reviews on Amazon.co.uk <<<
Simple Solution Urine Destroyer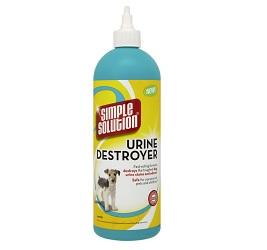 Simple Solution produce a wide range of pet cleaning products. If dog urine is your primary concern, then this cleaning product is specifically formulated for your needs. It's designed to tackle urine stains and odours. Simply apply, as per the included instructions and then it should neutralise odours without the need for heavy-duty cleaning products.
Unlike the other products on this list, it's not specifically for use on carpets. It works well on upholstery, tiles, and cement as well as carpets.
>>> See price and reviews on Wilko.com <<<
Related posts