Bicarbonate of soda (aka baking soda) is an incredibly versatile and safe cleaning product that deserves a place in everyone's cleaning cupboard.
It can be used for a huge range of cleaning tasks including removing limescale and grime from sinks and showers, deodorising carpets and mattresses, and cleaning greasy ovens.
Bicarbonate of soda is easy to get hold of and can be bought online, in supermarkets or in shops. This guide will help you get your hands on some bicarb of soda cheaply and easily.
Where to Buy Bicarbonate of Soda for Cleaning in the UK
Online
1. Dri-Pak Bicarbonate of Soda
This bicarbonate of soda from British brand Dri-Pak comes in a 500 g box, but can be bought as a multipack with 6, 12 or 18 boxes. This offers great value for money and means you won't run out for ages!
If you're interested in bicarbonate of soda because it's kinder to the environment, you'll be pleased to hear that this product is packaged in recycled cardboard with no plastic.
Like all bicarbonate of soda, Dri-Pak's variety is extremely versatile and can be used for all kinds of cleaning tasks. Unlike some bicarbonate of sodas that are formulated for baking, Dri-Pak's is developed specifically for cleaning.
2. Hexeal Chemicals Sodium Bicarbonate
This massive 5 kg tub of bicarbonate of soda is going to be your best friend for ages! It is 100% pure, food-grade bicarb, so it's great for use in the kitchen, but its magic will still work in the bathroom and anywhere else for that matter.
Use it to clean your sinks, drains, tiles, chopping boards, kitchen surfaces and even make bath bombs! If you use it to make some bread, you'll still have plenty left to clean up the mess that you make while making the bread!
3. Wholefood Earth Sodium Bicarbonate
For those looking to reduce their waste with regards to plastic packaging, this Wholefood Earth bicarb should suit you perfectly.
Their packaging is 100% compostable as it is made from renewable plant sources and the product is pure, food-grade bicarbonate of soda so can be used in your food as well as for cleaning.
In fact, if you've been looking for a kinder alternative to toothpaste, then bicarb can be used to clean your teeth as well – it is literally a wonder product! It is also gluten-free and aluminium-free.
4. Duzzit Amazing Baking Soda Multi Purpose Household Cleaner

Duzzit's baking soda is a popular staple in many households' cleaning cupboards across the UK. It can be used for unblocking drains, deodorising mattresses and carpets and cutting through grease in ovens.
Don't be confused by the name "baking soda"—baking soda is the same thing as bicarbonate of soda, it is simply the American term. We're not sure why Duzzit named their product baking soda, as the brand is based in Manchester!
It's important to point out that this product is developed for cleaning only, so it shouldn't be used for baking.
This product comes in plastic packaging, so it's not as eco friendly as some of the alternatives that come in cardboard.
5. Arm and Hammer Pure Baking Soda

This pure baking soda (aka bicarbonate of soda) from US brand Arm and Hammer is safe for all uses, including baking.
It comes in a carboard box with no plastic bag inside, so it's a good choice if you're looking to cut down on your plastic waste.
This product comes in quite small boxes (227 g) that fit in the palm of your hand. However, you can buy a pack of eight boxes, which offers good value for money.
6. Health Leads Pure Sodium Bicarbonate

This 400 g tub of bicarbonate of soda from Health Leads is as pure as it comes. This bicarb contains no additives, so it's perfectly safe to use for baking. It is also an excellent cleanser and can be used to make any cleaning task simple and easy.
This bicarbonate of soda offers the perfect way of cleaning your home completely naturally. Plus, you can also use it to alkalise your body with a simple drink that only needs a few other ingredients.
If you suffer from acid reflux or indigestion, this could help to lessen your symptoms and make you much more comfortable after having a big meal (always check with your GP if you are suffering badly from heartburn or related problems). Your home and your body can have a natural cleaning easily with this bicarb.
Health Leads' bicarbonate of soda is available in 3 sizes too, so you can choose which will suit your cleaning lifestyle the most – 200 g, 400 g or 1 kg.
In shops and supermarkets (offline)
You don't have to buy bicarbonate of soda online. You can also find it in supermarkets, household good shops such as Wilko, and eco-friendly shops.
Here are a few supermarkets and shops where you should be able to buy bicarbonate of soda:
ASDA
Co-op
Iceland
Lidl
Morrisons
Tesco
Waitrose
Wilko
Can You Buy Bicarbonate of Soda in the Supermarket?
Yes, you can buy bicarbonate of soda in supermarkets.
You should find bicarbonate of soda in the home baking section of your local supermarket. The most popular brand in UK supermarkets is probably Dr. Oetker's bicarbonate of soda, which you can buy in a 200 g tub or as six sachets weighing 7 g each.
Some supermarkets such as Waitrose and Sainsbury's have own-brand bicarb of soda products available.
If you want a large quantity of bicarbonate of soda for cleaning, buying it from the supermarket isn't the best option as they only sell it in small quantities. It will be more cost effective to buy it in bulk online.
Also, buying bicarbonate of soda in small packages isn't very environmentally friendly, especially if you buy it in sachets.
Is Bicarbonate of Soda the Same Thing as Baking Soda?
Yes, both terms refer to the chemical sodium bicarbonate. Baking soda is the US term, and bicarbonate of soda is the UK term. However, it's quite common to hear people in the UK talking about baking soda as well.
Bicarbonate of soda is the same thing as baking soda, but it's not the same thing as baking powder. Baking powder is used as a raising agent in baking, but shouldn't be used for cleaning.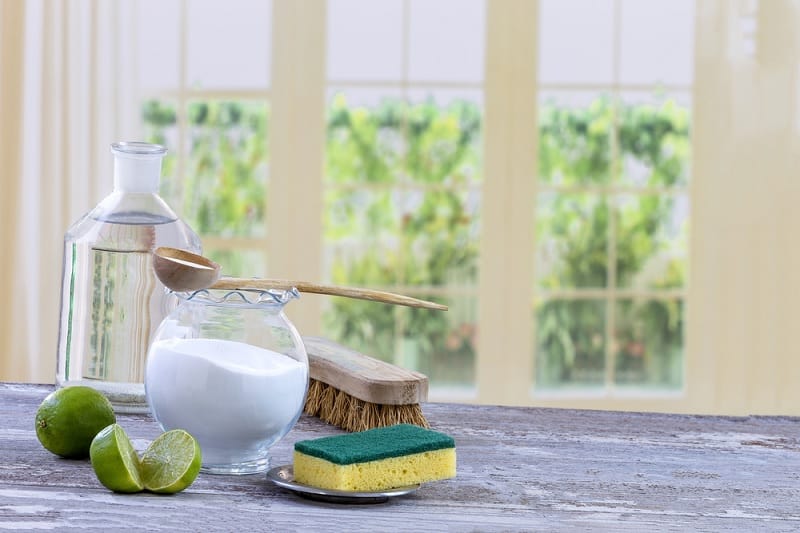 Using Bicarbonate of Soda for Cleaning
Bicarbonate of soda is used for cleaning because it is an alkali that can help to dissolve dirt and grease when mixed with specific liquids.
Even just mixing with water activates the bicarb powder, forming a frothy substance in which the reactions can help to lift dirt and stains from certain surfaces.
The alkaline properties of bicarb can help to neutralise odours too, so it makes a great option for cleaning in the kitchen, where foody pongs can be rife.
Saying this, the power of bicarbonate of soda can make great cleaning products for any room in your home.
Uses for bicarbonate of soda in the kitchen:
Bicarb, salt and water can be mixed into a paste to bring life back to wooden and plastic chopping boards.
A couple of tablespoons of bicarb in your sink can make washing dishes simple and easy. You can also add bicarb to your dishwasher to cut through grease and grime like never before.
Fill a jar with bicarbonate of soda and leave it with the lid off in your fridge. It will take any nasty smells away. Once your fridge smells nice again, throw it down the drain to give your drains a spring clean and freshen them up too.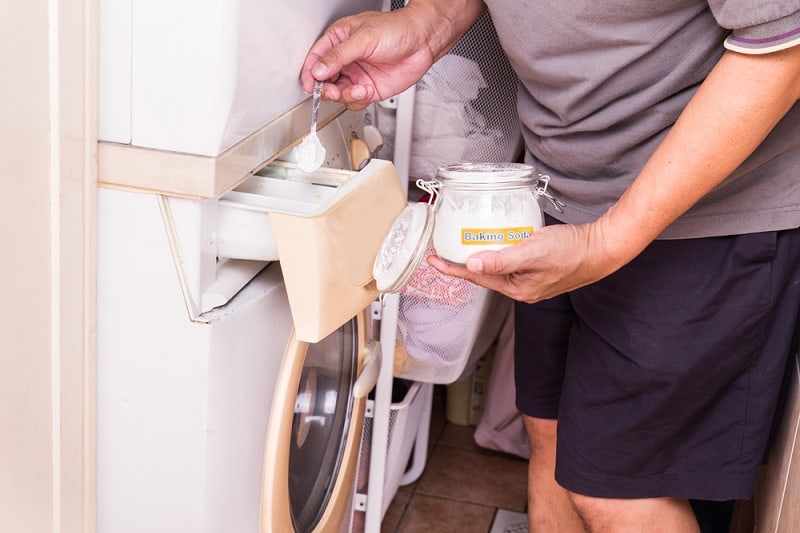 Uses for bicarbonate of soda in the bathroom and laundry room:
For whiter-than-white whites and brighter colours, add half of cup of bicarb to your wash. Your clothes will come out sparkling. Also, as bicarbonate of soda softens the water, you need less detergent, so it's great for use in hard water areas.
You can use bicarbonate of soda to clean the grout between your tiles too. A little of bicarb, lemon juice and vinegar combined with some elbow grease can make the grout look like new.
Sprinkle about half a cup of bicarb in your toilet, let it sit for half an hour and then spray with some vinegar and scrub your toilet. Your toilet will now sparkle so much you'll need to wear sunglasses when using it!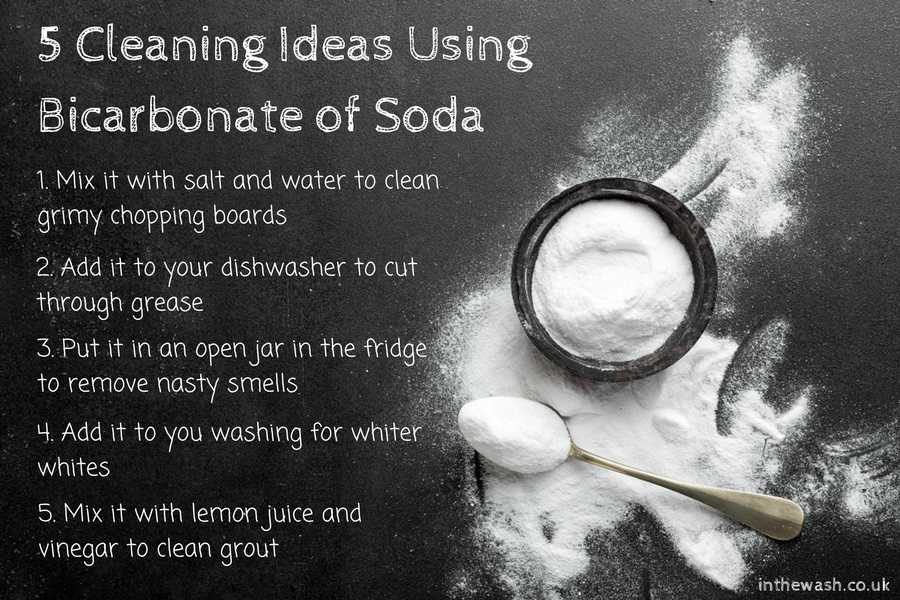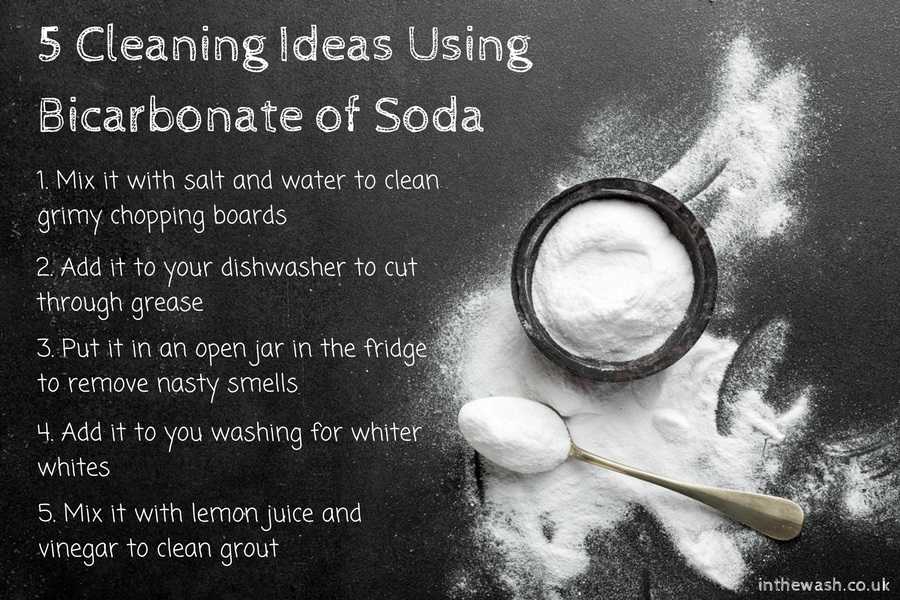 These are just some of the reasons why having bicarb in your cleaning arsenal is a must. There are so many other great uses for bicarbonate of soda, we've only scratched the surface of what's possible with this amazing cleaning product.
You can use it to deodorise your pets, take crayon off of walls, clean baby bottles and loads more. The video we found below shows some of the ways to clean with bicarbonate of soda, demonstrating how easy it is to use:
We could talk about the cleaning properties of bicarbonate of soda all day, but let's move on and find out where to buy it from.
Conclusion
We hope this look at bicarbonate of soda has given you some idea of what this totally natural cleaning product is capable of. Once you've got your hands on some, check out our complete guide to cleaning with bicarbonate of soda and vinegar.
To find out more about other amazing cleaning products, please explore our website further. We have loads of household cleaners on here that can help you turn your house into a home.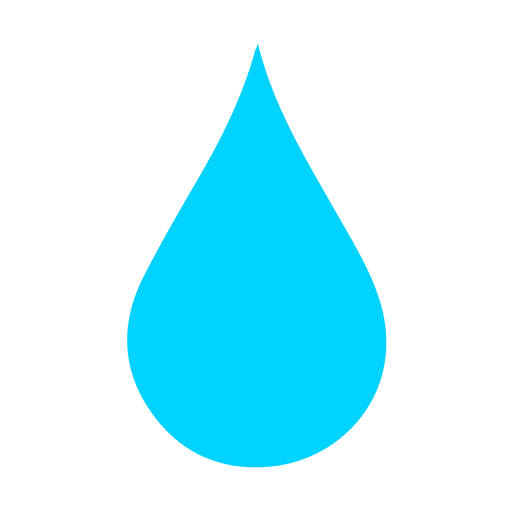 In The Wash is your guide to the best laundry and cleaning products, tips and tricks. Our mission is to solve the UK's cleaning and laundry dilemmas!