A good glass cleaner can be tough to come across, as many will advertise a streak-free guarantee but then leave your mirrors with more marks than they had before.
Glass is a tricky surface to keep clean and sometimes it's a matter of trial and error as each household will have very different needs when it comes to cleaning their glass.
This list will help you narrow down the type of product that will work best for your specific cleaning requirements.
Best Glass Cleaner Products in the UK
1. Method Glass Cleaner Spray

Method Glass Cleaner Spray is designed with special powergreen™ technology to ensure that your glass windows, mirrors and surfaces are left with a lovely shiny surface.
Method's products are plant-based, cruelty-free and vegan-friendly and all their bottles are made from post-consumer recycled plastic.
The glass cleaner is ammonia-free and successfully eliminates germs and bacteria while being made with only non-toxic ingredients, as well as containing a refreshing mint and eucalyptus scent.
There is a handy trigger spray bottle to ensure the product is efficient and easy to use.
Several users have commented that the minty smell can be overpowering at times and that windows sometimes still have streaks even after using the product as guided by the instructions.
2. Nilco H3 Nilglass Glass & Mirror Cleaner

Nilco H3 Nilglass Glass & Mirror Cleaner is highly versatile and can be used on most glass types, including mirrors, windscreens, windows and all water-resistant hard surfaces.
The five-litre bottle is cost-efficient and lasts a long time.
In general, the company is working to remove excess air and water to make their products more compact and to ensure they have a more efficient design without changing the visual look.
This is an attempt to reduce their carbon emissions and become more environmentally friendly.
This product is great value for money and works efficiently to clean glass, leaving minimal streaks behind.
It would be nice if this product came with an empty spray bottle to make it somewhat easier to use.
3. Mr Muscle Platinum Window & Glass Cleaner Spray

Mr Muscle Platinum Window & Glass Cleaner Spray is created to remove streaks and stains from your windows, mirrors, and any other glass surfaces in your house.
Simply spray the cleaner right onto the dirty surface and wipe it down with kitchen roll or a soft, dry cloth.
This product is best used on cooler, non-sunny days as the sunshine can sometimes cause it to dry before you get the chance to wipe it down, meaning the product itself may leave the exact streaks you're attempting to avoid.
The cleaning spray contains vinegar which gives it that extra kick to tackle the tougher stains and marks, as vinegar is a trusted cleaning ingredient for many cleaning needs.
Most users are happy with the results of this cleaner, but a handful have said that they felt their windows were left with more streaks than when they started cleaning them. Also, the smell is pleasant but disappears almost immediately.
4. Astonish Window & Glass Cleaner Spray

Astonish Window & Glass Cleaner Spray is the perfect choice if you often find yourself with greasy fingerprints all over your glass surfaces.
This product is created to slash right through grease and oil and to leave the glass as shiny as it was before that dirty handprint was splotched across it.
This is another product that includes vinegar in its ingredient list, adding to the powerful cleaning capacity of the product, helping to reduce the stains and ensure that no streaks are left behind.
Some users have mentioned how the spray smells a bit like vinegar rather than having a pleasant, perfumed scent.
However, this is an understandable aspect when the product openly contains vinegar.
Other users have said they felt that the spray had been diluted and wasn't as strong as they were expecting.
5. HG Glass and Mirror Cleaner

HG Glass and Mirror Cleaner Spray is also excellent for particularly greasy stains on your glass, but will remove stains and marks from all glass surfaces, including both in and outdoor windows, glass doors, car interiors, tabletops, and showers.
The spray is simple enough to use, all you have to do is spray a fair amount of the product across the surface you are wanting to clean and wipe it away with a soft, dry cloth before it has a chance to begin drying on the surface.
A few users have pointed out that the product is highly effective on some surfaces but less effective on others.
They say that it is very good at cleaning windows and glass tables, but not as effective on mirrors, which can remain streaky.
6. Elbow Grease Glass Cleaner with Vinegar

Elbow Grease is another well-known cleaning brand with a consistently reliable reputation.
Their glass cleaner is another that lists vinegar as a key ingredient and is able to work through dirt, dust, grease and any other grime that may be gathering on your glass.
This product will be equally effective on all types of glass surfaces, such as windows, mirrors, glass tables and any doors and cabinets that contain glass.
The 500 ml spray bottle is convenient and the nozzle is easy to use.
Users say that the product is user-friendly and has a pleasant scent that lingers on the surface.
However, a few have mentioned that they feel the spray dries too fast which means that unless you wipe down the surface almost immediately after spraying, you can end up with a streaky result.
7. Windex Original Glass Cleaner

Windex Original Glass Cleaner is one of the most famous glass cleaners and is a household name in many countries. This spray contains ammonia and is designed to tackle limescale, grease, and all other dirt and grime.
Windex's bottles are now made with 100% ocean-bound plastic, which is post-recycled plastic that has been collected in countries with high amounts of uncollected plastic waste and within 30 miles of a waterway that leads to an ocean.
Users have pointed out that they feel that the product works well but that is pricier than other similar sprays and does not necessarily provide a better result.
Others have mentioned that they bought the product for the ammonia ingredient in the advertisements but found that the product didn't actually contain this ingredient.
How to Choose the Right Glass Cleaner
Glass cleaner products can all seem very similar to each other, which makes it rather difficult to narrow down which one is the best for your household. But there are a few key differences that may make one more appealing than the others, depending on your needs.
Want a more environmentally-friendly choice?
If you are looking for the options on this list that are the most environmentally friendly, then the Method Glass Cleaner Spray or the Nilco H3 Nilglass Glass and Mirror Cleaner would be the best options for you.
The Method spray is made with plant-based ingredients, is cruelty-free and vegan, and the bottles are made from 100% post-consumer recycled plastic.
The Nilco H3 Nilglass Glass and Mirror Cleaner is also working to create a more environmentally conscious product and has come up with the Compact by Design concept, which removes excess air and water from their products, aiming for carbon emission reductions.
In addition, Windex's option potentially contains ammonia, so may not be ideal if you're looking for an ammonia-free product, but they make their bottles using 100% ocean bound plastic.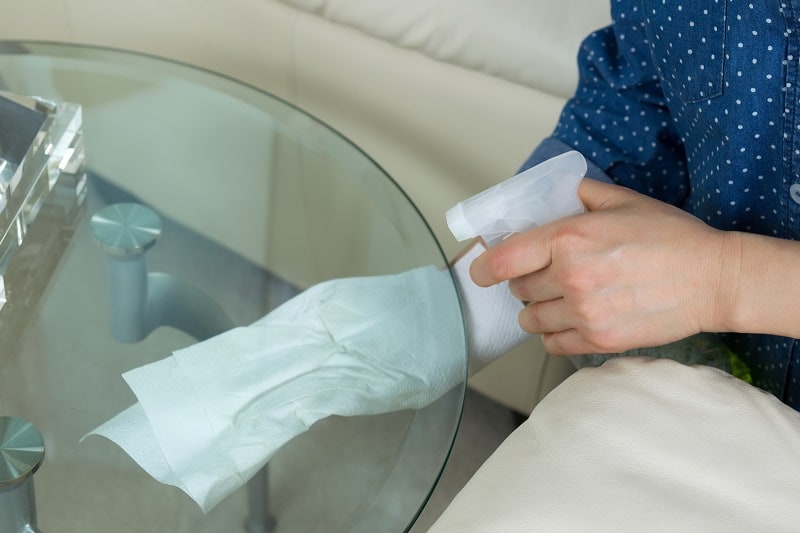 Ammonia or ammonia-free?
Ammonia is a common ingredient in household cleaners due to its ability to swiftly and easily break down grease and grime. It's also able to evaporate relatively fast, ensuring streak-free surfaces.
Unfortunately, ammonia is a relatively harsh chemical and is toxic. It is often even more effective than bleach on hard surfaces. It's also highly effective against mould and limescale.
If you are looking for a product that contains ammonia, then the Windex Original glass cleaner is the best option for you.
If you want to be certain that there is no ammonia in your glass cleaning spray, then go for Method's spray, which is plant-based and ammonia-free.
Smells like vinegar?
Vinegar is a common household ingredient that is well-known for its versatile cleaning abilities. In this case, the acidic composition of vinegar swiftly breaks down film that can often be seen on glass surfaces. Vinegar can sometimes be a key ingredient in the most popular glass cleaning products.
If you want a product that contains vinegar then the Mr Muscle Platinum window and glass cleaner spray is a perfect choice for you, as is the Astonish Window and Glass Cleaner Spray, and the Elbow Grease Glass Cleaner with Vinegar.
If you're trying to avoid that inevitable acidic vinegar smell, then it's probably best to choose an option on the list that does not contain vinegar. The product with the strongest fragrance is likely the Method Glass Cleaner Spray, which comes with a minty peppermint scent.
Conclusion
Choosing the perfect glass cleaner spray for your household will really depend on what you're looking for.
We believe that Method Glass Cleaner Spray is the top choice for any household, as it is a reliable, affordable product that is both environmentally friendly and smells delicious.
The rest of the options on our list are diverse in styles and ingredients and there is bound to be something here that will suit just about everyone!

An adventurous book lover with an animal obsession and a proclivity for travel and spontaneity. Used to passionately despise cleaning but has grown to enjoy it thanks to learning all the best tricks and shortcuts to guaranteeing a stress-free routine and a spotless home.