Who doesn't love to slide into a steaming hot bath at the end of a long day? You chase that feeling of bliss that comes from your body finally relaxing into the warmth and washing the dirt from your skin.
Nothing will take away from that feeling more than climbing into the bath and realising that it's already dirty.
That's why you need to ensure that you're using only the best products on your bath to make sure that it's always sparkling clean when you need it.
Here's a comprehensive list of the best bath cleaning products that will help you ensure that cleaning your bath is easy and painless!
Best Bath Cleaner Products in the UK
1. Flash Bathroom Cleaner Spray

Flash Bathroom Cleaner Spray is an excellent all-purpose cleaner that quickly slices through grease and eliminates stubborn dirt and grime, leaving nothing but the shiny white bath underneath.
The spray will also work on various other surfaces, including sinks, counters, stainless steel, and even cooking appliances.
Simply spray the product onto the surface you're wanting to clean and then wait three to five minutes before wiping the surface down and then rinsing it with a damp cloth or sponge. You can then wipe the surface dry but it's not always necessary.
Users say that the spray is an effective all-purpose cleaner but that the bottles themselves an be difficult to use at times. Problems tend to arise with the nozzle more than anything else.
2. Cif Cream Original Multi-Purpose Cleaner

Cif Original Cream Cleaner uses 100% natural cleaning particles that provide a highly effective clean but without any of the usual harsh or toxic chemicals.
It is designed to tackle tough limescale stains as well as particularly oily or greasy patches.
The cream has a light ocean scent that leaves the freshly cleaned area with a lingering pleasant fragrance long after the cleaning is finished.
The creamy texture also means that less rinsing is needed in the process and cleaning is even quicker than before.
The bottle is made using 100% recyclable plastic, provided you remove the plastic sleeve before throwing it away.
By choosing a cream instead of a spray, you need less of the product to ensure a proper clean, which is cost-effective in the long run.
Some users mentioned that the cream could be challenging to scrub off the surfaces at times but most still agreed that a cream was in many ways easier and more efficient than a spray.
3. HG Bath Shine

The HG Bathroom Cleaner shine restorer is able to restore that shine in your bath, sink, toilet or shower if you notice that the white surface is starting to look a little dull and lifeless.
The product is non-abrasive, which means that there are no aggressive components in it, but it can still fully eradicate oil marks, soap stains and even light limescale from your bathroom's surfaces.
The concentrated liquid has a lovely, light fragrance that will linger in your bathroom and leave you in a pleasant environment while you take your relaxing bath.
All you need to do is pour a few drops of the solution onto a damp sponge or cloth and then wipe down the dirty surface before rinsing the area with a damp cloth.
If you're cleaning your bath, the easiest way is to pour a line of the solution around the rim of the tub and let it drip down before wiping the whole surface of the tub and then rinsing.
4. Method Bathroom Cleaner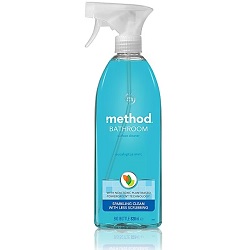 Method is another reliable brand that is known for its environmentally friendly products. Their bathroom cleaner is non-toxic and non-hazardous.
The cleaning product is plant-based and uses the company's powergreen™ technology to ensure that its formula is both natural and highly effective in eliminating stains, dirt, grease, and limescale.
It is also both vegan and GMO-free, and the bottles are 100% recyclable.
Various users have mentioned that the product has a pleasant smell that leaves the bathroom with a lingering pleasant scent.
Some say that the nozzle is slightly difficult to use at times. Also, the plastic-refill option is not ideal as it is not as environmentally friendly as it could be.
5. OzKleen Bath Power Bathroom Cleaner

OzKleen Bath Power Bathroom Cleaner swiftly tackles stains, oily patches, limescale and any water stains on your bathroom glass.
The product has a light and refreshing lemon scent that will leave your bathroom smelling citrusy and fresh.
Some users have found that the product is highly successful in cleaning stains and grease from baths, but not as effective on more stubborn patches of limescale.
6. Bio-D Multi-Surface Cleaner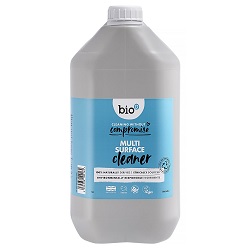 The Bio-D Multi-Surface Cleaner is another product that has an excellent focus on its ability to clean thoroughly but without any scratches, and to leave the surface efficiently sanitised. It is also made with orange oil, which is an outstanding degreaser.
The product is another eco-friendly option that was created with only sustainable and naturally derived ingredients. It's even hypoallergenic and biodegradable.
Additionally, it is safe for both septic tanks and cesspits and is made with recycled materials, as well as having 100% recyclable packaging.
It is also suitable for areas outside of your bathroom, such as floors, various surfaces, and even paint.
The cleaner is easy to use and only requires a small amount poured onto a damp cloth or sponge in order to fully clean an entire surface.
How to Choose the Right Bath Cleaner Product
Choosing the best product for you could depend on a number of factors, including environmental consciousness, scent, and what type of product you prefer. Our list has a little of everything, but here are a few ways to help narrow it down.
Want an option that is more sustainable?
There are several fantastic environmentally friendly options on this list, including Cif Original Cream Cleaner, Ecover's Cream Cleaner, and Method's Bathroom Cleaner, as well as the Bio-D Multi-Surface cleaner.
It's refreshing to have more than half of the list boasting plant-based or natural ingredients, and recyclable bottles. If you're looking for a more sustainable product then your best choice would be one of these four cleaners.
Cream vs. spray?
There are two types of cleaning products on this list, one being cream-based products and the other being sprays. Both are effective cleaners but deciding which to get is very much based on personal preference.
If you like the idea of a cream bathroom cleaner, then the best choices would be the Ecover Cream Cleaner or Cif Original Cream Cleaner.
The Ecover cleaner is both a concentrated and unscented cream that requires little product to clean large areas and is an environmentally friendly option as well.
The Cif Original Cream Cleaner is also entirely natural and is fragranced with a refreshing ocean scent.
If you prefer a classic spray cleaner, then OzKleen Bath Power bathroom cleaner will make the cleaning process quick and easy and will leave the room with a lemony fresh smell in the air.
Conclusion
The options on our list for the best bathroom cleaner are truly excellent and it's guaranteed to make the decision much harder, but our number one choice is Flash Bathroom Cleaner Spray, which is swift to eradicate any and all dirt or grease that may be accumulating on your bath.
At the end of the day, any one of these products will ensure that you can slide into your piping hot bath when you need it most without giving a second thought to how sparklingly clean it is.

An adventurous book lover with an animal obsession and a proclivity for travel and spontaneity. Used to passionately despise cleaning but has grown to enjoy it thanks to learning all the best tricks and shortcuts to guaranteeing a stress-free routine and a spotless home.