A squeegee is a small tool that consists of a handle and a rubber blade or removing water from flat surfaces such as windows and shower walls.
Squeegees are very useful in the bathroom for removing moisture and helping to prevent the growth of mould and bacteria.
Here are just a few things a squeegee can help with when it comes to cleaning the shower:
Preventing the growth of mould
Removing soap scum, hard water spots and other dirt
Removing water that hasn't drained properly. The shower floor in particular can become a breeding ground for bacteria as the water here doesn't all drain away on its own.
Drying tiles to prevent moisture accumulating in grout, which would encourage mould to grow.
Eliminating the need to clean your shower frequently, as wiping it down with a squeegee after each shower you take will prevent the buildup of grime.
Now that you understand the importance of having a squeegee, let's move on to the reviews.
We've reviewed the best shower squeegees currently available in the UK. We hope this helps you find the right squeegee for your bathroom!
Best Shower Squeegees in the UK
1. OXO Good Grips Stainless Steel Squeegee
Blade width: 15.4 cm (6 inches)
OXO produce several great shower squeegees, including this one in the Good Grips range, which is made from stainless steel.
It comes with a suction cup so you can easily hang it up in the shower. This is very convenient as you don't need to worry about finding somewhere convenient to store it.
The OXO Good Grips Stainless Steel Squeegee has a soft, non-slip handle and is light and easy to work with.
The handle is shaped like an egg, which means it fits easily and comfortably in your hand.
This squeegee is one of the most popular bathroom squeegees in the UK, and while it isn't the cheapest available it offers good value for money.
This product is well made and durable, and generally doesn't leave any marks behind.
The stainless-steel design makes it look classy, so it will suit expensive bathrooms (add a touch of elegance to a normal bathroom!)
2. Baban Shower Squeegee
Blade width: 25 cm (10 inches)
This squeegee is designed especially for the shower, and can be bought with a suction cup or a screw mounting design so it can be easily hung in the shower.
The squeegee blade is made of stainless steel and rubber, and the whole thing is rust-proof and durable.
As well as using it in the shower, you could use this squeegee on mirrors, windows and other flat glass surfaces.
The handle is comfortable and ergonomically designed, and the squeegee and the suction cup are both rust-proof.
This product looks elegant and high-quality and will complement any shower.
Some users have complaned that no instructions rae included, but it's easy to attach the suction cup so you shouldn't need any.
3. OXO Good Grips Wiper Blade Squeegee

Blade width: 22.2 cm (8.75 inches)
Here's another great squeegee from OXO Good Grips. This squeegee is designed like a windscreen wiper, which gives a smooth swipe.
The blade is made from silicone which helps prevent streaks, and the handle is designed to prevent slipping.
This squeegee features a hook on the end of the handle which makes it easy to hang on a shower head, shower caddy or shower wall.
In addition to the shower, you can also use this squeegee on mirrors, windows and walls.
This product is sturdy and well made, with a wide blade which helps speed things up. It doesn't leave streaks, and is very light and comfortable to use.
One downside is that some users have found that the hook on the handle can snap.
4. Aqualux Showerblade – Best for curved glass
Blade width: Straight edge is 22.5 cm (8.9 inches)
The Aqualux Showerblade is a bit different to the other squeegees reviewed here, but it serves the same purpose of wiping away excess water.
It's especially useful for curved glass, but it can also be used on showers with flat surfaces since one side is curved and one side is straight. This squeegee comes with a storage bracket so you can keep in your shower.
This squeegee is comfortable to use and ergonomically designed. It has a stylish, attractive design while remaining inexpensive.
The design makes it ideal for curved glass, but it might take some getting used to if you currently use a regular squeegee.
5. OXO Good Grips Mini Squeegee
The OXO Good Grips Mini Squeegee is a small squeegee that can be used on mirrors, windows and, of course, showers.
Like most other OXO squeegees, this product comes with a suction cup so you can easily store it in the shower. The handle is soft and comfortable, and the rubber blade is quite flexible.
This product is sturdy and generally doesn't leave streaks behind.
It might be too small depending on what you're looking for. The blade is about 15 cm, and takes longer to wipe away water compared to larger blades.
6. Elliott 25 cm Shower Squeegee

Blade width: 25 cm (10 inches)
The Elliot Shower Squeegee is 25 cm wide and uses synthetic fibre bristles on its blade. It's a very affordable squeegee and could be a good budget choice.
This is a simple, no-frills product and doesn't have the elegant design of some other shower squeegees. Nevertheless, it does what it says on the tin and gets the job of wiping down the shower done well.
It's generally effective at removing water, though some of the other higher-priced squeegees are better.
It's smooth, quick and easy to use, but it does feel quite flimsy and cheaply made and some users have complained that the blade isn't completely straight.
7. iDesign Bathroom Shower Squeegee

Blade width: 20.3 cm (8 inches)
This cheap plastic squeegee from iDesign is designed specifically for using in the shower.
It comes with a plastic suction cup, so you can easily hang it up in the shower.
This product is very affordable, but the cheap-looking appearance won't suit an expensive shower. However, the design is see-through, so you'll barely notice it's there.
How to Use a Squeegee Without Leaving Streaks
Using a squeegee on your windows, shower doors, and mirrors is a great way of ensuring a streak-free shine when you're finished.
However, a streak-free shine is not always easy to come by. So, we thought we'd offer some advice so you can use your new squeegee to get the best results.
While achieving a streak-free shine can be tricky, if you follow these steps, your shower door will look better than ever.
Step 1 – Clean your shower glass
The first step to streak-free shower glass is giving it a good clean. There are many cleaning products for glass that work well for this, such as these shower cleaning sprays.
The key here, though, is to ensure you remove all the dust, grime and limescale from the glass. Use a sponge or lint-free cloth for this step; ignore your new squeegee for now.
You can use any motion you want during this cleaning step. Just make sure the glass is thoroughly clean before moving on to the next step.
Step 2 – Wipe the shower glass dry
Once the glass is thoroughly cleaned and coated with the cleaning solution, it is time to wipe it down. For this, you'll need your squeegee and a dry lint-free cloth.
Some professional cleaners wipe horizontally and others vertically. Give both a try and see which squeegee method you prefer.
Whichever method you prefer, just ensure you are overlapping each pass by about an inch.
Dry the squeegee after each pass and ensure it stays in contact throughout each swipe. This will dry the shower door completely and should create a streak-free shine.
The important steps to remember with cleaning shower glass is to clean it fully before squeegeeing it. The squeegee will help the glass dry quickly after cleaning, and this will result in a streak-free finish.
The cleaning needs to be very thorough, though. If it isn't, the squeegee will skate over the excess dirt and grime and will miss areas.
So, clean your shower glass really well, then dry your squeegee after each pass, and you'll be left with an excellent finish that any pro would be proud of.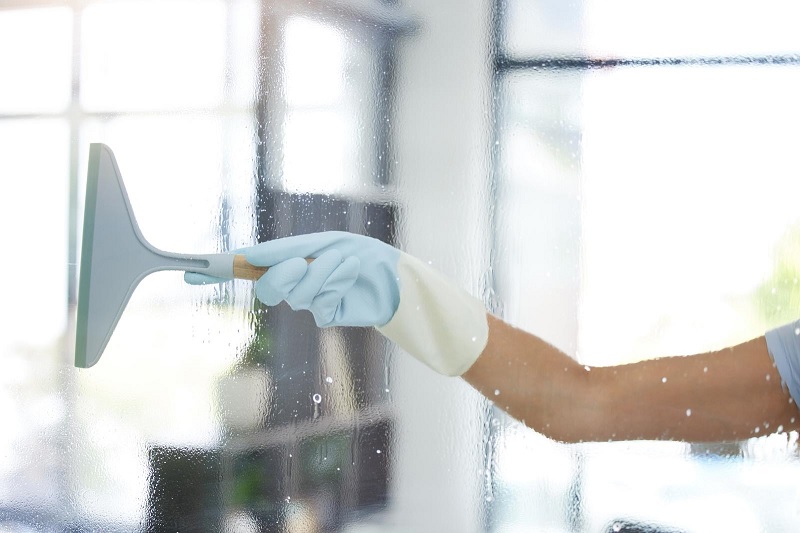 Shower Squeegee FAQs
Is silicone or rubber better for squeegees?
Silicone and rubber both make excellent squeegee blades, so this largely comes down to personal preference.
Still, most professional squeegees have a rubber blade. Many pro cleaners prefer these as the blades stay in good shape for a long time and can be replaced when they wear out.
Is it worth buying a shower squeegee?
Without a squeegee, it can be near impossible to get a streak-free finish on your shower door.
So, yes, if you want to achieve a clean and streak-free shower door, a shower squeegee is a good investment.
Just remember though, while we have called these products 'shower squeegees', they can be used for windows, glass doors and mirrors as well. So, your new cleaning tool will be used around the home, not just on the shower door.
How often should you squeegee shower glass?
Many professional cleaners and home cleaners say you should clean your shower glass after every single shower you have.
A quick 30-second squeegee of your shower glass can reduce your bathroom cleaning quite considerably.
Now, you're likely not the only one who showers in your home. So, we understand that cleaning your shower door after every use is fairly unrealistic unless you employ the whole family to squeegee it after every shower visit.
So, a thorough clean once a week will be perfectly fine and will keep your shower door looking great.
Do shower squeegees wear out?
Yes, shower squeegees do wear out, but replacement blades are available for most rubber squeegees.
You'll know when to replace your shower squeegee too. If your squeegee isn't drying the shower door as thoroughly as it once was and has started to leave streaks, this is a clear indication that your squeegee has worn out.
Conclusion
If we had to pick just one shower squeegee to recommend for most homes, it would be the OXO Good Grips Stainless Steel Squeegee.
It's well designed with a comfortable non-slip handle and a suction cup so you can hang it up in the shower. It's well made and has a classy-looking stainless steel design that should suit any bathroom.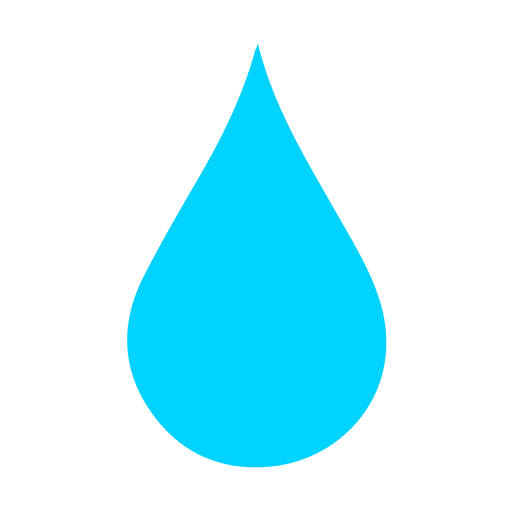 In The Wash is your guide to the best laundry and cleaning products, tips and tricks. Our mission is to solve the UK's cleaning and laundry dilemmas!