If you've got dusty looking Karndean flooring, you may be tempted to run your steam cleaner over it. After all, steaming works wonders when it comes to cleaning!
But should you be doing this?
No, you should not use any kind of steam cleaner to clean your Karndean flooring.
Karndean themselves recommend against this.
Steaming this kind of flooring will weaken it. It could cause discolouration and the floor might start to peel back.
With this in mind, let's take a look at what you can use to clean your floors.
What Can You Use to Clean Karndean Flooring?
1. Karndean Clean
Karndean Clean is a product that was created specifically to clean and maintain Karndean flooring. It has a neutral pH level, so it won't damage the floor in any way and it can be used as often as you need.
You can buy Karndean Clean from the Karndean website, or you can purchase this product from Amazon or John Lewis. Unfortunately, you cannot get hold of this product in local supermarkets at the moment.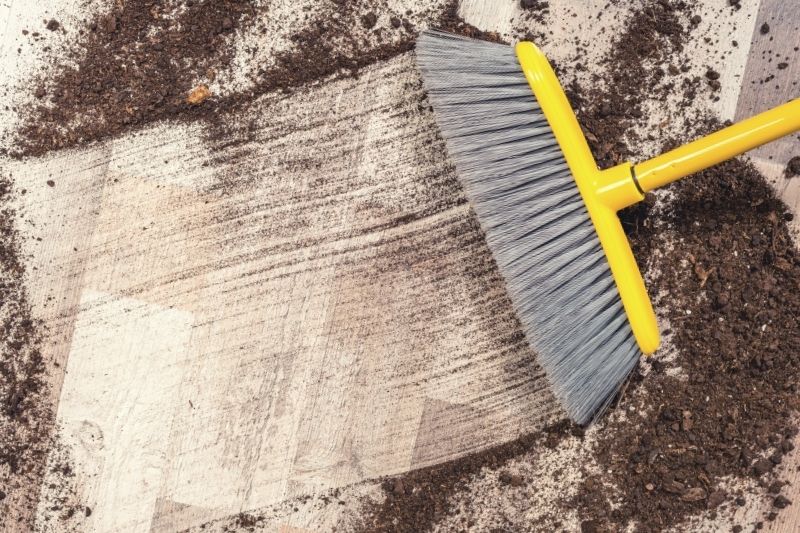 2. Soft Brush to Sweep the Floors
A quick sweep of your Karndean flooring with a soft brush will keep your floor nice and clean.
You shouldn't use a hard brush because this will damage the floor. Just whisk the dirt away on a daily basis and your floor will look as good as new!
3. Damp but NOT Saturated Mop
All you need to do is soak the mop in some water, squeeze the water away and glide the mop across the floor. If you do this type of cleaning on a regular basis, it won't take you too long.
There is no need to pour gallons of water onto the floor; a damp mop is capable of clearing away the debris left behind on your floors.
It's also okay to dilute some Karndean Clean in a bucket of warm water, and then dip your mop into this water. Not only will you be cleaning your floor, but you'll be using a specialised product to do so too – which will protect your flooring.
Check the back of the Karndean Clean bottle to see how much product you need to use.
4. Hoover
It's easy to assume that you can run a vacuum cleaner around your home, whatever the flooring. But that's not really the case with Karndean flooring.
Before you start hoovering your floor, you should check with the flooring's manufacturer to make sure that you can do this first. Not every floor can be vacuumed!
There are different styles of Karndean flooring, for example, "glue down", "rigid core" and "loose lay". Each type is laid down in its own way, so be sure to make enquiries before starting your cleaning session.
5. pH-Neutral Cleaner
Karndean flooring is sleek, stylish and easy to maintain. What's better is the fact that you don't need to use harsh chemicals to keep it clean.
A simple pH-neutral cleaner is more than enough to take out everyday dirt!
Being neutral means that it's quite safe to use in a busy family home too!
It just so happens that Karndean Clean is a neutral cleaner – so if you buy that you're onto a winner!
6. Karndean Remove
Karndean Remove is another product created by Karndean to clean their flooring. This particular product is used to remove difficult substances from the floor, or to prepare the floor for a refreshing clean.
You should always follow the instructions on the packaging when using this product and choose suitable cleaning equipment to use alongside it. For example, soft pads and brushes to mop the floor.
7. Karndean Refresh
As the name suggests, this item is used to spruce up Karndean floors when they're looking a little bit gloomy. Karndean Refresh refreshes the floor so it goes back to its former glory, and it reduces the appearance of scratches.
You don't need to use this product every week, because Karndean Clean is what you should be using to keep your flooring clean. You should aim to refresh your flooring every 6 months or so, maybe less/longer depending on your home and how much passing traffic dirties the floor.
8. Starter pack
If you're new to Karndean flooring, you can buy a Karndean cleaning starter pack that has all the goodies and gadgets you'll need to maintain your luxurious flooring. This pack contains a mop, a floor cleaner, floor refresher and a bottle of stripper. You won't use all of these products at once, so this bundle will last you a long time!
Now you know what products are safe to use on your Karndean flooring, let's check out what cleaners you should definitely avoid using.
Do Not Use the Following Products to Clean Karndean Flooring
Karndean flooring is pretty special, so you've got to treat it in a particular way! So don't even think about using the following products on your fancy flooring…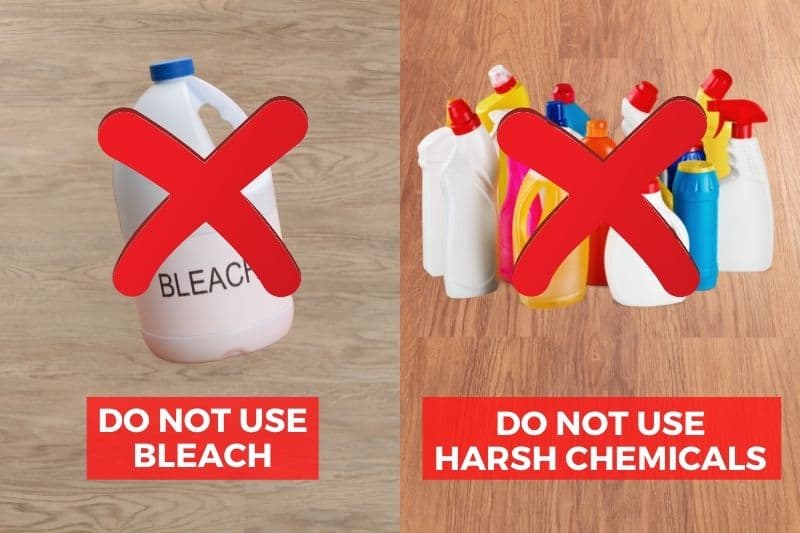 1. Bleach
This is a big no-no! Bleach will probably drag the colour out of your flooring, and it's likely to ruin the individual layers that make up the flooring too!
Leave out the bleach!
Plus, you should avoid using bleach-based products – these may also damage your Karndean flooring.
2. Harsh Chemicals
Harsh chemicals are also on the 'No list'.
You don't need to use anything other than warm water and a pH neutral cleaner to wash Karndean floors – so stick to them.
If you do decide to use harsh chemicals to wash your floor you are at risk of ruining the floor itself, the colour and the design features of the flooring.
How Do You Keep Karndean Flooring Looking Fresh?
The key to keeping any surface looking smart is to regularly maintain it.
Here are a few tips on how to keep your Karndean flooring in tip-top condition:
Use Karndean products to clean the floor.
Clean the floor as soon as possible, so dirt doesn't have a chance to settle on it.
Try not to spill things like detergent and wine onto the floor – these may stain.
You can always use mats or rugs to stop dirt from getting onto the floor.
Sweep regularly.
Refresh the floor every 6 months by using Karndean Refresh.
Don't drag or stamp high heels on the floor because it will scratch – use furniture pads and take shoes off!

Bethan has a passion for exploring, reading, cooking and gardening! When she's not creating culinary delights for her family, she's concocting potions to keep her house clean!