Karndean flooring is a type of luxury vinyl flooring that has a beautiful glossy sheen, is incredibly durable, and is super easy to maintain, which is why it has become a firm favourite with homeowners up and down the UK.
But if you're new to the scene, you might be wondering how to keep your sleek and ultra-modern floor clean! Well, you've come to the right place.
Below you'll find a step-by-step guide on how to wash your Karndean floor. And along the way, you'll learn a few juicy details about how to maintain the surface on a daily basis!
Things to Keep in Mind Before Cleaning Karndean Flooring
Ideally, Karndean floors should be cleaned with Karndean cleaning products.
If you spill something on a Karndean surface, you should mop it up right away.
Don't get the floor too wet.
Don't clean the floor with any kind of heat (for example, a steam cleaner or boiling water).
Protect the floor from shoes, paws and general dirt in between cleans.
Maintain the floor regularly.
Ask the manufacturer for specific cleaning advice.
Step-by-Step Guide to Cleaning Karndean Flooring
Here's your guide to cleaning Karndean flooring. Not all the steps below will apply to every clean you carry out, so skip to the steps that apply to you.
If you'd like to give your Karndean floor an everyday clean, follow Steps 1, 2, 3 and 6.
If you'd like to give your Karndean floor a deep clean and refresh, follow Steps 1 to 6.
Step 1: Source your cleaning tools and products
To clean a Karndean floor you will need a suitable pH-neutral cleaning solution, a mop and some water.
As it happens, there are specialised Karndean cleaning kits on the market that you can buy to wash your floor!
Purchasing a Karndean Care Kit is usually the most straightforward way of looking after your floor because the kit comes with the necessary items that you need to keep the floor clean and refreshed.
So, you don't have to waste time sifting through hundreds of cleaning solutions looking for pH-neutral products that won't ruin your floor.
The solutions in the kit don't contain harmful ingredients that could damage the floor, there are additional tools in the pack, and you get an ample amount of cleaning/refreshing solution.
All you need to supply is a bucket, a mop, and some water and then you can start cleaning. It's very simple!
Note: There's a very good chance that the store you bought the Karndean floor from told you to buy a Karndean Cleaning Kit to take care of your floor. If they still have them in stock, pick one up.
You can expect the following items to be in your kit:
A bottle of Karndean Clean
A bottle of Karndean Remove
A bottle of Karndean Refresh
Applicator
Remove Pad (coarse)
Refresh Pad
Floor Protectors
Guide Book
As an alternative to the above, you can use a damp mop dipped in fresh cold/lukewarm water to clean a Karndean floor. The mop must not be soaking wet, and the water cannot be boiling, as this will ruin the floor!
The damp mop method above is handy if you've run out of cleaning products and need to spruce up the floor quickly!
Note: If you're going to source your own cleaning product or make your own solution, you clean your Karndean floor at your own risk.
Step 2: Sweep the floor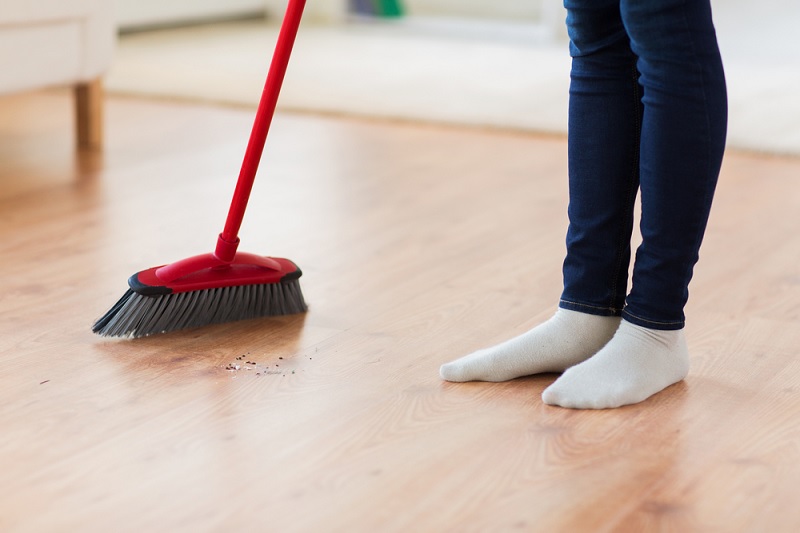 To start your cleaning activity off, you can sweep the floor with a soft-bristled brush.
A quick brush of the floor will gather up dust, hair and general gunk that's on the surface. Removing this dirt beforehand will make the mopping process easier for you.
You may also notice that a simple sweep makes your floor look cleaner as well!
Tip: You should sweep your floors weekly at least, but you can increase this frequency if need be.
Step 3: Mop using some Karndean Clean solution
Once the sweeping phase is complete, you can get to the mopping!
Fill a bucket with water and add a measure of Karndean Clean to the water (see packaging for exact measurement).
Soak the mop in the solution, wring it out and start mopping the floor. Ideally, you want to work from one end of the room towards the door so you don't box yourself in.
Note: If all you want to do is clean your floor and you're not interested in refreshing it, skip to Step 6. Steps 4 and 5 can be completed every six months.
Step 4: Mop using some Karndean Remove solution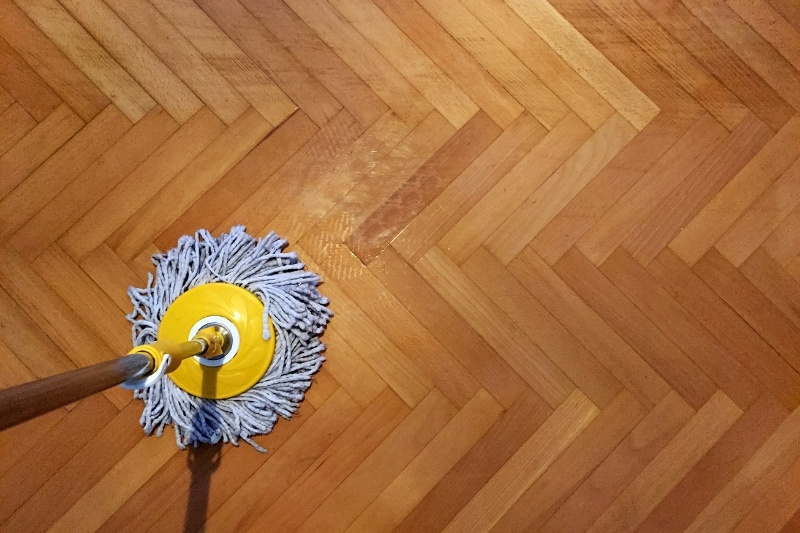 To refresh your floor, you need to start by using some Karndean Remove on it. This solution is designed to take out pesky marks and older dirt.
Simply empty your dirty bucket of water away, give the bucket a quick rinse, and refill it with fresh water.
Then add a measure of Karndean Remove to the water (see packaging for exact measurement).
Rinse your mop under cool water (to remove old dirt/product residue), then pop it in the bucket of solution, wring it out, and start mopping the floor again.
Leave the solution to rest on the surface for about five minutes.
Once the time has passed, take the mop head off the mop, pop the applicator on, and stick the Remove Pad onto the applicator. Then wipe the pad all over the floor.
After you've done this, refill your bucket with fresh water, reattach the mop head to its handle and give the floor a quick mopping again to remove any residue!
Step 5: Mop using some Karndean Refresh solution
When your floor is ready to be refreshed, pop the applicator back onto the mop handle and stick the Refresh Pad onto the applicator.
Pour an even layer of Refresh solution over sections of your floor. And start mopping the solution into the Karndean surface (see packaging for exact dose).
You'll need to repeat the method above twice to ensure your floor has been covered properly.
Two applications of Karndean Refresh will also help to protect your Karndean from scratches, general wear and tear and make it look satin-like.
Step 6: Allow the floor to air dry
When you're done, leave your Karndean floor to dry naturally. This could take multiple hours, so don't walk over the floor during this time.
Tip: If you're having trouble cleaning your Karndean floor, you can always call up the manufacturer and ask them for advice!
Maintaining Karndean Flooring Between Cleans
Here are a few points on how to keep your floor clean in between deep cleans:
Mop up any spillages.
Treat stains with Karndean Clean or Remove.
Sweep the floor to keep general dirt and dust at bay.
Avoid the Following Products on Karndean Flooring
Don't use these products on your Karndean floor:
Bleach
Bleach-based cleaning solutions
Harsh chemicals like ammonia
The products listed above will discolour your Karndean floor and will likely damage the internal layers that make up the floor.
How to Keep Karndean Flooring Clean and Fresh for Longer
Below you'll find some advice on how to keep your Karndean flooring in top condition:
Mop mats down to protect the floor from general dirt and scratches.
Clean your Karndean flooring regularly.
Sweep the floor often.
Ask people to wipe their feet or remove their shoes before walking on the surface.
Ensure you use Karndean products to clean and maintain your flooring, so you don't ruin it by using the wrong cleaning solution.
Don't allow dirt and grime to rest on the surface, especially if the debris could stain the floor!
Try not to scratch the surface by pulling furniture around on it.
Don't allow children to draw on the surface.
Put pads or coasters on your furniture's feet, so if you move the items around, they should slide along the floor but won't cause damage.
How to Remove Scratches from Karndean Flooring
It's easy to scratch a Karndean surface. Furniture, nails, shoes, you name it, can all blemish the floor. So, what can you do about it?
For light scratches, apply some Karndean Remove to the surface, allow it to rest for a few minutes, then wipe it away and cover the area in Karndean Refresh. You should notice that the marks aren't as visible!
For more obvious scratches, you may be able to replace a section of the floor to eliminate the unsightly blemishes.
Ideally, you need to stop the scratches from happening in the first place! See the tips above for more information on this.
FAQs on Cleaning Karndean Flooring
Can you vacuum Karndean flooring?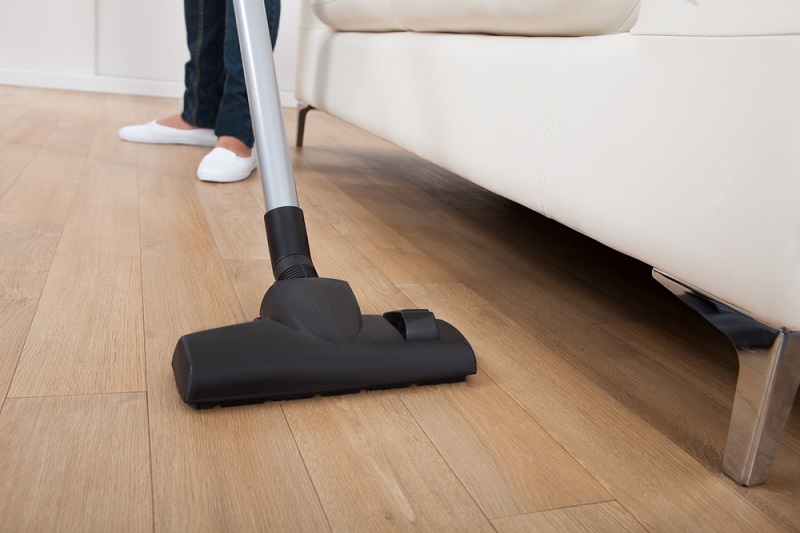 Before you use a vacuum cleaner on your Karndean flooring, you must check with the manufacturer to see if this is okay.
Karndean comes in different ranges, like Rigid Core, Loose Lay, and Gluedown, so you have to ask the manufacturer how to care for your particular floor type.
Not all Karndean floors can be hoovered, and if you ignore the advice given by the manufacturer, your floor might get damaged by scratches or may even start to peel back.
Ideally, you should sweep the floor with a soft-bristled brush and use Karndean cleaning products to keep it clean and protected.
Tip: If you do plan on using a hoover, make sure you've set the machine up to clean hardwood surfaces so the vacuum cleaner doesn't scratch the floor.
Can you steam clean Karndean flooring?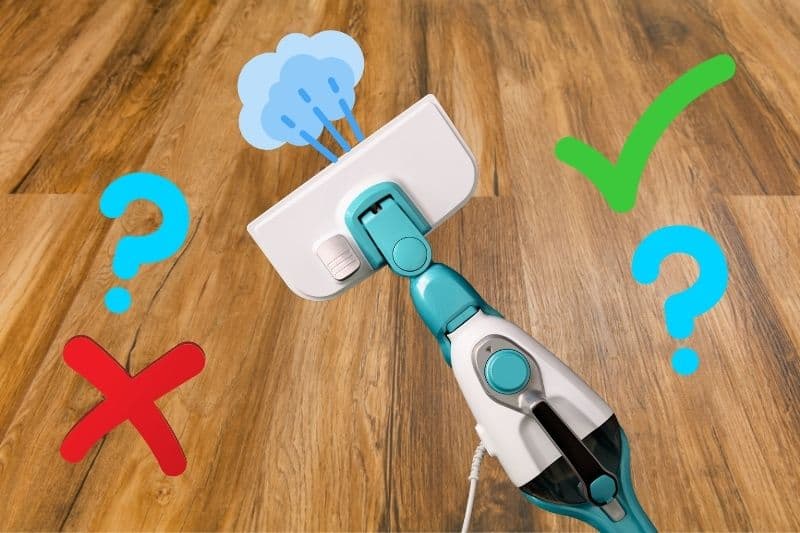 No, don't steam clean your Karndean flooring! The hot steam will warp the surface or make it peel back. It may even discolour the floor. So, stick to the cleaning method noted above.
There are products designed specifically to treat and clean Karndean floors – use them!
Can you clean Karndean flooring with Flash?
Flash should not be used to clean Karndean flooring (the same goes for other citrus-lined cleaning solutions).
Why? Such a cleaner can leave a slippery residue on the floor, cause discolouration, and even damage the surface.
Instead, you should opt for Karndean specialised cleaners that are designed specifically for cleaning this type of vinyl floor so that they won't damage it.

Bethan has a passion for exploring, reading, cooking and gardening! When she's not creating culinary delights for her family, she's concocting potions to keep her house clean!