Don't you hate it when your favourite jumper gets bobbles on it? The bobbles quickly make your outfits look old and worn out, even if you've only worn the clothes a couple of times. It's very annoying, right?
Have you ever sat down with a pair of scissors or your razor and tried your very best to get rid of the fuzz, bobbles, and fluff from your favourite sweater? It can be a tempting de-bobbling technique to try, especially if the bobbles show up on that shirt that you love so much but there is an easier and safer way.
The good news is you can restore your garments to their former glory with any of the great fabric shavers reviewed in this article. If you've never bought a fabric shaver before, take a look at our buying guide below.
If you're just here to find the right product for you, then read on for our reviews of the best fabric shavers available in the UK.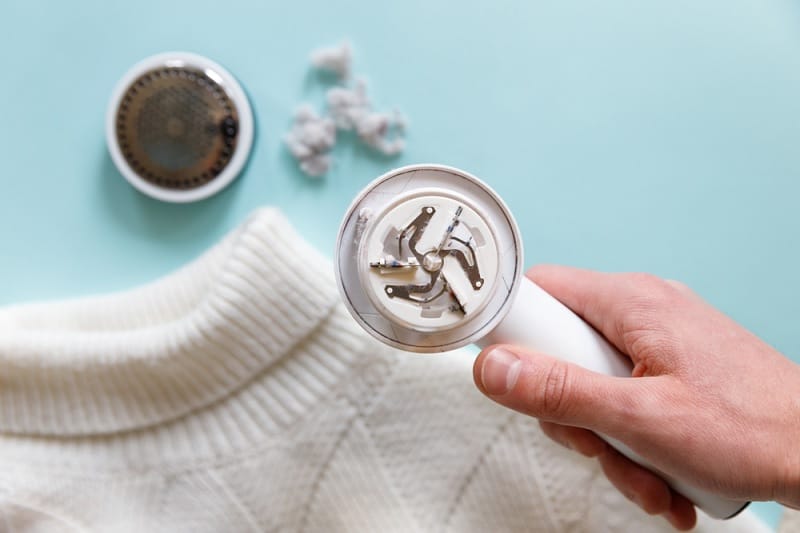 Best Fabric Shaver in the UK
1. Philips GC026/30 Fabric Shaver
One of the features that helped the Philips GC026 fabric shaver make it to our list of the best lint removers for clothes is that it's designed to handle clothes of various types of materials with different degrees of bobbling on them without causing any damage to the garments. In other words, you can adjust this lint remover to suit the material your item of clothing is made from including cotton, nylon, synthetic materials, etc.
The Philips GC026/30 is designed with a large blade face for effective and fast handling of clothes. An adjustable cap is also integrated into this lint remover to handle fragile outfits.
The shaving head has three different sizes of holes to deal with the various sizes of bobbles on garments. The lint container in which bobbles are stored after being removed from clothes is easy to remove and empty. For cleaning, a useful brush is included in the package.
It's a battery-powered appliance designed specifically for shaving clothes. It comes with two long-lasting batteries and a user manual that will guide you on how best to use it.
Features
Takes 2 x AA batteries
3 hole sizes and adjustable height for tackling different jobs
Comes with a user manual
Cleaning brush included
Rotation speed of 8800 p/m
Pros
Fast
Simple and easy to use
Sold with batteries included
Good value for money
Safe to use
Cons
Not much suction for pulling bobbles towards the machine
Blades may need brushing out more frequently
Summary
This is one of the best fabric shavers for clothes in the market today. The Philips GC026/30 Fabric Shaver is very easy to use. Even if you've never used a lint remover before, it doesn't take much time to learn how to use it.
2. Beautural Portable Fabric Shaver
This Beautural Portable Fabric Shaver doesn't come with batteries, which you might not expect considering the price.
However, the AA batteries it takes are very easy to come by. One unique feature which can be helpful for use on different fabrics is the varying speeds at which the blades can spin. You may want a quicker blade spin for flatter clothing with smaller bobbles.
The protection cap which comes with this model is handy if you live with children who like to pick things up and investigate them but do be careful not to misplace it as it cannot be used at the same time as the adjustable height cover.
Features
Runs on 2 x AA batteries
3 adjustable shave heights
Small cleaning brush included
User manual included
Large cutting head
Pros
1-year manufacturers warranty
2 speed settings on switch
Effective on multiple fabrics, including carpets
Easy to use
Cons
Batteries are not included
Summary
This is a good all-rounder, suited to any household, with a similar shape to many other fabric shavers. This product has been designed with a very simple and neutral colour scheme, which may make it more appealing to men.
If you prefer to purchase products with more household brand names, then you can do so at a similar price, however this model does do the same job.
3. Aerb Fabric Shaver
The Aerb is a rechargeable fabric shaver with a handy USB cable included in the package.
Features
90-day warranty
Rechargeable by USB
Charging cable included
3 blades
Safety lock that automatically stops the blade if the cover is loosened or opened
Rotation speed up to 10,000 rpm
Manual included
Design, use and performance
An adjustable spacer can be positioned over the mesh to prevent any damage to your clothes. When in use, the blades rotate at different angles and pick up bobbles from your clothes and shave them off. The removed bobbles are stored in a little compartment underneath the head.
The device stops working automatically when the blade cover is loosened or opened. This feature helps prevent children (or you) from being injured accidentally, so you have nothing to worry about when the kids try to use it on their clothes. Use this fabric shaver to spruce up your soft furnishings too, as the longer-lasting charge will make it easier to tackle larger items.
Pros
Strong suction for sucking up lint and fluff
Very easy to use
Modern design
2 fast spin speeds
Cons
No plug for charging, just USB cable provided
Sometimes the battery compartment becomes loose
Run-time may suffer due to fast rotation
Summary
This is another great debobbler with the capacity to make garments look new again.
4. Iofuanna Portable Lint Remover

Iofuanna's portable lint remover is a simple yet effective product. The lint roller is manual, and can be used on carpets, upholstery, and some clothing too.
Iofuanna's portable lint remover is a simple yet effective product. The lint roller is manual, and can be used on carpets, upholstery, and some clothing too.
Features
Long-life copper head
Battery-free
Suitable for use on carpets and clothing
Lightweight construction
Design, use and performance
This lint remover is incredibly easy to use – it simply needs to be dragged across the surface of the clothing. The fact this is a manual tool makes it more eco-friendly as you do not need to worry about buying and throwing away batteries constantly, nor do you need to worry about a loss of performance as batteries or motors wear out.
Pros
Easy and comfortable to hold and use
No need to buy batteries
Good performance on thick, sturdy materials
Ideal for getting hair and fur out of carpets
Cons
Teeth are quite sharp and may damage some materials
Lightweight construction means it can feel cheap
Summary
The Iofuanna lint roller is extremely easy to use, is eco-friendly and offers great results on carpets and sturdy fabrics. However, the harsh, copper teeth may damage softer, more delicate clothing and fabrics.
5. EasyLint Professional Sweater Shaver

The EasyLint sweater shaver is a handy travel-size machine that is designed to make light work of lint build-up on a range of fabrics. This fabric shaver is easy to use and can be used either plugged into the mains, or wirelessly using C batteries.
Features
Supplied with storage case and replacement blade
5W motor
Can be used either with the included mains plug or battery operated
Large, 2.5" shaving head
Soft-touch, ergonomic handle
Design, use and performance
The EasyLint is easy to use, and suitable for use on a range of fabrics, making it an ideal addition to most homes. Beyond the wardrobe, this lint remover can also be used on bed sheets, blankets, and some fabric furniture too.
The machine is easy to use, and the stylish matt black finish means it won't look out of place either. The EasyLint has stainless steel blades and a powerful motor that make light work of lint and fuzz. For those bigger jobs, the large lint collector means you won't need to stop too often to empty it either.
Pros
Easy to use and store
Suitable for use on wool, Lycra, linen, and cotton clothing
Good results on some upholstery
Can be run on 4x C batteries for wireless use
Convenient travel size
Stylish matt black finish
Good value for money
Cons
Shaver is not rechargeable
Not suitable for use on carpets like some alternatives
Summary
The EasyLint sweater shaver is an affordable choice that does not compromise on performance. This fabric shaver is ideal for use on a range of clothing fabrics, whether you're at home or travelling.
6. Yewrrite Portable Lint Remover

Yewrrite's portable lint removers come in handy packs of three and provide a simple way to get wool bobbles out of clothing, carpets, and other fabrics. These little lint removing tools are designed to easily tackle bobbles, stuck pet hair, and general lint build-up.
Features
Battery-free
Ergonomic design
Long lasting copper blades
Wooden, non-slip handle
Sold as pack of three
Design, use and performance
The Yewrrite lint removers are lightweight, ergonomic, and easy to use, and they do a great job of tackling bobbling on sturdier fabrics. However, like other manual bladed lint removers, they can damage some lightweight or delicate fabrics.
The lint removers are ideal for families with pets, as they do a great job of getting fur out of carpets, blankets, wool, and other hardy fabrics.
Pros
Small size makes it easy to use and store
Can be used on clothing, bedding, furniture, and car upholstery
Great for getting hair or fur out of carpets
Good value for money
Cons
Lightweight construction can feel cheap
Can damage some clothing or delicate fabrics
Summary
Yewrrite's manual lint removers have an ergonomic design that ensures comfort during use, and they do a great job on sturdy clothing and carpet full of pet hair. Battery-free operation means they are eco-friendly, and their small size makes them easy to store and transport.
7. BEAUTURAL Portable Fabric Shaver and Lint Remover

Beautural's lint remover is packed with features that make it suitable for use on a range of fabrics, including wool coats, sweaters, soft toys, cloth furniture, and bedding amongst others. The machine is cordless and portable for easy use at home and away.
Features
Battery powered (requires 2 AA batteries)
Supplied with two spare blades
Adjustable shave heights and speeds
Two shaving head sizes
Safety lock
Design, use and performance
This little lint remover has a choice of shaving settings that make it ideal for use on a range of fabric types. The tool has a safety lock mechanism offering protection both for kids and for cleaning, so it is an ideal choice for families too.
The machine can breathe life back into old-looking clothing, saving you money (and saving clothing from landfill) in the long term. The tool might offer great performance, but it is worth remembering that it can go through quite a few batteries.
Pros
Honeycomb shaver foil protects fabric from snagging
Shaver has a safety lock mechanism
Battery operated for cordless use
Protective cover for wool and delicate clothing
Great value for money
Cons
Can be tricky to clean
Can go through a lot of batteries
Shaver can struggle with larger bobbles
Summary
Beautural's lint remover leaves a range of clothing feeling softer and looking fresher. The cordless operation makes the tool easy to use around the home, however the batteries don't always last a long time, so it might be worth investing in rechargeable ones.
8. Lzonunl Bobble Remover
Overview
This is another lint remover which would be a great option for someone who struggles with arthritis as it is ergonomically designed to be easy to grip and use.
The Lzonunl Bobble Remover uses 3 blades and has a safety feature which means the blades will not move if the covers are loose or not attached correctly. It also comes with a safety cap which can be kept on the device when not in use - ideal for keeping inquisitive children safe.
The Lzonunl is lightweight, portable and easily disassembled for cleaning, with no tools needed. This would be a great little shaver to pop into your luggage for a trip away to tackle any bobbles! USB charging means that you can easily bring your lint remover back to life with 4 hours charge lasting up to 10 hours.
Features
Rechargeable by USB
USB cable included
Cleaning brush included
User manual included
Safety stop feature
Pros
Easy to use and hold
Lightweight
Large shaving surface
Can be used on soft furnishings as well as clothing
Cons
Does not come with a plug, just the USB cable
Suction may not be strong enough for pilling on heavier materials
9. Gleener Ultimate Bobble Remover Fabric Shaver and Lint Remover

Gleener's Ultimate bobble remover and fabric shaver is a handy 2-in-1 tool that includes a built-in lint brush to give a perfect finish to de-pilling, whether you are working on clothing, upholstery, or furniture. The tool is available in a range of colours, and is supplied with three separate heads.
Features
Manual, battery free operation
2-in-1 shaver and lint brush
Suitable for thick, medium, and delicate fabrics
Can be used on clothing, upholstery, linens, and more
Ergonomic design
Supplied with a travel pouch
Design, use and performance
Gleener's manual fabric shaver is supplied with three separate blades, and so can be safely used on a wider variety of fabrics than some other manual alternatives. The tool is supplied with a blade for bulky fabrics, one for medium fabrics, and one for delicate fabrics, and changing between them is easy. The tool even has a built-in lint brush for finishing up.
The size and ergonomic design of the tool means it can be used on clothing, upholstery, and even fabric furniture. The tool is even easy to clean and store.
Pros
Battery-free operation is more eco-friendly
Interchangeable blades mean it can be used on a wide range of fabrics
Can be used to pull hair and fur out of fabric furniture and rugs
Choice of colours
Good value for money
Cons
Replacement blades are hard to come by
Can struggle with some larger pills
Summary
The Gleener Ultimate bobble remover's three separate heads means that it is suitable for use on a range of fabrics, even some delicate ones.
The tool is easy to use, and the manual operation means it is more eco-friendly than electric versions, however replacement blades are hard to come by.
10. Duronic Fabric Shaver FS16USB

Duronic's USB rechargeable fabric shaver was designed with simplicity and ease of use in mind. The tool can be used on a range of fabric types, and a protective mesh ensures fabric will not snag.
Features
Rechargeable shaver
Protective mesh cap
Adjustable handle
Choice of two shaving heights
Solid plastic body with stainless steel blades
Supplied with storage pouch, cleaning brush, and USB charging cable
Design, use and performance
The Duronic fabric shaver is a handy tool that can be used in just about every room of the average house. This one tool can be used for cushions, sofas, carpets, bedding, clothing, and more. The shaver is USB rechargeable – and can be used plugged in too, and so is ideal for de-fuzzing large areas.
This tool has a sleek, modern, and simple design that is easy to use, easy to store, and produces great results on a range of fabric types. The transparent lint trap means it is easy to see when it needs to be emptied, and the adjustable ergonomic handle ensures comfort during use.
Pros
USB rechargeable – no batteries!
Can be used wirelessly or plugged in
Easy to use and clean
Removable guard allows the tool to be used on delicate clothing
Affordable fabric shaver
Cons
Waste container fills up quickly
Not suitable for use with loose-woven fabrics
Summary
Thanks to USB charging, this fabric shaver from Duronic is an eco-friendly and convenient choice. The adjustable shaver settings mean it can be used on a variety of fabrics, but you should take care with any material that has a loose weave.
Fabric Shaver Buying Guide
What are fabric shavers?
Fabric shavers are small gadgets used for removing bobbles (pilling) from clothes, furniture and upholstery. They are usually handheld electric devices that you run over your sweater or another item of clothing and remove the bobbles. Fabric shavers are a bit like electric shavers, though they have a rotating round head with a spinning blade and a guard to protect the fabric.
Fabric shavers usually work by directing fuzz balls, or lint into a compartment which can then be emptied later.
The fabric shaver is often referred to by other names including lint remover, sweater shaver, lint shaver, defuzzer, debobbler, bobble shaver and bobble remover.
Fabric shavers have several uses:
Removing bobbles and pilling from clothes, especially sweaters and woolly jumpers
Removing fuzz balls from sofas
Why buy a fabric shaver?
A lot of people assume that once an item of clothing starts pilling and bobbles are popping up left, right and centre, it's had it. That simply isn't true—with a fabric shaver, you can make it look just like it did the day you bought it. Fabric shavers are therefore a great way to keep your clothes looking fresh and stop them getting that worn-out look.
Fabric shavers are especially useful if you own a lot of woollen clothing, as wool tends to collect lint balls much more than other kinds of fabric.
What kinds of fabric shavers are available?
Some fabric shavers are more powerful than others. A heavy-duty fabric shaver is better for tough fabrics, whereas a less aggressive fabric shaver is better for delicate clothing.
What should you look for in a fabric shaver?
The kinds of features your ideal fabric shaver will have depends a lot on what you will be using the fabric shaver for. Here are some things to consider:
Large pill cup: If you're going to be running the fabric shaver over a large settee or using it on a lot of clothes, you should look for one with a large pill cup, as this means you won't need to empty it so often.
Doesn't damage clothes: This seems obvious, but you want to make sure you get a lint remover that has been tried and tested and won't damage your clothes.
Safety guard: If you have children, you will want to be extra careful about the kind of fabric shaver you choose. Look for one with an automatic safety protection feature, or a well-designed safety guard if you have kids.
Rotations per minute: Lint removers with a higher the number of rotations per minute will be able to remove bobbles quicker than those with a lower number of rotations.
Battery-operated: This is especially important if you want to take your lint remover with you while travelling.
Adjustable distance control: Some fabric shavers allow you to adjust the blade's distance from the fabric. A shaver with this feature are more versatile and can be used on different kinds of fabrics with better accuracy.
Ergonomic grip: Many fabric shavers are designed with a non-slip, ergonomic handle. This is a good feature to have as it gives you more control over the fabric shaver.
Conclusion
There you have it, our list of the top 10 lint removers and fabric shavers for clothes. Our number 1 pick is the Philips GC026/30 Fabric Shaver
as it works effectively, is reliable and comes at an affordable price. We hope you found this article useful in your search for the perfect lint remover - now get de-pilling those clothes and bring your wardrobe back to life!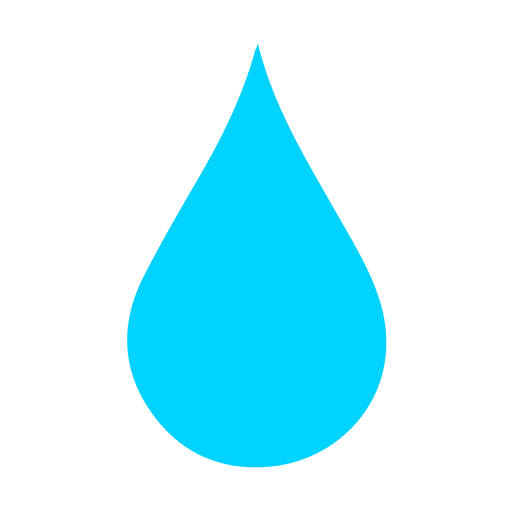 In The Wash is your guide to the best laundry and cleaning products, tips and tricks. Our mission is to solve the UK's cleaning and laundry dilemmas!