Don't you hate it when your favourite jumper gets bobbles on it? The bobbles quickly make your outfits look old and worn out, even if you've only worn the clothes a couple of times. It's very annoying, right?
Have you ever sat down with a pair of scissors or your razor and tried your very best to get rid of the fuzz, bobbles, and fluff from your favourite sweater? It can be a tempting de-bobbling technique to try, especially if the bobbles show up on that shirt that you love so much but there is an easier and safer way.
The good news is you can restore your garments to their former glory with any of the great fabric shavers reviewed in this article. If you've never bought a fabric shaver before, take a look at our buying guide below. If you're just here to find the right product for you, then skip down to our reviews of the best fabric shavers available in the UK.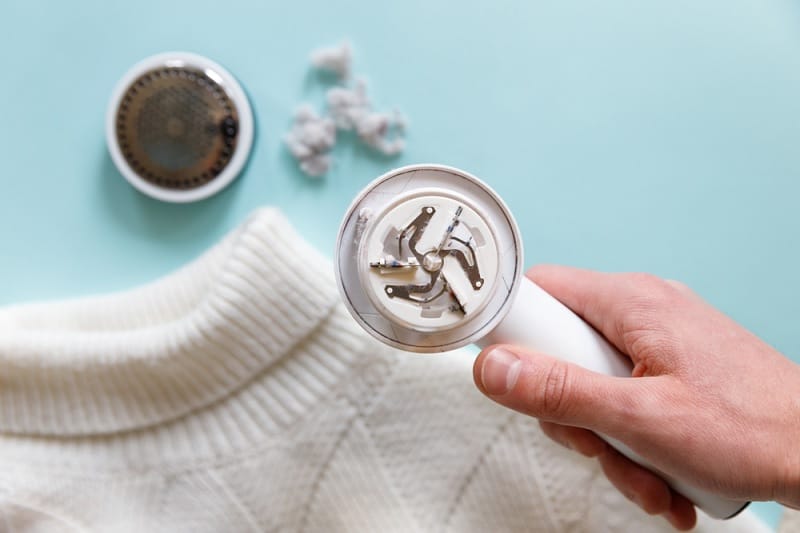 Fabric Shaver Buying Guide
What are fabric shavers?
Fabric shavers are small gadgets used for removing bobbles (pilling) from clothes, furniture and upholstery. They are usually handheld electric devices that you run over your sweater or another item of clothing and remove the bobbles. Fabric shavers are a bit like electric shavers, though they have a rotating round head with a spinning blade and a guard to protect the fabric.
Fabric shavers usually work by directing fuzz balls, or lint into a compartment which can then be emptied later.
The fabric shaver is often referred to by other names including lint remover, sweater shaver, lint shaver, defuzzer, debobbler, bobble shaver and bobble remover.
Fabric shavers have several uses:
Removing bobbles and pilling from clothes, especially sweaters and woolly jumpers
Removing fuzz balls from sofas
Why buy a fabric shaver?
A lot of people assume that once an item of clothing starts pilling and bobbles are popping up left, right and centre, it's had it. That simply isn't true—with a fabric shaver, you can make it look just like it did the day you bought it. Fabric shavers are therefore a great way to keep your clothes looking fresh and stop them getting that worn-out look.
Fabric shavers are especially useful if you own a lot of woollen clothing, as wool tends to collect lint balls much more than other kinds of fabric.
What kinds of fabric shavers are available?
Some fabric shavers are more powerful than others. A heavy-duty fabric shaver is better for tough fabrics, whereas a less aggressive fabric shaver is better for delicate clothing.
What should you look for in a fabric shaver?
The kinds of features your ideal fabric shaver will have depends a lot on what you will be using the fabric shaver for. Here are some things to consider:
Large pill cup: If you're going to be running the fabric shaver over a large settee or using it on a lot of clothes, you should look for one with a large pill cup, as this means you won't need to empty it so often.
Doesn't damage clothes: This seems obvious, but you want to make sure you get a lint remover that has been tried and tested and won't damage your clothes.
Safety guard: If you have children, you will want to be extra careful about the kind of fabric shaver you choose. Look for one with an automatic safety protection feature, or a well-designed safety guard if you have kids.
Rotations per minute: Lint removers with a higher the number of rotations per minute will be able to remove bobbles quicker than those with a lower number of rotations.
Battery-operated: This is especially important if you want to take your lint remover with you while travelling.
Adjustable distance control: Some fabric shavers allow you to adjust the blade's distance from the fabric. A shaver with this feature are more versatile and can be used on different kinds of fabrics with better accuracy.
Ergonomic grip: Many fabric shavers are designed with a non-slip, ergonomic handle. This is a good feature to have as it gives you more control over the fabric shaver.
Conclusion
There you have it, our list of the top 10 lint removers and fabric shavers for clothes. Our number 1 pick is the Philips GC026/30 Fabric Shaver
as it works effectively, is reliable and comes at an affordable price.  We hope you found this article useful in your search for the perfect lint remover – now get de-pilling those clothes and bring your wardrobe back to life!