If you like to feel warm and cosy in the winter and comfortable in your clothes in the summer, fabric conditioner is a must. However, not all fabric conditioners are created equal. Some smell great, but they don't give you the softness you want, while others give you the softness you need and none of the freshness.
This simply won't do, so we have scoured the land to find the best smelling fabric conditioners that still give you all of the softness that you could ever want. So here they are, the best smelling fabric conditioners on the market right now. Enjoy!
Best Smelling Fabric Conditioner in the UK
1. Comfort Pure Concentrate Fabric Conditioner
Comfort Pure has a warming smell to it, so it's great for this time of year. It has some greats hints of jasmine and plum thrown into the fragrance that gives your nose a nice little reminder of the fabric conditioner every so often. This fabric conditioner is also perfect for sensitive skin, in fact, it is designed for it.
A three-litre bottle of this concentrated fabric conditioner is going to last you a long time, up to 85 washes to be exact. Grab a bottle of this if you want a lot of washing to smell wonderful!
2. Comfort Blue Skies Concentrate Fabric Conditioner
Blue Skies has a fresh smell that can take you back to summer in the winter or keep you in a summery mood all year round. It provides a wonderful softness to all of your clothes and can make your clothes dry faster and iron easier!
Combine all of this with the powerful odour protection, and you have one of the best fabric conditioners on the market. The scent that Blue Skies gives your clothes is lovely, but it is the smells that it keeps away that makes this one of the best.
3. Fairy Concentrated Fabric Conditioner
Fairy has always been known for keeping your hands smooth while you wash your dishes, well, this fabric conditioner won't do that, unless you wash some gloves of course, but it will make your clothes super soft. To quote Fairy, this fabric conditioner is "huggably soft" and great for sensitive skin. It is also good for the nose too, providing your clothes with a freshness that is hard to come by. Fairy makes some great cleaning products, and this is certainly one of the best of the lot.
This concentrated fabric softener should last for up to 240 washes, so you don't need to use much with each wash to get the same amazing softness for your clothes. Not to mention the days of freshness after washing.
4. Comfort Sunshine Fabric Conditioner
Fancy sunshine in a bottle? Well, this is the fabric conditioner for your home then! Once again like the other Comfort fabric conditioners on this list, this one smells great, gives wonderfully soft results and protects them from nasty odours. If you fancy being swept away by the long-lasting smell of summer while you're washing and wearing clothes, give this one a try.
5. Lenor Concentrate Spring Awakening Fabric Conditioner
Lenor Spring Awakening can reduce wrinkles, cut down on ironing and drying time and decreases static cling. It does all of this while keeping your clothes nice and soft and smelling glorious.
Lenor is known for its great-smelling fabric softener that gives your clothes a wonderful scent while still keeping all of the good stuff from a traditional fabric conditioner. For a spot of luxury, add a dash of this into your washing machine and smell like a fresh spring breeze, it sounds weird when we put it like that, but it's lovely, honestly.
We hope that at least one of the fabric conditioners in our list has the perfect smell for you. Keeping your clothes smelling great and fresh for longer is something we all strive for – don't you love getting a fresh top out of the drawer and getting that satisfying whiff of your favourite laundry scents? We do too and there are plenty of products and ways to ensure you get amazing-smelling washing every time!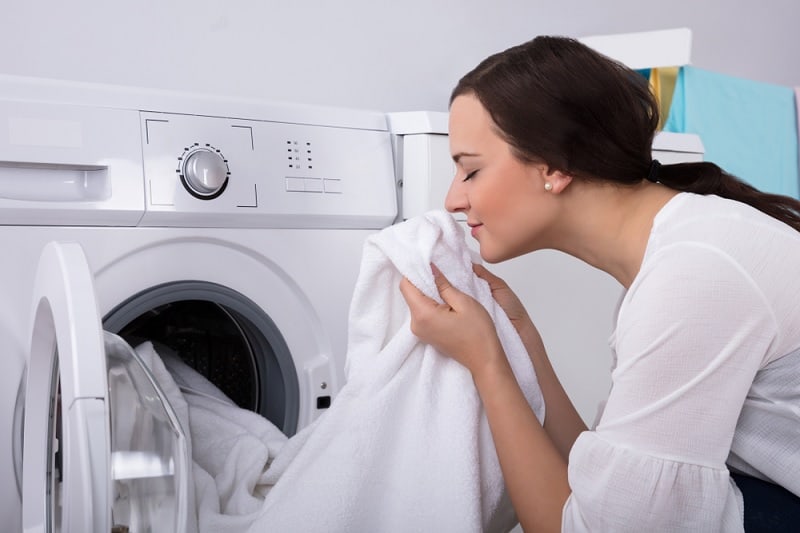 How do I get my laundry to smell really good?
As well as fabric softeners and fabric conditioners there are a few other ways of keeping your laundry smelling its absolute best. It all starts with a clean washing machine!
Washing machines can build up with dirt and get damp and mouldy over time, so keeping on top of your washing machine cleaning is the first step to getting the best smelling clothes after washing. If your machine is suffering from bad drum breath, then check out our post about why your washing machine might be spongy. You'll find some great info here on how to clean your trusty washing machine.
Once you're sure your washing machine is squeaky clean, you should be able to reap the full benefits of great smelling fabric softeners or whichever other laundry products you choose to use. Here are a couple of other products that can keep your laundry fresh as a daisy:
In Wash Scent Boosters – these little pellets are added to your drum before the laundry goes in and they disintegrate in the wash adding even more fresh smells to your favourite clothes. Our favourites are Lenor Unstoppables.
EcoEggs – get fresh scented laundry and save money wash-for-wash with an EcoEgg. These egg-shaped containers are filled with natural detergent pellets which slowly dissolve in each wash (up to 720 washes with the larger ones) and your laundry could smell like a Spring Blossom or Fresh Linen.
If you would like to find out more about other household items, please take a look around our website. We have loads of articles on here that can help you find the best products for your home and your family.
Related posts