Most of us love the smell of freshly washed laundry. It's great to have clothes, towels and bed linen that smell really clean and ideally, we want that freshly laundered scent to last as long as possible.
If you or a family member suffer from any skin irritation or allergies, sometimes a highly-potent scent in a product can trigger reactions. It is best to avoid heavily-scented products if you suffer from eczema or other skin complaints. Check out our list of Best Washing Powders for Sensitive Skin for more information.
There are lots of different washing powders available in the UK, and many manufacturers now employ dedicated perfumers to create the scent for their next product. Scents can greatly affect our moods, how we feel and also how others feel about us, so it's easy to see why fragrance is a huge selling point for washing powder manufacturers.
Many washing powders also now have long-lasting scent technology to help the freshly washed fragrance to last as long as possible on your clean clothes. But which really are the best-smelling washing powders available in the UK? Here are some of the strongest and nicest-smelling you can buy right now.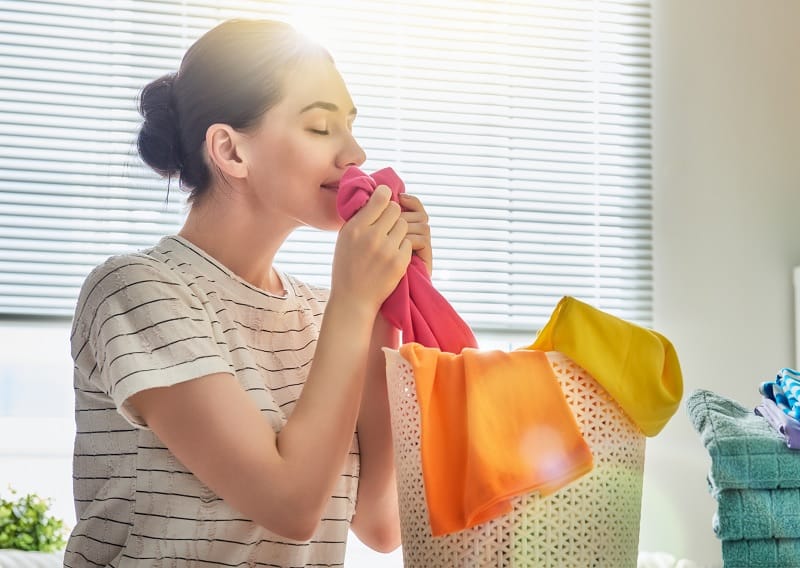 How do I get my laundry to smell really good?
Of course, using one of the washing powders above should give you great results in the scent department when it comes to washing your clothes, but there are other ways in which you can get your clothes to smell really nice too.
In-wash scent boosters are a popular addition to many a household's regular laundry routines. These little pellets are added into the drum before you add your washing on top and you just run a normal cycle in your usual way. They dissolve into the water and infuse your clothes, towels and bedding with some of the most satisfying scents which last and last after the wash.
One of the most popular makers of these scent-boosters is Lenor with their Unstoppables range. With floral scent Spring, tropical scent Sun Kiss, relaxing scent Dreams and just plain old understated Fresh (see on Amazon.co.uk), your laundry could be smelling even lovelier for even longer! Every time you open your wardrobe or drawers, you'll get that gorgeous smell wafting out – who wouldn't want that?!