Most of us love the smell of freshly washed laundry. It's great to have clothes, towels and bed linen that smell really clean and ideally, we want that freshly laundered scent to last as long as possible.
If you or a family member suffer from any skin irritation or allergies, sometimes a highly-potent scent in a product can trigger reactions. It is best to avoid heavily-scented products if you suffer from eczema or other skin complaints. Check out our list of Best Washing Powders for Sensitive Skin for more information.
There are lots of different washing powders available in the UK, and many manufacturers now employ dedicated perfumers to create the scent for their next product. Scents can greatly affect our moods, how we feel and also how others feel about us, so it's easy to see why fragrance is a huge selling point for washing powder manufacturers.
Many washing powders also now have long-lasting scent technology to help the freshly washed fragrance to last as long as possible on your clean clothes. But which really are the best-smelling washing powders available in the UK? Here are some of the strongest and nicest-smelling you can buy right now.
Best Smelling Washing Powders in the UK
1. Surf Tropical Lily and Ylang Ylang Washing Powder
This washing powder is based on the combination of two exotic flowers, Lily and Ylang Ylang. Lily is known for being a pleasant and popular floral scent, whereas Ylang Ylang has a sweet fragrance that's known to be both calming and seductive. These two scents combine to make a unique and uplifting fragrance.
Surf has recently improved the fragrances in the powder by using essential oils and fragrance release technology to help laundry smell good for longer.
In consumer reviews, this washing powder is praised for its lovely strong smell, which is also long-lasting. It is, without doubt, one of the strongest smelling washing powders available on the UK market, and although the exotic fragrance is popular with many consumers, some users can find the scent of this detergent a little bit too strong and overpowering.
2. Bold Lavender and Camomile 2 in 1 Washing Powder
The scent of this Bold washing powder has been specially designed by Bold's own perfumers, and it has a traditional, timeless fragrance, mixing relaxing lavender with calming camomile. This is still a strong-smelling washing powder, but most consumers didn't find the smell too overpowering and praised the beautiful, fresh scent. In particular, many reviewers commented on the use of lavender, saying it's their favourite fragrance for washing clothes.
This powder also has fragrance release technology, meaning clothes stay smelling fresh for longer after a wash. Ideal for washing your bedsheets, as both lavender and camomile can lead you into a lovely relaxing slumber.
3. Fairy Non-Bio Washing Powder
Fairy Non-Bio has been designed to be kind to skin and has been awarded the Skin Health Alliance seal. It's a popular choice amongst parents of young children and babies, and for those with sensitive skin – so as you'd expect, it doesn't contain strong fragrances or perfumes.
However, this is still a surprisingly pleasant and fairly strong-smelling powder. Many users describe the scent as lovely and fresh, without being overpowering, with a pleasant smell that lasts a long time.
This powder may not have an exotic or innovative fragrance, but it's an excellent option for those with sensitive skin who still want their clothes to smell fresh.
4. Daz Washing Powder
Daz was first sold in the UK in 1953 and has a reputation for providing good cleaning and stain removal, at a reasonable price.
Daz doesn't contain any exotic fragrances, essential oils or other added perfumes, and although it does have a fairly strong, fresh scent it doesn't smell quite as strong as some of the other washing powders now available.
However, some users still prefer the traditional scent of this powder – in fact, some reviewers said the scent made them feel nostalgic as they remember older relatives using this powder many years ago!
5. Ariel Professional Washing Powder
Ariel is another well-established brand of washing powder in the UK and first appeared in 1967. Ariel is known for being one of the best washing powders for cleaning clothes, but is it one of the strongest-smelling detergents?
Unlike Bold and Surf, Ariel powder doesn't have added exotic or floral fragrances and has a more traditional detergent scent, although Ariel does have a team of perfumers who work to create its fresh, pleasant smell, which is also long-lasting. Most users seem happy with the scent, which is reasonably strong, but without being too overpowering.
This professional washing powder should give you great results on your washing and also stay smelling fresher for longer.
6. Bold 2-in-1 Lotus Flower and Lily Washing Powder
The scent of this washing powder contains a combination of lotus flower and lily, which has been specially developed by perfumers at Bold. It has a more natural, fresh fragrance than other varieties available in the Bold 2-in-1 range.
Most users love the smell of this powder, which leaves clothes smelling fresh, and the scent lasts a long time too.
It's also one of the cheapest powders on the market, and because it smells so nice and softens clothes too, it can be used without fabric conditioner saving further cost.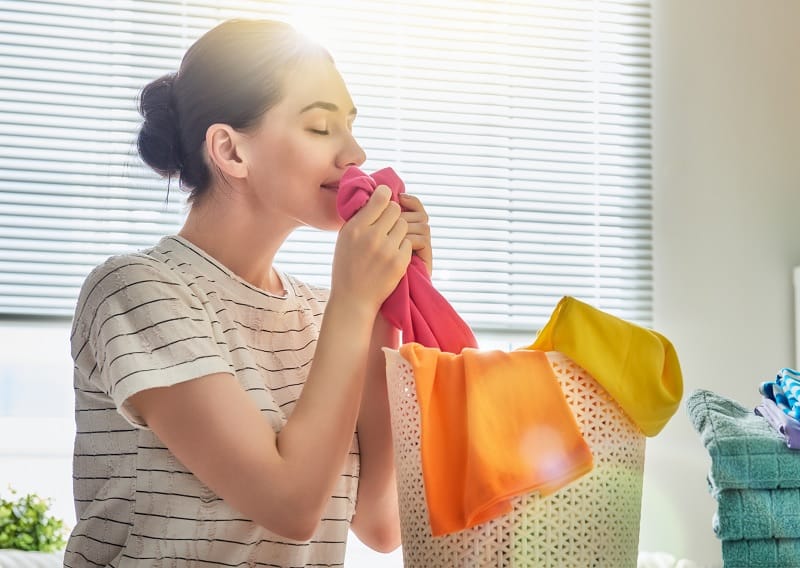 How do I get my laundry to smell really good?
Of course, using one of the washing powders above should give you great results in the scent department when it comes to washing your clothes, but there are other ways in which you can get your clothes to smell really nice too.
In-wash scent boosters are a popular addition to many a household's regular laundry routines. These little pellets are added into the drum before you add your washing on top and you just run a normal cycle in your usual way. They dissolve into the water and infuse your clothes, towels and bedding with some of the most satisfying scents which last and last after the wash.
One of the most popular makers of these scent-boosters is Lenor with their Unstoppables range. With floral scent Spring, tropical scent Sun Kiss, relaxing scent Dreams and just plain old understated Fresh (see on Amazon.co.uk), your laundry could be smelling even lovelier for even longer! Every time you open your wardrobe or drawers, you'll get that gorgeous smell wafting out – who wouldn't want that?!
Related posts