The short answer to whether you can use regular detergent to wash wool is that yes, you can! However, it is necessary to be more cautious than you would with other types of garments, and there are a few recommended methods that may be useful.
As wool is a delicate fabric, it will require a slightly gentler approach, but it can still be an easy process to keep clean and strong. Here are a few ways to look after your favourite wool garments.
What Is the Best Way to Wash Wool?
It's important to ensure that you use a detergent that is not enzyme-based or contains protease as these will destroy any protein in the wool. Strong detergents or detergents with bleach in them can damage the fibres in the wool. Wool can also dry out if it is washed too often.
It is likely that your woollen garments will shrink if you expose them to heat or if they are agitated. This is why it's best to either wash your wool on a cooler wash cycle or by hand with cold water.
Turn any woollen clothes inside out before washing them. When ridding the garment of water be sure to squeeze it carefully rather than wringing and twisting it or rubbing it together.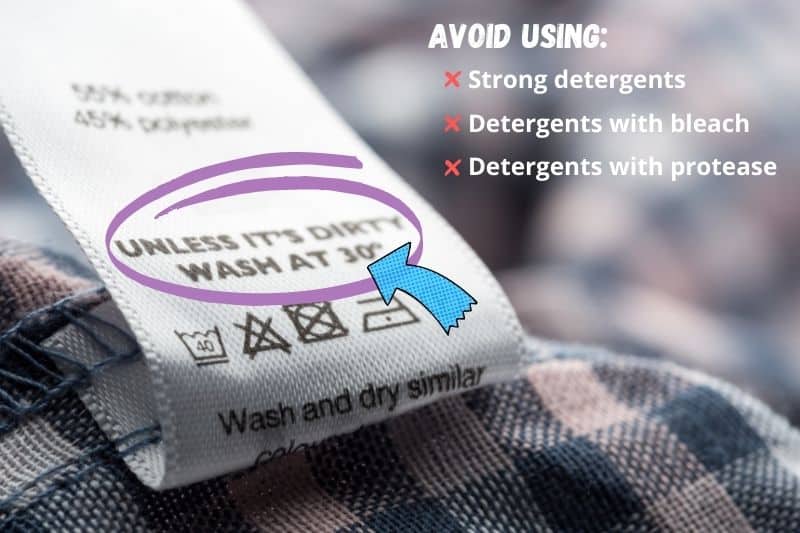 Some machines may even come with a wool cycle, which is usually a 40°C gentle wash so be sure to choose that option if you have it. If you don't have a woollen option on your machine, the delicate cycle would be the next best, if possible, rather than a regular cycle.
If you're still concerned about whether your regular detergent may contain ingredients that are harmful to wool, try a mild detergent instead as these are usually made up of more neutral and natural ingredients that are less likely to damage your wool.
There are also a number of brands that sell wool detergents that have been created specifically to ensure that your wool garments will be washed both safely and effectively.
Why Is it Important to Take Care of Woollen Garments?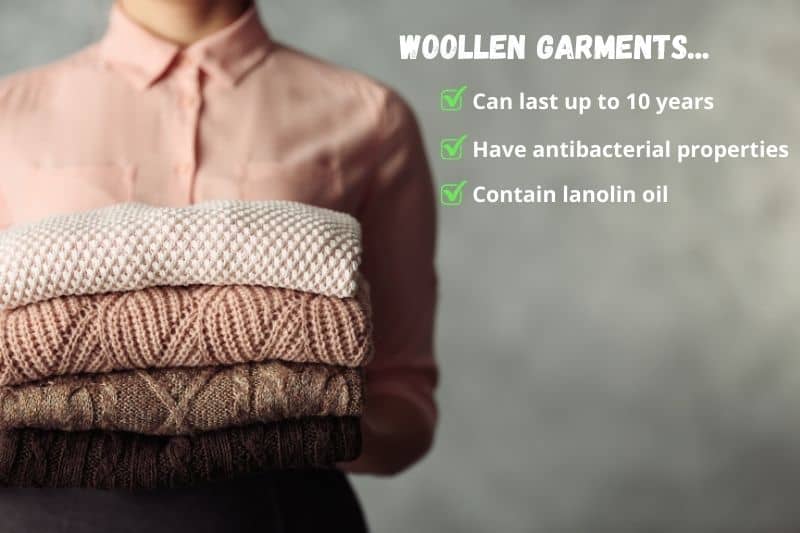 Woollen garments can last up to ten years if they are cared for properly, and wool fibres can bend up to 20,000 times before they break, which is over five times more than cotton.
Wool also has moisture-wicking and antibacterial properties that allow it to be worn several times before you will be required to wash it. This guarantees that the garment will be longer-lasting.
One of the reasons that wool is so popular is because it contains lanolin (oil) that is produced by the sheep, which keeps the wool protected from water and bacteria.
This lanolin will break down much faster if the wool is washed too often or if it's exposed to harsh chemicals.
Conclusion
In the end, the most important thing is to remember to be gentle with your wool products and be sure, if you are going to use your regular detergent, that you check the ingredients to be sure that it will not be too harsh on your garments.

An adventurous book lover with an animal obsession and a proclivity for travel and spontaneity. Used to passionately despise cleaning but has grown to enjoy it thanks to learning all the best tricks and shortcuts to guaranteeing a stress-free routine and a spotless home.