Washing wool, cashmere and other delicates is not a task for the faint of heart. To get your woollen garments feeling soft, smelling nice and free from fuzz, you need a great detergent.
You may think you have found this perfect detergent, only to find out that it leaves your favourite woollen jumper feeling itchy, tight or too big.
However, help is at hand. We have searched high and low for the best detergents for washing wool, and have reviewed them below – just for you.
Don't let your woolly jumpers get fuzzy, stretched and rough. Use the detergents below and feel all cosy and warm in your favourite woollen clothes.
Best Detergents for Wool & Cashmere in the UK
1. Ecover Delicate Laundry Liquid for Wool & Silk

Ecover has gone to great lengths to ensure this laundry detergent is ideal for wool and silks. It's approved by The Woolmark Company, a global authority on Merino wool clothing, so your wools and silks will be perfectly happy when washing with this.
This detergent also has all of the other great stuff that Ecover is known for too.
It's made in their zero-waste factory, the bottle it comes in is 100% recycled, and the detergent itself is cruelty-free.
What's more, all of the ingredients are biodegradable and plant-based. This means this detergent is gentle on your delicate fabrics and your skin.
All of this ensures this detergent complies with the high standards that Ecover is known for.
However, most people are talking about the incredible fragrance of this detergent. The waterlily and honeydew fragrance is out of this world and is sure to leave your delicates feeling and smelling fantastic!
2. Woolite Handwash
Woolite is a detergent for wool that protects your delicates from any wash-related damage. You can use it on silk, cotton, microfibres and, of course, wool. It doesn't just keep your clothes soft, it can actually renew the softness and restore the cosy feeling your jumper once had.
It also takes care of fluff and helps to prevent your favourite and most precious clothes losing their shape. Woolite can really make your clothes feel like new again, and it smells nice too.
Overall, Woolite is excellent. Some people do say that it has a strong smell, while others find it fine. Most people use Woolite Handwash as directed, but others have used it in the washing machine and have experienced good results.
3. KnitIQ No Rinse Delicate Wash Liquid Detergent

If you enjoy knitting or crocheting, this is the ideal washing detergent for you. KnitIQ specially designed this detergent to remove the dirt and grime accumulated during the crocheting and knitting process.
However, it is ideal for any wool. It is gentle yet preserves the natural fibres of the wool and keeps garments lovely and soft.
A little of this lavender and citrus beauty goes a long way. It is only a 500 ml bottle, yet it is good for 100 washes!
Whether you have a lot of precious wool or you are a keen knitter looking to protect what you make, this is the ideal detergent for you. It is natural, protective, smells wonderful and does an excellent job at cleaning natural fibres.
4. Persil Silk and Wool Washing Liquid

This is a pH-neutral, bleach and enzyme-free detergent that is designed for wool, silk and other delicates.
It can be used to hand wash your delicates, or you can use it in the washing machine on the correct setting for the clothes you are washing.
The non-bio formula makes this excellent for your clothes, but it is also ideal for sensitive skin. It will leave your skin and clothes feeling lovely.
Most people who use this detergent fall in love with its smell, which lasts for a surprisingly long time.
It is nearly impossible to not be impressed with the washing action of this as well. It leaves your wools feeling brand new again!
This detergent does seem to work best in the washing machine rather than by hand, but even by hand, it will leave your wool feeling beautiful.
5. Stergene Gentle Care Washing Detergent
Stergene Gentle Care is great for handwash-only garments and fabrics. It is a lightly scented non-bio detergent that works wonders on your wools. It will also work great on cashmere and silk too!
So, like most of the detergents on this list, it is an all-rounder and works perfectly on most fabrics that need special care when washing.
Overall, this is a great wool and silk washing detergent. However, some people in softer water areas have noted that the wool is slightly itchier after using this product. They also note, however, that colours look amazing after the wash! It's worth trying out to see how well Stergene Gentle Care works for you, as many people love it.
6. Ecozone Delicate Laundry Liquid

If you are after a cruelty-free, natural and unscented detergent, this one from Ecozone is ideal for you.
Everyone who uses it says that a little goes a long way. You usually only need half a capful to clean your delicates in the washing machine. So, this bottle will last you ages.
There are even people that use this detergent on designer gear worth thousands! No matter what you wash, you can enjoy using this at low temperatures for amazing results on cashmere, wool, silk and any other delicates.
Most people look to Ecozone if they have sensitive skin conditions, as they make some of the best laundry detergents for all skin types. And this detergent is no exception to this.
It is just as gentle on your skin as it is on your delicates, yet it is still tough enough to help with stains and keep your wool looking great.
7. Clothes Doctor Eco Wash for Cashmere and Wool
Clothes Doctor Eco Wash for Cashmere and Wool has been developed to be kinder to the environment and animals as well as kind to your clothes.
This cruelty-free, Vegan-friendly detergent is made in the UK and their packaging is 100% plastic-free! Ideal for those who are looking to reduce their plastic consumption and help to lower their effects on the environment.
Year after year your knitwear will feel and look great. This wool wash keeps the fuzzy bits down and the shape looking just as good as the day you bought your favourite jumper. No matter how delicate the clothes are that you need to wash, Clothes Doctor has you covered.
This washing detergent works brilliantly on wool, cashmere and any other delicate fabric you'd like to use it with. It is great to have a bottle in the cupboard during the winter period for your woollen wear and in the summer for the rest of your delicates.
It is a little on the pricier side, but you get a UK-made product, reducing the carbon footprint and helping to support British businesses.
Can You Use Normal Laundry Detergent on Wool?
Yes, you can use a normal laundry detergent on wool as long as the detergent is relatively mild.
Specialised detergents are likely to prolong the life of your wool garments as they are designed to wash wool without damaging its fragile fibres.
Many specialised detergents contain lanolin, which is the waxy substance found naturally in wool that helps prevent it from drying out. Regular detergents can dry wool out over time, so using a detergent that contains lanolin can help.
When choosing a detergent, avoid those containing:
Bleach
Enzymes ('bio' or 'biological' laundry detergent)
Harsh chemicals designed for stain removal
How to Wash Wool
How often to wash wool
Wool sweaters only need to be washed occasionally. In fact, many people only wash them once a year.
There are several reasons why you don't need to wash wool very often:
Wool has natural antibacterial properties
Wool sweaters don't come into contact with the skin and rarely get dirty (this might not be true for other wool garments)
Wool is also naturally odour-resistant, so it's unlikely to start to smell
The less frequently you wash wool, the longer it will last
Temperature
If you're washing wool in the washing machine, use the woollens or delicates cycle, which will usually be 20-30°C and use a gently washing action.
If you're washing by hand, it's safest to use cold or lukewarm water, but you can use hot water as long as you just leave the garment to soak and don't move it around.
While it's a good idea to wash wool at low temperatures, it's actually a myth that heat shrinks wool. What does shrink wool is the combination of heat with motion.
That's why if you're washing wool in the washing machine, it's especially important to choose a low temperature. If you are washing by hand and just leave the garment to soak without moving it, you should be able to get away with using hotter water.
How to machine wash wool
When machine washing wool, try to only fill the machine about halfway. Choose the most appropriate setting, which will be the woollens or delicates cycle if your machine has one.
Use a delicate non-bio detergent like one of those reviewed here. Follow the instructions on the packet.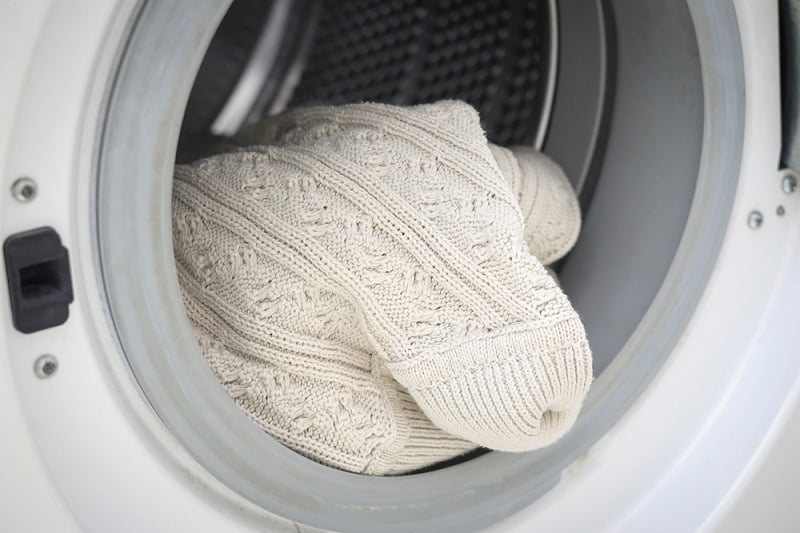 How to hand wash wool
Washing wool by hand is simple. Fill a tub or the sink with cold or lukewarm water and a suitable detergent.
Soak the garment for 10 or 15 minutes without moving or agitating it. Then remove the water and refill the tub or sink to rinse the garment.
How to dry wool
Never put wool in the tumble dryer—the combination of heat and motion will cause it to shrink. Instead, remove as much moisture as you can with a low spin cycle on the washing machine.
Only hang wool sweaters up to dry after spin drying them, even if you washed them by hand originally. This will help them keep their shape.
If drying using your washing machine's spin cycle isn't convenient, you can lay woollen garments out flat on a towel, or lay them flat on a specially designed mesh clothes drying rack like this one from Leifheit, which fits over the bath.
FAQs on Washing Wool
Is Woolite only for wool?
No, Woolite is also a good choice for other delicates such as silk, as well as cotton, mixed fabrics and microfibres.
You can wash all your laundry using Woolite if you want to, though it doesn't have the stain removal properties of some regular detergents.
Can I use Ariel to wash wool?
The Ariel Arabia website says "Do NOT wash your wool garments with Ariel, as it may damage the fabric".
It is probably safer to choose a gentle detergent such as those reviewed above.
Does washing up liquid ruin wool?
As long as you use it sparingly, washing up liquid is unlikely to ruin wool. In fact, a lot of people use washing up liquid as a cheap alternative to specialised wool wash detergents.
This method for washing a wool sweater on Instructables.com recommends mixing dish soap (washing up liquid) with white vinegar, rather than using a special wool wash product.
Make sure the washing up liquid is well diluted—the method linked to above only recommends using one tablespoon of washing up liquid in a big tub of water.
Can white vinegar damage wool?
No, white vinegar shouldn't damage wool. Diluted white vinegar is actually recommended by a lot of people as one of the best cleaning solutions for wool.
According to The Spruce, white vinegar can be used both to clean wool garments and to remove odours from them.
Can you use shampoo for washing wool?
Yes, you can wash wool with shampoo. However, you shouldn't confuse wool shampoos with regular shampoos. Laundry detergents for wool are often called shampoos, but that doesn't mean you should use them on your hair as well!
Gentle and pH-neutral hair shampoos such as baby shampoos can be used to wash wool, so they are a good option if you have one to hand and don't want to buy a separate wool wash product.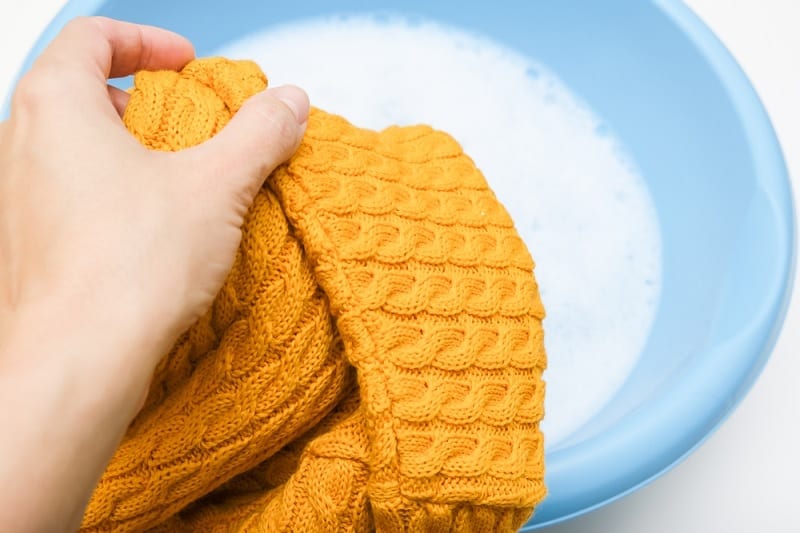 Can you wash 100% wool at home?
Yes, you can wash 100% wool items at home—just follow our guide above.
Do you need to wash wool with a special detergent?
Yes, you do. Wool should be washed in a detergent that has been specially designed for the purpose.
Wool is very delicate, and these detergents are designed to protect your wool. More often than not, you can use wool detergent on your silks and other delicates too but do check before you use it.
There are plenty of wool detergents that you can use in the washing machine now if you have the right setting, too, so there's no need to hand wash them.
How do you make a DIY wool wash detergent?
There are several DIY methods for washing wool. There are some that swear by using shampoo to wash their wool.
Others use distilled white vinegar. These methods are fairly straightforward. Add a cup of white vinegar to a bowl of warm water or a few drops of shampoo.
However, there is an excellent no-rinse wool wash detergent that many people have had success with. The recipe calls for:
4 cups of pure soap flakes
1 cup of methylated spirits
50 ml of eucalyptus oil
Just mix the methylated spirits with the soap flakes. Then add the oil and stir it. You can store this detergent in a wide-neck jar and then use one tablespoon of it per garment.
Add the detergent to a small bowl of hot water and give it a stir until it is dissolved.
Then you can add it to your lukewarm washing water and soak the garment. There is no need to rinse. Just squeeze out any excess water and dry the wool out of direct sunlight.
Can you use baby detergent for wool?
Yes, you can. In fact, most products designed for babies, including detergents and shampoos, are pH neutral, so they can be used for washing wool.
Can you use bicarbonate of soda (baking soda) to wash wool?
Bicarbonate of soda is great for removing stains from wool. A mixture of half a teaspoon of bicarb and 1 cup of warm water can be used to apply locally to stains. You can then soak the garment in your usual wool washing detergent and enjoy smooth, stain-free wool.
Conclusion
If we had to recommend just one detergent for washing wool, it would be Ecover Delicate Laundry Liquid for Wool & Silk. It's eco-friendly and cruelty free, and has been approved by the The Woolmark Company as suitable for wool. It also has a lovely waterlily and honeydew scent.
We hope you've found your new favourite washing detergent for wool from our list. If you'd like to find out about other household products great for your family, you can find more on our website.
We have loads of articles on here about household products that can help you turn your house into a home.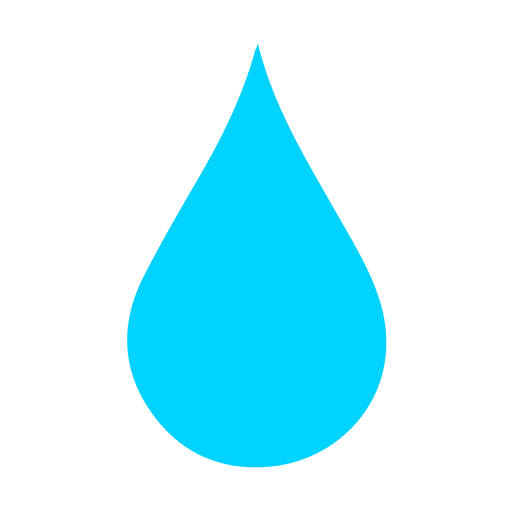 In The Wash is your guide to the best laundry and cleaning products, tips and tricks. Our mission is to solve the UK's cleaning and laundry dilemmas!