If you're a first-time washing machine buyer, you may be a little confused by all the types of washing machines that you can buy!
Do you know your front-load washer from your integrated washer? Or, what about your washer-dryers from your portables?
Not sure what the differences between them all are? You're in the right place. Stick with me as I explain all the different types of washing machines you can buy in the UK.
There are many different kinds of washing machines to be had, and each and everyone has their own little perks that I'll cover in more detail soon. But one thing they all have in common – they wash laundry!
Here's an explanation of all the types of washing machine you can get.
1. Freestanding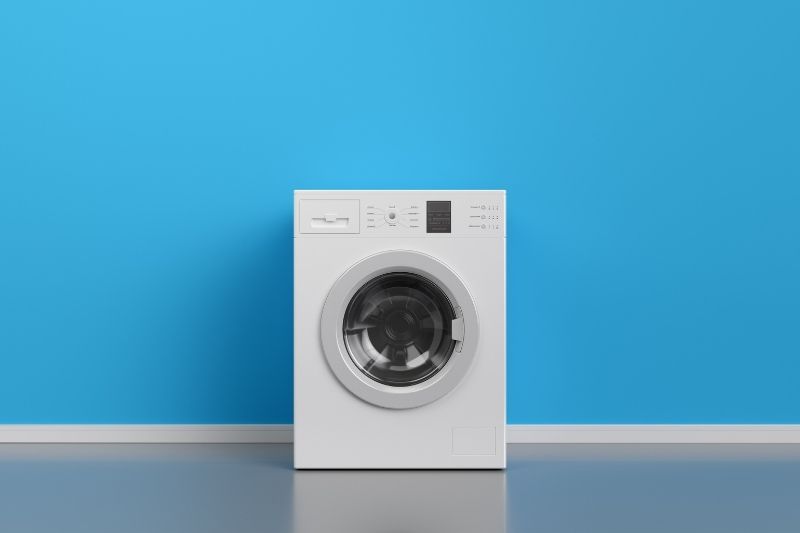 Freestanding washing machines are incredibly popular here in the UK, and this is because of their design and ease of handling. They're usually the models that have a door on the front where you pop your laundry into.
A freestanding machine is a washing machine that can be placed in various places in a home, and as long as it's connected to a drain and a power source it will work. They can be moved around with ease and have a long lifespan, if treated with care.
Pros
Wide range of models available
Most come with a plethora of features and different colours
They come in a variety of drum sizes
A lot of models are considered to be very efficient
Cons
Can be expensive depending on what features you want
Quite visible in a home, unlike integrated washing machine
2. Integrated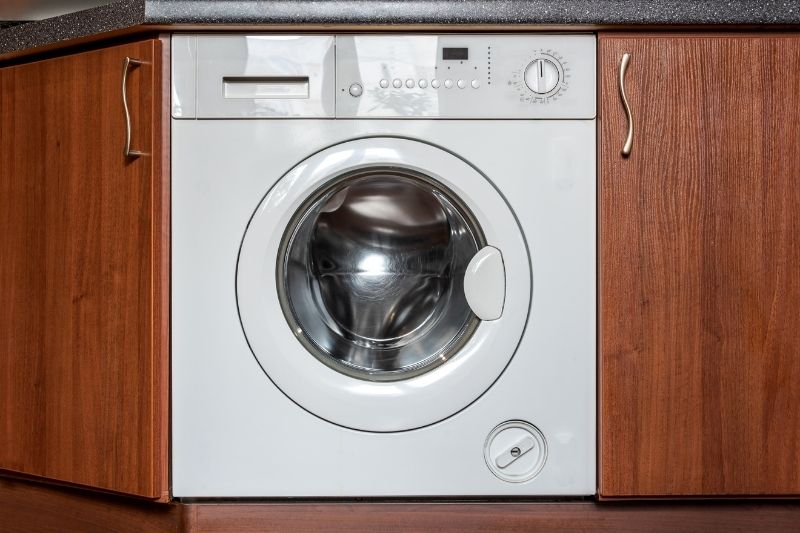 Integrated washing machines slot into a gap in your kitchen cupboards. Many people like this kind of model because you can close the cupboard door and hide the washing machine away.
They're quite common in new homes because people like that sleek finished look. You don't necessarily get that type of finish with a freestanding washing machine because it stands out.
Pros
May be quieter than a freestanding washing machine
Can be hidden under your work surface
Cons
Usually it costs more to fit this kind of washing machine
You may not get as much choice in comparison to the freestanding washing machine ranges
The machine itself costs more to purchase
The washing machine may not be able to take big loads like a freestanding machine
3. Top-Loading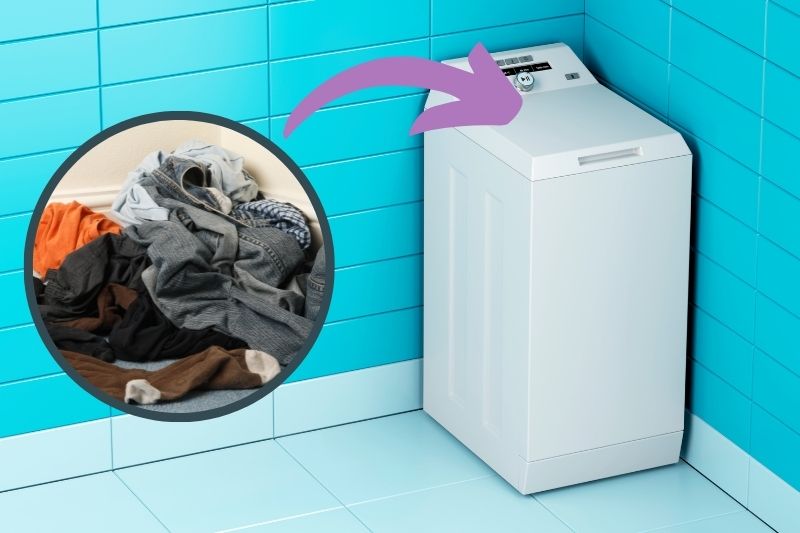 Another type of washing machine is the top-loader. As the name suggests, you add your laundry into the machine via an entrance at the top, instead of through a door at the front.
Sadly, these models are not so popular here in the UK because they can be a little more awkward to use, and they're harder to store. However, you can still find a few of them online to buy.
Pros
Typically smaller in width than other washing machine models
Can handle larger loads in some cases
Can wash clothes in less time
Very good for people who find bending down a problem
You're able to add laundry to the wash mid-way through a cycle.
Cons
Don't fit into gaps under worktops
Hard to store
Typically you have to move them around to use them properly
Sometimes they vibrate a lot
You need to clean them more often
Can be loud
4. Washer-Dryer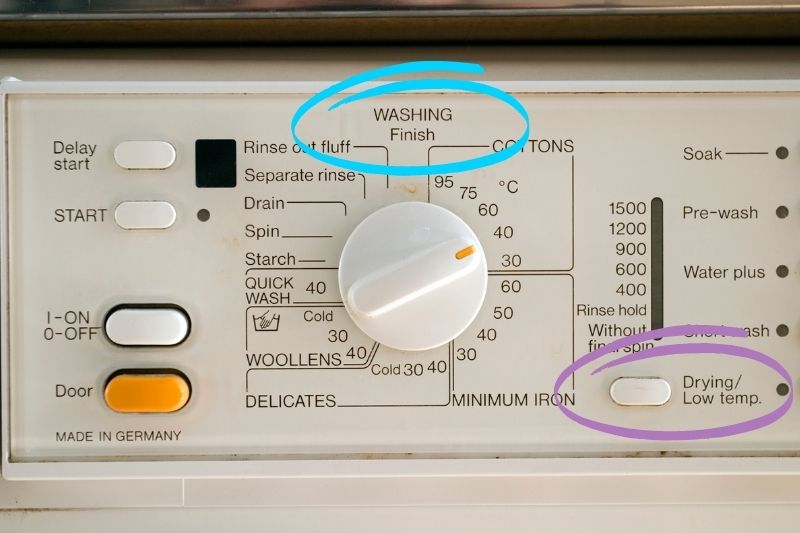 A washer-dryer is the perfect machine for someone who doesn't have space to buy a separate washing machine and tumble dryer. They're also good because your laundry gets washed and dried in one go and in one place, so you don't have to fuss around with wet clothes!
These machines can work well if they're cared for properly. But if one part inside the machine breaks you can't really use the machine until the issue is fixed. So, you may be without a washer or a dryer for some time.
Pros
Saves on space
You don't have to carry wet clothes around
Might be cheaper than buying two separate machines
Cons
Can be difficult to find a washer-dryer that does both functions extremely well
Usually uses a lot more energy
If one part breaks you won't be able to use the entire machine
Drying capacity of the machine is smaller than the washing capacity limit
5. Stackable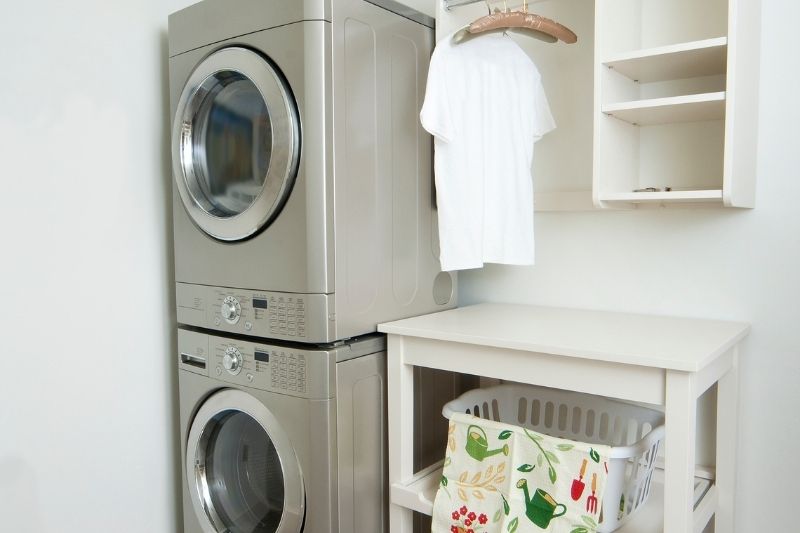 If you intend on buying two washing machines, or perhaps a washing machine and a dryer, you may have the option to stack them on top of each other.
While this does save a lot of space, you should check with your machine's manufacturer to see if you're allowed to do this. Typically, for this to work properly, both machines need to be made by the same company.
If you know this is a safe option for you, you will need to invest in some stacking equipment to lock the machines in place together. For more information on this check out our "Stacking a Tumble Dryer On Top of A Washing Machine" article.
Pros
Saves space
You don't have to transport wet clothes too far around your home
Cons
Can be dangerous if you don't stack the machines correctly or don't use the correct equipment
6. Portable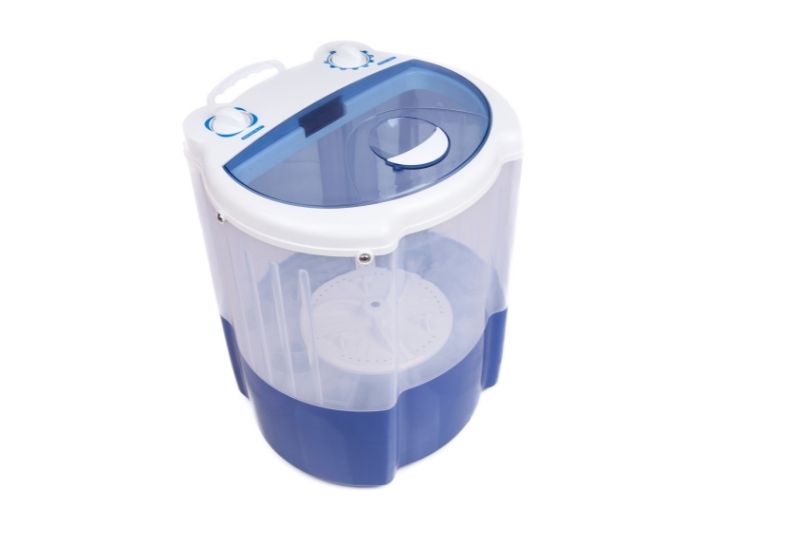 Portable washing machines are excellent for individuals who are short on space, enjoy travelling around or just don't want a big washing machine in their home.
If you're happy to wash smaller loads of laundry every now and then, this is a great option for you.
These mighty little washers are usually lightweight, simple to use, have multiple control buttons, can be powered but can also be manually powered, and are an overall ideal alternative to a traditional washing machine!
Pros
Small
Portable
Easy to use
Can come with built in dryers too in some cases
Cons
Cost can fluctuate
You can only do smaller washing loads
You may have to manually power the washer
7. Semi-Integrated
Semi-integrated washing machines typically work the same as integrated washing machines. However, instead of having a full door/panel covering the whole of the washing machine, a gap is left behind so you can reach the buttons.
This means that you can control the washing machine without opening the door.
Pros
Might be quieter than a freestanding washing machine
You have easy access to the control buttons
Cons
Quite a bit of work to install these models
Usually don't take as big loads of washing as freestanding washers
Not a huge selection to choose from
Washing Machine FAQs
What's the best washing machine in the UK right now?
There are some pretty epic washing machines to be had in the UK right now. So much so, that it can be a confusing job trying to pick the best machine out of the massive bunch!
Lucky for you we've done all the hard work—check out our guide to the top 10 best washing machines in the UK.
Can you buy a washing machine for under £300?
Absolutely! Check out our list of the best washing machines for under £300.
Where can you buy a top-loading washing machine in the UK?
As mentioned earlier, top-loaders are not so popular in the UK, so you may find them harder to come by – but not impossible. If you're interested in buying a top-loader you should check out Amazon, Appliances Direct and eBay first. They're likely to have a varied selection for you to browse through. See our top picks of top-loading washing machines available to purchase in the UK here.

Bethan has a passion for exploring, reading, cooking and gardening! When she's not creating culinary delights for her family, she's concocting potions to keep her house clean!