The right pair of washing up gloves can turn the chore of washing dishes into a meditative and luxurious experience!
So, keep on reading to hear about the best washing up gloves you can buy right now, so you don't have to put up with ill-fitting, water infiltrating gloves.
The Best Washing Up Gloves in the UK
1. Lakeland Deluxe Latex Free Washing Up Gloves

Size: 8/Medium
Quantity in pack: 1 pair of gloves
When you've got a mammoth pile of dishes to wash, the best thing you can do is pop a pair of Lakeland's Deluxe Latex Free Washing Up Gloves on because they contain a moisturising ingredient.
Yes, these gloves really do moisturise and give your hands a spa-like treatment as you go about cleaning.
Squalene is a plant-derived ingredient that is added to these washing up gloves. It's this little gem that keeps your hands feeling refreshed and soft as you wash the dishes.
Not only will your hands feel relaxed, but the gloves are thick and durable, so they can handle the washing work with ease.
But the comfortable design is just one good point of many for these washing up gloves. They're also free from latex, nitrile and phthalates, so they shouldn't aggravate your skin if you've got sensitive skin.
They're also easy to pop on and take off, which is great because you don't want to be standing at the sink arguing with a pair of gloves at the end of the day.
The only downside is that these gloves can be a bit short on some wearers. They don't always come up very high on the arm.
This means that water can splash into the glove as you wash the dishes. You could prevent this from happening though by altering your washing technique.
2. Marigold Unisex Extra Life Kitchen Gloves

Size: Medium
Quantity in pack: 2 pairs of gloves
Marigolds have been a staple in most UK homes for years. And to this day, their bright yellow colouring still stands out at the sink! And Marigold's Unisex Extra Life Kitchen Gloves are certainly no exception to this rule.
The Extra Life Kitchen Gloves are tripled-layered, cotton-lined, long-cuffed washing up gloves that are designed to be used in the kitchen to clean dishes and to wash surfaces down.
The inner lining is there to provide your hands with some much-needed TLC as they tackle the dishes, and the triple layering ensures the gloves are durable.
Unlike other entries on this list, Marigold Extra Life Kitchen Gloves come with extra-long cuffs, so your hands and arms are protected from your dirty dish water.
However, if you've been sweating in your gloves, it can be a pain to try and roll them down and off your arm. So, in some cases the long cuff isn't always good.
That being said, if you've got room to spare, you could roll the cuffs at the top to make them shorter.
In addition to this, the Marigolds come with an anti-slip pattern on the palms of the gloves, so you don't have to worry about losing grip of your precious dishes as you wash them.
Marigold Unisex Extra Life Kitchen Gloves are an overall great type of washing up glove that are average priced.
The only thing you need to keep in mind are the cuffs can be long and tight in some cases. And the hand part of the glove can also be snug fitting, so check you've chosen the right size before buying.
3. Elgood Deluxe Washing Up Gloves

Size: Medium
Quantity in pack: 2 pairs of gloves
Elgood Deluxe Washing Up Gloves are made from a soft blend of PVC and cotton. The two materials are woven together in a process known as 'Flocking Technology' and the end result is a comfortable fabric that brings superior comfort to your hands as you wash the dishes.
You should also notice that moving your hands when wearing the gloves is very easy, and the gloves shouldn't feel like they're restricting your movements.
In addition to this the blue and purple gloves come with an anti-slip design that stems from the palm and up to the fingers, so you'll be able to keep hold of your washing up!
They're also rather heat-resistant, so you should be able to pop your hands into warm water with ease. This'll make cleaning greasy plates a little easier.
Interestingly, these gloves can be used for various purposes in addition to washing the dishes. You could use them for household cleaning, hand-washing clothes or even doing a spot of hairdressing.
The fact that the pairs are different colours means you can stick to using a pair for a specific job, and there's less chance of the gloves getting mixed up.
Maintaining these gloves is also very easy as oily substances should wash off with little input from you. And when you do remove these gloves, you shouldn't be left with a horrible rubbery smell on your hands that some gloves leave behind.
4. OriStout Reusable Dishwashing Gloves

Size: Large
Quantity in pack: 1 pair of gloves
If you're looking for jazzier washing up gloves that have a pretty pattern, come in a smashing colour, and are an overall great pair for doing dishes with, OriStout Reusable Dishwashing Gloves are what you're after.
You can pick a pair of bright purple gloves that have an embossed flower pattern on the cuff online. Although these are one of the most expensive pairs on this list, they are the nicest looking.
OriStout Reusable Dishwashing Gloves also come with excellent non-slip embossing that gives you better finger and palm grip, they're water and oil resistant, they're cotton lined inside so you'll have comfort as you wash the plates, and they've got a durable PVC coating.
And if that wasn't enough, the gloves are also latex free and are safe for those with sensitive skin. Plus, they can also be used to clean various areas in your home, including the bathroom and the kitchen, and you can also pop them on if you have to hand wash your laundry.
The minor setback with these gloves is that sometimes the end of the cuff can feel a little thin, so it allows water into the glove. You could, however, fold the cuff over to rectify this problem, but you would be covering up the pattern.
5. Sorbo Latex Free Nitrile Household Cleaning Gloves

Size: Small, Medium or Large
Quantity in pack: 1 pair of gloves
Sorbo's Latex Free Nitrile Household Cleaning Gloves are an excellent choice for people with latex allergies.
They're made from 100% latex-free nitrile materials, and are soft to the touch and provide a comfortable fit.
The gloves also have extra-long cuffs, so you won't get water splashing into the gloves when you're washing up.
One of the best features of these gloves is their durability. They are reusable and last a long time, which makes them cost-effective and more eco-friendly than using cheaper gloves that constantly need replacing.
The gloves are lined with a soft layer of cotton, which makes them even more comfortable to wear, and they come in three sizes (small, medium, and large) to fit a wide range of hand sizes.
The main selling point is that they are latex-free, making them a great option for people with latex allergies. However, some users find the material to be a bit too stiff, which can be a downside for people who prefer a more flexible glove.
Overall, the Sorbo Latex Free Nitrile Household Cleaning Gloves are a great choice for anyone looking for a comfortable and reliable pair of latex-free gloves for household chores.
FAQs on Washing Up Gloves
What are rubber gloves called?
Rubber gloves have got a few different names. Here are some to keep an ear out for:
Household cleaning gloves
Domestic cleaning gloves
Rubber gloves
Washing up gloves
Washing gloves
Dishwashing gloves
Marigolds (Marigold was and still is a big seller of washing up gloves, and many years ago people started using this name generally for rubber gloves. The name Marigold has just stuck with people since. It's like when you say Sellotape or Hoover, they were also big named brands, and people just started using these names to denote a particular product).
Should I wear gloves when washing dishes?
Wearing rubber gloves when doing the dishes will stop you from burning your hands as you submerge them in hot sudsy water. They'll also prevent your hands from becoming cracked and weathered as they're exposed to washing up liquids, cleaning agents and too much hot water.
In addition to this, wearing gloves can protect your hands from getting hurt by objects in the sink, like cutlery. And they can also stop your hands from coming into direct contact with bacteria and dirt that's in the sink.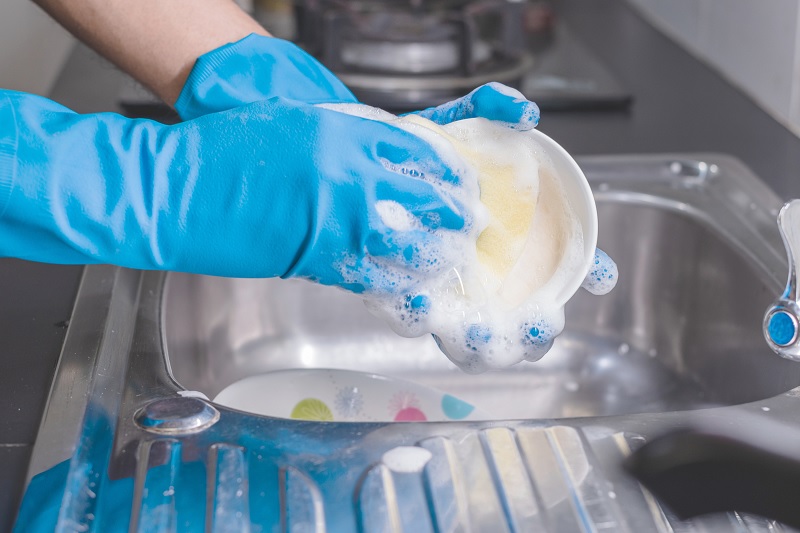 Conclusion
If we had to recommend just one product to buy it would be Lakeland Deluxe Latex Free Washing Up Gloves. Your hands will be thoroughly moisturised by the time you finish doing the dishes, and these gloves are reasonably priced in comparison to others on this list.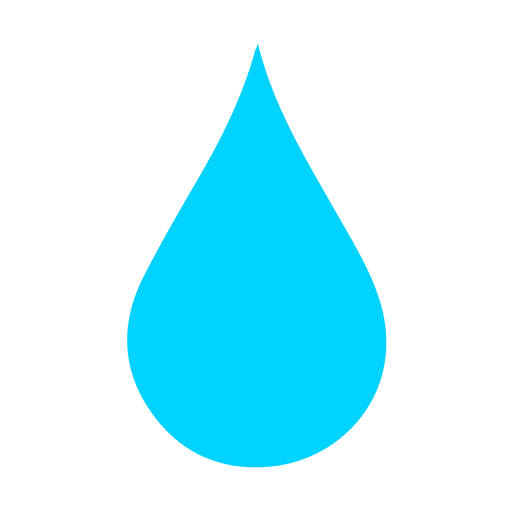 In The Wash is your guide to the best laundry and cleaning products, tips and tricks. Our mission is to solve the UK's cleaning and laundry dilemmas!