Many of us spend at least a few minutes every day elbows deep in our sink as we wash the dishes after a tasty meal.
Finding a washing up liquid that suits your needs can be a challenge, especially if you are quite particular when it comes to the scent or strength of your washing up liquid.
This list is here to help you understand the pros and cons of the various washing up liquids that are available in the UK, and the reasons why each specific product may be right for you.
There are seven outstanding products on this list and the variety means that there should be something to suit everyone, whether you are looking for affordability, quality, or environmentally friendly products.
Best Washing Up Liquids in the UK
1. Ecover Washing Up Liquid

Ecover washing up liquid is both affordable and designed to be friendly to all skin types, including sensitive and delicate skin.
It is plant-based, biodegradable, and contains many mineral ingredients, all packaged with a refreshing lemon and aloe scent. It can also be found in other scents, including Chamomile & Clementine, Lily & Lotus, and Pomegranate & Fig.
If you are sensitive to strong scents, there is even an option to buy a fragrance-free version of this product. The bottles are made of 100% recycled plastic and come in 5-litre refill packs to make them more environmentally friendly.
Ecover makes all its products in a plant-roofed ecological factory where all ingredients are plant and mineral-based, which means there is very little environmental impact when using this product.
The product itself is highly effective against grease and only requires one squeeze onto your sponge to tackle a large number of your dirty dishes!
Users have mentioned how gentle the product is on the skin of their hands, even if they wash their dishes without gloves. It has also been mentioned that the bottle can be challenging to grip, especially with wet hands, as the shape is not always easy to hold on to.
2. Fairy Original Washing Up Liquid

Fairy Original washing up liquid is a favourite in many UK households. It's well-known for its ability to cut right through grease and grit and to successfully break down leftover food that may be caked onto your dishes without requiring any soaking.
This product can be used on sensitive skin without requiring the use of gloves and one squeeze onto your sponge should be able to get you through most of your sink-full of dishes.
Fairy Original washing up liquid also comes in two different scents, original or lemon, both of which have a light and pleasant scent that makes using the product an easy and enjoyable experience.
Fairy may not have the most affordable option, but the bottle lasts a long time and could save you money in the long run as you don't have to use as much of the product each time you wash your dishes.
3. Method Washing Up Liquid

Method's washing up liquid has a sleek and modern design that will make it eye-catching and attractive in your kitchen. It comes in three unique and original scents, peach and pink pepper, coconut water, and green tea and citrus.
The bottle comes with a handy pump dispenser, another rare addition to a washing up liquid, but is incredibly useful as you never have to pick up the bottle while your hands are wet and full of your dirty dishes. It also means the exact right amount of liquid is dispensed every time.
Method washing up liquid comes in 100% recycled plastic and the product is created entirely with plant-based ingredients. It is also cruelty-free and vegan-friendly.
This is one of the pricier options, but it is both efficient and environmentally friendly, as well as adding to the appealing aesthetic of your kitchen.
4. Bio D Washing-Up Liquid

Bio D is a family-owned company that is working to create products with a very low environmental impact. Their washing up liquid is both affordable and hypoallergenic, as well as made up of plant-based or renewable sources as much as possible.
This product is free from perfume so is great for those who prefer a fragrance-free washing up liquid option. It's great if you have sensitive skin or strong allergies and creates very little foam while still effectively cutting through grease and caked-on food debris.
Bio D washing up liquid is biodegradable and comes in a recyclable container and has various size options for longevity. The bottles can also be refilled if required. The product is certified cruelty-free and vegan-friendly, as well as free from parabens.
5. Persil Washing Up Liquid

Persil's washing up liquid is quite well-known for how difficult it is to obtain. It is not as easy to find as many other household washing up liquids, but that does not mean that it isn't still a top contender for the best washing up liquid!
Many people claim that this is the best washing up liquid they have ever used but find it much harder to access now that it's no longer available in stores. It is known to be incredibly useful to people with skin conditions or highly sensitive skin.
This product is very affordable, especially when bought in bulk and will last a very long time.
6. Cleenol 020822X5 Washing Up Liquid

Cleenol washing up liquid is an affordable option for this type of product that will require only a small amount of liquid to produce a large amount of foam to cut right through the grease and food on your sink full of dishes.
This product has a very light scent that is perfect for those who prefer their washing up liquids to have little or no fragrance. It is can usually only be bought in bulk and stands out as the most affordable option on the list.
7. Morrisons Lemon Blast Washing Up Liquid

Morrisons have a house brand washing up liquid that is incredibly affordable but still boasts impressive results. This washing up liquid has a fresh and unmistakable lemon scent that lingers pleasantly in the air as you wash your sink full of dishes.
The product is more affordable than various others and does not require very much of the liquid to be used before seeing excellent results. The bottle size is smaller than many other washing up liquids, but the price is still highly competitive.
Some users have mentioned that the liquid is thinner than other similar products, but that it remains decidedly effective in washing dishes until they are back to their original sparkling state.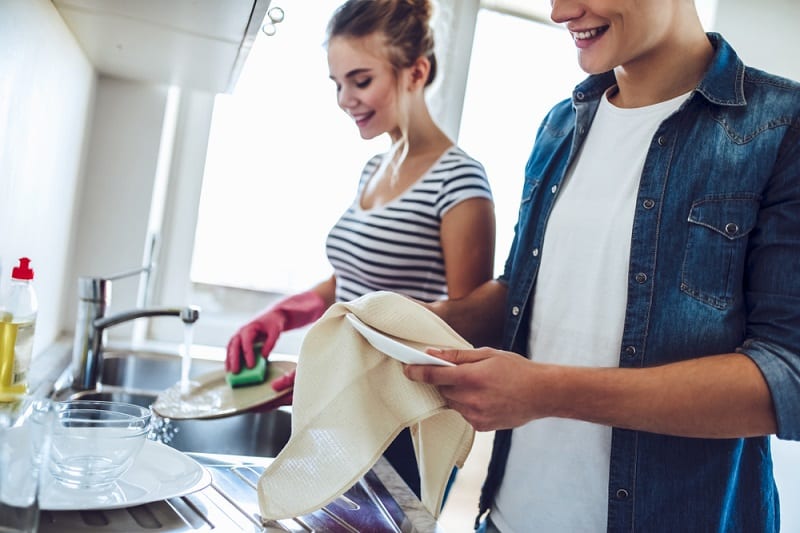 How to Choose the Best Washing Up Liquid for You
It's almost impossible to narrow down which of these is the best washing up liquid option, especially when products like this are so subjective to each user. However, there are a few key things to look for that may help you to figure out which one may be best for you.
Do you want the most efficient results?
All of the products on this list are highly effective washing up liquids, but there are a couple of options that will have quicker and more obvious results.
These options are the Ecover Washing Up Liquid and the Persil Washing Up Liquid, both of which are trusted brands with excellent reputations for the efficiency of their products. They are both excellent at eradicating any grease and grime lingering on your dirty dishes.
Are you environmentally conscious?
Many of the options on this list are environmentally friendly and biodegradable, or even entirely plant-based. There are two that stand out as the most environmentally conscious, and these are the Ecover Washing Up Liquid and the Bio D Washing Up Liquid.
Ecover's washing up liquid is plant-based and biodegradable, as well as made in a plant-roofed ecological factory where all ingredients are plant and mineral based.
Likewise, Bio D proudly states that their washing up liquid is both biodegradable and recyclable. It's also both vegan-friendly and cruelty-free.
Do you have sensitive skin?
Another factor that is often very important in choosing a washing up liquid is how harsh it will be on your skin, especially if you have extra-sensitive skin.
If you are usually affected by the chemicals in washing up liquids, and even feel the effects of the plant-based products, then it may be best to choose a hypoallergenic option.
If you think that hypoallergenic is what you need then the Bio D Washing Up Liquid would be the best choice for you.
Conclusion
If we had to take all of this information into account before choosing just one product from our list, we would choose Ecover Washing Up Liquid as the number one option. Ecover has created a truly reliable washing up liquid that is both affordable and effective.
The brand has crafted a product that has an extremely low environmental impact and has various options to suit every potential client, including a range of lovely scents, or a version with no scent at all.

An adventurous book lover with an animal obsession and a proclivity for travel and spontaneity. Used to passionately despise cleaning but has grown to enjoy it thanks to learning all the best tricks and shortcuts to guaranteeing a stress-free routine and a spotless home.