Hand washing clothes is an exercise that many of us witnessed our grandparents doing as children. Some of us might've even tried to help out!
It always looked so simple and therapeutic when Nanna washed the clothes in the sink, and Grandad stuck the items out on the line to dry.
They really were the pros of doing laundry!
Yet, now we're all older and trying this hand washing business out for ourselves, we might be finding it a tad tougher than we thought it would be.
So, here's a step-by-step guide to hand washing clothes to get you started.
You'll also find a list of helpful products to use along the way, all of which can be found here in the UK.
Things to Know Before Hand Washing Your Laundry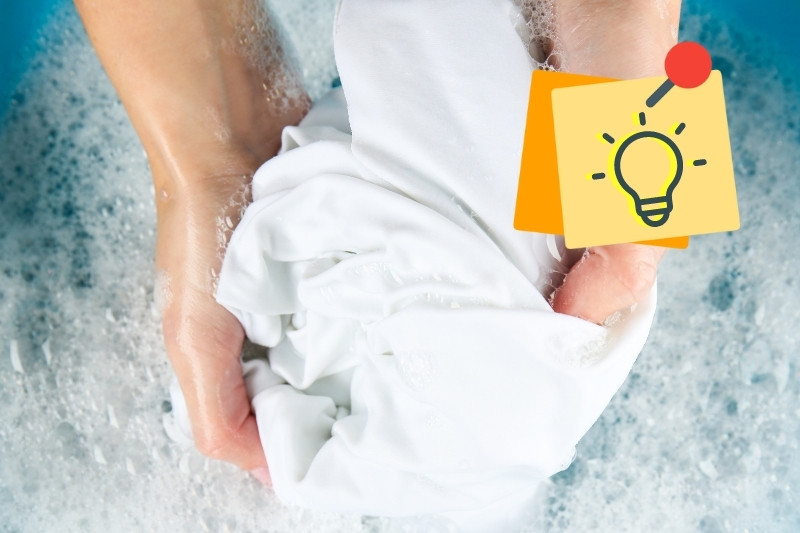 Preparation is key when it comes to hand washing clothes – always set up your cleaning area, and have your products and laundry at hand. The last thing you want is to be traipsing back and forth looking for items!
Pre-treatments should be done before the hand washing takes place – this'll help to give your clothes the best overall clean.
Ideally each item will take about four minutes to wash, but you don't want to go over this time because you risk shrinking the material.
When hand washing laundry you need to focus on particularly dirty spots on the clothing. Under the armpit is a common area where dirt forms.
Keep in mind that when it comes to hand washing laundry you should not wring out, scrub, twist, pull or rub the clothes roughly. Being gentle is key!
Make sure that your nails are kept short, or you wear gloves, when hand cleaning your laundry. You don't want to snag any material during the washing process.
Remove any rings and bracelets from your hands and arms because they can rip material.
Always separate clothes according to colour – coloured clothes and white clothes.
Choose a detergent that is suitable for your laundry and yourself. If you're working with delicate clothes, you should buy a delicate detergent, and if you have sensitive skin, you need to use a sensitive detergent, for example.
You will need to change the water in the sink or bucket regularly, so you don't cause any dye mishaps between clothes.
If you develop any rashes or redness on your hands and arms when hand washing your laundry, you should clean your arms and hands immediately, and stop hand washing your clothes. This method may not be suitable for you, or you might need to use a different detergent.
Wash similar clothes together – same colours and materials.
Read clothes tags before you hand wash any items.
Keep in mind that 'dry clean only' doesn't mean 'hand wash'. They are different cleaning methods and shouldn't be mixed up.
Remember that you'll actually be putting your hands in the water to clean your clothes, so make sure the water isn't too hot for you.
What Clothes Need to Be Hand Washed?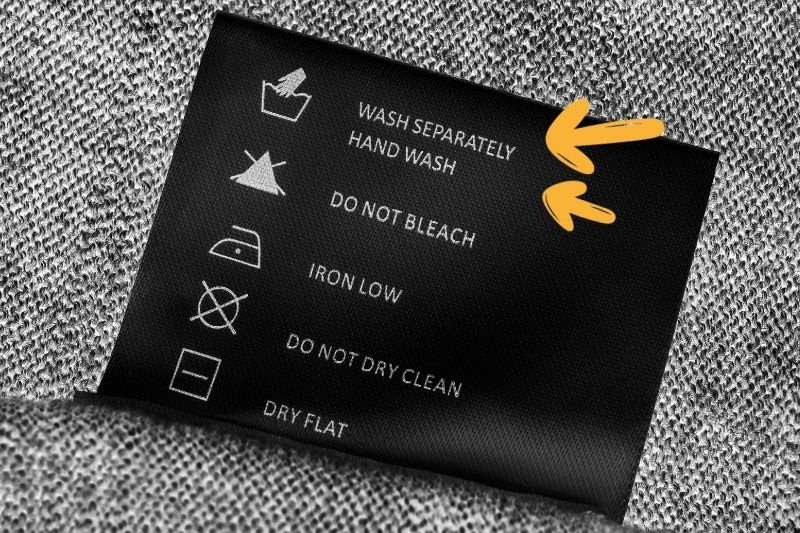 Before you clean any item of clothing you should read the care label to see how you're supposed to wash the garment.
The tag, which is usually found attached to an item's seam, will give you advice on how to wash, dry and iron the article, for example. And it's important that you listen to this information.
If you see 'hand wash' on an item tag, it should be hand washed.
In addition to this, you should also think about hand washing clothes made from delicate materials, like wool, lace, silk, clothes with lots of beading and items with fine details.
These clothes may include, but aren't necessarily limited to, underwear (bras, pants and knickers), jumpers and tights, for example.
You can hand wash most clothes if you like. For example, if you don't have a washing machine at home, or your appliance has broken and you need to clean your dirty laundry.
Just make sure to check the clothing tags to see what water temperature the clothes need to be cleaned on before you start off. Then you just need to pick a suitable detergent and you can start cleaning.
The only clothes that you shouldn't really hand wash, or wash in a washing machine, are items that are 'dry clean only'. These clothes should be, as the name suggests, dry cleaned.
You can either buy a kit and do this kind of cleaning at home, or you can go to a professional dry cleaner's to get the items cleaned.
What Detergent Do You Use to Hand Wash Clothes?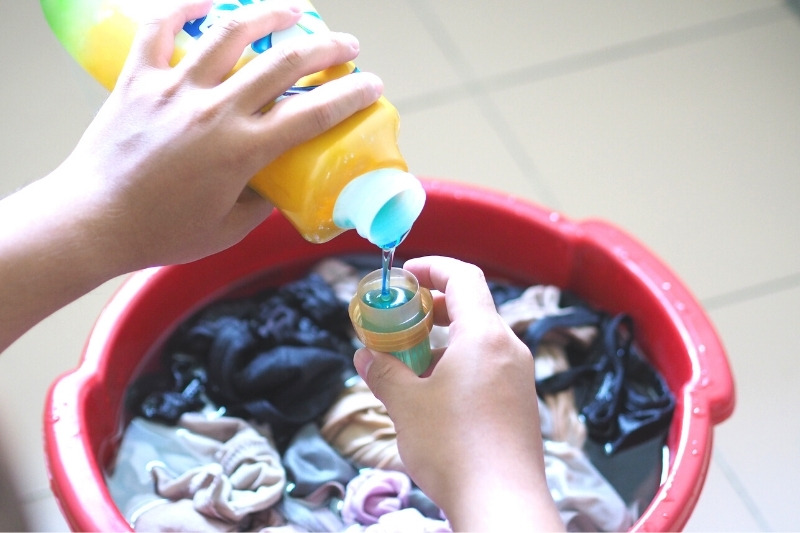 When hand washing clothes, you don't really need to use heavy duty cleaning detergents. Mild non-biological detergents often do a grand job of cleaning laundry in general.
However, in some cases you will need to buy a more specialised detergent that suits the material you're cleaning, like a wool detergent. These types of detergents are sometimes known as delicate detergents.
Also, it's important to keep in mind that you'll be submerging your hands in the sudsy water, so it would be better to go for a lighter, more delicate detergent, for that reason too. You don't want to go plunging your hands into chemically water!
1. Liquid detergents
Liquid detergents, as you might've guessed, come in liquid form, and you add a small dose of the product to a sink or bucket when hand washing laundry.
Liquid based detergents are easy to use, and generally, if you stick to the dosage stated on the pack you'll get ample amounts of washes from a bottle.
Some liquid detergents you should consider include, but are not limited to:
Wilton London Eco-Friendly Laundry Liquid Cedarwood
If you're after a plant-based, vegan friendly product to hand wash your laundry with, look no further than Wilton London Eco-Friendly Laundry Liquid. A bottle will provide you with 25 washes, and your laundry will come out of the wash smelling like nature and feeling very soft!
You can buy Wilton London Eco-Friendly Laundry Liquid Cedarwood on Amazon.co.uk. There are other scents to be had as well!
Persil Silk and Wool Delicate Washing Liquid
If sticking to a well-known brand is important to you, you cannot go wrong with a bit of Persil Silk and Wool Delicate Washing Liquid. This item is ideal for washing delicate items, as well as silk and wool. And it also leaves clothes feeling very smooth after a wash.
You can buy Persil Silk and Wool Delicate Washing Liquid at Waitrose.
Stergene Handwash Laundry Liquid 500ml
Stergene Handwash Laundry Liquid has been designed with hand washing clothes in mind. It's gentle on clothes, there's no strong fragrance attached to it and protects the fine fibres of delicate materials like wool and silk.
You can find Stergene Handwash Laundry Liquid at Sainsbury's.
Clothes Doctor No.3 Eco Wash For Cashmere and Wool
If you're after a delicate detergent to clean wool and cashmere, the Clothes Doctor has what you're looking for. This pH neutral detergent is ideal for natural materials like wool because it helps to preserve the delicate fibres. It also comes in a patchouli (mint) and sandalwood scent, so not only will your laundry smell fresh, but the odour will help to keep moths at bay too.
You can buy Clothes Doctor No.3 Eco Wash For Cashmere and Wool on Amazon.co.uk.
Soak
Soak's 375ml detergent bottle may look small in size, but it packs a lot of punch! You can get up to 75 washes from a single bottle. And if that's not enough, to clean laundry you just need to let it soak in some Soak water and the washing is done after a quick rinse! It's incredibly easy to use.
You can buy Soak on Amazon.co.uk.
2. Washing powder
Washing powder is grainy in texture, is usually white in colour, and is an alternative product to use when it comes to hand washing clothes.
Like liquid detergent, powdered detergents also have great cleaning power and have been used to clean clothes for years.
There are a few drawbacks though. Powdered detergents can sometimes leave residue on clothes. However, this can be rectified fairly quickly by thoroughly rising items.
Some washing powders are biological, which is stronger than non-biological detergent, and therefore, isn't suitable for delicate materials.
Some powder detergents you should consider include, but are not limited to:
Fill
If you'd like to purchase a non-biological laundry powder that is vegan-friendly, eco-friendly and refillable, you needn't look further than fill.
You can pick up a 500ml glass jar of fill's powdered detergent in a scented or unscented form, and you can get powder refills when you run out of the product.
This eco-conscious company is also 'certified plastic free' so by getting this powder you'll be helping the planet, and you'll get a cute keepsake jar!
A jar of fill laundry powder can be bought directly from fill's website.
Daz Washing Powder Whites and Colours
If you're after a detergent that is suitable for hand washing general, hardwearing laundry, Daz is a great option.
Daz can brighten whites and lock in the colour of colourful clothes. However, you should not use this type of Daz to clean delicate materials like silk, leather and wool because it contains enzymes, and they can damage delicate fibres found in clothes.
You can pick up a box of Daz Washing Powder for Whites and Colours on Amazon.co.uk.
Persil Bio Handwash Washing Powder
Persil Bio Handwash can be used to clean some of your dirtiest clothes because it is a biological cleaner. The product isn't overly scented, the powder helps to soften clothing's fibres and it can be used at low temperatures too, which is better for the environment.
Sadly, you cannot use Persil Bio Handwash Washing Powder to clean delicate materials, like silk and wool, because it's likely to damage the material. You should instead use Persil's specialised delicate cleaner: Persil Silk and Wool Delicate Washing Liquid for the job.
You can buy Persil Bio Handwash Washing Powder on Amazon.co.uk.
3. Laundry soap
Laundry soaps are an excellent alternative to bottles of liquid detergent and powders because they are more compact in size, and they can be transported around with you, so you can pop them in your luggage when travelling.
And just like normal soap that you'd use in the shower, these soaps last a long time too.
You might not find many laundry soaps in supermarkets, but they can be bought online. There are several sellers on Etsy that sell bars of laundry soap that are made here in the UK, for example.
Of course, you should look into what chemicals these soaps contain, and you should ask the seller if the soap you like will damage the specific material you intend on hand cleaning before buying or trying it out.
Step-by-Step Guide to Hand Washing Clothes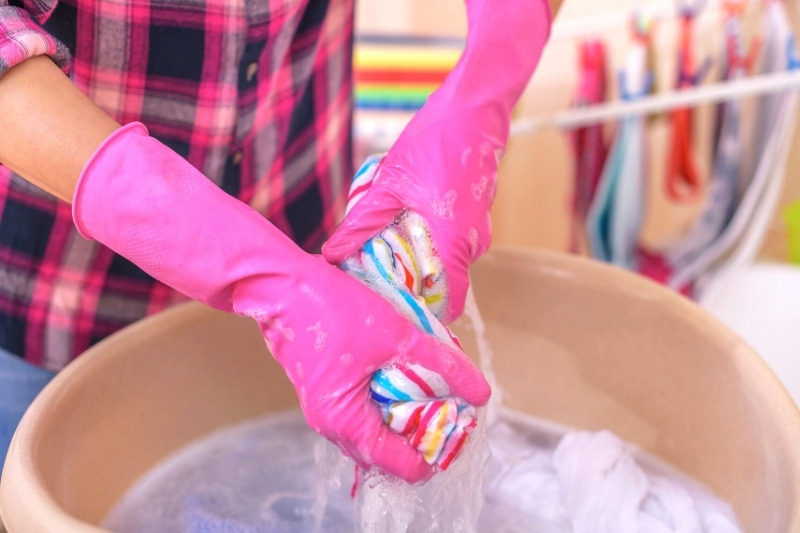 When it comes to hand washing dirty laundry it sounds simple enough. You grab the clothes, fill the sink, add a detergent, swish the clothes around, rinse and pop them on the line to dry.
But, there's always a but!
It's not quite as simple as that because there's a lot of preparation, and thinking ahead, involved when it comes to washing clothes by hand. So, let's find out what washing clothes by hand really entails!
What you need:
Dirty laundry
Detergent
Gloves
Sink/buckets
Water
Towels
Line
Steps to follow:
Separate your laundry by colour.
Separate your laundry piles further by material.
Read each item's clothing label to see if you can 'hand wash' the items, and for additional care information.
Check all your laundry for stains and treat these stains before the hand wash takes place – you can treat a lot of stains by massaging detergent directly onto the affected spot.
Pop some gloves on to protect your hands.
Clean the sink or buckets that you plan on using – the last thing you need is for your clothes to be submerged in greasy deposits that were left behind from last night's dinner.
Fill your sink up three-quarters of the way with warm water – about 30℃ would be desirable, but if you're washing delicate material, like lace or wool, stick to cold water. This will be your 'washing zone'.
If you're using a bucket, fill it up three-quarters of the way with warm water that's about 30℃, but if you're washing delicate material, like silk, stick to cold water. This will be your 'washing zone'.
Get a second bucket and fill it three-quarters of the way with cold water. This will be your 'rinsing zone'. (Some people hold their items under a cold water tap to rinse them).
Add a measure of mild detergent to your 'washing zone' as you're adding the water in – check the label on your detergent bottle to see exactly how much detergent you need to use. Detergent is usually in liquid form, but it is possible to use powder too.
When the 'washing zone' is ready you can add an item of clothing to the water. You can add additional items to the water at the same time, but make sure that all of the items are similar in colour and material.
It's better to start cleaning light items first, and to clean darker clothes later on.
Submerge your items under the water.
Agitate the water slightly, so the detergent can get to work on your laundry – this hand washing process should take about 4 minutes to complete.
Knead or massage the items gently to clean them.
Pay attention to extra dirty spots on your laundry.
Remove your items one at a time from the 'washing zone' and immerse them in the cold water in the 'rinsing zone'.
Continue to rinse items until they are no longer covered in soap.
If your clothes are still a little dirty you will need to repeat the washing process above.
When your clothes have been washed remove them from the 'rinsing zone' and lay them out flat on a towel.
Start to roll the item up in the towel – the towel collects moisture from the clothes, and helps to hold the item's shape, but doesn't damage the material.
Repeat this a few times and with your other items.
Either leave the items on a flat surface to dry or dry them on the line.
Tip: You will need to change the water in your 'washing zone' frequently when hand washing clothes. Particularly if you move from a dark item to a light item because colour run could become a problem for you.
FAQs on Hand Washing Clothes
How do you hand wash silk?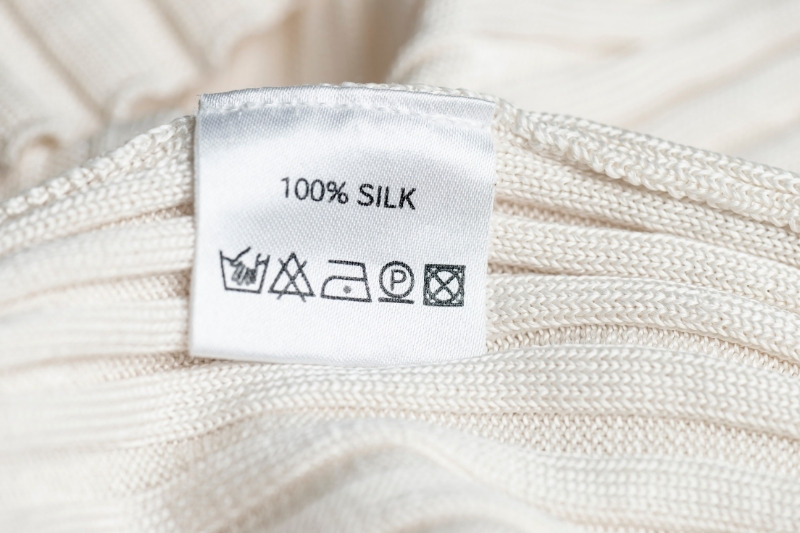 You can follow the steps above to hand wash silk items. However, you need to do a colourfast test first.
Simply press a damp cloth on a discreet patch of silk to see if the colour bleeds away. If so, you should not hand wash the item. If nothing happens, you can continue to hand wash the item.
In addition to this, when it comes to hand washing silk garments you should always use cold water, a silk-friendly detergent, and only wash one silk item at a time. You should only use a very little amount of detergent for the job too.
How do you hand wash underwear?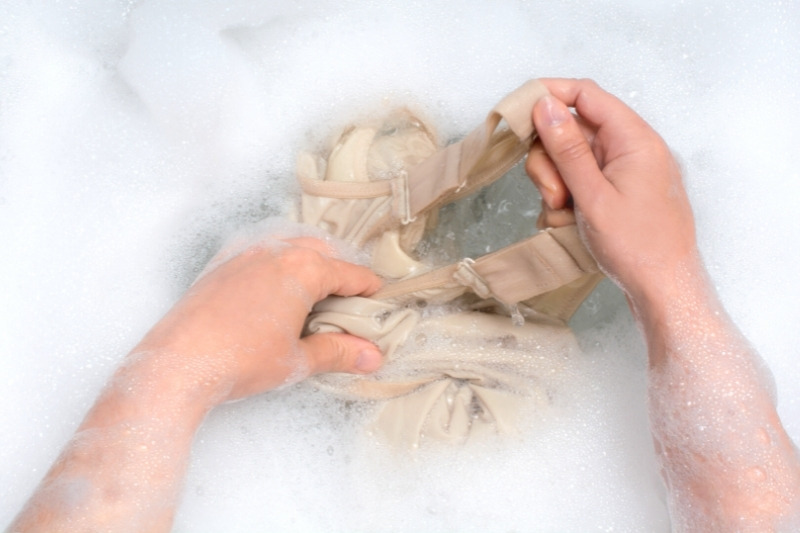 The process above is also suitable for underwear, but you should always read the care label on your undies before washing them.
Keep in mind that you might need to wash a single piece of underwear at a time, you'll need to use hot water, and you might need to leave the underwear to soak in detergent lined water for an hour or so, just to give them a thorough clean.
In addition to this, you need to use a detergent that is suitable for the material you're working with. The care label will be able to tell you what your undies are made of if you're not sure.
How do you hand wash wool?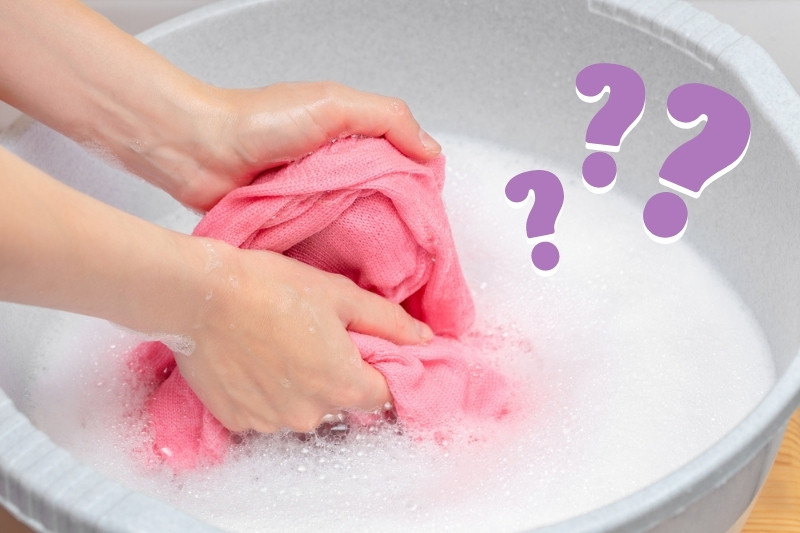 Wool can shrink very easily, so when hand washing such a material you should use cold to lukewarm water for the job.
As above, you should place the jumper in the water and agitate it slowly. But you should be mindful not to pull and twist woollen material because it will go out of shape extremely quickly.
You should also make sure that you use a delicate detergent that is suitable for wool, like the ones listed above.
When it comes to drying woollen clothes, you need to remove the item from the water and lay it out flat on a towel. Then you need to roll the woollen item up in the towel to extract liquid from it. It can then be left on a flat surface to dry naturally.
The key is to be very gentle and not to overstretch the material!
How long does it take to hand wash clothes?
There's no real answer to this question because it depends on how much washing you have to do.
If you've got a couple of items to wash, it might take half an hour or so. But obviously the more laundry you have, and the more diverse your piles of dirty clothes are, the longer it'll take you to treat and clean each individual item of clothing.
What happens if you don't use laundry detergent when hand washing?
If you just clean your dirty clothes in warm water, very little will happen. Your clothes may look a tad cleaner if you agitate the clothes around in the water.
But water alone won't be able to clean your laundry thoroughly, and it certainly won't be able to lift away any stains.
Just using water will also mean that your laundered clothes also won't have that 'just cleaned' smell either.
Using some kind of 'detergent', whether you buy one or make a potion up at home, is important because it's the chemical makeup of this 'detergent' that helps to clean grubby clothes, break down stains and makes laundry smell clean.

Bethan has a passion for exploring, reading, cooking and gardening! When she's not creating culinary delights for her family, she's concocting potions to keep her house clean!