It can be tough to get a high-quality and reliable washing machine that has the features you want on a low budget.
The best washing machines on the market (see our top 10 here) tend to cost at least £400, but there are some good budget options under £300.
In this article we'll look at some of the best washing machines on the market today for less than £300.
Please note, prices fluctuate so we can't guarantee all of these washing machines will still be available for less than £300 when you read this article.
Best Washing Machines Under £300
1. Beko WTG620M1W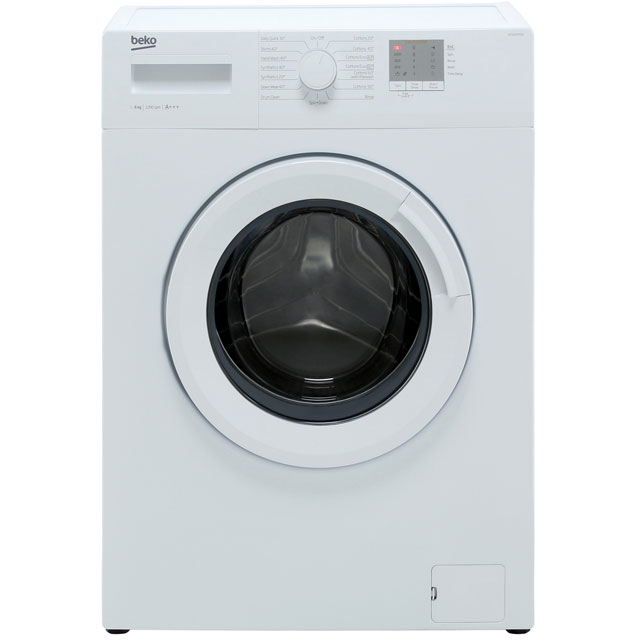 Load capacity: 6 kg
Dimensions: 84 cm high x 60 cm wide x 44 cm deep
Spin speed: 1200 rpm
Energy rating: A+++
The Beko WTG620M1W is ideal for anyone who lives on their own or in a couple and would work brilliantly as a small space living washing machine due to its smaller depth size. With 14 wash settings you'll be able to complete all laundry tasks and even get a full load washed in just 28 minutes – perfect for busy lives.
Features
28-minute full load quick wash
14 washing programmes
Drum Clean programme to disinfect the drum with 70°C water
9 hour start delay timer
Child lock
Pros
1-year manufacturer warranty
Energy efficient
90°C Cottons Wash programme
Hand Wash programme
Good value
Relatively quiet machine
Cons
Relatively small load capacity (6 kg)
No LED countdown timer
Summary
With a 6 kg load capacity, this washing machine could be a good choice for a single-person or couple household. It would also work well for a studio flat or apartment as the machine runs relatively quietly when compared to other machines.
This Beko model isn't too expensive, so would be ideal for those moving into a new place who need appliances that don't break the bank. Also, the 1-year manufacturer warranty is there to cover you if things go wrong with the machine.
With the ability to wash a full load in 28 minutes, this would be perfect for those that need fresh uniforms for work on the daily. A good little all-rounder for those with smaller scale laundry needs.
2. Hotpoint Smart WMFUG 742G
Load capacity: 7 kg
Dimensions: 85 cm high x 59.5 cm wide x 51.7 cm deep
Spin speed: 1400
Energy rating: A++
The Hotpoint Smart WMFUG 742G has a good 7 kg capacity and offers a large selection of washing cycles.
Despite the 'Smart' in the name, it's not connected to WiFi and can't be controlled via your phone.
Features
16 wash programmes in total
30-minute quick-wash programme
Woolmark-approved for washing woollens safely
Anti-allergy cycle approved by Allergy UK
Anti-stain cycle
Pros
Easy to use
Good choice of washing programmes
Digital display with timer
Cons
Lots of cycles are quite long (up to 3 hours)
No half-load option
Quite noisy
Summary
This washing machine could be a good choice for couples and small families. It's straightforward yet versatile, with plenty of washing cycles including anti-allergy and anti-stain cycles – perfect for baby's and children's clothes.
The Hotpoint Smart WMFUG742G comes in Silver/Grey and White colourways, so you can choose the look which most matches your other appliances or laundry room.
This model is also available in a 9 kg capacity for not too much of an increase in price, so if you have laundry coming out of your ears, perhaps a larger drum would be worth pushing the budget a little.
3. Candy Grand'O Vita GVS168D3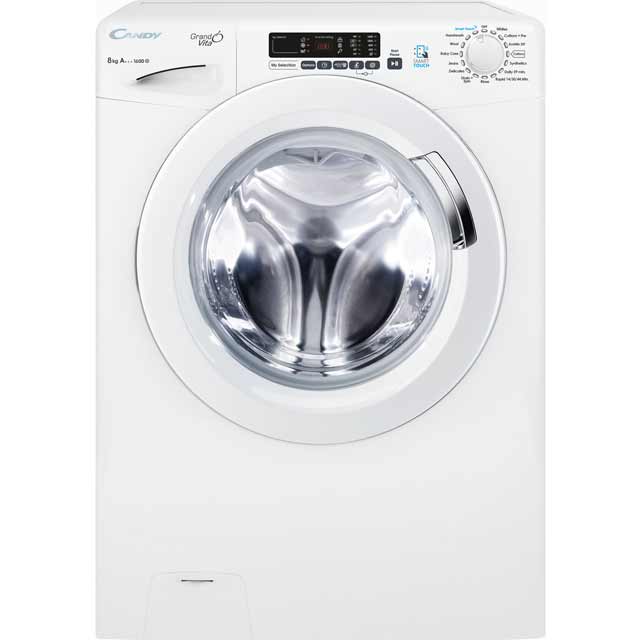 Load capacity: 8 kg
Dimensions: 85 cm high 60 cm wide x 54 cm deep
Spin speed: 1600 rpm
Energy rating: A+++
The Candy Grand'O Vita GVS168D3 offers impressive spin speeds, a large 8 kg drum and the highest possible energy efficiency rating for a very low price.
Features
Automatically adjusts settings based on washing weight to save energy & water
Monitor washing from your phone via the Candy simply-Fi app
14, 30 and 45 minute quick-wash programmes
Delay timer (up to 24 hours)
Pros
Washing programmes can be customised
Good value for money
Relatively large drum size
Cons
App for monitoring washing often doesn't work
Summary
The Candy Grand'O Vita GVS168D3 offers very good value for money considering its features and drum size.
The smartphone app usually doesn't work very well, and needs to be touched to the washing machine to sync it up. However, it does let you create your own custom washing cycles which can be quite useful.
With an 8 kg capacity, it's a good choice for a family of four or so.
4. Logik L612WM16
Load capacity: 6 kg
Dimensions: 85 cm high x 59.5 cm wide x 47 cm deep
Spin speed: 1200 rpm
Energy rating: A+
This washing machine from Currys' own brand Logik is very cheap—you should be able to get it for under £200. It offers a wide range of washing programmes, so you won't feel limited by buying a cheaper washing machine.
It has a relatively small 6 kg capacity, so it's better for 1-2 person households rather than large families. The Logik L612WM16 is great for those who need uniforms freshened up for work at short notice as the 15-minute quick wash cycle makes it super easy.
Features
24-hour delay timer
Total of 16 washing programmes
15-minute quick-wash cycle
Digital display shows time remaining
Child lock
Pros
Very cheap—good value for money
Useful 15-minute cycle
Cons
Relatively poor energy efficiency rating (A+)
Fairly slow spin speed (1200 rpm)
Summary
This washing machine offers great value for money and is a good choice if you're looking to spend as little as possible. Costs could, however, incur when it comes to energy bills, as the A+ rating is one of the lower ratings of washing machines in 2020 meaning running costs are higher.
The 15-minute quick-wash cycle is very handy, but unfortunately most of the other cycles are quite long – some take over 3 hours which again is not great for energy efficiency.
5. Indesit My Time EWD81482W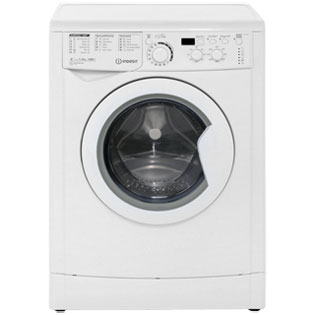 Load capacity: 8 kg
Dimensions: 85cm high x 59.5 cm wide x 60 cm deep
Spin speed: 1400 rpm
Energy rating: A++
The Indesit EWD81482W has a good-sized 8 kg drum and spin speeds up to 1400 rpm. With the My Time feature, it offers 6 different quick-wash cycles including a speedy cycle which can freshen up a small load of clothes in just 20 minutes.
There also are quick cycles for cotton, synthetics and mixed loads, so you can fit laundry into your busy schedule with ease.
The in-built water balance technology means that the machine weighs the wash load and recognises how much water is needed for the best possible wash – saving you money on your energy bills.
Features
Water balance technology
16 programmes in total
20-minute quick-wash programme
24-hour delay timer
Dial control and LED time display
Pros
1-year manufacturer warranty
Useful quick-wash cycles
Good value for money
Cons
Some cycles take a long time
Quick washes require smaller loads and slower spin settings
No child lock function
Summary
The  Indesit EWD81482W has a good energy efficiency rating, a fairly large drum and a useful 20-minute quick-wash cycle, which makes it a good choice for a medium-sized family who get through plenty of laundry. There is also a specific wash designed to keep your gym clothes looking newer for longer – perfect for any keen runners or gym bunnies.
This machine is relatively quiet, however, at 78 dB it would be best suited to a home which does not have open plan living, as it could distract from everyday life – conversations, movie nights etc. Overall, this is a good choice for those looking for a 8kg washing machine under £300.
Choosing a Washing Machine for Under £300
There are a few things to think about when you are looking for a new washing machine under £300. Perhaps you have a large household, or you need to have a certain wash setting for specialist clothing items – think about how a washing machine needs to fit into your life and routines.
What load capacity do you need?
One of the most important things to consider when choosing a washing machine is the load capacity.
The load capacity refers to how much washing you can put in the machine. It's measured in kilograms, and refers to the dry weight of clothes and laundry items that you put in the machine.
Overloading or even underloading your washing machine can lead to problems later down the line, so make sure that you aren't using a 9 kg washing machine for just 6 kg of washing every time.
This could cause the drum to spin in an unbalanced manner, making loud noises and perhaps even being unable to spin if the load weight is too small.
Same goes for overloading your machine – bunging 8 kg or more of laundry into a 6 kg machine means your clothes will not get washed properly and you could mess up the washing machine's bearings.
Here's a quick guide to help you choose the right load capacity:
6 kg and below: Good for single-person homes
7-8 kg: Good for couples and three- or four-person families
9 kg and higher: Good for large families
If you want to wash large and bulky items, you should opt for a machine with a bigger load capacity and ideally, a larger door, to make washing big items so much more practical.
Brand
If you're looking for a cheap washing machine, you'll usually have to make do with slightly less reliable brands. Buying (or inheriting) a second hand washing machine could help you to get a better make, but you must be sure that the machine is in a good enough state before paying for it.
Buying new often means you get a manufacturer's guarantee which would cover you if anything were to break in the first few months (sometimes years) of owning the machine.
Some of the best brands in the under £300 price range include:
Beko
Bosch
Candy
Hotpoint
Indesit
Logik
Zanussi
Do you actually save money by buying a cheaper washing machine?
Buying a cheap washing machine with a short warranty and poor energy efficiency could work out more expensive than buying a pricier machine.
If anything were to go wrong with your machine outside of this warranty cover, you would be forced to pay for expensive repairs or to buy a completely new washing machine.
Over time, a low energy efficiency rating could mean that you pay out so much more on your monthly energy bills – just by running the machine at a normal frequency.
It's worth taking a close look at the warranty length and annual energy and water usage before buying to make sure the washing machine is really as good a deal as it seems.
Conclusion
If we had to pick just one washing machine under £300 to recommend it would be the Beko WTG620M1W. It's one of the best budget washers on the market in 2020, and is made by a reliable brand for a very good price. However, the Beko WTG620M1W does have quite a small load capacity (6 kg) which may deter some buyers.
It is recommended that small families should go for a minimum of 7 kg when it comes to washing machine load capacity. So if you need something bigger, check out the Candy Grand'O Vita GVS168D3, which has an 8 kg capacity as well as good spin speeds and several quick-wash cycles.
The high energy rating and 1-year manufacturer warranty of the Candy Grand'O Vita mean that this machine could save you money over time – lower energy bills and covered for the first year if any problems arose (so no hefty repair or replacement bills).
For some more options to consider, see our list of the top 10 best washing machines available in the UK.