A washing machine is a necessity these days – hand washing is just not the done deal! Aside from that fact however, we have to take into account the cost. When it comes to household items you want to get the best value for money possible.
£300 is a good budget if you're looking to get a reliable yet inexpensive washing machine. Thankfully, there are lots of washing machines out there which come under the £300 mark. We've picked out what we consider to be the best washing machines available for under £300 in 2017. Let's take a look at them.
Please note, prices fluctuate so we can't guarantee all of these washing machines will still be available for less than £300 when you read this article.
1. Beko WMB101433LW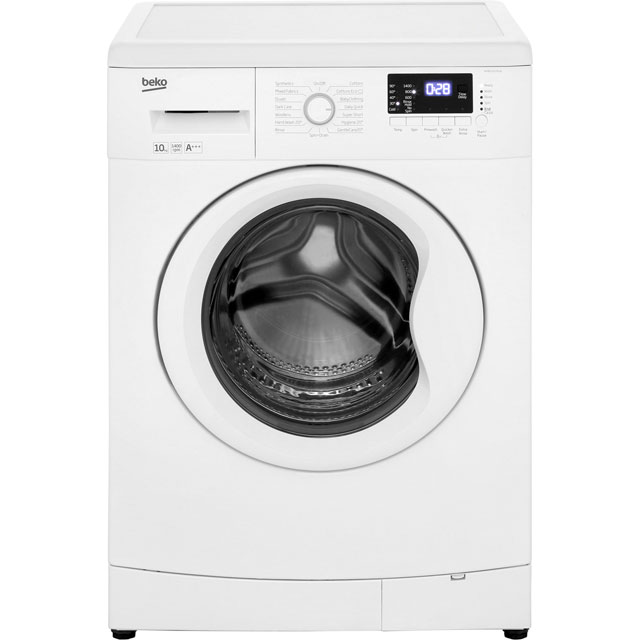 Beko is a big named brand, so that gives you confidence from the get-go, but it is also a cheaper than you might think brand too! At the time of writing, this particular product comes in under £300 with a little change besides, and offers plentiful functions for a busy family to make use of.
Features and specifications
Large drum capacity, at 10 kg, which is more than enough for large families, who need to wash bigger amounts of clothes regularly
Fast wash function completes the cycle in just 14 minutes – ideal for early morning washes, when you need something fast!
Energy efficient, using lower temperatures to wash clothes, and therefore less energy
Allergy setting available, which is ideal for family members with sensitive skin or allergies
Pros
Perfect choice for larger families, at a lower price tag than you might be expecting
The allergy setting is a great plus point, as more and more children these days suffer from sensitivities
You will save energy and do your bit for the planet by using this product
Compact size, at just 85 x 60 x 60 cm, so the machine will fit into smaller spaces, without being bulky
Cons
Some users state that this is a particularly heavy machine, so not so easy to move around
Some users also state that the machine is quite noisy on the longer wash settings
Verdict
Overall, this Beko washing machine is a steal for the cost, and it has enough features to make it more than adequate for a large family household. The fact that you can easily fit 10 kg of washing inside is a plus point, as well as the fast wash, which does your cycle in just under 15 minutes. For a big-named brand at this price it's certainly worth putting up with a bit of noise when using the longer wash cycles!
>>> Read reviews and buy on AO.com <<<
2. Hotpoint Extra WMXTF742G
Who doesn't know about Hotpoint washing machines? This brand has been around since it seems like forever, and that should tell you a lot about their quality. This particular machine is well under the price limit, and looks the part too, with a modern graphite colour shade to compliment your kitchen or laundry room.
Features and specifications
A 7 kg washing capacity is just over average, which is ideal for the average amount of family washing
1400 rpm speed is fast, which means your washing is going to be done much quicker than some other similar products
16 different programmes on offer, so you are sure to find on to suit your needs
There is an anti-stain function, which targets common household stains, e.g. lemon juice and red wine
Energy efficient, with A+++ rating – you're doing your bit for the planet again!
Pros
A capacity of 7 kg is enough for the average family, without having to buy a larger washing machine, that will take up more space
There are a large amount of wash programmes on offer, including a quick wash option, so you can find the right one for your particular washing circumstances
The anti-stain programme gives you a better chance of removing pesky stains, without having to scrub and cross your fingers in hope!
Cons
Whilst 7 kg capacity is enough for the average family, if you do have a larger amount of people in your household, it may mean that you need to do more than one wash cycle (see these 9 kg or these 10 kg washing machines if you need something bigger)
Some users state that the machine is quite noisy, especially when it is filling up with water at the start
Verdict
Overall, this Hotpoint product is a great choice for average sized households, and offers lots of value for very little money. The appearance is very pleasing and the performance has helped it get lots of 4 and 5-star reviews.
>>> Read reviews and buy on Very.co.uk <<<
3. Hotpoint WMFUG742G Smart
This is another Hotpoint option which ticks many boxes, and is another product which is great for average sized households. Slightly more expensive than our previous option but still under £300, this washing machine is high quality and has several features which make your washing life much easier as a result.
Features and specifications
Drum capacity of 7 kg
Fast 1400rpm speed, which means you can have your washing clean and fresh fast
Quick wash programme which takes just half an hour
Available in two colour options – white or graphite
Energy efficiency rating of A++
Pros
Again, the 7 kg drum size is enough for an average sized family to do their washing
The fast wash programme means that if you need something quickly, you only have to wait half an hour
Both colour options are attractive, but the graphite choice is a very modern twist
Big named brand gives you confidence in your purchase
Cons
Again, 7 kg is enough for an average household, but if you are a large family, you may end up doing another cycle
This is an energy efficient choice, but it is only A++, whereas some other options are higher rated
Verdict
Hotpoint wins again here, with a very effective and highly efficient washing machine, for a much lower price than you might have anticipated. The fast washing time and slightly more than average drum capacity means that washing needs are met for the average household, and the machine certainly looks the part too.
>>> Read reviews and buy on Currys.co.uk <<<
4. Kenwood K714WM16
One of the top household brand names, Kenwood is a name you can trust. This particular washing machine is another low cost option for families who want to budget on their big purchases, and the machine is also packed with features to cover all bases.
Features and specifications
7 kg washing capacity, ideal for average families again
Fast 1400rpm wash speed, meaning you don't have to wait hours for your washing to be done
Quick wash function takes just 15 minutes to complete
Very energy efficient, with a A+++ rating
Available in a classy white colour which compliments every room
Pros
Fast wash programme means you only have to wait 15 minutes for your in demand washing to be done
Uses much less energy, which means you save cash on your utility bills
7 kg average drum size is enough if your family isn't particularly large
Lightweight machine, which can be moved with relative ease
Cons
Only available in a white shade, which may be troublesome to those who want more options in terms of appearance
Again, 7 kg is generally enough, but if you have a larger family you may struggle
Some users state that the machine can be noisy on longer wash programmes
Verdict
This Kenwood option is fantastic value for money, and comes with some very useful programmes to make use of. This machine is ideal for the average family sized household, and the classy white colour will compliment modern or traditional rooms. The fast wash programme is also a great go-to when you need washing fast!
>>> Read reviews and buy on Currys.co.uk <<<
Related posts