Dirty windows can make rooms and homes look dark, dingy and uninviting. A quick "pane and frame" clean is usually all that's needed to revive grotty windows.
So, what's the best way to clean windows? Read on to discover how to spruce up your windows!
Tips to Remember When Cleaning Windows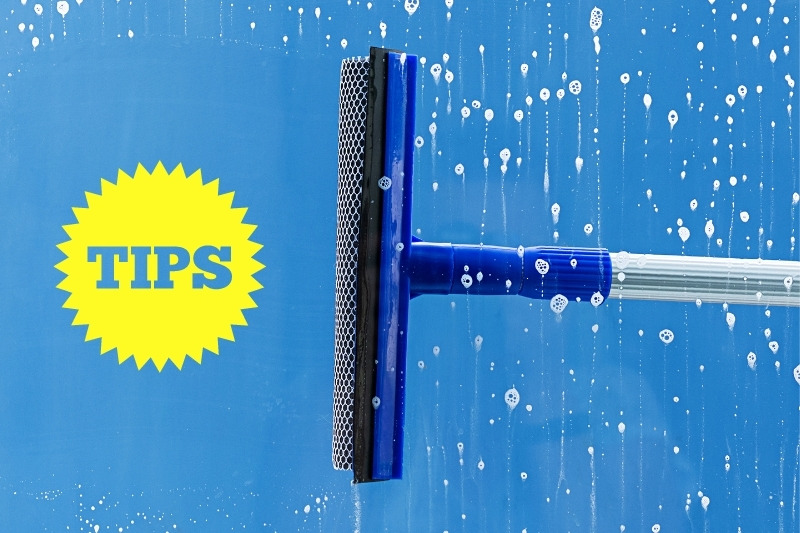 Here are a few tips that you should keep in mind when cleaning your windows:
Only clean windows on a cloudy day. Sunshine can hide dirty marks and smears on your window panes, and direct sunlight can dry out cleaning products.
You must be careful when cleaning windows, particularly windows that are high up. Make sure someone is around to help you (holding the ladder steady for you, for example), or call in a professional to do the job instead.
You need to have the right tools for the job. When you're trying to clean external windows that are high up, you need tools that can extend and reach up to clean the windows. Your indoor, handheld tools in this case won't work because they won't be long enough!
Don't be afraid to use plenty of cleaner. There'll likely be some really mucky patches on your panes that are going to need more work, so don't be afraid of using the cleaning solution to wipe away this grime.
Start from the top of the window and work towards the bottom of the window. This prevents dirt from smearing clean patches.
You don't have to clean all the windows at once, you can do a couple a day!
Don't worry if you can't clean your windows, there are professionals who can help you out.
You clean the outside of your windows in the same way as you clean the inside of your windows. Just take your time when cleaning the outside of your windows, and lay towels down when washing the inside of your windows to catch water droplets.
Where you live will impact how long you take to wash your windows. For example, if you live near the sea, you'll have a lot of salt to contend with. And if you live on a farm, your windows might be prone to collecting dust and mud. So, you might have to spend more time cleaning some windows.
Never use any abrasive cleaning pads or brushes (like wire ones) when washing glass or window frames. They'll scratch and likely cause irreparable damage.
What Do You Need to Clean Windows?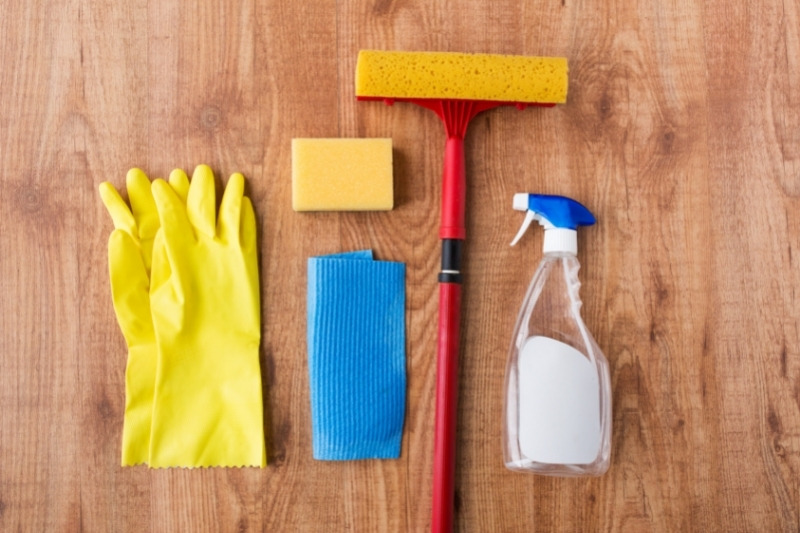 You will need to collect the following items before cleaning your windows:
Vacuum cleaner
Bucket
Water
Sponge
Newspaper
Window washer (T-shaped mop-looking tool)
Extending windows cleaner
Ladder
Steps
Towels
Toothbrush
How to Clean Windows
Follow the steps below to clean your windows (applicable for windows indoors and outdoors):
Step 1: Preparation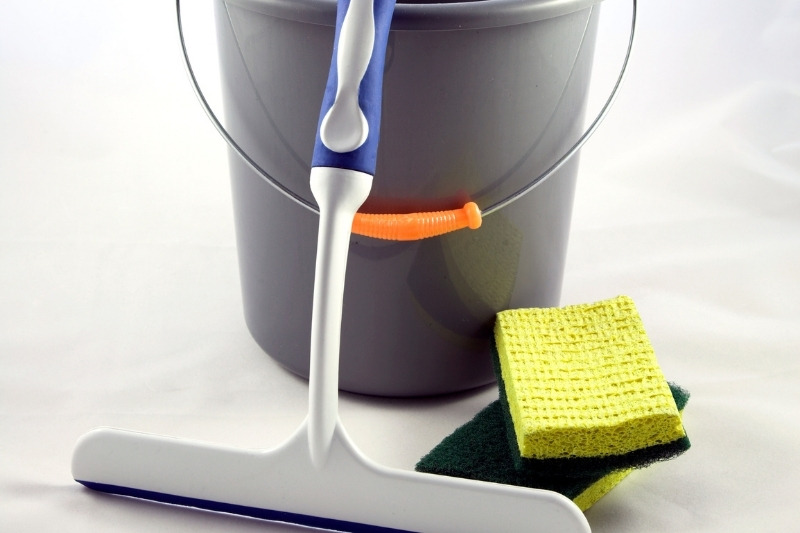 Remove any clutter from around your window – vases and ornaments, for example.
Remove the curtains and blinds from your window, if possible – you can wash these before you replace them.
Grab a hoover and start hoovering around the window, the frame and the windowsill – lots of dust, pollutants and dirt gather around this area.
Go and fill a bucket with warm water and add a few drops of washing up liquid to the water.
Make sure you don't get bubbles and foam forming in the water – start again if you do. Bubbles mean streaks, so avoid!
Step 2: Frame cleaning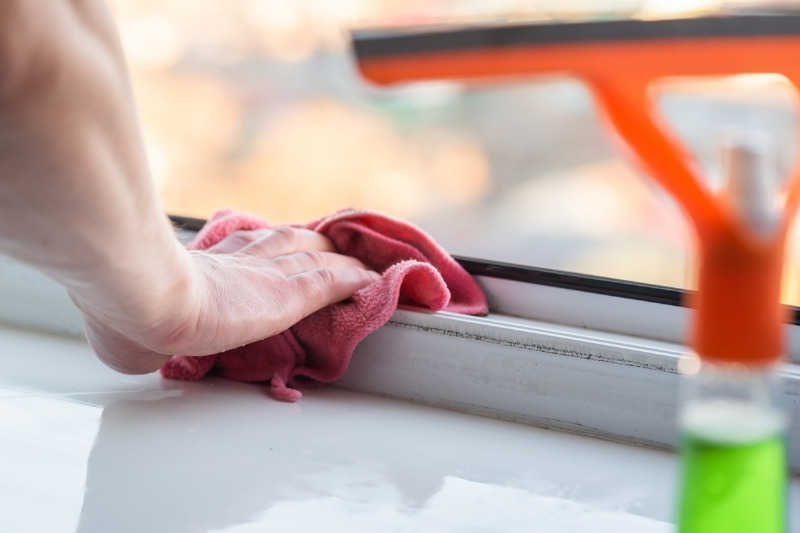 Pop a sponge into the bucket of warm water that's filled with some washing up liquid.
Remove the sponge and squeeze out excess water – you don't need to saturate the frames to clean them.
Start rubbing the frames around the window down.
Keep squeezing the sponge in the water to clean it throughout this process – removes frame-dirt from the sponge.
For outside windows, you can use a soft toothbrush to rub away any dried-on grime like bird poop or moss from the frames.
When you're done with the frames, pop the sponge back in the water.
Note: Never use any abrasive cleaning pads or brushes.
Step 3: Removing stickers off windows (optional)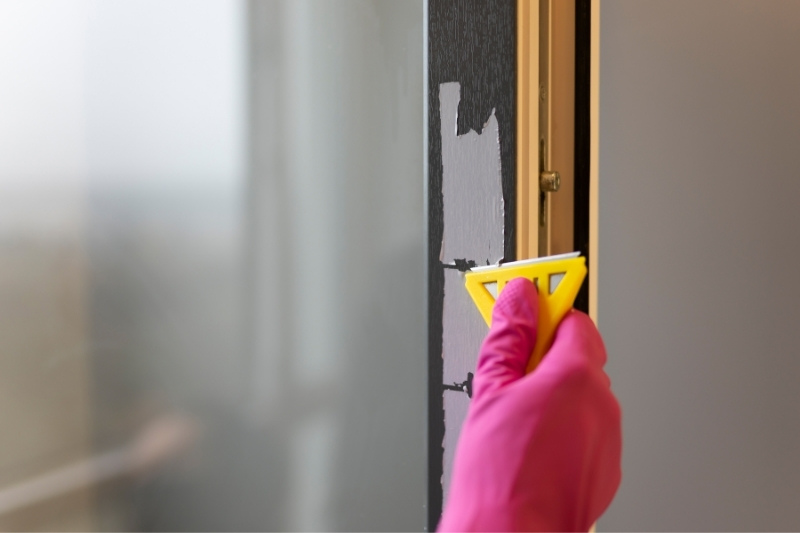 If there is a sticker on your window (most likely indoors) you should remove it before cleaning the window.
Try and peel the sticker off as best as you can.
If it doesn't come off, spray the sticker with warm water.
Wait a few minutes.
Use a plastic scraper to gently scrape the sticker off the pane – work at a 45℃ angle.
Wipe the window down with a microfibre cloth.
Step 4: Window cleaning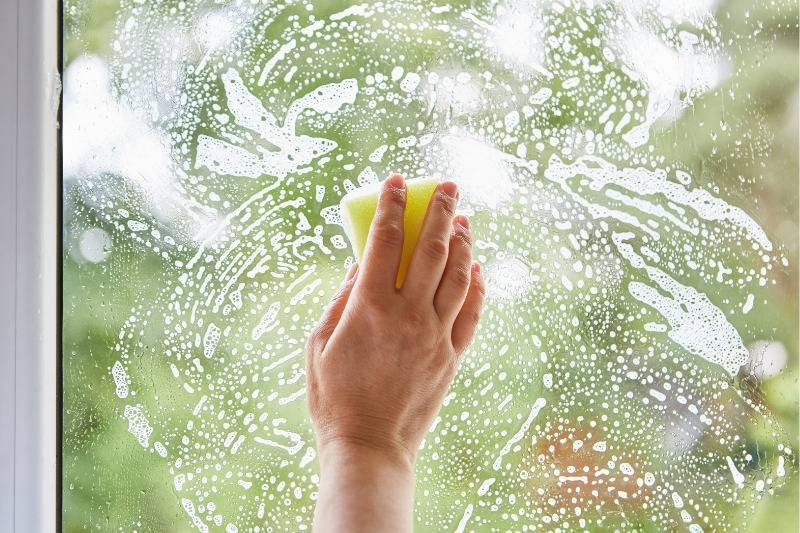 Pop the sponge/window washer tool (t-shaped handheld tool with a small mop at the end) in the bucket of water and washing up liquid, pull it out and wring out all the liquid – a sponge is ideal for small windows, a window washer is good for bigger jobs.
Rub the sponge/window washer all over the window pane.
Rub a little harder on dirty patches.
Continue to do this until you've covered the whole window pane.
Wrap a dry cloth around one of your fingers and drag your finger down the edge of the window – removes water from hard-to-reach places.
Grab your squeegee and sweep it across your window pane in an 'S' like motion – start at the top left-hand corner and work down.
Wipe the squeegee down regularly, so you remove excess dirt and fluid from it before starting a new sweep.
Repeat the squeegee-sweeping motion above until you get to the bottom of the window – try to overlap your sweeps so you pick up extra fluid.
Dry any stagnant water found at the very bottom of the window with a cloth – microfibre cloths work well.
Leave the window to dry naturally.
Mop up any water that's on the windowsill.
Note: For external window cleaning you will need to be extra careful. You can either use extending window cleaners to reach up high, or you'll need to get a professional window cleaner in to help you.
If you purchase your own cleaning kit you will get all the necessary tools, including a telescopic window cleaner that can extend up to almost 2.7min length, a squeegee head and a microfibre scrubber to help you clean your windows.
If you live in a flat, you should consider using magnetic window cleaners – you don't want to go dropping your squeegee all over the place.
Step 5: Buffing window panes to make them shine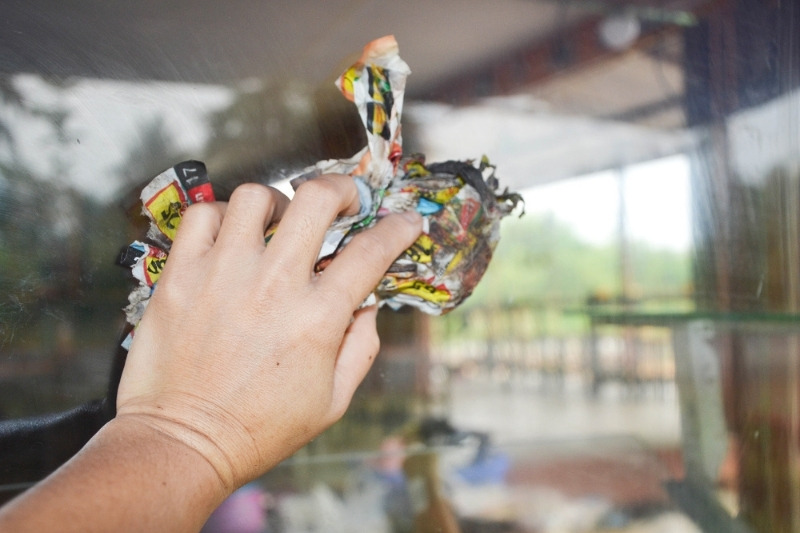 Scrunch up some newspaper and start rubbing it over the glass.
Work in a circular motion, followed by an up/down motion, and finishing with a left to right action.
Continue to do this until the glass looks shiny.
Note: For external windows this isn't essential. And it would be difficult for you to do this on windows that are not on ground floor level. So, it might be better to avoid trying this out.
Alternative Ways to Clean Windows
The above method is one of the simplest and cheapest ways to clean windows. That being said, it's not the method for everyone, so here are some alternative ways you can clean windows.
Using specialised products to clean windows
You don't have to follow the steps above; you can use a purpose made cleaner to clean your windows instead.
Using such a cleaner does save some time, however, cleaners often get mixed results, they can become costly to buy in the long run, and you still need to put some elbow grease into them to get the results you want.
To use a window cleaning product, read the instructions on the packaging, and use the item accordingly. You typically have to spray the solution on, and wipe the window down with a microfibre cloth.
Purpose made cleaners you should consider, include:
1. HG Window Cleaner

HG's Window Cleaner is ideal for indoors use, and its concentrated pH-neutral formula won't damage your frames and paint work either. This tough cleaner can cut through grease and grime to bring back a shine to your window panes.
You can also get a whopping 35 washes from a single bottle, and if you fancy cleaning your car's or conservatory's windows, you can also use this solution.
2. Mr Muscle Advanced Power Window and Glass Cleaner

If you're after a quick and easy cleaner to bring a touch of sparkle back to your windows, look not further than Mr Muscle's Advanced Power Window Cleaner. All you need to do to see dazzling results is spray the solution onto a surface and wipe it down with a cloth!
Results can be seen within minutes!
3. Astonish Trigger Window and Glass Cleaner

Astonish Window and Glass Cleaner is vegan friendly, cruelty-free and smells scrummy!
Cleaning windows is so simple when you use Astonish, you just spray and wipe the solution over the window! Plus, the eucalyptus and lemon scent masks the vinegar smell – vinegar is a key ingredient in this product and gives it its powerful cleaning edge.
Using specialised tools to clean windows
In addition to the above, you also have the option of buying cleaning tools to aid the cleaning process.
These tools are usually designed to suck up dirty water and grime that's been left behind on surfaces, after you've cleaned the area down with detergent and water.
They're normally handheld, so they're not overly massive, they can save some cleaning time, and can limit the mess you make. And they look a lot like a squeegee.
But they often come with a price tag, especially if you purchase a tool from a well-known brand that comes with a host of fancy attachments.
Before you commit to buying a tool of such nature, you need to ask yourself whether or not you will actually get the use out of it. For example, will you be cleaning your windows that much to warrant spending this amount of money, or could you get by with a standard squeegee and a bucket of soapy water.
Here are some tools you might like to look into:
1. Kärcher WV1 Window Vac

The Kärcher WV1 is a handheld, incredibly light, battery powered window vac that sucks water up off flat surfaces.
A fully charged battery can run for around 25 minutes, and in that time you should be able to clean about 70m2 of surface (45 windows).
And you're not just limited to windows, this tool can be used to clean multiple surfaces in your home, including mirrors, tiles and shower doors.
2. Tower T131001 Cordless Window Cleaner

The Tower Cordless Window Cleaner can run for 30 minutes, and in that time it can clear waste water from several different surfaces, including windows, so you get a glowing, streak-free finish.
It's lightweight, being only 1kg, it has a 150ml water tank, which is ample for window cleaning work, and it can be used outdoors.
3. Leifheit Dry & Clean Window Vacuum Cleaner Set

Leifheit's cordless Dry and Clean Window Vacuum Cleaner has a run time of about 38 minutes, and the tool can cleverly put itself into a standby mode when it's not in use.
Interestingly, it only activates its max suction power when it makes contact with a pane of glass, which helps to save energy and ensures streak-free finishes too.
The tool is also part of the Click-System family. So, you can buy additional cleaning tools, like different heads and extending poles, that can be clicked together to create bigger and better cleaning tools.
Professional window cleaners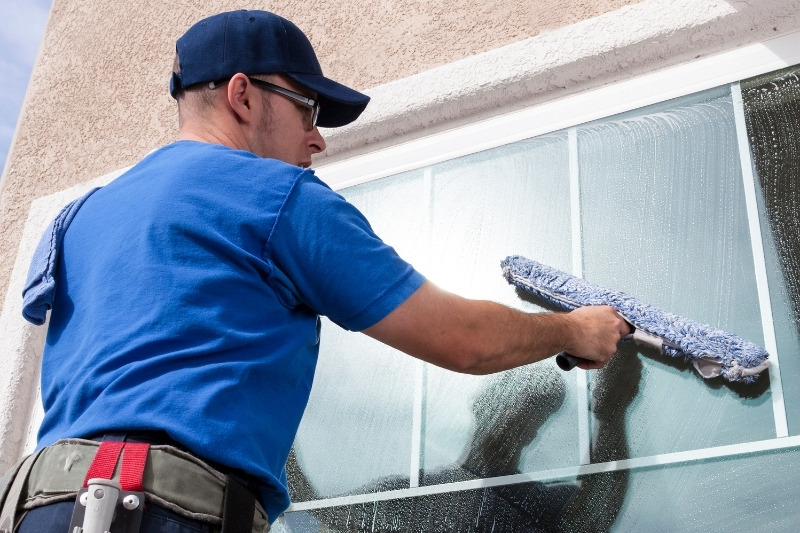 If you've given the methods above a try, but you're not happy with the end result or you can't reach a few windows, you should think about calling in a professional window cleaner to help you.
Professional window cleaners, in most cases, will turn up at your house with the necessary products and tools to take care of the job for you.
Their specialised equipment, like ladders and extending cleaning tools, will allow them to climb up, treat and clean your windows with ease. And it also makes the work a lot safer and less stressful for you.
Professional window cleaners can be found almost anywhere in the UK, and several cleaners are willing to travel to you. You can typically find a window cleaner near you by doing an online search.
It's usually better for you to pick a local person, so they can come out and give you a quote for the work beforehand.
Plus, by choosing a local window cleaner, you can ask neighbours and friends what the cleaner is like to work with and their pricing.
Keep in mind these points:
Ask questions, so you know exactly what's going on.
Do your research.
Find out the cost – see our guide to window cleaning prices to get an idea of what you should be paying.
Find out what you're paying for and what isn't included.
Ask if you need to do anything beforehand – move garden furniture, for example.
How Often Do You Need to Clean Windows?
At a minimum you should aim to clean your windows at least twice a year. And, if it's possible, you should try and clean them every 3 months. It goes without saying that the more you clean your windows, the less build-up of grime you'll have to contend with each time, so it'll be easier to clean your windows.
That being said, if you live in a particular environment, like near the coast, on a farm, near trees, or in a dustier area you might have to clean your windows more frequently. And not cleaning your windows in these circumstances may impact their performance and longevity.
Although there are, of course, people who go for years without cleaning their windows. So, it also comes down to ability, budget, time and desire to clean the windows.
How Do You Clean Windows with Vinegar?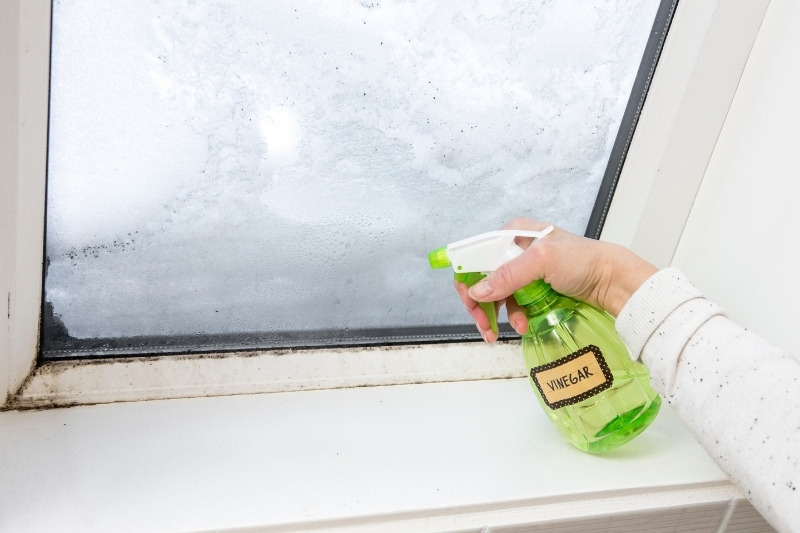 To clean your windows in a more natural way you can use white vinegar.
All you need to do is mix some vinegar in a spray bottle with warm water, and spray the solution onto the glass. Simply wipe the window down with a microfibre cloth, and buff the glass with some newspaper.
Always test out this method before using it to clean your windows.
How Do You Clean Windows with Lemon?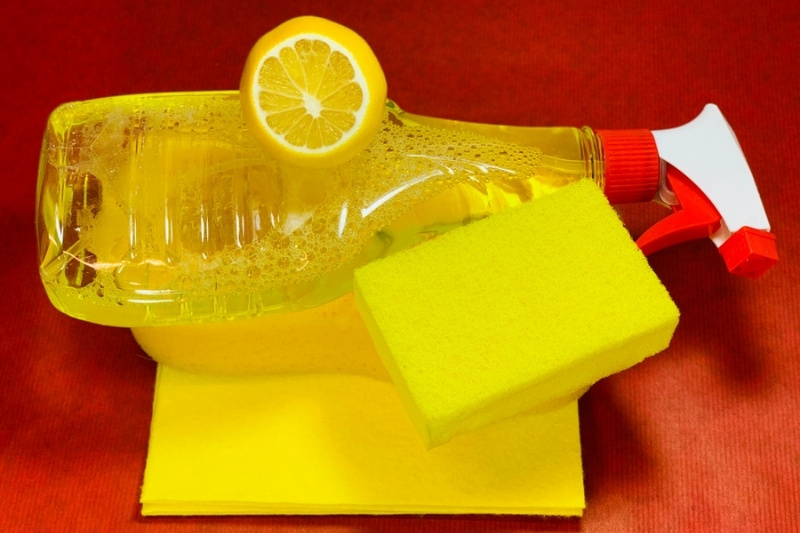 A lemon is a more fragrant alternative product to try out when cleaning windows.
One way to use a lemon to wash a window is to cut a whole lemon in half, remove the seeds, and rub the cut half of the lemon over each pane of glass.
Then you need to wipe each window down with a lint-free cloth. And finally, you buff the window with some scrunched up newspaper.
You might not find this method as cost effective as other alternative methods mentioned, especially if you've got a lot of windows to clean!
So, a second way to use a lemon is, squeeze a lemon's juice into a spray bottle and fill the rest of the bottle up with water. Simply spray the mixture onto the window, and wipe the panes with a cloth.
Always test out these methods before using them to clean your windows.
How Do You Clean Windows with Rubbing Alcohol?
If you'd like to clean your windows with rubbing alcohol, follow these steps.
Fill a bucket with 500 of distilled water and add a tablespoon of 70% volume rubbing alcohol to the liquid. Then grab a cloth, wring it out and start wiping the windows down.
For every 500 ml of water, add a tablespoon of rubbing alcohol.
Always test out this method before using it to clean your windows.
Can You Clean Windows with Toothpaste?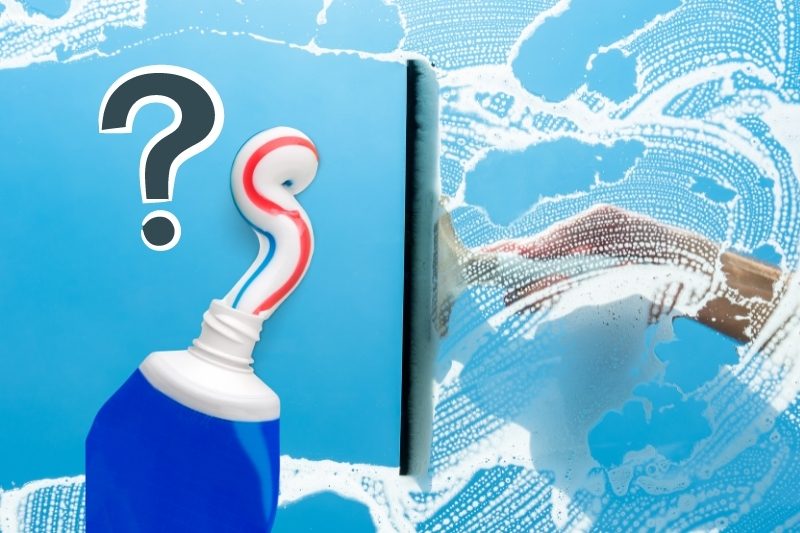 Yes, you can clean windows with toothpaste.
All you need to do is wipe the window down quickly, add a touch of toothpaste to a damp cloth, and massage the paste into the glass. You then need to remove excess toothpaste from the glass, and use a squeegee to remove any lasting bits of liquid.
See our full guide on how to use toothpaste to clean windows for more tips.
Why Shouldn't You Clean Windows on a Sunny Day?
It's better to avoid cleaning windows on hot sunny days because the glare from the sun can interfere with your cleaning process. Namely, you won't be able to see where you have and have not cleaned, and you'll probably leave several streaks behind on the glass.
In addition to this, heat can also dry products up quickly. So, if you spray a cleaner onto a warm window it might dry off before you get a chance to clean with it. This would defeat the object of you spraying the solution onto the surface in the first place.
Not to mention that it's quite wasteful, and you're likely to end up using far more product than you intended or needed to use.
Stick to cloudy days that aren't too hot.
How Do You Re-Whiten Window Frames?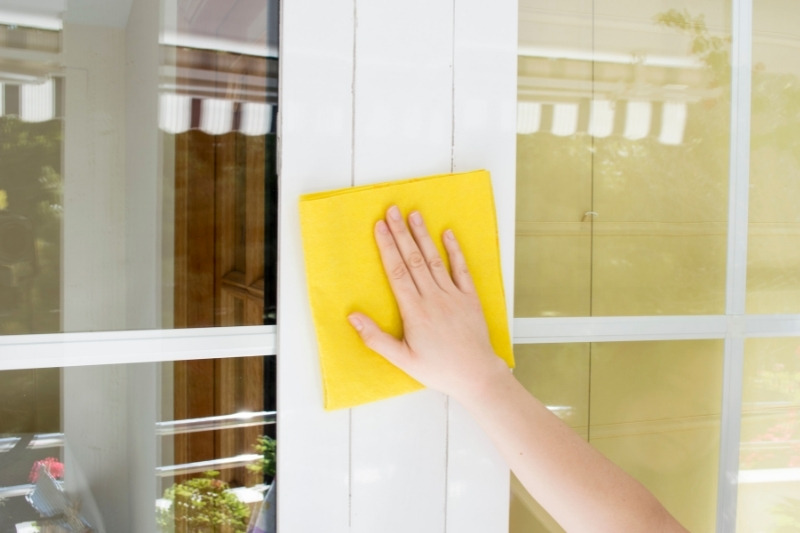 Sadly, there isn't really a quick fix to this problem. As uPVC is exposed to sunlight it starts to go a yellow-like colour over time. And considering you can't really stop the sun from getting to uPVC, you can't really avoid this issue.
All you can do is manage the appearance of the frames.
Clean the frames often. If you have uPVC window frames at home, use a uPVC cleaner to wash them down. This simple cleaning exercise may be able to dislodge a lot of caked on dirt, and once the grime is gone, your frames may look a lot better.
You can also try a household cleaner like Cif, but make sure that the cleaner you decide to use is bleach-free.
In addition to this, some people have claimed that toothpaste can revive greying windows
Baby wipes can sometimes be used to clean window frames, but this usually doesn't work out very cheap. And it has mixed results.
As a final resort, you could look into painting your window frames.
Never use bleach, or a bleach-based product to clean uPVC frames. This will likely cause irreparable damage. On that note, don't think about sanding your window frames down either.
Sanding window frames removes the protective layering that's on them, and this will also cause irreversible damage.

Bethan has a passion for exploring, reading, cooking and gardening! When she's not creating culinary delights for her family, she's concocting potions to keep her house clean!