Shaving foam or cream, the substance used to soften hair ready for shaving, actually has many more uses than you might think!
Shaving cream/foam is also an excellent cleaner, and can be used to de-grime multiple items in a home.
Find out what shaving foam/cream can really wash below, and discover how to use this unconventional cleaner during your cleaning activities too!
What Makes Shaving Foam a Good Cleaner?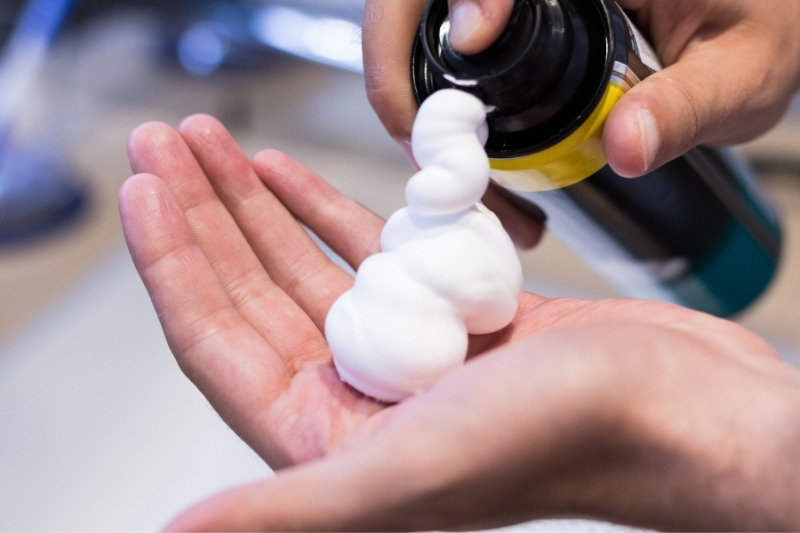 Find out what makes shaving foam/cream an epic cleaner that you need to try out today, below:
Shaving foam/cream doesn't contain strong chemicals.
Shaving cream/foam has been dermatologically tested. It's safe for skin, and therefore, shouldn't be too harsh on various surfaces around a home for this reason. But always do a patch test to make sure.
Shaving foam/creams typically contain stearic acid and triethanolamine. When put together they work to help remove grime and degrease surfaces.
It's not expensive, and it can cost a lot less than some other high street specialised cleaners.
It's a not-so-messy type of cleaner when it's used correctly. You can generally keep the foam/cream in one place, and it doesn't run onto other surfaces when you're cleaning.
It's relatively easy to come by and is sold in supermarkets.
One can of shaving foam/cream can go a long way.
Shaving foam/cream lathers up. This helps it work its way into the fibres of different materials and draw out the dirt.
Find out what you can clean with shaving foam/cream below.
What Can You Clean with Shaving Foam?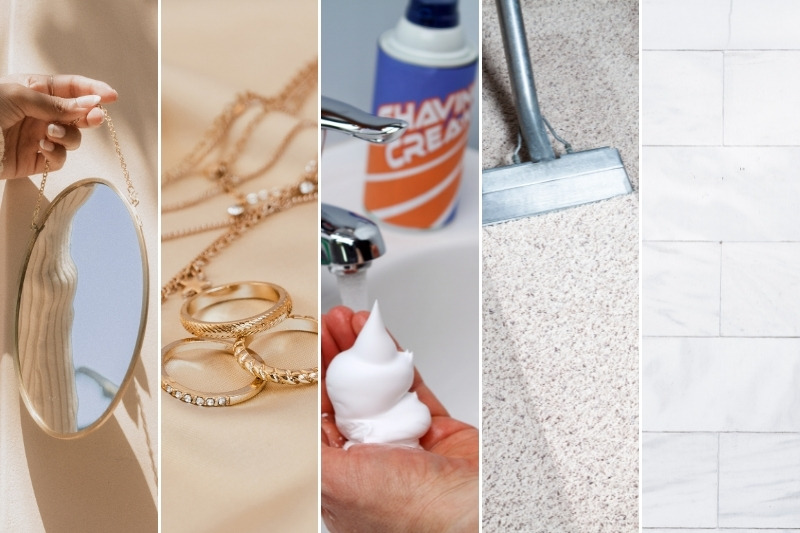 Shaving foam/cream can clean so many different items and surfaces in a home that it would be impossible to list everything! So, here are a few ideas to tickle your taste buds:
Upholstery
Glass and mirror
Stainless steel
Jewellery
Ovens and hobs
Carpets
Tiles and grout
When Shouldn't You Use Shaving Foam/Cream?
Shaving foam/cream is quite a harmless product, and if you get it on your skin, clothes or carpet, for example, it can be cleaned away with ease, and will leave no to minimal damage.
However, there is a time when shaving foam or cream might be somewhat troubling, and that's when you pop it onto your car's paintwork.
Dried foam/cream, that's spread across a car's body work, can sometimes cause the paint to discolour.
So, if you're going to be using shaving foam/cream near, or in your car, keep any eye out for foam/cream splatters, so you can clean them off immediately.
Clean shaving foam/cream off your car with a warm damp cloth before it sticks to the paintwork.
How to Use Shaving Foam/Cream to Clean Items at Home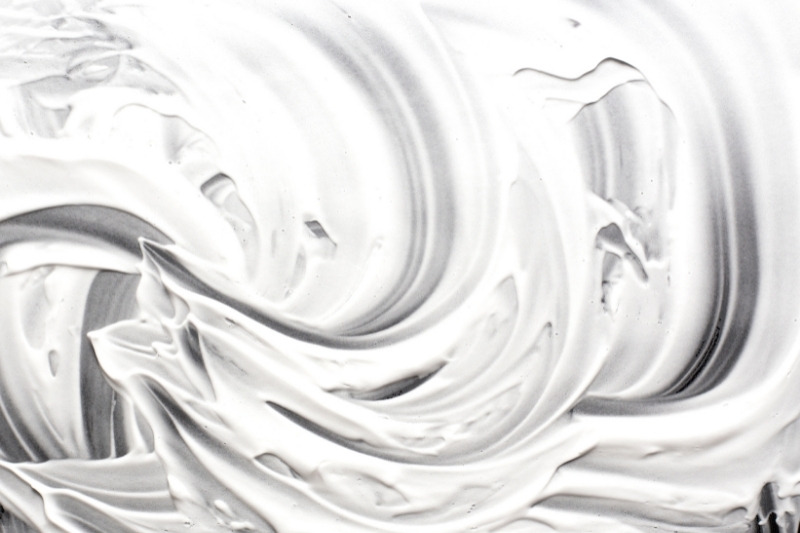 As you might've guessed there are so many ways you can use shaving foam and cream to clean various spots, and bits and pieces around your home. Here's a guide on how to use shaving foam/cream to clean the most popular spaces and items:
Clean upholstery with shaving foam
If you've got a fabric sofa that needs a little TLC, shaving foam will come to its rescue!
Simply spread a tiny amount of shaving foam onto a discreet patch of sofa to perform a patch test, and keep an eye on what happens. If you don't see any side effects, you can treat the rest of your sofa with shaving foam.
To clean your fabric furniture with shaving foam just spread an even layer of white shaving foam over the item, then massage the foam into the material with a clean cloth. Leave the shaving foam to sit on the sofa for around 15 to 20 minutes.
Once this period of time has passed, remove the shaving foam with a new damp clean cloth. And leave the item to dry naturally.
If you still see dirty patches, you can repeat the above process.
Tip: Always use a white cloth when cleaning because you can see the dirt coming off the furniture, and there's less risk of a colour transfer mishap!
Clean shower doors with shaving foam/cream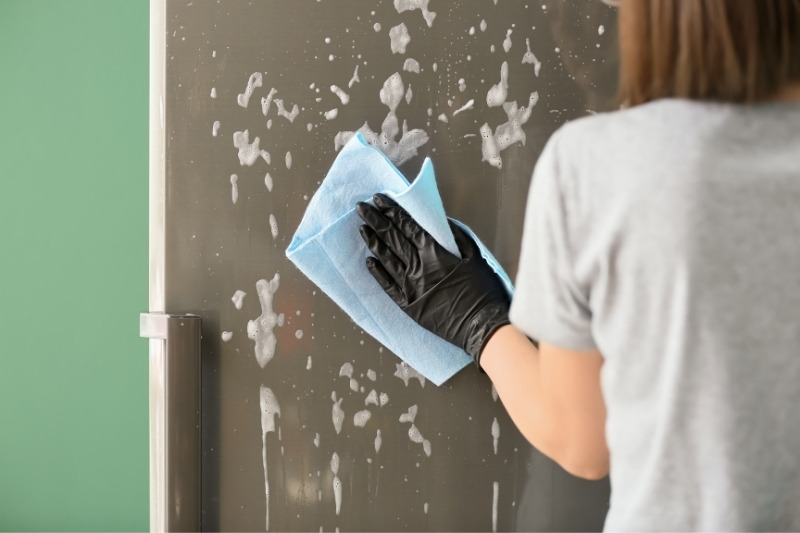 Shower doors can be plagued with lots of general grime and water marks, but lucky for you it's easy to get rid of this dirt with some shaving foam/cream.
All you need to do is massage some shaving foam onto the glass door. You can either use your hands to do this or you can use a cloth.
Then you just need to use a soft toothbrush to work off any stuck-on dirt around the corners/bottom of the door.
And once you're done cleaning, you just need to rinse the shower door down with some warm water. As an additional step, you could use a squeegee to remove any water marks off the door!
Clean stainless steel with shaving foam/cream
To add some shine to your stainless-steel items, simply clean them with shaving cream.
Grab a clean cloth and squirt a generous amount of shaving cream onto it, then grab your stainless-steel item and start rubbing the cream into it. Gently massage the cream into the surface and then use a clean, damp cloth to remove the shaving cream residue off the surface.
If the item is moveable and small you might be able to rinse the shaving cream off with water from the tap.
Depending on the size of the stainless-steel item you're cleaning, you should adjust how much shaving cream you use.
Clean jewellery with shaving foam
If you've got some jewellery at home that's lost its sparkle, a touch of shaving foam can help to revive your gems!
Just squirt some shaving foam directly into your hand, add a piece of jewellery to your hand and massage it clean. When you're done, just wipe away or rinse the excess shaving foam off.
Clean mirrors and taps with shaving foam/cream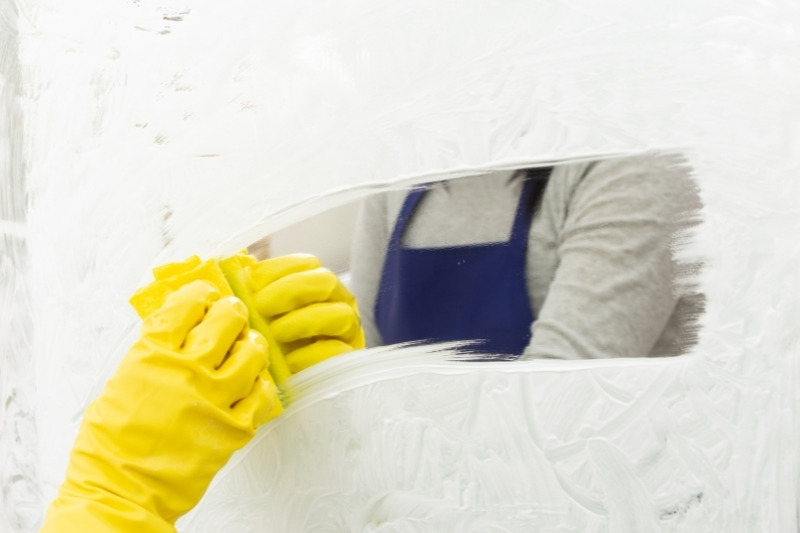 Mirrors have a funny way of collecting dirt and steaming up. And the end result of this is usually a not-so-sparkly mirror that looks grotty at the edges.
Interestingly, you don't need specialised tools and gadgets to clean mirrors, a bit of shaving foam will do the trick!
Pop a blob or two of shaving cream onto your fingers and start massaging the cream in a circular motion onto your mirror. Continue to add and apply more shaving foam to the mirror's surfaces until it is covered.
When the entire area has been caked in shaving foam, wait a minute or two, then you can grab a damp towel and start to remove the shaving foam from the mirror's surface. Continue to do this until all the foam has been removed.
As an additional step, you could use a squeegee to remove smears off the mirror, so you end up with an extra glowing, streak-free finish.
You can apply the steps above to cleaning taps too – just leave out the squeegee part.
Clean a glass hob with shaving foam
If you've got a build-up of food and oil on your glass hob, it's probably looking a little worse for wear.
To revive it, just spread some shaving foam over the entire surface, massage it in, then wait 15 minutes. Once the time is up, start to remove the dried shaving foam with a damp cloth.
You will likely need to repeat this process multiple times to pick up all the excess shaving foam and grime that's been broken down.
You can buff the glass surface with a clean cloth once you're done to make it extra sparkly!
Clean oven door glass with shaving foam
Oven door glass becomes very greasy and discoloured with time and use, yet, the glass can be cleaned with ease – just use some shaving foam to transform the glass!
When the oven is off and is cold, spread an even layer of shaving foam onto the entire glass surface. Leave the foam to rest on the glass for a few minutes. Then remove the excess foam with a warm damp cloth.
Just make sure that all the shaving foam has been collected before you use the oven again.
Clean away carpet and mattress stains with shaving foam/cream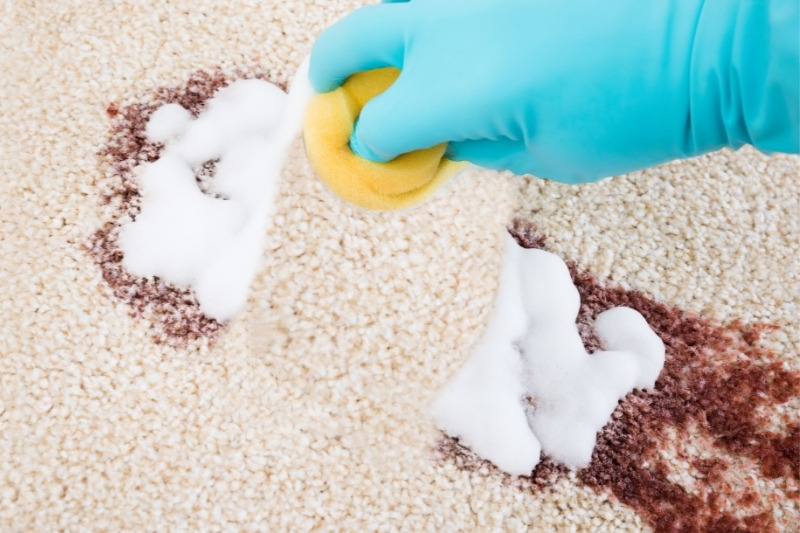 If you've got a carpet or a mattress with a stain on it, it might be tempting to go out to buy a specialised cleaner for the job. But actually, there's a cheaper and quicker option, if you've got a can of shaving foam at home.
To get rid of stains on carpets and mattresses using shaving foam, just spread a generous amount of foam/cream over the affected area.
Work the shaving foam into the stain by massaging it with a warm cloth or a very soft toothbrush. Start from the sides of the stain and work towards its centre.
Wait 10 minutes, and then blot at the treated area with a dry cloth.
It's better to use a neutral-coloured cloth because the dye from a coloured cloth might transfer onto a carpet/mattress.
You need to leave the carpet or mattress to air dry before walking or sleeping over/in it again.
Drawbacks of Using Shaving Foam/Cream for Cleaning
Shaving foam/cream is super easy to get hold of, it's pretty harmless and it doesn't cost a packet to buy. Nonetheless, it does have a few drawbacks, namely:
It smells – The product does have a certain odour, and this scent does linger around for some time. So, if the smell doesn't appeal to you this product might not be the best option for you.
You might not already have some – If you don't actually have a can of foam at home, you'll have to go out and buy some, and this might not be convenient for you. There are, of course, other ways you can clean items in your home, and you might have the necessary ingredients in your house as well.
Can You Use Shaving Gel to Clean Items at Home?
Shaving gel isn't likely to give you the same results as shaving foam/cream, mainly because it has a different consistency.
Shaving foam/cream is generally much lighter, can be washed away very quickly, it's less dense and more airy, and is usually white in colour.
Shaving gel, on the other hand, contains more lubricants (so the razor can glide across skin easier), is thicker, often has a blue hue and doesn't wipe off as easily.
If you were to put shaving gel onto a piece of furniture, for example, you might not be able to remove the substance as effectively from the surface because of its more lubricative nature, and you might discolour the material in the process.
Putting Shaving Cream on a Broom?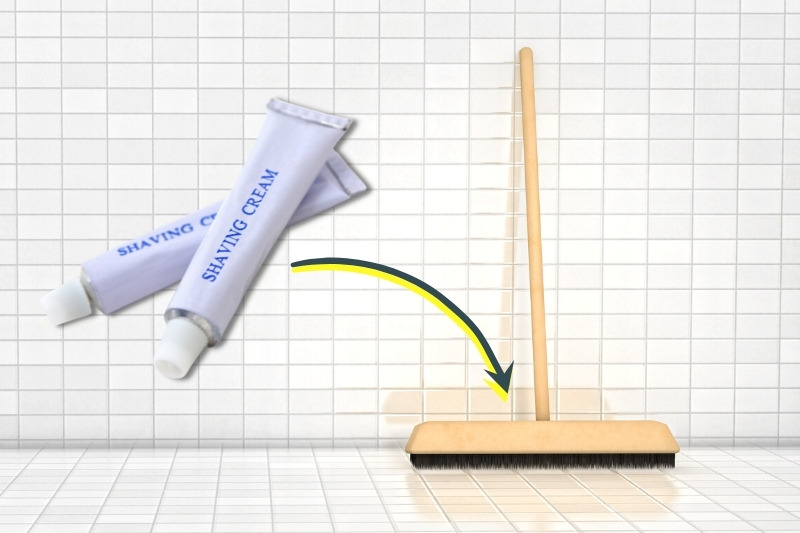 If you add shaving cream to the head of a broom, you'll be able to sweep and spread a lot of shaving cream over a large surface in one go.
It can be particularly helpful when you want to clean a vast area, and a regular sized cloth would just slow your cleaning process down!
For example, if you wanted to clean a bathroom floor you could try this method.
Remove items and mats off the bathroom floor.
Spread shaving cream along the head of the broom.
Start sweeping the floor (paying attention to very dirty spots – under the sink and around the toilet).
Allow the cream to rest for about 10 minutes.
Use a clean, damp mop that's been soaked in warm water to remove the shaving cream off the floor.
Allow the floor to dry naturally.
Note: You might have to go around cleaning shaving cream from hard-to-reach spots, but it's a relatively cheap and simple way to clean a floor.

Bethan has a passion for exploring, reading, cooking and gardening! When she's not creating culinary delights for her family, she's concocting potions to keep her house clean!