Fake tan is brilliant at giving us that natural glow year-round, making us look healthy and golden.
However, fake tan doesn't only bronze our skin, it can also stain our toilet seats! As toilets are typically white, the staining can look unsightly and severe.
If you're dealing with a fake tan stain on your toilet, don't panic! You can easily remove these unattractive stains from your bathroom, so your toilet can look equally as good as you!
Keep reading to learn all there is about how to get fake tan off a toilet seat and hacks to ensure you stay safe when handling harsh cleaning products.
There are a few options for cleaning away the mess when dealing with fake tan stains. Most of the things you need are everyday household items you probably have already!
Here a some methods to bust away those stains.
1. Bicarbonate of Soda and Vinegar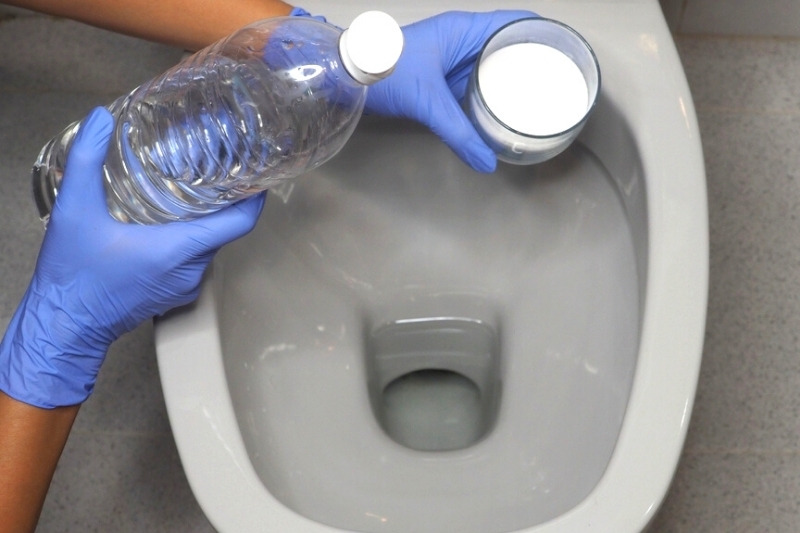 Bicarbonate of soda and vinegar is a well-known DIY cleaning solution you can use on a range of home surfaces.
Bicarbonate of soda (aka baking soda) is an alkali substance, while vinegar is highly acidic. When combined, the two undergo a fizzy chemical reaction that releases carbon dioxide gas. The agitation from the fizz leaves the surface beneath shiny and clean.
According to The Express, many people swear by the baking soda-vinegar combination for cleaning toilet seats.
To use vinegar and bicarbonate of soda to clean away fake tan, follow the below steps:
Mix a tablespoon of bicarbonate of soda with enough white vinegar to form a paste
Apply this paste to the stained area and leave it for 10 to 30 minutes
Scrub the toilet seat using a bristle brush to work the paste into the surface
Take a damp cloth and wipe away the remaining paste and fake tan stains
Repeat the process as necessary for more stubborn stains
If you don't have vinegar to hand, another option is to mix bicarbonate of soda with lemon juice.
Like vinegar, lemon juice is acidic and undergoes a similar chemical reaction. It also has a delicious citrus scent you might prefer!
2. Bleach Solution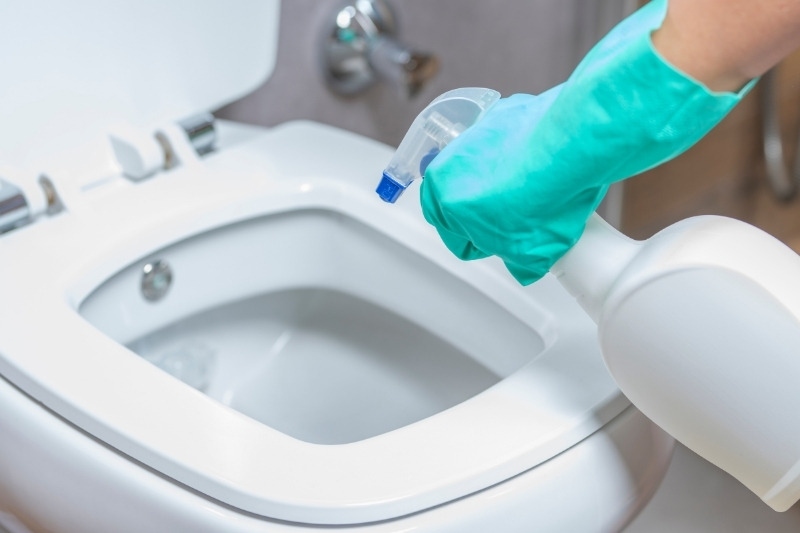 Good Housekeeping recommends that fake tanners use bleach to get fake tan out of clothes, but bleach can also be used to clean toilets.
Bleach is harsher than standard cleaning products, so it is fantastic at wiping away stubborn stains, such as fake tan.
To use bleach as a toilet seat cleaner, follow these steps:
Create a bleach solution in a spray bottle by mixing bleach with water (check the recommended dilutions on your bottle of bleach)
Screw on the lid and give a gentle shake to mix the contents together
Spray the bleach solution on the toilet seat and use a brush to work in the cleaning solution
Wipe the toilet seat clean using a damp cloth and repeat as necessary.
While bleach is an effective method for removing fake tan stains, the harshness of the chemical makes it hazardous. If you're not careful, bleach can damage your skin and eyes!
Ensure you open the window to improve ventilation and wear gloves to protect your hands. Bleach can also damage your toilet if misused, so don't leave the solution to soak for longer than 10 minutes.

3. Rubbing Alcohol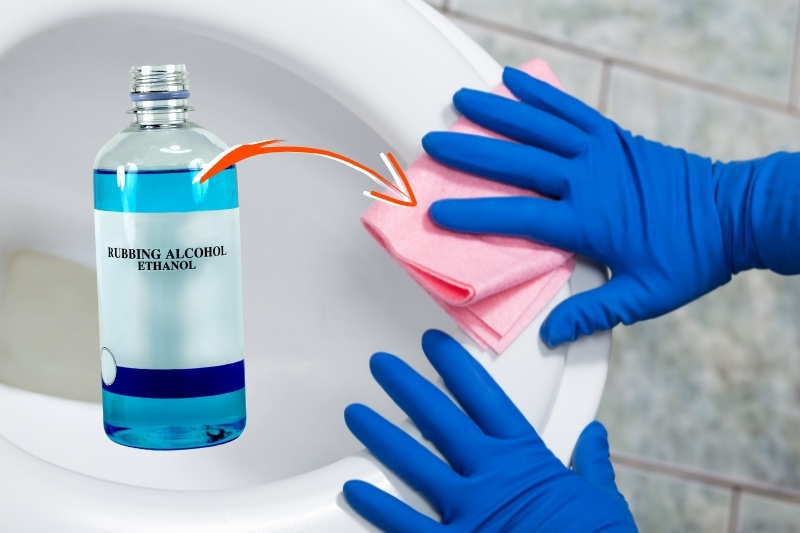 Your third option is to use rubbing alcohol to get fake tan off your toilet seat. Rubbing alcohol is a strong cleaning product frequently used to bust tough stains, making it the perfect solution for fake tan mishaps. It is relatively affordable and available to purchase in the UK.
Like bleach, rubbing alcohol is generally diluted before it is used as a toilet cleaning product. Here are the steps to follow when using this substance to remove toilet seat stains:
Combine 500 ml of rubbing alcohol with ½ tsp of washing-up liquid and 100 ml of ammonia
Add this mixture to 3.5 litres of water and pour the cleaning solution into spray bottles
Spray the cleaning solution on your toilet seat and rub in circular motions using a cloth
Take another clean damp cloth and wipe your toilet seat. The stains should lift instantly!
You can also use rubbing alcohol directly on fake tan stains for more precise cleaning. Make sure you clean the toilet before dabbing a little alcohol on the stains using a cloth.
If using this method, ensure you never mix rubbing alcohol with bleach. Although both are effective cleaners, the two are highly dangerous in combination. When mixed together, they create a substance called chloroform, which is highly toxic and can damage your lungs, eyes, and liver.

Hannah is a freelance content writer with a passion for cleaning. She worked her way around Australia by cleaning hostels in exchange for free accommodation and used her cleaning skills to bag her a job as a chalet host for a luxury ski company in France.