Unlike a smooth ceramic hob, metal hob burners are seemingly the perfect shape for dirt to get trapped in.
If your aluminium cooker rings have lost their shine under layers of burnt food and oil residue, try these tips.
Method 1: Soak With a Dishwasher Tablet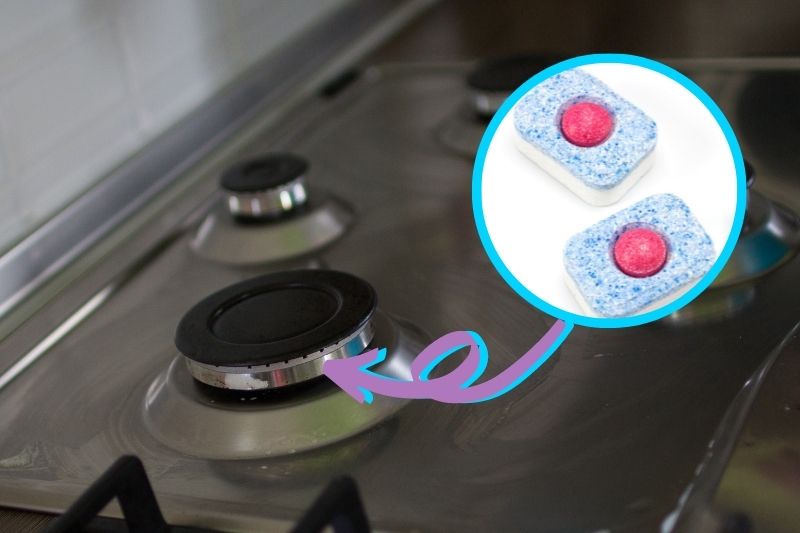 Fill a basin with around three inches of hot water and break up a bio dishwasher tablet, mixing it into the water.
Soak your aluminium cooker rings in this solution for 20 minutes.
Next, use a scouring sponge or microfibre cloth to rub the dirt off.
Then, use a wire brush to gently get into the nooks of the rings – try to avoid scratching them.
Finally, rinse off the rings with cool water and dry them off.
The above method seems to garner the best results for aluminium cooker rings, which naturally tarnish as they are heated over time – making it difficult to get them looking 'good as new'. For a better shine, you can also polish your cooker rings after cleaning them.
In the rest of this article, I'll cook up some other cleaning methods to try when you're faced with blackened aluminium cooker rings. I'll also serve up some polishing methods and season the article with a few cleaning product recommendations.
Method 2: Commercial Degreasing Products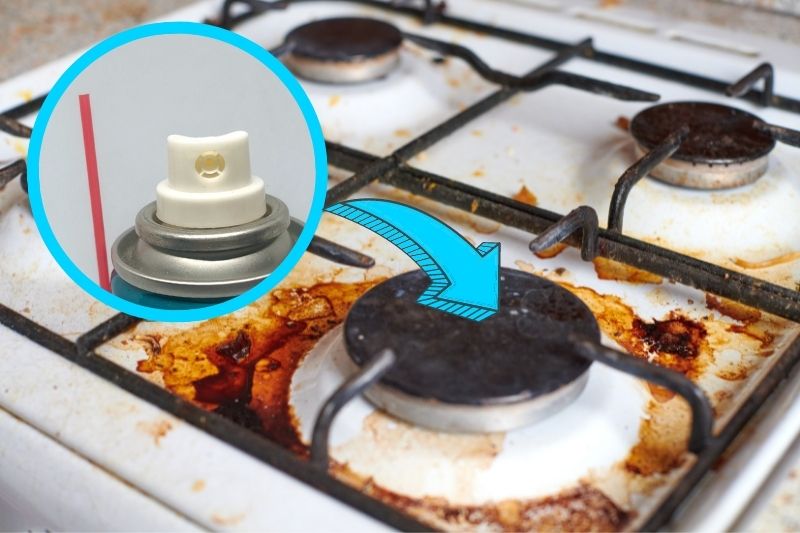 If your cooker rings aren't in bad shape, pick up a commercial cleaning product and a sponge or microfibre cloth. With a bit of elbow grease, you can remove blackened food and greasy residue without following numerous steps.
Here are a few aluminium cooker ring cleaners with a good reputation!
Inspired Heavy Duty Degreaser
It's surprisingly hard to find hob cleaners that are suitable for traditional metal cooker rings, but Inspired's product fills that gap in the market.
Its degreasing spray slices through grease, protein, and fat deposits, without requiring much effort on your part. Use a soft sponge or a microfibre cloth to rub this degreaser into your aluminium cooker rings, then rinse off the rings with cool water.
Reviewers are full of praise for this product, happy with its effectiveness and ease of use. Customers also love its versatility, claiming that they use this spray on greasy surfaces throughout their kitchen.
However, some customers felt that this spray was overpriced and no better than supermarket own-brand products.
You can check out Inspired's current price and reviews here.
HG Grease Away Cleaner
It feels like HG has a product for every type of cleaning niche, and aluminium cooker rings haven't been forgotten about!
Marketed as a simple and safe cleaner for aluminium surfaces; using this cleaner is as easy as spraying it, waiting a few seconds, and then wiping the grease away with a cloth.
Most customers mention this HG cleaner melting away all forms of kitchen grease, from thin layers to thick, hardened-on grease.
Other customers complain that the solution is too watery and doesn't dissolve anything.
Try out this HG degreaser here.
Elbow Grease All Purpose Degreaser Spray
Looking for a cheap alternative to the fancy degreasing sprays? This multipurpose degreasing spray has consistently cost £1 since entering the market ten years ago.
Customers tend to love its dissolving power, calling it a cleaning cupboard staple and marvelling at its low price.
Conversely, other customers feel that tap water would have done a better cleaning job.
At such a low price, I'd say it's worth trying this on your aluminium cooker rings. Check it out here.
Method 3: Soak Your Cooker Rings in Hot Soapy Water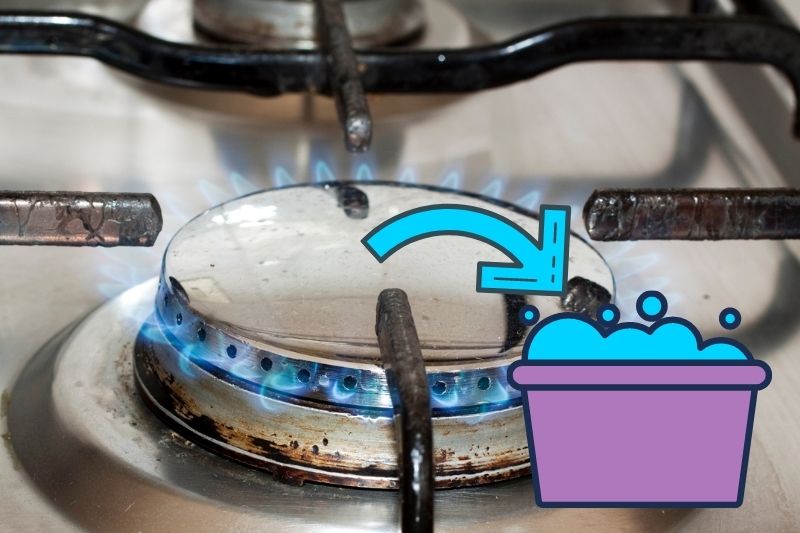 This method is similar to the first, except you can substitute a bio dishwashing tablet with some regular washing up liquid.
A bio tablet solution should provide a more thorough clean, but diluted washing up liquid will work on less filthy rings.
Fill a basin with around three inches of hot water and mix in a couple of dashes of washing up liquid.
Soak your aluminium rings in the soapy water for 20 minutes.
Scrub your rings with a sponge or microfibre cloth to remove grease and stains.
Use a wire brush to clean the crannies. Try not to scratch the metal!
Rinse off the rings with cool, clean water and ensure they're dry before replacing them.
Method 4: Make a Paste with Bicarbonate of Soda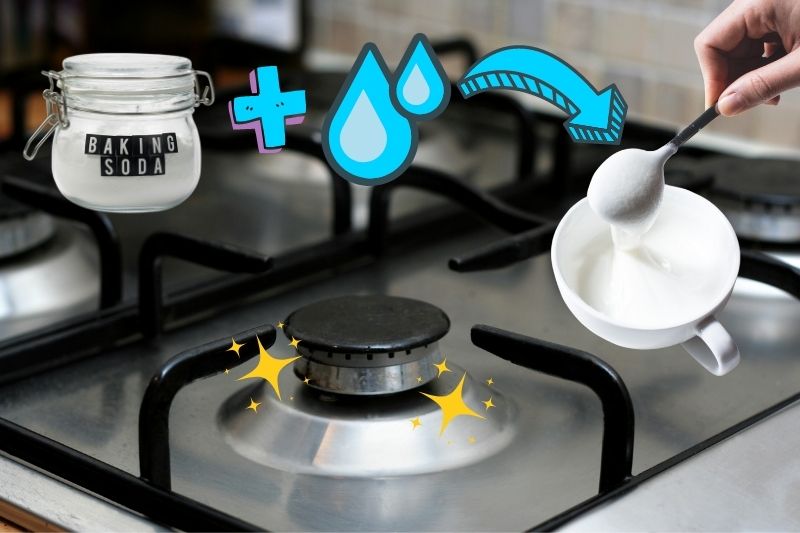 You can clean burn marks on aluminium rings with a homemade paste that's half water and half bicarbonate of soda.
Mix equal parts hot water and bicarbonate of soda in a small bowl.
Apply the paste to your cooker rings.
Let the paste sit on your rings for a few minutes, working its way into the dirt.
Rub any marks on the aluminium with a sponge or microfibre cloth until they're gone.
Rinse the rings off with cool, clear water, and dry your rings properly before putting them back on the hob.
Can You Clean Aluminium Cooker Rings in the Dishwasher?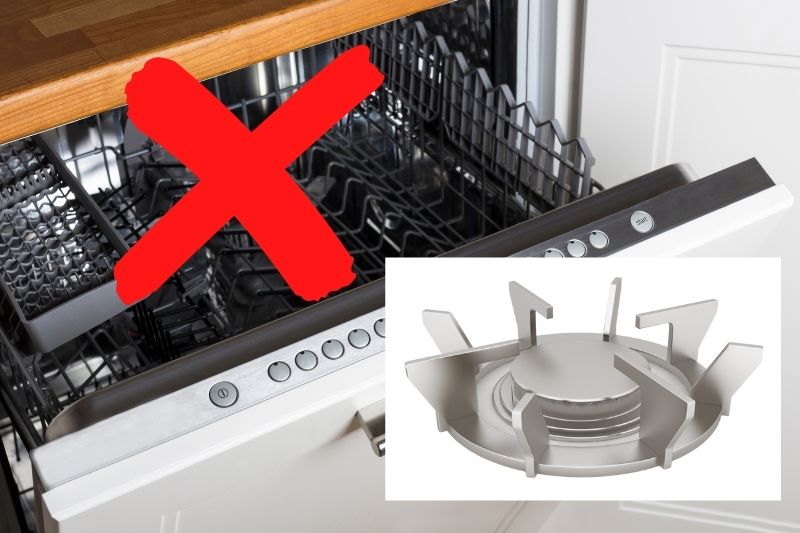 No, you shouldn't clean aluminium cooker rings in the dishwasher. Ensure that they avoid the dishwasher at all costs—it'll tarnish the aluminium, leaving your cooker rings a dull matte grey.
Polishing Tips for Aluminium Cooker Rings
A general clean will remove dirt, but it might not give your aluminium rings that coveted sparkle. Try polishing your cooker rings to give your hob a mesmerising shimmer.
Use aluminium polish
You can use aluminium polish on cooker rings, but you need to be careful not to ingest any food that touches the rings afterwards. Aluminium polish can be fatal if swallowed, and residue will remain even after rinsing your cooker rings.
Apply the aluminium polish to a soft cloth, then gently rub it into your cooker rings.
Rinse off the cooker rings with clear water.
Buff the rings with a dry microfibre cloth.
Make a cream of tartar paste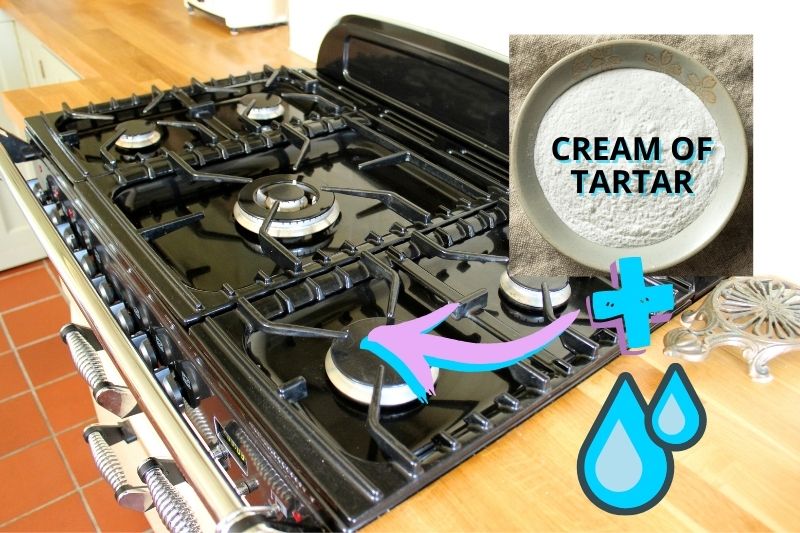 Mix yourself a less dangerous homemade aluminium polish by combining cream of tartar and water.
Make a half and half mixture with warm water and cream of tartar in a small bowl.
Gently work the paste onto your cooker rings with a soft cloth and leave it for a few minutes.
Thoroughly rinse the paste off your cooker rings with clean water, then dry them completely.
Buff your aluminium rings with a clean microfibre cloth.
Polishing scratched aluminium cooker rings
If your cooker rings are heavily blackened, you might need to seriously scrub them with a wire brush to remove the grime.
Sadly, this will probably scratch your aluminium rings, dulling the metal. To counter the effects of this, you can try polishing your cooker rings after you clean them.
The professional cleaners on this forum recommend using fine grit wet and dry sandpaper to smooth out scratches on aluminium rings after heavy scrubbing.
If you're polishing with sandpaper, it's important that you use a fine grade; 400 grit is recommended.
Conclusion
Aluminium cooker rings can be cleaned and polished in various ways.
You can use a commercial degreaser to remove cooking grime or soak your blackened aluminium rings in a bio dishwasher tablet solution for a heavier clean. Soaking cooker rings in a washing up liquid solution will also work to remove grease.
Just keep aluminium cooker rings out of the dishwasher unless you want dull grey metal!
Your cooker rings can be polished using aluminium polish or a cream of tartar paste, and scratched rings can be smoothed out with fine grit sandpaper.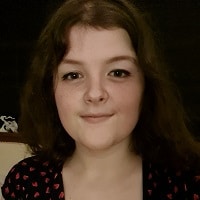 A recent uni graduate who likes writing, gaming, and drawing. I'm figuring out housekeeping tips alongside you while trying to provide eco-friendly cleaning options. Let's find out how to use a tumble dryer together!