Without proper care, enamel baths can easily end up looking and feeling less than fresh.
Water staining and soap scum might suggest that your tub is well-loved, but it certainly doesn't create an environment that you'll really relax in.
With a little everyday care and regular cleaning, you can have your enamel bath looking showroom fresh in no time!
Top Enamel Bath Cleaning Tips
Before getting started, here are five top tips that you should always abide by to protect your precious tub from damage, and make the chore easier next time:
Always test new cleaning methods on a small area first
Work from one end of the bath to the other, and leave things like taps until last
Only use a scourer if safe to do so – try it on a small area first before you commit!
Be sure to thoroughly rinse away any chemicals or leftover residue after cleaning
Make rinsing the bath after use a habit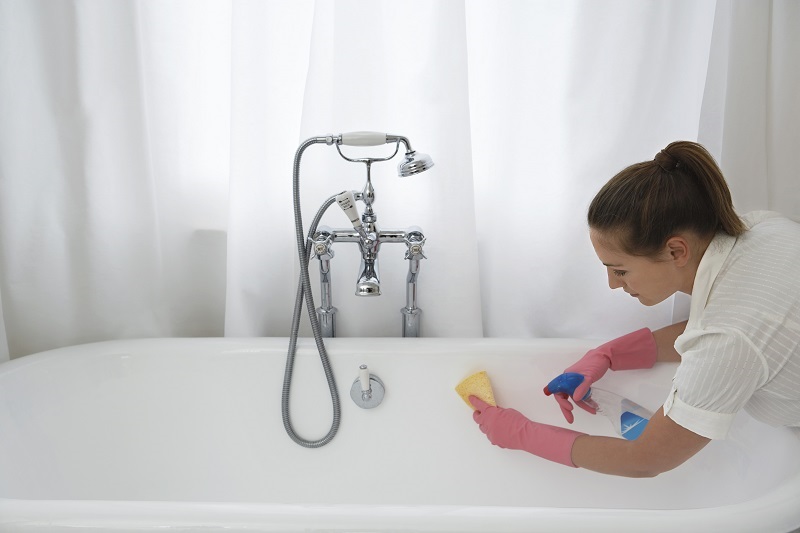 Method 1: Washing Up Liquid
If the bath isn't too dirty and just needs a general freshening up, you can easily achieve this with washing up liquid and hot water.
Fill a small bucket with hot water, and add around 2 tablespoons of washing up liquid. Stir the liquid until bubbly and combined well.
Using a soft cloth or sponge, wipe the solution across the bottom and sides of the tub. Gently rub the surface to break up any grime or soap scum that has built up.
Avoid using sponges that are abrasive as this can scratch the enamel.
Dispose of the now dirty water, and refill the bucket with clean water. Rinse the sides and bottom of the tub with the clean water to wash away the suds and any debris. Alternatively, if you have a handheld shower over the bath, you could always rinse the bath using the shower head.
After you have rinsed the tub, dry it using a gentle, clean towel.
For best results, follow this method regularly to keep the bath sparkling.
Method 2: Commercial Chemicals
If a deep clean is required, you can always opt for commercial cleaning chemicals.
Bathroom cleaners such as those from Cif and Domestos tend to be very effective at tackling this kind of problem, however, always test them on an inconspicuous area before committing to cleaning the entire bathtub.
If in doubt about a chemical's suitability for your tub, check with the manufacturer to be on the safe side.
Once you are satisfied that your chosen chemical will not damage the tub, apply the chemical as per the manufacturer's guidelines using a soft sponge or cloth, before simply wiping, rinsing, and drying the surface to prevent discolouration or a build up of residue.
When using chemicals, always work with the windows and doors open, wear gloves, and follow the safety guidelines on the product.
Method 3: Vinegar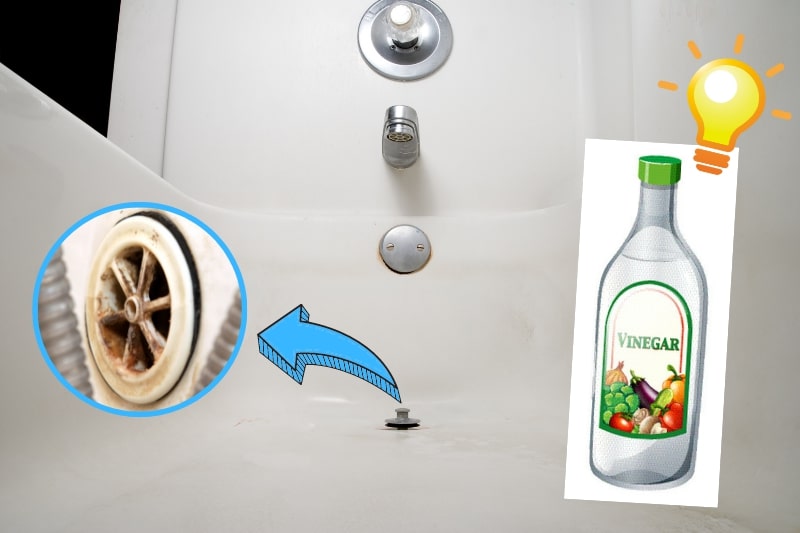 White vinegar can be used as a natural alternative to harsh chemicals when it comes to deep cleaning an enamel bath. Depending on the severity of the dirt, you can either use vinegar and water on their own, or add bicarbonate of soda for an extra cleaning boost.
If you are using just water and vinegar, spray a solution of equal parts vinegar and water all over the tub.
For baths with tougher stains, you can just add bicarbonate of soda to the water and vinegar method.
Before spraying the vinegar solution on the bath, sprinkle the problem areas with bicarbonate of soda. When you spray vinegar over the top, this will fizz, cutting through any heavy staining.
After spraying the vinegar solution over the tub, leave it to sit for around 15 minutes. Then, simply wipe the surfaces before thoroughly rinsing with clean warm water. Finish up by drying the bathtub as before.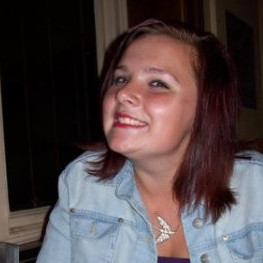 Lover of coffee, painting, and all things cute and fluffy. I'm always on the lookout for easier, more gentle ways to tackle awful household chores.