Taking curtains down to wash them can be quite a chore. You've got to get up a ladder and wrestle down reams of what feels like endless fabric, only to have to tame the beasts into the washer or tub!
Not forgetting that you then have to fight the curtains back onto the rail! There's got to be an easier way to clean curtains…
So, how can you clean your curtains without actually washing them?
Save yourself a headache, a bit of backache, and stress as you try out these alternative cleaning methods! You won't be disappointed, and they're a lot simpler to carry out than you think.
How Do You Clean Curtains When They're in Situ?
Check out how you can 'wash' your curtains without actually washing them below!
Option 1: Hoover your curtains clean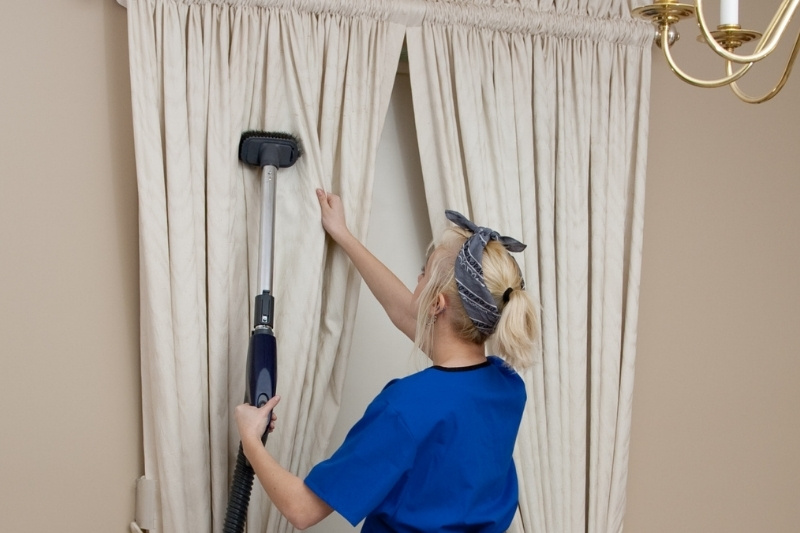 Arguably the easiest and most straightforward option for you to try out is to hoover your curtains!
Vacuuming your curtains removes a whole load of dirt from them, including dust, pet hair, and pollen.
It's super straightforward because all you need to do is secure the brush head attachment to the hoover, and start cleaning each curtain from top to bottom.
You'll likely have to use a ladder to reach the top of the curtain, so it might be good to have a friend to help you!
The great thing about using a vacuum cleaner is:
You can use this method regularly to clean your curtains.
It's good for doing quick cleans before the in-laws arrive!
The more you hoover, the less time you'll take to hoover each time because there won't be a huge build-up of dirt! So, the process will naturally speed up.
Try and use a lightweight hoover when doing this. Or pop your vacuum cleaner on a tall table as you hoover, to protect your arms and balance.
Option 2: Give curtains a gentle shake to dislodge dirt from them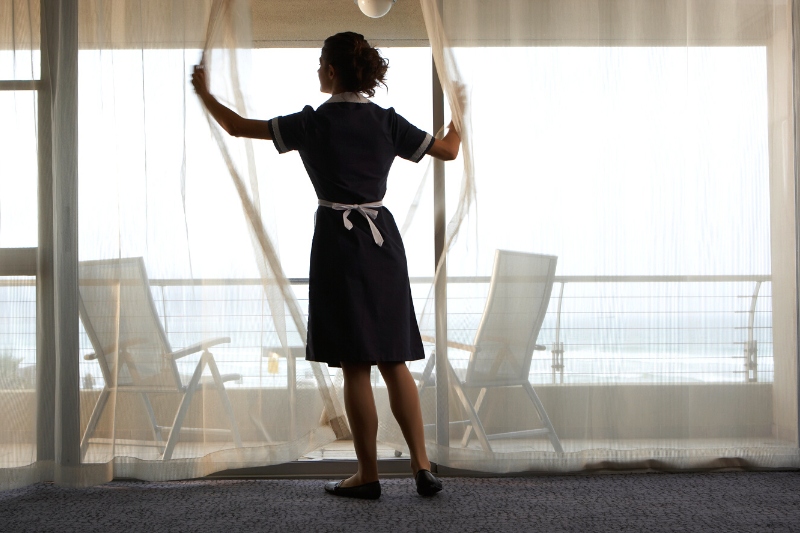 Another option you can try out, especially if you have sheer curtains, is to gently shake the dirt off them.
Of course, you shouldn't be too rough when you do this. So just carefully ruffle the curtains up to remove the grime from them.
If you fancy giving this a go, grab a ladder and climb up it so you can reach the top of the curtain. Then shake the curtain out!
You'll need to continuously move along the curtain to make sure you dislodge all the dirt.
After shaking your curtains, you'll need to hoover the floor so you pick up all the grime that you've just dislodged from the material.
Points to keep in mind:
Be careful.
This may not work as well for heavy curtains.
It would be a good idea to have a friend to help you out, even if they just hold the ladder for you.
Option 3: Spot treat stains to reinvigorate your curtains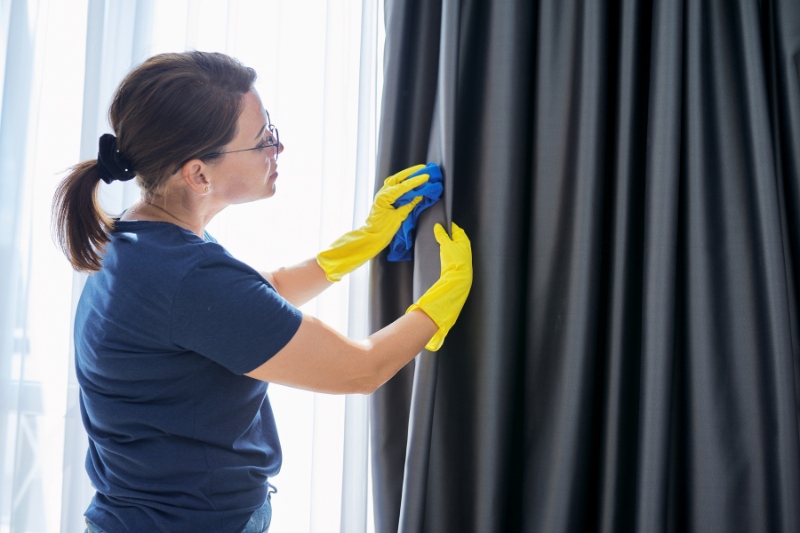 To keep your curtains looking fresh, you should remove blemishes from them as soon as they appear.
Before you clean a stain off a patch of material, check out what type of curtain and fabric you're handling, and treat it accordingly.
Sometimes you can use a bit of soapy water to clean curtain stains, other times, you can use white vinegar.
Once you've got your cleaning agent ready, you can blot the mark to remove it. The curtains will then need to be air-dried.
A few points to remember:
Test your chosen cleaning method(s) out before you use it.
Don't oversaturate your curtains with a cleaning agent.
Don't scrub your curtains, even if they're made from a hard-wearing material.
Always remove a stain as soon as it puts in an appearance, as aged stains are a lot harder to completely eradicate.
Option 4: Brush your curtains clean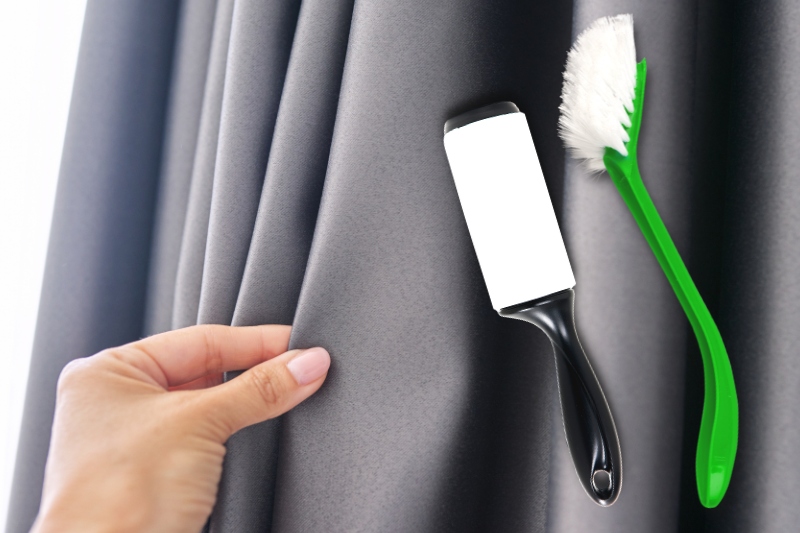 Sometimes dirt gets a little ingrained in material, so to tease the grime out, you need to brush it free.
To brush your curtains clean, grab a soft-bristled brush and start brushing the curtains from top to bottom, and from left to right.
It might be handy to have a vacuum cleaner at hand, so it can suck up any dust that falls off the curtains as you brush, otherwise, you'll find yourself re-brushing areas!
Lint rollers can also be used as well! Just roll the lint roller over one section of curtain at a time to remove the detritus!
Tips to keep in mind:
This may be a long process.
It might be helpful if you hoovered your curtains and then brushed the stubborn dirt off.
You'll need to hoover the floor afterwards to pick up any grime/fibres.
Option 5: Steam clean your curtains to breathe new life into them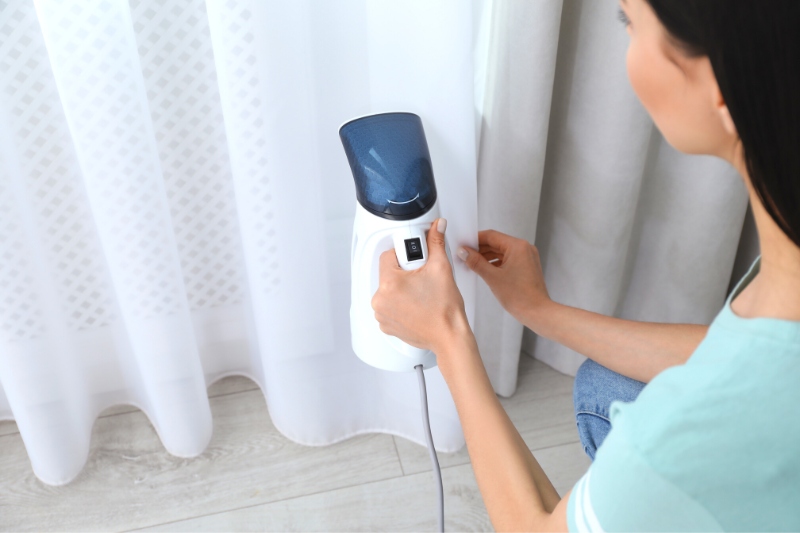 A hand-held steam cleaner can be a really handy tool to have around when cleaning curtains!
The steam from a steamer is able to cut through grime and general dirt with ease, and it'll make easy work of cleaning your curtains.
Just make sure that your curtains can be steam cleaned before trying this out, and always use the upholstery attachment on the steamer.
When your steamer is ready to go, simply work from the top of the curtain to the bottom, and move across the length of the curtain as you clean!
Points to remember:
This is great for thicker curtains.
Make sure that you use the gentlest setting possible.
Test first!
Try not to get the curtains too wet. And if you notice that they're getting too damp, hold the steamer further away from the fabric.
Tip: Try to pull your curtains taut (not loose and flapping), this should help with the steaming process.
Option 6: Use a deodoriser to refresh your curtains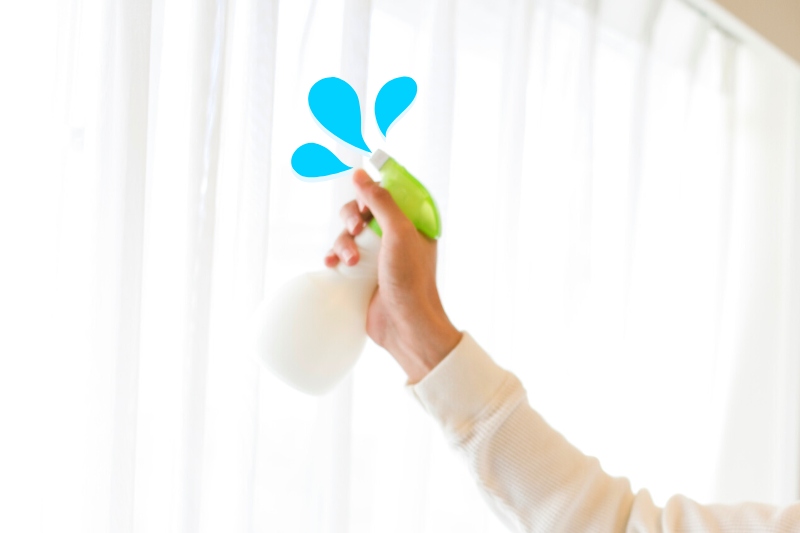 If your curtains have gotten a bit pongy, a simple way to remove the stink is to spray the material with an upholstery deodoriser.
You can pick up these products in supermarkets, online, or you can make your own version.
And for extra whiffy curtains, you can put bowls filled with some essential oil and bicarbonate of soda on the windowsill.
This will trap unwanted odours and make the area around the curtains aromatically pleasing for you!
A few points to think about:
Test your chosen product out first.
Don't go overboard with the deodoriser!
Pick a scent that you actually like!
Option 7: Let more fresh air into the room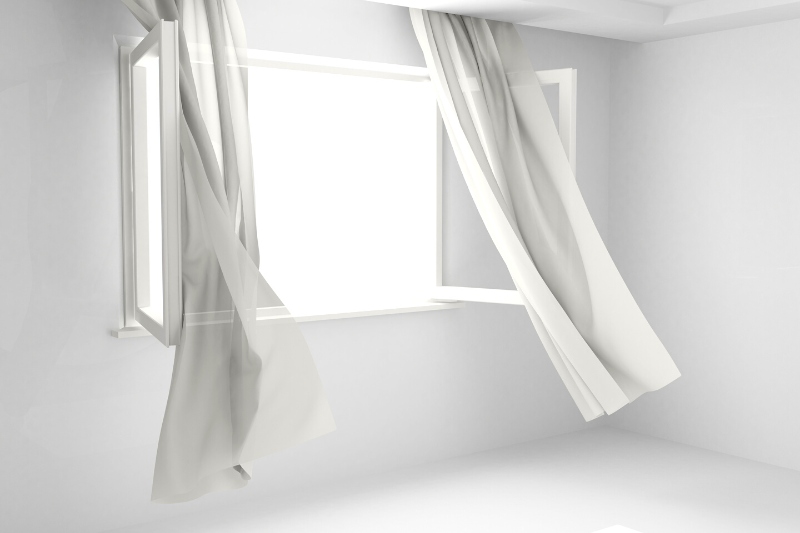 All of the above are excellent alternatives to actually cleaning your curtains, but don't forget that there's also a very cheap and hassle-free way of keeping them looking and smelling fresh… just open the windows and allow lots of fresh air into the room!
Clean air can do the world of good! And not only will it refresh your curtains, and get them blowing about a bit, but good airflow can prevent the build of mould and stale stenches in a home in general.
Option 8: Get someone in to clean your curtains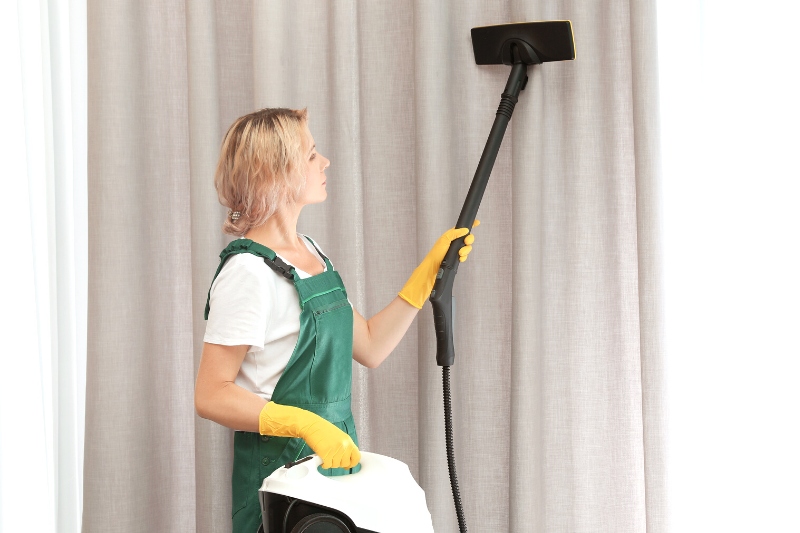 If all else fails, you can call a professional curtain cleaner in to help you out. Professionals will advise you on how best they can clean, maintain, and perhaps repair, your curtains and will carry out the work for you.
This will either be when they're in situ, or the curtains may need to be taken down. (These details should be agreed beforehand with you).
Before you sign up for this service, do your homework:
Choose a reputable company. Use word-of-mouth, recommendations, and specialised sites to find suitable professionals.
Find out how much it costs. Get plenty of quotes.
Ask what products are going to be used.
Stipulate if you have allergies.
Ask lots of questions.
Find out if you need to do anything beforehand.
Don't sign anything until you're 100% happy.
Tips For Keeping Curtains Clean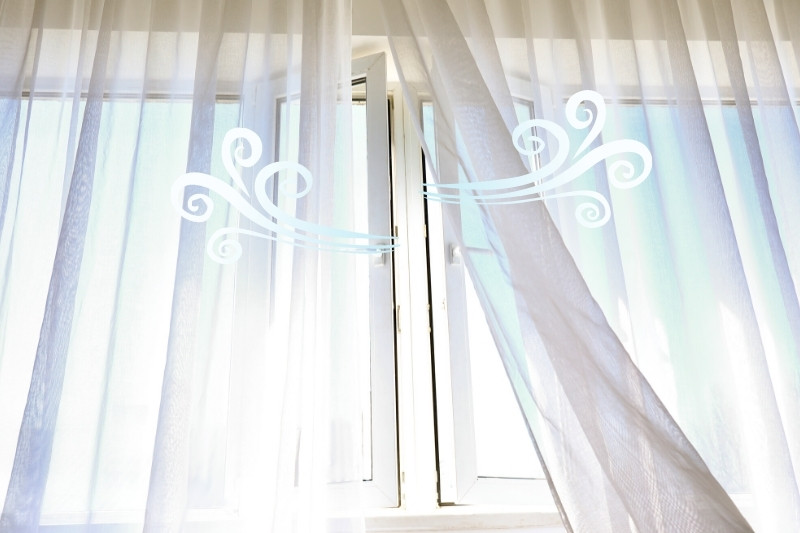 Here are a handful of tips you can utilise to help keep your curtains clean:
Vacuum your curtains on a weekly basis to keep the dust at bay! Increase this frequency if you/someone has allergies, a smoker lives in the house, or you have pets that shed mountains of fur!
Clean your curtains properly at least once a year! But twice is a good idea.
Wash the inside of your windows! Lots of gunk and dust builds up here, and not only does it look unappealing, but this grime can also get onto your curtains and can even smell.
Ventilation is key! Don't be afraid to allow fresh air into your home, it can do the world of good.
Always read the care label on your curtains before cleaning them! You don't want to cause more damage than necessary when cleaning.
Use a mixture of the methods above to keep your curtains clean!

Bethan has a passion for exploring, reading, cooking and gardening! When she's not creating culinary delights for her family, she's concocting potions to keep her house clean!